Work on developing your innovative mindset to help you grow a culture of innovation at work.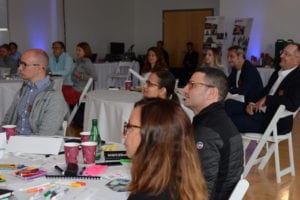 Discover how to build your innovative mindset and grow a culture of innovation at work. Utilize critical skills and leverage them to make a difference at your organization. Learn the step-by-step innovation process and methods to overcome challenges in work and life. Put the processes to use with an innovation project activity.
What will you gain from this workshop?
Learn about the innovation step-by-step process and discover techniques and strategies to utilize it in your organization.
Connect to a challenge in your own work or personal life and use the innovation process to build a solution.
Gain insights into how to use innovation to grow a culture of collaboration and success at your organization.
Who should take this workshop?
This workshop is for both the individual as well as larger groups who want to improve their innovative mindset to build a culture of innovation at their organization.
After the Workshop
Receive access to complimentary online tutorials, guides, and workshops to keep learning, brainstorming, and developing innovative solutions.
Your Facilitator & Trainer
Darin Eich is the author of Innovation Step-by-Step and Root Down & Branch Out: Best Practices for Leadership Development Programs. Darin earned his Ph.D. in Educational Leadership & Policy Analysis from the University of Wisconsin. Darin is the president and co-founder of InnovationLearning.org and BrainReactions, an innovation consulting company founded by UW students, where he led idea development and innovation projects for organizations like P&G, the United Nations, and the U.S. Council on Competitiveness.