A workshop for the individual, this event is focused on guiding you toward a higher level of thinking and innovation that is desperately needed to accelerate change.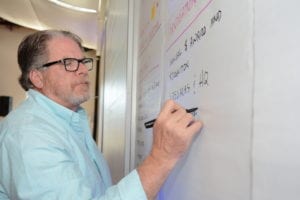 You can only get so far doing the same thing over and over again. Reaching that higher level requires innovation – doing something new that you've never done before. To begin, it requires a change of mindset, where you are seeking to grow through innovation in your work and life.
This workshop focuses on the individual as both an innovator and leader. We're here to guide you toward that higher level of thinking and innovation that individuals and companies everywhere need to succeed in our era of accelerating change.
What will you gain from this workshop?
Reorganize yourself at a higher level toward innovation.

Build the habit of doing many small, new and different innovative things. 

Gain courage to do the things you should do that you may not have done. 

Find your story and history as an innovator. 

Develop your growth mindset and help others to do so as well, as a leader.
Who should take this workshop?
This workshop is for individuals and is designed to teach you a higher level of thinking through the use of the innovation and design thinking frameworks.
After the Workshop
Receive access to complimentary online tutorials, guides, and workshops to keep using the methods, frameworks, and tools needed for your career.
Your Facilitator & Trainer
Darin Eich is the author of Innovation Step-by-Step and Root Down & Branch Out: Best Practices for Leadership Development Programs. Darin earned his Ph.D. in Educational Leadership & Policy Analysis from the University of Wisconsin. Darin is the president and co-founder of InnovationLearning.org and BrainReactions, an innovation consulting company founded by UW students, where he led idea development and innovation projects for organizations like P&G, the United Nations, and the U.S. Council on Competitiveness.