Six factors important in designing an innovative company
Global design firm Ideo recently released their research into how companies should measure innovation. After studying their archive of projects as well as external innovation sources, Ideo identified six factors important in designing an innovative, adaptive company. These include purpose, experimentation, empowerment, looking out, collaboration, and refinement.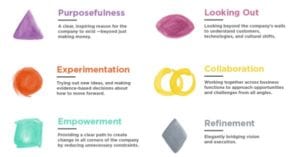 With these principals in mind, Ideo created the Creative Difference survey to help team members in larger organizations understand how they are performing. Ideo's innovation survey has since been used to help over 100 companies with their innovation efforts. Here are the top findings.
1. The more ideas, the better
The best approach to developing new ideas? Be flexible and keep an open mind. Discussing five or more different solutions can increase the effectiveness of teams by three to five times. When teams discussed more ideas, they were 50% more likely to launch successfully. So instead of getting too invested in a single idea or piloting a progress based on a guess, get all the ideas on the table to begin with and be prepared to take the project wherever it might go.
2. Everyone needs to be comfortable
Team members comfortable presenting their own ideas and challenging the ways things work can help take innovation further with new and better ideas. When a majority of the team members who took the survey felt comfortable, the chances of a failed launch decreased by 16.7 percent.
3. Have a common goal
Another top finding from Ideo's innovation survey is that leaders who explain the company's mission clearly and adapt projects and solutions that support it succeed 20% more than leaders who don't.
4. Work remotely
Remote workers are actually good for innovation. The most innovative companies reported having between 25-57% of their employees working remotely. Additionally, remote workers are 22% more successful than their counterparts.
5. Check in daily
It's important to communicate with your coworkers at least once a day – even if this isn't face-to-face. Teams that communicate daily, according to Ideo, are 21% more likely to be successful.
6. Leaders should help their team
Ideo's data shows that top leaders should see their role as helping employees reach their full potential. Leaders who rise to the challenge and focus on fostering ideas or encouraging their employees' to evaluate ideas are far more successful than the traditional top-down leadership approach is.
With these six tips, it's clear that companies have a long way to go for innovation – and the chance for success without adapting are low. But the potential gains from focusing on innovation are enormous. As David Aycan, from Ideo, explained, "You're going from a really slim chance, 3, 4, 5% chance of succeeding, to 15, 20, 25% and even higher for organizations who are truly masters of this stuff."
Learn more about Ideo's innovation survey and research in this webinar here.