Use the innovation step-by-step process to tackle an assigned challenge and generate a prototyped solution. Present the prototypes in a short pitch before a panel of judges in a "Shark Tank" style event.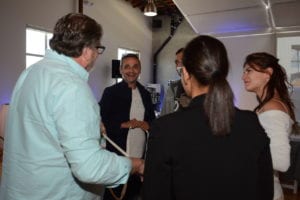 We can design and deliver a variety of hackathon formats. One of our favorites is a very short and rapid design sprint that teams engage in during a day. Our hackathon is focused around teams using the skills they learned and developed in collaborating and rapidly generating and developing ideas. Teams swiftly go through the Innovation Step-by-Step process and will determine how they want to focus the challenge into a specific problem area, customer persona, or market. Teams turn their top concept into a 1-2 slide presentation with perhaps a very rapid and rough prototype to physically demonstrate. After just hours of working as a team, the teams will come back together to do short 5 minute pitches. 
What will you gain from this hackathon workshop?
Use innovation to swiftly provide a solution to a challenge.
Learn to collaborate quickly and efficiently in groups and team settings.
Develop an innovative solution and create a rough prototype.
Present prototype and idea to a panel of judges in a short pitch.
Who should take this workshop?
This workshop is designed for groups to use rapid brainstorming techniques to develop innovative solutions to their challenges.
After the Workshop
Receive access to complimentary online tutorials, guides, and workshops to keep using the methods, frameworks, and techniques to develop innovative solutions.
Your Facilitator & Trainer
Darin Eich is the author of Innovation Step-by-Step and Root Down & Branch Out: Best Practices for Leadership Development Programs. Darin earned his Ph.D. in Educational Leadership & Policy Analysis from the University of Wisconsin. Darin is the president and co-founder of InnovationLearning.org and BrainReactions, an innovation consulting company founded by UW students, where he led idea development and innovation projects for organizations like P&G, the United Nations, and the U.S. Council on Competitiveness.