Potential clients that contact us about workshops will receive a packet with over a dozen full testimonials from relevant clients. Here are some clips of testimonials we have received from clients in a variety of industries who have trusted us for their important events, often ones where people are flying from across the globe for.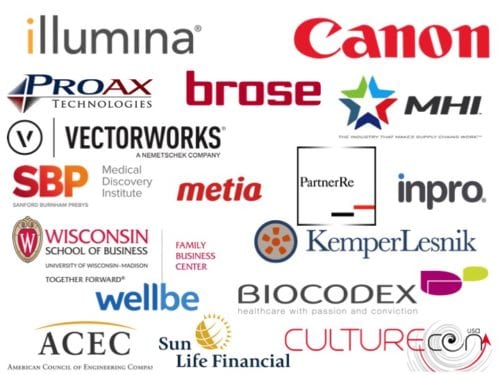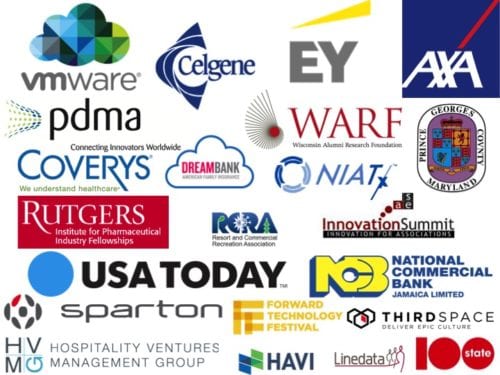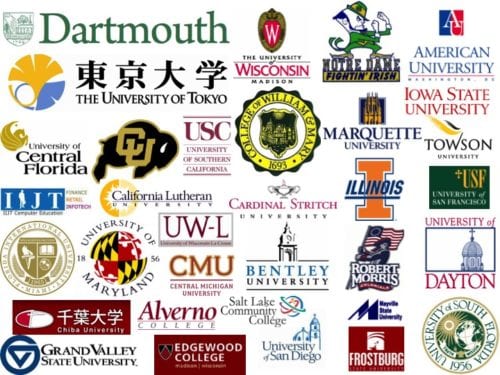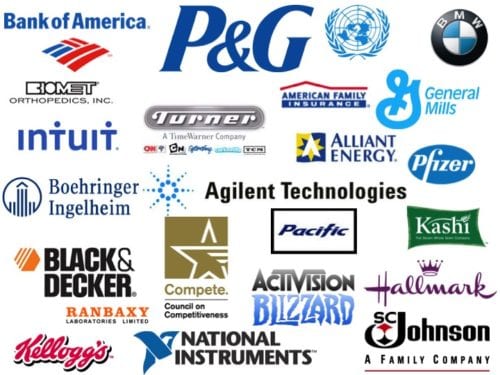 "We found that we had a gap in our portfolio of offerings to serve our customers focused on innovation and design thinking. After meeting Darin, it became clear that we could easily fill this gap through an instructional collaboration. His experience, energy, and structure were exactly what our customers needed and what we wanted grow toward as an organization.
After meeting with Darin to identify the content, structure, and outcomes for our audience of learners, we piloted our first course collaboration in fall 2017. That one-day course easily filled to capacity and was a resounding success. Building upon that win and the feedback of our customers, we brainstormed a year-long series concept taking the learner through the individual, team, organizational, and transformational stages of design thinking for innovation. This series has brought new students into our portfolio and has received excellent reviews as we prepare to offer our third course in the four-course series.
Throughout each stage of our project, Darin has been fantastic to work with – always bringing great energy, new ideas, and insights to the table. He embodies the concept of practicing what he preaches by continually invigorating our collaboration with new ways of looking at our goals, strategy, structure, and outcomes.
Our collaboration with Darin has inspired us to look at potential innovations we can make within our own organization. We've been so impressed with Darin as a facilitator that we asked him to partner with us to lead an innovation bootcamp focused on our go-to-market strategy. Even the act of scheduling this event has created positive change in our group and helped to align our efforts. I can't wait to see the changes we'll be able to take from vision to reality with Darin's help."
-Higher Education Executive Education
"We recently held our first annual CultureCon in Madison, WI and it was a huge success. Nearly 400 attendees came to Madison, WI from all over North American and we had very positive feedback. CultureCon is already growing and we plan to double in size at next year's conference. We could not have done this without Darin Eich.
In planning CultureCon, I was looking for a keynote presentation that was different than past conferences I've attended. I wanted an engaging keynote that would give attendees actionable items to take back to their organization and create change. I wanted them to be excited and inspired. Not many folks could fit the bill, but Darin was the perfect fit.
His keynote was hands on and super engaging. Attendees raved about it throughout the conference. There was a mix of all types of companies, ranging from startups to consultants to F500. Attendees ranged from CEO's to interns, and everyone in between. To create a workshop that was engaging for all seemed nearly impossible, but Darin found a way to do it. As a conference organizer, one of the most disappointing parts was that I couldn't sit in on most of the presentations. I would tune in for a few minutes then have to go put out a fire. When I walked in the main room as Darin took the stage, I was completely drawn in. I didn't care what else was going on – I had to be there. I participated throughout the workshop and learned so much while meeting new people and sharing new ideas.
I've seen Darin present a few times since and every presentation is so engaging and informative. Darin makes you think differently than you ever have before, which is necessary to inspire innovation. In a time where disruption is a daily occurence and new innovative startups pop up and wipe longstanding companies off the face of the earth, innovation is necessary to stay in business. Darin will help you think different, inspire, teach, and I recommend Darin Eich with the highest regard.
– Organizational Culture Conference
"Darin has been always very responsive and added a lot of value to our planning. We divided the 28 participants into two groups, resulting in two separate training sessions where Darin was the lead facilitator for 1.5 days. With his deep knowledge, energetic presentation style and pleasant personality he managed to overachieve all goals and expectations. Based on this experience, the participants decided that the "Design Thinking Method" will be introduced to the company globally. We definitely will continue to work with Darin."
-German automotive client
"The scientists and investigators very much benefited from your presentation, particularly, in learning useful and effective methodologies for idea generation and development. The seminar was also revealing of less effective aspects in our routines which we will now work to optimize for the benefit of our research efforts. As helpful as the content of your program was, its innovative and creative delivery held the attention of our highly educated and experienced audience. In daily practice we have begun to embrace many of the strategies proposed by your paradigm for forming actionable ideas. We have already noticed improvement in our outcomes with expectation that our results will increase as we implement these strategies more robustly."
-Scientific Research
"Darin has been a fantastic contributor and speaker to bring to the Dartmouth College campus. At the Rockefeller Center, Darin provided sessions in the Management and Leadership Development Program (MLDP) and various workshops to students, staff, and other community members, through both recorded or live video and in person. He has been instrumental in helping us to understand various approaches to leadership development and helping us to continuously improve our own programs.
Darin's subject matter expertise on innovation, leadership development programs, entrepreneurship, networking, and higher education administration is apparent, and he easily makes connections with students to get them excited about working on specific skills and recognizing opportunities to improve themselves. I learned a huge amount from Darin around innovation strategies and group facilitation and his energy is infectious! He highly capable with technology and is always doing something new and exciting. Darin is also able to work with groups to customize various workshops to fit their needs."
-Higher Education
"Darin Eich has presented numerous times in my presence and it is always fun, engaging and informative no matter what the size of the group or purpose of the conference or event. Darin takes the principles of Design Thinking and makes all the steps relatable. When I saw him conduct active workshops at our CCMA
Consumer Cooperative Management Association) Conference and at CultureCon, he guided participants to apply Design Thinking principles to their own real world problems so they walked away with ideas and possible solutions to their problems – not someone else's. Each time Darin works with a new group he uses the same principles to determine what is most needed to create just the right event, program, workshop or keynote talk. He listens for the end users requirements and then expertly fulfills them! I recommend Darin without reservation!"
-Association Conference Organizer
"I remember meeting Darin for the first time at a speech he was keynoting at the Wisconsin Institute of Discovery (WID) for the Year of Innovation Kickoff for the Wisconsin Alumni Research Foundation (WARF). Initially I was impressed by Darin's enthusiasm and his ability to energize and keep a large audience captivated. We connected after his speech as I had a number of things I wanted to discuss with him.   From that initial meeting, Darin has added a tremendous amount of value to me personally and to the organizations I have been a part of.
As a co-founder and Executive Director of 100state, a co-working incubator for innovation and startups, we frequently hosted events to bring together thought leaders, local business leaders, and entrepreneurs. We leaned on Darin's expertise for a number of different events and he brought innovation, enthusiasm, and always delivered more than what we and the audience expected.
Darin was more than just a hired speaker for our events, he was part of the planning, strategy, and ideation around the events and brought his innovation skills and design thinking expertise to help build the framework for a number of our most successful events.
Darin was also instrumental in helping us develop our problem-solving soiree framework, which allowed us to leverage the brainpower of large groups at events rapidly. The results have blown away groups and companies we have worked with who have commented that we solved problems they struggled with for years, in a matter of hours, following Darin's formula.
In addition to the events, Darin has been a personal advisor to me and a number of other successful entrepreneurs I know. I have completed some of his online programs and they are all of the same high quality I have come to associate Darin and all of his work.
I would recommend Darin as a speaker, consultant, or strategist for all things related to startup incubators, accelerators, or community building as his ideas and facilitation has always exceeded expectations. "
-Startup Incubator
"Thank you for facilitation of our team's innovation workshop kickoff.  You met all the objectives we asked of you in our final coordination meeting.  I have received multiple, unsolicited complements from (surprised) participants who found themselves transitioning from "we'll see about this" to, "oh, okay, I'll go all in" during the morning of the first day.  By the end, our team came out with lots of ideas for how to proceed with our workshop and that came up from many angles during our work this afternoon.  Your model is effective, but more importantly your delivery is accessible and engaging.  I hope we will have the opportunity to work together again!"
-Research & Technology Development