Deloitte's latest 2021 Global Human Capital Trends Report makes the compelling argument that organizations need to shift from a "survive" mindset to a "thrive" mindset. In today's post, we'll share the five key trends from this report as well as additional insights related to design thinking and innovation.
The Survive vs Thrive Mindset
Deloitte describes the "survive" mindset as "accepting each new reality and working within it to accomplish what an organization has always done," whereas the "thrive" mindset orients companies to "reimagine norms and assumptions in ways that were not possible before." A thrive mindset is one step above survival and aims to do not just what's possible today, but what will dominate tomorrow.
Trend #1: Designing Work for Well-Being
Organizations were moving toward well-being and work-life balance well before COVID-19, but the pandemic – and the various shifting that occurred in the workplace because of it – really kicked this process in high-gear. This trend is continuing forward, with the focus being on how to design well-being into work itself. Remote working arrangements and the ways in which well-being is incorporated into these environments will be at the forefront for many organizations in 2021. Employers will also need to learn how to navigate their own business-related goals with the priorities identified by their employees – from improving the customer experience to increasing innovation and improving employee well-being.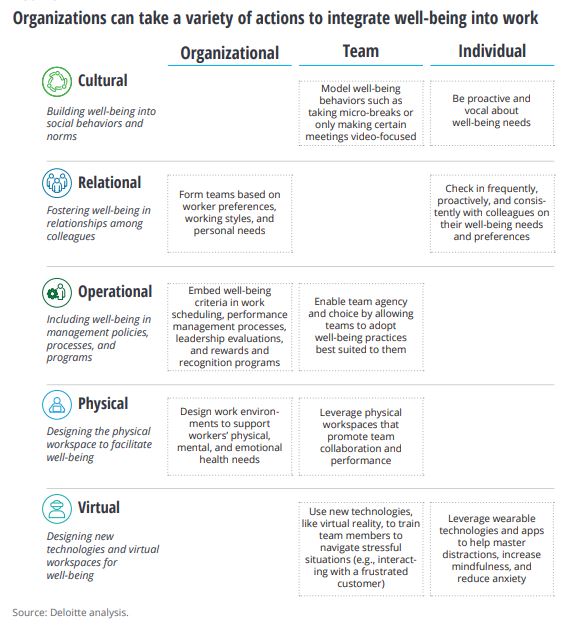 Trend #2: Unleashing Worker Potential
Employees were redeployed to the areas where they were needed most and had the capabilities, interest, and passion to contribute during COVID-19. This fast-paced innovative environment worked – and made it all the more obvious the importance of agency and choice. Organizations that allow and facilitate their employees to explore passion areas will be able to create a more sustainable and effective workforce centered on business priorities and filling skill needs.
Trend #3: Where Work Happens
Collaboration and teaming became a life raft for organizations during COVID-19 because teams can learn and adapt faster than individual workers alone. Now, it's time to take this one step forward with "superteams" – combinations of people and technology that leverage their capabilities at a speed and scale not otherwise obtainable. Together, technology and people can make some truly incredible, innovative breakthroughs.
Trend #4: Setting New Directions for Work and the Workforce
Organizations that wish to innovate and succeed in a post-COVID-19 world need to shift how they think about workforce insights and what they do with them. Companies that continue to use data to improve old patterns of work are missing out on the option to use it to explore unchartered territory. Forward-looking insights that ask how to act on important workforce issues can help organizations understand how to achieve new outcomes.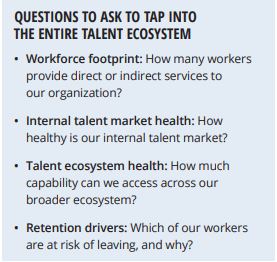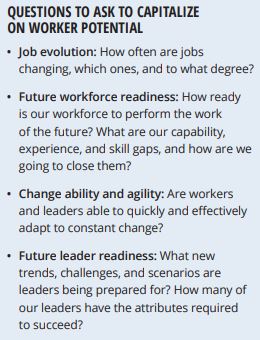 Trend #5: Accelerating the Shift to Re-Architecting Work
This last trend is related to HR and the many ways this profession is innovating to meet the needs of organizations. Many have already shifted from their traditional role of enforcing and standardizing workforce policies to their new role in orchestrating work in an agile and innovative fashion across the organization. Confidence in HR has increased across the board, indicating a growing sense of assurance that HR can and will help innovation-focused organizations moving forward. Deloitte believes that while HR still holds many of its traditional roles in organizational success, this role will continue to expand outside of these key areas in the year and years to come.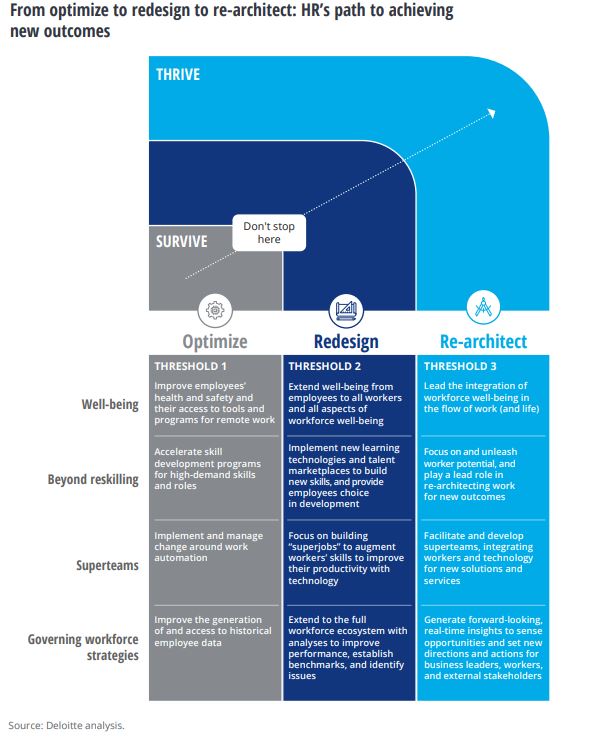 Putting It All Together
In short, Deloitte's latest trends research report highlights key areas of improvement for organizations in the year to come, from employee well-being initiatives to technology adapation and HR innovation. Deloitte makes the case that in order to truly succeed in today's workplace, organizations must go beyond survival – and instead focus on a "thrive" mindset that pushes the boundaries of what is possible.
For more innovation and design thinking resources, continue to our blog.