Top reading list for books related to organizational culture
A company's culture serves as the foundation upon which its values, beliefs, and practices are built. Culture influences everything from employee engagement and collaboration to organizational performance and overall well-being. As leaders and entrepreneurs strive to create workplaces that inspire and empower, the role of literature in shaping and enhancing company culture cannot be underestimated. In this exploration of the best books on company culture, we delve into a curated selection of insightful reads that offer invaluable perspectives, practical strategies, and thought-provoking insights into the art of cultivating a thriving and dynamic organizational culture.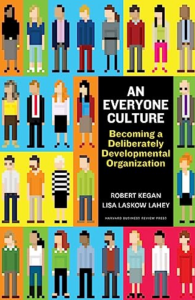 by Robert Kegan and Lisa Laskow Lahey
This book explores a groundbreaking approach to organizational development, advocating for the creation of workplaces where personal growth and professional development are intertwined. The authors present the concept of Deliberately Developmental Organizations (DDOs), where individuals are encouraged to confront their limitations and evolve through ongoing challenges, feedback, and support. Through real-world case studies, the book demonstrates how DDOs foster a culture of continuous learning, enabling employees to become their best selves while driving organizational success through innovation, resilience, and adaptability.
Amazon Description:
In most organizations nearly everyone is doing a second job no one is paying them for—namely, covering their weaknesses, trying to look their best, and managing other people's impressions of them. There may be no greater waste of a company's resources. The ultimate cost: neither the organization nor its people are able to realize their full potential.
What if a company did everything in its power to create a culture in which everyone—not just select "high potentials"—could overcome their own internal barriers to change and use errors and vulnerabilities as prime opportunities for personal and company growth?
Robert Kegan and Lisa Lahey (and their collaborators) have found and studied such companies—Deliberately Developmental Organizations. A DDO is organized around the simple but radical conviction that organizations will best prosper when they are more deeply aligned with people's strongest motive, which is to grow. This means going beyond consigning "people development" to high-potential programs, executive coaching, or once-a-year off-sites. It means fashioning an organizational culture in which support of people's development is woven into the daily fabric of working life and the company's regular operations, daily routines, and conversations.
An Everyone Culture dives deep into the worlds of three leading companies that embody this breakthrough approach. It reveals the design principles, concrete practices, and underlying science at the heart of DDOs—from their disciplined approach to giving feedback, to how they use meetings, to the distinctive way that managers and leaders define their roles. The authors then show readers how to build this developmental culture in their own organizations.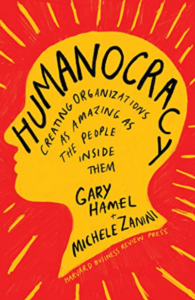 by Gary Hamel and Michele Zanini
Hamel and Zanini challenge traditional hierarchical structures and advocate for a more human-centric approach to organizational design. This book on company culture presents a compelling case for unleashing employee potential, fostering innovation, and reshaping the workplace for the 21st century.
Amazon Description: 
In a world of unrelenting change and unprecedented challenges, we need organizations that are resilient and daring.
Unfortunately, most organizations, overburdened by bureaucracy, are sluggish and timid. In the age of upheaval, top-down power structures and rule-choked management systems are a liability. They crush creativity and stifle initiative. As leaders, employees, investors, and citizens, we deserve better. We need organizations that are bold, entrepreneurial, and as nimble as change itself. Hence this book.
In Humanocracy, Gary Hamel and Michele Zanini make a passionate, data-driven argument for excising bureaucracy and replacing it with something better. Drawing on more than a decade of research and packed with practical examples, Humanocracy lays out a detailed blueprint for creating organizations that are as inspired and ingenious as the human beings inside them.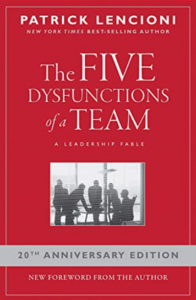 by Patrick Lencioni
This enduring fable uncovers the critical dynamics that can undermine team effectiveness, exploring the five common dysfunctions that hinder collaboration, trust, and communication. Through a gripping narrative, Lencioni offers actionable insights into fostering a cohesive and high-performing team.
Amazon Description: 
For twenty years, The Five Dysfunctions of a Team has been engaging audiences with a page-turning, realistic fable that follows the travails of Kathryn Petersen, DecisionTech's CEO, as she faces the ultimate leadership crisis. She must unite a team in such disarray that it threatens to derail the entire company.
Equal parts leadership fable and business handbook, this definitive source on teamwork by Patrick Lencioni reveals the five behavioral tendencies that go to the heart of why even the best teams struggle. He offers a powerful model and step-by-step guide for overcoming those dysfunctions and getting every one rowing in the same direction.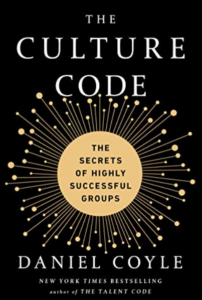 by Daniel Coyle
Daniel Coyle delves into the inner workings of successful teams and organizations, uncovering the hidden factors that contribute to their exceptional performance. Drawing on case studies and research, Coyle reveals the fundamental components of a positive and high-achieving culture.
Amazon Description: 
In The Culture Code, Daniel Coyle goes inside some of the world's most successful organizations—including the U.S. Navy's SEAL Team Six, IDEO, and the San Antonio Spurs—and reveals what makes them tick. He demystifies the culture-building process by identifying three key skills that generate cohesion and cooperation, and explains how diverse groups learn to function with a single mind. Drawing on examples that range from Internet retailer Zappos to the comedy troupe Upright Citizens Brigade to a daring gang of jewel thieves, Coyle offers specific strategies that trigger learning, spark collaboration, build trust, and drive positive change. Coyle unearths helpful stories of failure that illustrate what not to do, troubleshoots common pitfalls, and shares advice about reforming a toxic culture. Combining leading-edge science, on-the-ground insights from world-class leaders, and practical ideas for action, The Culture Code offers a roadmap for creating an environment where innovation flourishes, problems get solved, and expectations are exceeded.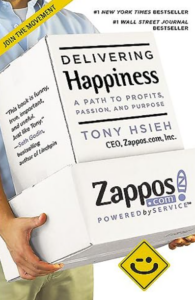 by Tony Hsieh
Tony Hsieh, the visionary behind Zappos, shares his personal and professional journey in building a company culture centered around happiness and customer service. Through engaging anecdotes and insights, Hsieh demonstrates how prioritizing employee satisfaction can lead to organizational success.
Amazon Description: 
In Delivering Happiness, Zappos CEO Tony Hsieh shares the different lessons he has learned in business and life, from starting a worm farm to running a pizza business, through LinkExchange, Zappos, and more. Fast-paced and down-to-earth, Delivering Happiness shows how a very different kind of corporate culture is a powerful model for achieving success-and how by concentrating on the happiness of those around you, you can dramatically increase your own.
by Gary Chapman and Paul White
Chapman and White explore the power of expressing appreciation and recognition in the workplace, offering practical strategies for understanding and communicating appreciation in ways that resonate with different individuals and teams.
Amazon Description: 
This book will give you the tools to improve staff morale, create a more positive workplace, and increase employee engagement. How? By teaching you to effectively communicate authentic appreciation and encouragement to employees, co-workers, and leaders. Most relational problems in organizations flow from this question: do people feel appreciated? This book will help you answer "Yes!"
by Ron Friedman PhD
Drawing on scientific research and real-world examples, Friedman provides actionable insights into creating an exceptional work environment that fosters engagement, creativity, and productivity.
Amazon Description: 
In The Best Place to Work, award-winning psychologist Ron Friedman, Ph.D. uses the latest research from the fields of motivation, creativity, behavioral economics, neuroscience, and management to reveal what really makes us successful at work. Combining powerful stories with cutting edge findings, Friedman shows leaders at every level how they can use scientifically-proven techniques to promote smarter thinking, greater innovation, and stronger performance.
Among the many surprising insights, Friedman explains how learning to think like a hostage negotiator can help you diffuse a workplace argument, why placing a fish bowl near your desk can elevate your thinking, and how incorporating strategic distractions into your schedule can help you reach smarter decisions. Along the way, the book introduces the inventor who created the cubicle, the president who brought down the world's most dangerous criminal, and the teenager who single-handedly transformed professional tennis—vivid stories that offer unexpected revelations on achieving workplace excellence.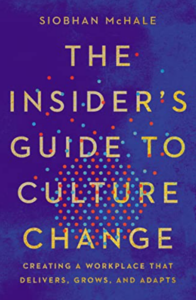 by Siobhan McHale
Siobhan McHale offers a comprehensive guide to transforming organizational culture, providing practical steps and strategies for leading successful culture change initiatives that drive growth, adaptability, and long-term success.
Amazon Description: 
From disengaged employees to underserved customers, business failures invariably stem from a culture problem. In The Insider's Guide to Culture Change, acclaimed culture transformation expert and global executive Siobhan McHale shares her proven four-step process to demystifying culture transformation and starting down the path to positive change.
Many leaders and managers struggle to get a handle on exactly what culture is and how pervasive its impact is throughout an organization. Some try to change the culture by publishing a statement of core values but soon find that no meaningful change happens.
Others try to unify the culture around a set of shared goals that satisfy shareholders but find their efforts backfire as stressed employees throw their hands up because "leadership just doesn't get it." Others implement expensive new IT systems to try to bring about change, only to find that employees find "workarounds" and soon go back to their old ways.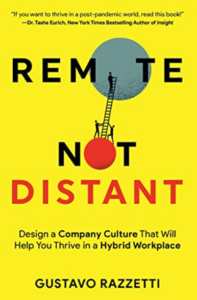 by Gustavo Razzetti
Razzetti explores the challenges and opportunities presented by hybrid work arrangements, offering insights into designing a company culture that supports remote and in-person collaboration, communication, and employee well-being.
Amazon Description: 
The pandemic taught many businesses a very valuable lesson—those who don't adapt will get left behind. Some businesses managed to not only survive but actually thrive in a remote and hybrid work model. What's their secret?
Top culture thought leader Gustavo Razzetti answers this question in this practical, meticulously researched book. The author and consultant provides a roadmap to understand, adapt to, and succeed in a hybrid workplace. After spending years studying businesses, including Amazon, Slack, GitLab, Volvo, Microsoft, and other successful organizations, his solid grasp of the topic will challenge your perspective of hybrid and remote work.
Free Bonuses: when you purchase this book, you will gain access to download dozens of exclusive tools and templates to design your hybrid work culture.
Remote, Not Distant provides actionable tools for senior leaders, managers, team members, and consultants. Razzetti addresses the multiple areas of culture, from keeping your team connected and improving remote collaboration to managing asynchronous communication, facilitating courageous conversations, and defining the right hybrid model for your organization.
Books on Company Culture Conclusion
These top-rated books on company culture offer readers a diverse array of perspectives, strategies, and inspirations to nurture and evolve their company cultures. As we conclude this exploration, we're reminded that building an exceptional company culture is an ongoing journey, one that requires dedication, open-mindedness, and a commitment to continuous improvement. So, whether you're an aspiring entrepreneur, a seasoned executive, or anyone in between, the wisdom contained within these pages offers a compelling invitation to embark on a transformative voyage toward a vibrant and impactful organizational culture.