Collect these top-rated UX books on user experience design
In a world where user experience (UX) has become the cornerstone of successful digital products, the role of UX designers has never been more crucial. These skilled individuals are the architects of intuitive interfaces and seamless user journeys. The wisdom and insights distilled within the pages of well-crafted books can offer profound guidance, spark innovative ideas, and deepen one's understanding of the ever-evolving realm of UX design. Whether you're a seasoned professional looking to refine your skills or an aspiring designer taking your first steps, this curated list of the best books on UX design is here to inspire, educate, and elevate your craft. The first two UX books are classics.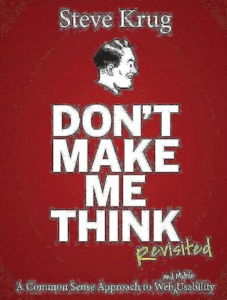 by Steve Krug
In this highly regarded classic, Steve Krug presents an insightful guide to web usability that emphasizes simplicity and intuitive design principles, offering practical advice and real-world examples to help designers create user-friendly and effective digital interfaces. This is one of the best books on UX design that serves as a foundational read for the profession.
Amazon Description: 
Since Don't Make Me Think was first published in 2000, hundreds of thousands of Web designers and developers have relied on usability guru Steve Krug's guide to help them understand the principles of intuitive navigation and information design. Witty, commonsensical, and eminently practical, it's one of the best-loved and most recommended books on the subject.
Now Steve returns with fresh perspective to reexamine the principles that made Don't Make Me Think a classic–with updated examples and a new chapter on mobile usability. And it's still short, profusely illustrated…and best of all–fun to read.
If you've read it before, you'll rediscover what made Don't Make Me Think so essential to Web designers and developers around the world. If you've never read it, you'll see why so many people have said it should be required reading for anyone working on Web sites.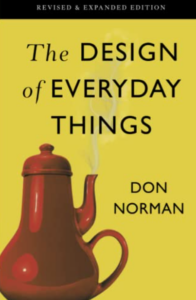 by Don Norman
Don Norman explores the intricacies of design psychology, illustrating how good design should seamlessly integrate with human behavior and cognition, advocating for an intuitive and user-centered approach to crafting products that seamlessly fit into our daily lives. This is a classic that most UX professionals have read and is one of the best books on UX design to get started with to build your foundation.
Amazon Description: 
Even the smartest among us can feel inept as we fail to figure out which light switch or oven burner to turn on, or whether to push, pull, or slide a door.
The fault, argues this ingenious — even liberating — book, lies not in ourselves, but in product design that ignores the needs of users and the principles of cognitive psychology. The problems range from ambiguous and hidden controls to arbitrary relationships between controls and functions, coupled with a lack of feedback or other assistance and unreasonable demands on memorization.
The Design of Everyday Things shows that good, usable design is possible. The rules are simple: make things visible, exploit natural relationships that couple function and control, and make intelligent use of constraints. The goal: guide the user effortlessly to the right action on the right control at the right time.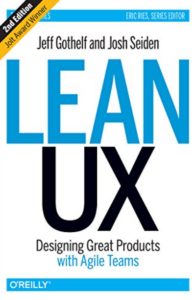 by Jeff Gothelf and Josh Seiden
By combining the principles of Lean methodology and Agile development, this book offers practical insights into creating user-centered designs within a dynamic and collaborative environment, emphasizing continuous improvement and quick iteration.
Amazon Description: 
Lean UX has become the preferred approach to interaction design, tailor-made for today's agile teams. In the second edition of this award winning book, leading advocates Jeff Gothelf and Josh Seiden expand on the valuable Lean UX principles, tactics, and techniques covered in the first edition to share how product teams can easily incorporate design, experimentation, iteration, and continuous learning from real users into their Agile process.
Inspired by Lean and Agile development theories, Lean UX lets you focus on the actual experience being designed, rather than deliverables. This book shows you how to collaborate closely with other members of your Agile product team, and gather feedback early and often. You'll learn how to drive the design in short, iterative cycles to assess what works best for the business and the user. Lean UX shows you how to make this change for the better.
by Joel Marsh
Joel Marsh provides a comprehensive crash course in user experience design, covering key concepts, methodologies, and practical tips in easily digestible lessons, making it an ideal resource for newcomers looking to dive into the world of UX design.
Amazon Description: 
Apps! Websites! Rubber Ducks! Naked Ninjas! This book has everything. If you want to get started in user experience design (UX), you've come to the right place: 100 self-contained lessons that cover the whole spectrum of fundamentals.
Forget dry, technical material. This book's based on the wildly popular UX Crash Course from Joel Marsh's blog The Hipper Element's laced with the author's snarky brand of humor, and teaches UX in a simple, practical way. Becoming a professional doesn't have to be boring.
Follow the real-life UX process from start-to-finish and apply the skills as you learn, or refresh your memory before the next meeting. UX for Beginners is perfect for non-designers who want to become designers, managers who teach UX, and programmers, salespeople, or marketers who want to learn more.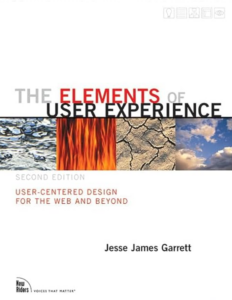 by Jesse James Garrett
Jesse James Garrett presents a holistic model of user experience design, breaking down the essential components and stages involved in creating successful digital products, from strategy and scope to implementation and refinement.
Amazon Description: 
Successful interaction design requires more than just creating clean code and sharp graphics. You must also fulfill your strategic objectives while meeting the needs of your users. Even the best content and the most sophisticated technology won't help you balance those goals without a cohesive, consistent user experience to support it.
With so many issues involved—usability, brand identity, information architecture, interaction design— creating the user experience can be overwhelmingly complex. This new edition of The Elements of User Experience cuts through that complexity with clear explanations and vivid illustrations that focus on ideas rather than tools or techniques. Garrett gives readers the big picture of user experience development, from strategy and requirements to information architecture and visual design.
Best Books on UX Design Conclusion
As the digital landscape continues to expand and diversify, the principles of UX design remain steadfast in their importance. The books mentioned in this list are gateways to the minds of UX visionaries, a treasure trove of methodologies, and a testament to the ever-evolving nature of design itself. Remember, UX design is not a static field. So, whether you're devouring these pages for the first time or revisiting them as a seasoned designer, may these books be your compass, guiding you through the intricate landscapes of user-centered design, and empowering you to craft experiences that transcend expectations and leave an indelible mark on the digital world. Happy reading, and may your UX journey be both enlightening and transformative.