A high-level summary of Accenture's latest report on rebuilding the employer-employee relationship
The latest Accenture's research study asks businesses to "care to do better" – making the case that investing in your employees and building the employer-employee relationship is necessary to doing business best. Since COVID-19 hit, leaders have been tested in real-time to keep their business viable while taking care of their employees during an unimaginable social and economic crisis. Prior to this crisis, only 35% of C-suite felt responsive for leaving their employees better off — that number has now jumped to 50%. The study makes the case for why helping employees is not just the right thing to do, it's the right thing to do for business. Keep reading for a synopsis and high-level summary of other key findings from this report.
The New Workplace Currency: Gaining and Maintaining Employee Trust
According to the report, trust is the new currency in the workplace. Their monthly surveys indicate that over 60% of people trust that their company is doing the right thing, and almost the same percentage of people feel supported by their employer. Roughly 1 in 2 workers agree that the ethical, sustainable and moral values a company holds will be more important to them after the pandemic passes. That's a very good reason to start capturing and maintaining the trust of the people you hire!
Introducing the Net Better Off Model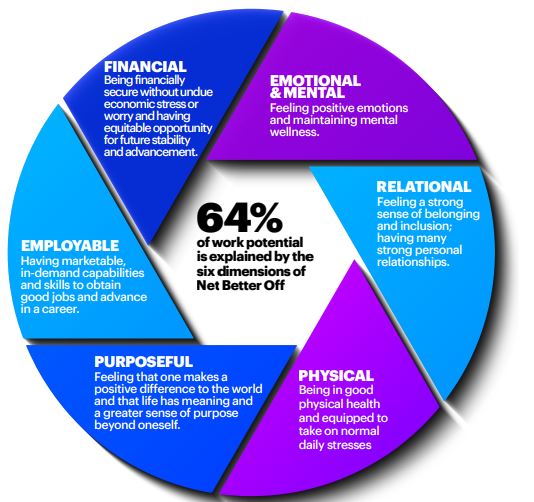 At the crux of this research study is the introduction of a new model that explores the fundamental human needs and values that need to be addressed in order for employees to reach their full potential. They include:
Financial stability and security
Positive emotional and mental health
Feeling a strong sense of belonging and personal relationships
Being in good physical health
Feeling a sense of greater purpose beyond oneself, a meaning to life
Having in-demand capabilities and skills to obtain good jobs and advance in a career
As employees reach their full potential by working and living their best life, employers will see the boost in business performance. Data in the report indicates that organizations stand to gain upwards of 5% revenue growth – compared to the anticipated 2020 average decline of -4.7%. Now more than ever, people are looking for their employers to step up to help meet their individual "me" needs (physical, financial, emotional/mental) – and the best organizations will rise to the occasion to address them.
The Sweet Spot: Real-Life Practices to Address Employee Needs
So how exactly should companies address their employees needs and empower their workforce? The Accenture report provides 5 key practices they call the "sweet spot:"
Enable continuous learning
Listen to what people need at the front lines, using real-time data and feedback
Use technology to enable flexible work arrangements and collaboration across a dispersed workforce
Champion workplace well-being and equality
Set and share "people metrics" – take accountability for diversity and equality and be transparent across your organization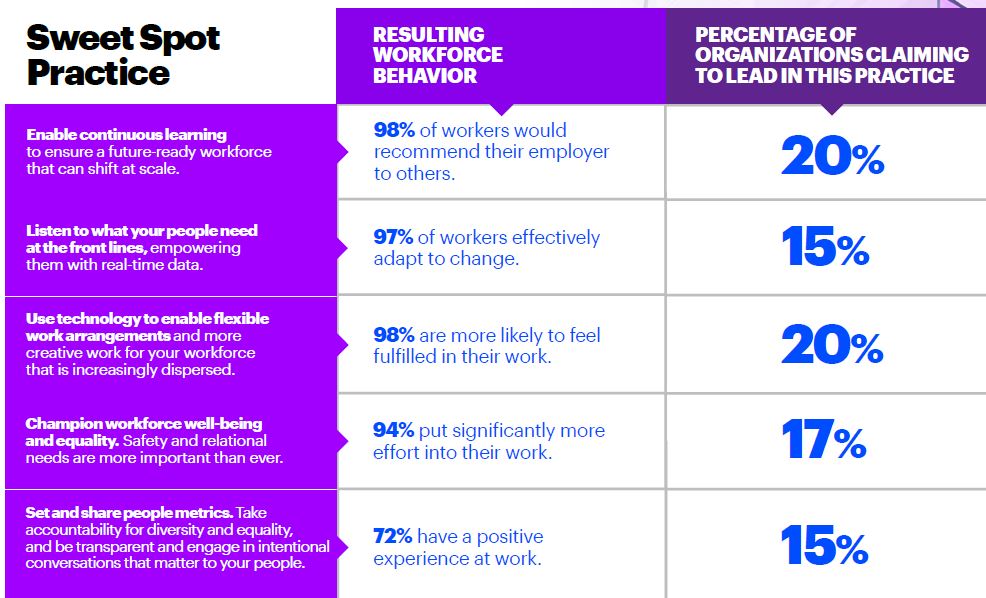 Conclusion
The Net Better Off model addressed in Accenture's report outlines the various ways in which organizations and companies can help their employees not just survive, but thrive, during these unprecedented times. Building trust and accountability throughout the organization with a specific focus on addressing employees needs will not only help your people, but your business as well. For more articles related to reimagining the workplace, continue to our innovation and design thinking blog.