Many companies struggle to innovate their products and services to better fit their customers' needs and desires. Luckily, there are resources out there that can help you analyze how well your company is performing and what areas you need to improve. Today we're sharing 6 top innovation assessments you can take online to help you gain insights into your company's efforts.
1. Innovation Styles
This assessment helps organizations understand the ways in which they need to innovate. It also discusses what approaches work best for them based on their behavior and company culture. Click here to take the assessment.
2. InnovationPoint
This preliminary assessment helps you move beyond what you believe about your company's innovation. The assessment compares your performance about 10 key elements of innovation, so that you can identify how to better improve your processes moving forward. Click here to take the assessment.
3. Innovation You
Innovation You provides 3 custom assessments for individuals, groups, and a thorough deep assessment for either. The process will gain you some insights into how you work with others as well as an individual. Click here to take the assessment.
4. CIMS
CIMS provides multiple innovation assessments, including two of interest. One is focused on analyzing what is going wrong with your innovation management processes. The other can teach you how to encourage a culture of innovation at your company. You can find the assessments here.
5. HBR
The last test on this list is from the Harvard Business Review and helps you determine if your company is actually capable and ready to innovate. Click here to take it now.
6. The Basadur Profile
Individual assessments can help you to identify organizational talent needs and individual opportunities for innovation focus from specific people. The Basadur Profile assesses individuals to identify which of the four key problem solving styles they prefer: Implementer, Generator, Optimizer, or Conceptualizer. This approach can be helpful for assessing individual preferences for key aspects of the innovation process, and to then form teams with a balance of profiles. You can learn more here.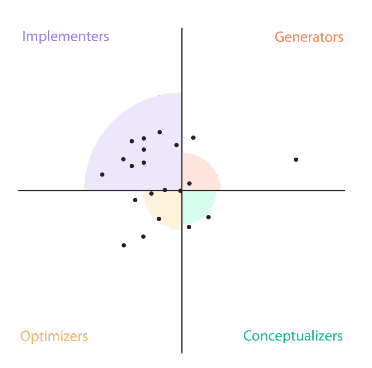 Contact us at [email protected] to get in touch with a specialist about applying innovation assessments.
At the end of the day, innovation requires a sustained, purposeful approach. Ideation and creativity can't be limited to your company's designated innovation lab, but should instead be spread throughout the culture of your organization.

Find more articles related to innovation processes on our innovation resources blog.