Explore systems thinking techniques, activities, and articles.
Systems thinking is a powerful methodology focused on understanding how parts interact and work together within a whole system. This approach can be used for problem solving to develop better solutions for your organizational challenges. Learn more about this methodology and discover systems thinking training techniques, activities, courses, and articles below. 
What is Systems Thinking?
Gaining popularity in the 1990s, systems thinking is one way that creative problem solvers look at how parts interact with the whole. Here are the six main elements of systems thinking:  Six Main Themes of Systems Thinking
Interconnectedness: everything is connected

Synthesis: combining parts together to create something new

Emergence: larger things emerge from smaller parts – the natural outcome of things coming together

Feedback loops: constant feedback loops and flows between elements of a system

Causality: understanding cause and effect, how everything impacts everything

Systems mapping: a tool to map the elements within a system to understand how they interconnect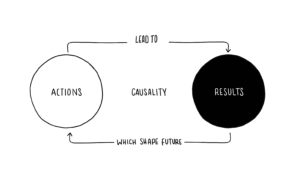 Systems Thinking Tools, Techniques & Exercises
There are many different tools and techniques that innovators use to apply the principles of systems thinking to their project. One of our favorite tools is systems mapping – by drawing down and working through the elements at play, we've found it is easier to connect the dots and better understand the system overall. The Systems Thinker has a wonderful downloadable tool guide that highlights some of the most popular techniques and tools to use for systems thinking. This includes the Double-Q (QQ) Diagram, or cause-and-effect diagram, as well as ways to use computer-based models for ideation.
Systems Thinking Training Courses
These are some of the most popular and accessible systems thinking training courses available, either online or in-person. 

1. Systems Thinking Made Simple
This introductory course by Udemy online dives into the concepts and methodology behind systems thinking.
2. Cornell Systems Thinking Certificate
This program teaches you systems thinking tools that can be directly applied to analyze complex situations and challenges in your organization.

3. Systems Thinking and Complexity
Another online program designed to teach you how to use systems and complexity thinking to address a social, managerial, or policy problem.

4. UC San Diego Introduction to Systems Thinking
This systems thinking training course is highly interactive and allows you to apply the concepts you learn to case studies and current world problems.
Systems Thinking Training Articles
The following articles feature tips, advice, and other general knowledge about systems thinking. 

1. Why Social Ventures Need Systems Thinking
Explores how systems thinking can be applied to social ventures or other start-up endeavors.

2. How We Can Make it Easier to Master Systems Thinking
A great piece for leaders looking to teach others about the systems thinking methodology.

3. Introducing Systems Thinking Into Your Organization
Find out how to apply the methodology to your unique organizational challenges.

4. Incorporating Systems Thinking into Companies/Organizations
This three-part article series explores how to integrate systems thinking. Find Part 2 and Part 3 here.

5. Vocabulary of Systems Thinking
Confused by the language used to describe systems thinking? This pocket guide may help.

What are your favorite articles or resources for systems thinkers? Here is the top book we recommend for systems thinkers…an ultimate classic from Peter Senge.
The Fifth Discipline: The Art & Practice of The Learning Organization
This vital text will help you understand the vital importance of learning in organizations and for organization growth. As the Fifth Discipline book teaches, the only sustainable competitive advantage will be your organization's ability to learn faster than the competition. These are the five disciplines of a learning organization.
Personal mastery is a discipline of continually clarifying and deepening our personal vision, of focusing our energies, of developing patience, and of seeing reality objectively.
Mental models are deeply ingrained assumptions, generalizations, or even pictures of images that influence how we understand the world and how we take action.
Building shared vision – a practice of unearthing shared pictures of the future that foster genuine commitment and enrollment rather than compliance.
Team learning starts with 'dialogue', the capacity of members of a team to suspend assumptions and enter into genuine 'thinking together'.
Systems thinking – The Fifth Discipline that integrates the other four.
Find this classic book by Peter Senge here. 

Systems thinking is an innovative methodology that can help your organization take innovation to the next level. If your organization needs help with an innovative training program, contact us today to learn more.