Merging the two to solve complex and ambiguous problems
It is likely that many of you have heard of, worked with or are experts in design thinking. Design thinking is a creative problem solving methodology brought to the forefront by IDEO at least two decades ago (read: it's old). Most every industry, including education, has brought it into its day-to-day practices. I've been practicing design thinking for around ten years, after learning about it from Rinat Aruh and Johan Liden, the founders of the design and branding agency aruliden.
I started to work with Rinat and Johan on co-design projects back during pre-iPhone days. We led co-design projects in which students collaborated with designers to bring products to market. Eventually, this morphed into Tools At Schools, which lasted about 3 years. Although we collaborated with hundreds of students from public and independent schools, our business model did not pan out and hence projects have ceased. Here's one sample product line we launched with Staples, but this was overall our favorite project done in conjunction with Bernhardt Design and aruliden.
In the image below, the IDEO design thinking process is illustrated. If you want a different take on design thinking be sure to check out the IBM and the Henry Ford Learning Institute design thinking models which illustrate slightly different steps in the design thinking process, but all of their objectives are to solve complex and ambiguous problems. IDEO's Tim Brown describes design thinking as a human-centered approach to innovation.
A few years ago the dSchool in Stanford launched an "extension " to design thinking called design abilities.
The eight core design abilities are: Navigate Ambiguity, Learn From Others, Synthesize Information, Experiment Rapidly, Move Between Abstract and Concrete, Build and Craft Intentionally, Communicate Deliberately, and Design your Design work. Full definitions/explanations of these can be found here.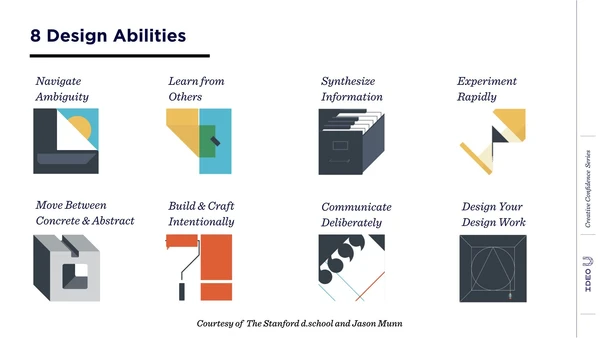 What's the difference between design thinking and design abilities? Is there a difference?
Several classes at the dSchool have helped me to learn more about the design abilities and how I can incorporate them into my design thinking practice. Although I'm not an expert in design abilities, I'm beginning to realize how powerful they can be.
Carissa Carter from the dSchool talks about the design thinking hexagons as being analogous to a recipe. This is a framework for solving complex or ambiguous problems, much like following a recipe if you were cooking. (One of my favorite chefs is Jamie Oliver!) These hexagons contain mindsets (seven of them) and methods (many of them) that can assist you in finding solutions. Of course, it takes practice to become a good chef, but following a recipe doesn't necessarily make you one. With design thinking, it takes time to become a good practitioner (ask Ellen Deutcher). However, understanding and utilizing the eight core design abilities will enable you to use design thinking to solve problems creatively. The more I understand design abilities, the more confident I am in applying them to my design thinking practice. The design thinking process now has a whole new level of depth that I never knew was there.
About the Author – Don Buckley
Don Buckley is an author, public speaker, and workshop facilitator with appearances at TEDx, NAIS, NYSAIS CAIS, NWAIS, EduCon, COSEN, PAIS, ISAS, NCGS, EARCOS, INNOVATED, The Global Education Conference, PBS, Edutopia, and more. Don is based in New York City and is the co-founder of Tools at Schools, an organization that co-designs products with students and teaches them design thinking and the co-founder of REWIND RESET FORWARD which designs experiences to take participants through the design thinking process to help them reimagine learning spaces. He is also part of the faculty at Teachers College, Columbia University.
Don is an author of "Interactive Science", the first web-based science series for schools published by Pearson. He is also featured in the book, Blended Leadership – Six Simple Beliefs for Leading Online and Off published by Wiley. During his career, Don has transformed learning spaces so they work for teachers and students and not just architects, he has transformed textbooks so that they work for students and teachers and not just publishers, and transformed new media resources so that they work for students and teachers and not just programmers. He has advanced degrees from leading European universities, is a former industrial chemist, published photographer, and consultant to MOMA. As well as teaching a graduate course at Columbia Teachers College in Educational Technology, he is an author for Pearson's Interactive Science Program (a K-8 Science series for 21st century schools). Most recently Don has worked with aruliden on multiple design thinking projects to rethink education. For more information, find him on LinkedIn.
Learn More About Design Thinking
InnovationTraining.org has a variety of resources and workshops to help teach you about design thinking and innovation. Follow along on our blog for the latest information, or contact us online to get started with your own customized design thinking workshop or event.