Discover these popular design thinking articles and resources from Forbes.
Another popular resource for design thinking articles, tips, and resources is Forbes. Here we have shared the links to some of our favorite Forbes design thinking resources that we recommend reviewing to help improve your own innovation practices.
Design Thinking Articles
Design Thinking Continues when Imagination Workers Work Remotely: This article focuses on the sudden shift to conduct design thinking remotely. The popular design thinking software tool Mural is featured as well as examples of how it is applied within IBM for design thinking and other purposes. 

How to Move Online: Design thinking, as we currently think of it, is very firmly rooted in the physical world. This article provides a perspective on how design thinking processes can be incorporated into the online space.
Failing to Succeed: How design thinking can be used to create effective business strategies. By taking the right risks, learning from the experience, and adapting to the data, you can succeed better, more often.
Traits of Design Thinkers: This article outlines 30 traits of outstanding design thinkers – what traits or characteristics do you see in your company and in yourself?
Leadership: For design thinking to work, it needs to start at the very top of your organization. Leadership input and direction can ensure that collaboration and a culture of innovation is formed across departments and job roles.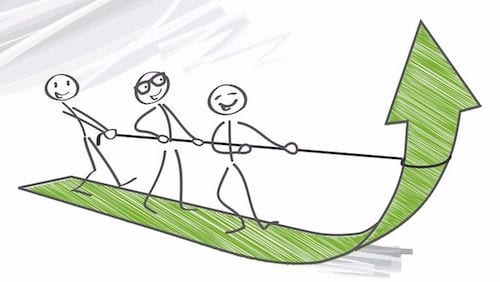 Design Thinking Case Studies
The Next Revolution in Education: This interview with Sam Seidel from the Stanford d.school outlines how design thinking can be applied to education and solve the world's toughest structural problems.
The Future of Sales: Sales is changing, and using an innovative, collaborative framework like design thinking can help your company succeed where others fail. Discover this article on why design thinking methodology can transform the customer service experience.
Succeed in E-Commerce: To sell online, you need a compelling user experience. Consumer demand is ever-changing, and design thinking can help ensure you evolve with this change.
Find more design thinking and innovation resources on our blog.