Review these research insights for the most important job skills in 2022 and beyond.
Last Updated: March 2022
In this article, we will highlight prominent research studies whose findings showcase the most important 21st century job skills needed for the future of work and organizations. The future is now as these innovation skills are needed more than ever in our world with organizations facing disruption from COVID-19 and other forces. In sum, employees at all levels need to develop their innovation skills. These include competencies like creativity, critical thinking, communication, strategic thinking, and problem solving to find and develop creative solutions for the complex world we live in. (Contact us for recommended workshops that focus on developing innovation skills.)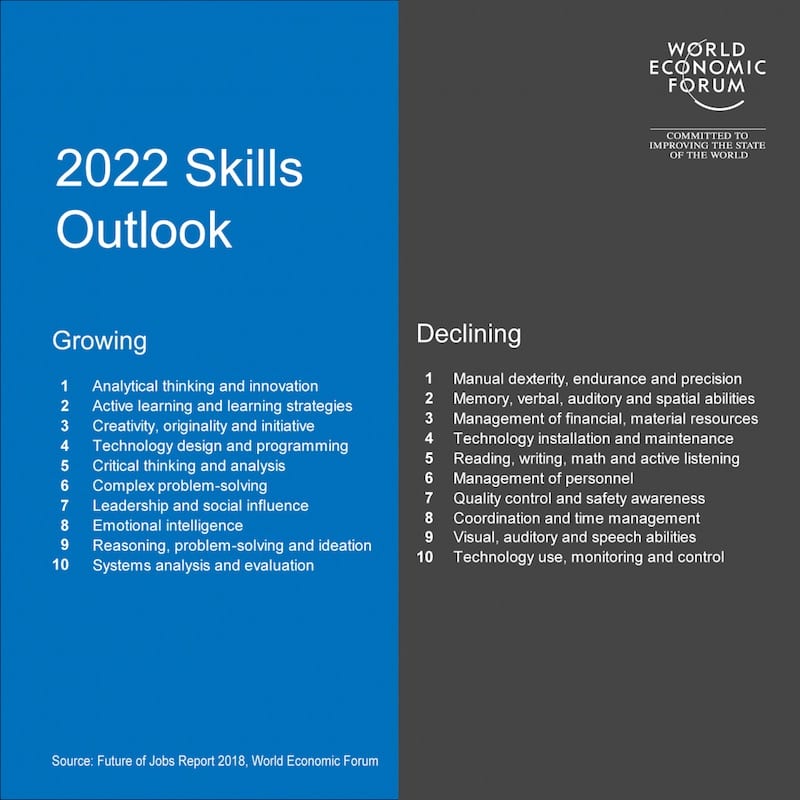 Research and Key Findings
These research studies include interesting findings on desirable skills for the future that all employees should strive to possess.
1. The Bloomberg Job Skills Report
As part of their research to rank business programs, a 2016 Bloomberg job skills study asked 1,251 job recruiters at 547 companies about the skills they want in their professionals but can't find. The skills "sweet spot" included four skills that are less common but more desired. Across industries, these four skills are:
Communication skills
Strategic thinking
Leadership skills
Creative problem-solving
Other important skills (but not in the highly desired/less common sweet spot) included:
Analytical thinking
Work collaboratively
Motivation/drive
Adaptability
Quantitative skills
Decision making
Risk-taking
Industry related work experience
Global mindset
Entrepreneurship
The collection of skills could be grouped together and described as "innovation skills" since all are vital to developing and launching an innovation. It takes creative problem solving, leadership, strategic thinking, and effective communication.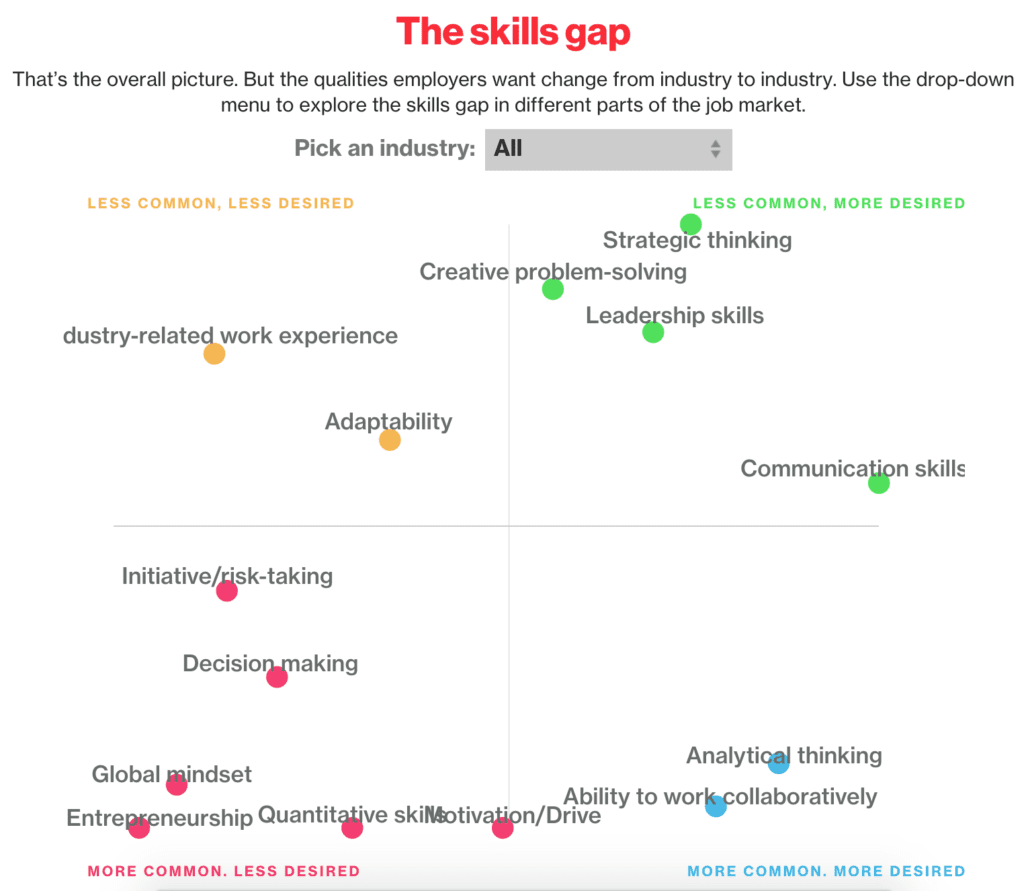 Bloomberg also has an interactive tool where you can see which skills are more/less desired and common by industry. It looks like this:
The Bloomberg Job Skills Reports spoke more to what organizations wanted in recent MBA graduates in business. Other studies shared below speak towards a wider variety of employees.
2. World Economic Forum Future of Jobs Research
The Future of Jobs Report 2020 from the World Economic Forum identified the top 10 skills of 2025. They noted that 50% of people will need to reskill within the next five years due to the "double-disruption" of the impact of the pandemic as well as the increasing technological automation that has been transforming work years earlier.
Analytical thinking and innovation
Active learning and learning strategies
Complex problem solving
Critical thinking and analysis
Creativity, originality, and initiative
Leadership and social influence
Technology use, monitoring, and control
Technology design and programming
Resilience, stress tolerance and flexibility
Reasoning, problem solving, and ideation
The World Economic Forum reports identifying top skills for the future have come out every two years since we started writing about them in 2016. It's interesting to take a look at the skills lists from the last reports and notice themes and trends. In 2016, the World Economic Forum published the report: The Future of Jobs: Employment, Skills and Workforce Strategy for the Fourth Industrial Revolution. "The dataset that forms the basis of the Report is the result of an extensive survey of Chief Human Resource Officers and other senior talent and strategy executives from a total of 371 leading global employers, representing more than 13 million employees across 9 broad industry sectors in 15 major developed and emerging economies and regional economic areas." This was the sample described in this analysis from the World Economic Forum.
From their earlier research, the top skills (in order) needed for 2015 were:
Complex problem solving
Critical thinking
Creativity
People management
Coordinating with others
Emotional intelligence
Judgment and decision-making
Service orientation
Negotiation
Cognitive flexibility
From more recent research about the future, the importance of creativity shoots up the charts. Here are the 10 skills most needed for 2020:
Complex problem solving
Critical thinking
Creativity
People management
Coordinating with others
Emotional intelligence
Judgment and decision-making
Service orientation
Negotiation
Cognitive flexibility
The "changing nature of work" was cited as the biggest driver for the change in what is needed for the future. As in the other studies, the top skills could be described as innovation skills…creativity, critical thinking, and complex problem solving. All three of these skills are essential to developing and bringing to life a new innovation that solves a real problem and provides meaningful value.
The 2022 report should be available later this year. We will update this section accordingly when it is released.
3. IBM Global C-Suite Studies
Over 10 years, 17 studies, and 23,000 face-to-face interviews, IBM gained and published insights from executives. Of greatest note to those interested in the value of creativity, IBM conducted a study in 2010 of more than 1,500 Chief Executive Officers from 60 countries and 33 industries globally. The chief finding was that "chief executives believe that — more than rigor, management discipline, integrity or even vision — successfully navigating an increasing complex world will require creativity."
The study also found that "less than half of global CEOs believe their enterprises are adequately prepared to handle a highly volatile, increasingly complex business environment. CEOs are confronted with massive shifts – new government regulations, changes in global economic power centers, accelerated industry transformation, growing volumes of data, rapidly evolving customer preferences – that, according to the study, can be overcome by instilling "creativity" throughout an organization."
The updated version of this study in 2019 explored the value of leadership in implementing innovation amidst changing times and widespread data usage and appropriation. Their realization was that "data-driven leadership is determined by the levels of trust an organization can create—among its customers, the people inside the enterprise, and the partners across its ecosystem."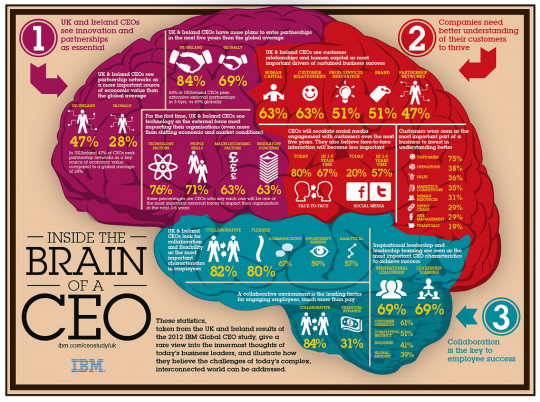 4. American Management Association (AMA) Critical Skills Surveys
In 2010, AMA conducted a survey of 2,115 managers and other executives about the critical skills employees need at every level in an organization for the current state and future of work. A similar study was conducted again in December of 2012 by AMA. 768 managers and other executives were a part of that second 2012 study that asked about the importance of the 4 Critical (4C) skills that were highlighted as critical skills from the first survey for their organizations. 74.6% of the managers surveyed believe these 4C skills will be even more important for their organizations in the next three to five years. These skills were defined as:
Critical thinking and problem solving – the ability to make decisions, solve problems and take action as appropriate.
Effective communication – the ability to synthesize and transmit ideas in both written and oral formats.
Collaboration and team building – the ability to work effectively with others, including those from diverse groups and those with opposing points of view.
Creativity and innovation – the ability to see what's NOT there and make something happen.
Managers answered that their employees were currently average, at best, in terms of their development of these critical skills and competencies. These skills are needed because of the fast pace of change in business today.
The pace of change (61.4%), and global competition (50.9%) were the top factors selected for why the skills and competencies of critical thinking/problem solving, effective communication, collaboration/team building, and creativity/innovation were becoming more critical for organizations.
5. Skills Companies Need Most from LinkedIn Data
LinkedIn used their extensive data set to identify the skills that companies need most in 2019 and in 2020. The top four soft skills companies are looking for most look like innovation skills. The top skills in both 2019 and 2020 are:
Creativity
Persuasion
Collaboration
Adaptability
The most recent 2021 skills learning report identifies the following ten power skills of 2022 and beyond:
Resilience and adaptability
Technology skills / digital fluency
Communication across remote or distributed teams
Emotional intelligence
Cross-functional collaboration
Leading through change
Change management
Dealing with stress/being more mindful
Time management
Creativity
As you can see above, LinkedIn identified several skills necessary for remote or hybrid workplaces that will continue to be important in the coming years with restructuring across the board on how we live and work.
(Emotional Intelligence was added to the list in the #5 position in 2020. This fits well with EMPATHY – the first stage of design thinking – the most popular approach to innovation.)
6. HR Insights
HRForecast created an article showcasing certain hard and soft skills HR professionals have identified as important when making hiring decisions in 2022 and beyond. Here are some worth noting:
Digital literacy
Problem solving
Critical thinking
Resilience
Innovation Skills In Action
You've just read insights from different prominent studies that highlight how critical innovation skills are for the future of work, organizations, and employees. How can you develop your innovative skills…integrating your skills of problem solving, creativity, collaboration, and communication together for the purpose of developing and taking action on an innovation that can have a positive impact? Can you put these skills to use to develop an innovation that seizes an opportunity or solves an important problem? Are you trained or prepared to do this? Doing this requires application of the important innovation skills you've read from the various research studies. What specific innovative learning and development initiative can you create for yourself?
If you are not receiving training or development of these critical skills in your organization, how can you be a change agent to help make that happen for yourself and others so that your organization can respond to the rapid change of pace and thrive in the future? It will take employees at all levels with higher stages of development of their innovation skills. It may even take innovating simply for the purpose of learning innovation.
Innovation Skill Specifics
For me, creativity, critical thinking, collaboration, and communication are very general skills that taken together are a part of a larger category I call innovation skills. There are many "micro-skills" that can make up these more general skills as there are many different modes of communication to master for innovation success. There is still opportunity to describe these more specifically. My favorite research zeroes right in on innovation skills…and what is happening in the mind of the innovator while innovating at their best. A study of "3,000 executives and 500 individuals who had started innovative companies or invented new products" is written up in this Harvard Business Review article on The Innovator's DNA. The key skills innovators were applying were Networking, Associating, Observing, Questioning, & Experimenting.
Human Skills in an Artificial Intelligence Era
The key to staying relevant and growing in an age of machine learning could be human learning. Focus your own professional learning on the development and application of the kinds of skills humans are best at and robots don't do well. Use these human skills to leverage emerging technologies for your benefit to add value to the humans you serve, your customers and users. Focus on how to stay relevant and grow during an era of artificial intelligence. Make sure that you continue to keep an eye to the research about the future of work to understand what skills are the most important for the changing future of your industry. Create an action plan on how to develop those skills and put them strategically to use. Skills like empathy, imagination, creativity, strategy, communication, collaboration, and teamwork are important leadership skills for anyone to develop in the present and for our future.
What specific skills do you think are most important for the future? How do you think individuals or organizations can develop them? How might you advance these important innovation skills through a focused learning and development approach like innovation workshops? 

How might we help students (and ourselves) to learn and develop these skills? Another great source of learning the skills of the future we should be teaching is Harvard's Tony Wagner. He is the author of many books on the topic and the "7 survival skills" he identifies are:
Critical thinking and problem solving
Collaboration across networks and leading by influence
Agility and adaptability
Initiative and entrepreneuralism
Effective oral and written communication
Accessing and analyzing information
Curiosity and imagination
About the Author:
Darin J. Eich, Ph.D. is an innovation keynote speaker, the founder of InnovationLearning.org, a teacher of innovation and entrepreneurship, and developer of more than 20 online innovation programs designed to help people enhance their innovative skills through development of an innovation project. Contact us to learn about our onsite design thinking training workshops that focus on innovation skill development.