Discover these design thinking and innovation workshops available in-person or virtually.
Dr. Darin Eich and InnovationTraining.org offer and design innovation workshops that can work as stand-alone events or be integrated into a larger innovation program, conference, or course. We lead highly engaging workshops onsite and in person – or virtually and remotely online. Our menu of onsite design thinking and innovation workshops is below. We also offer online innovation courses. Have a question or not sure which option is right for you or your group? Email us today to learn more.
Culture of Innovation Workshops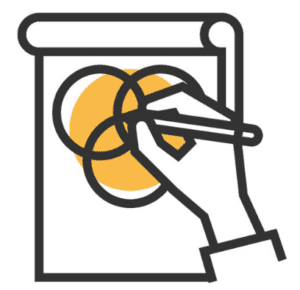 Develop creative leadership skills and put them to use in your personal life or work.
Learn the process, tools, and techniques of design thinking to generate and validate ideas with and for your customers and users.
Learn how to engage and collaborate with others for an organizational culture of innovation that is agile and human-centered. Develop the skills, mindset, processes and action needed to launch focused and strategic innovation for your work.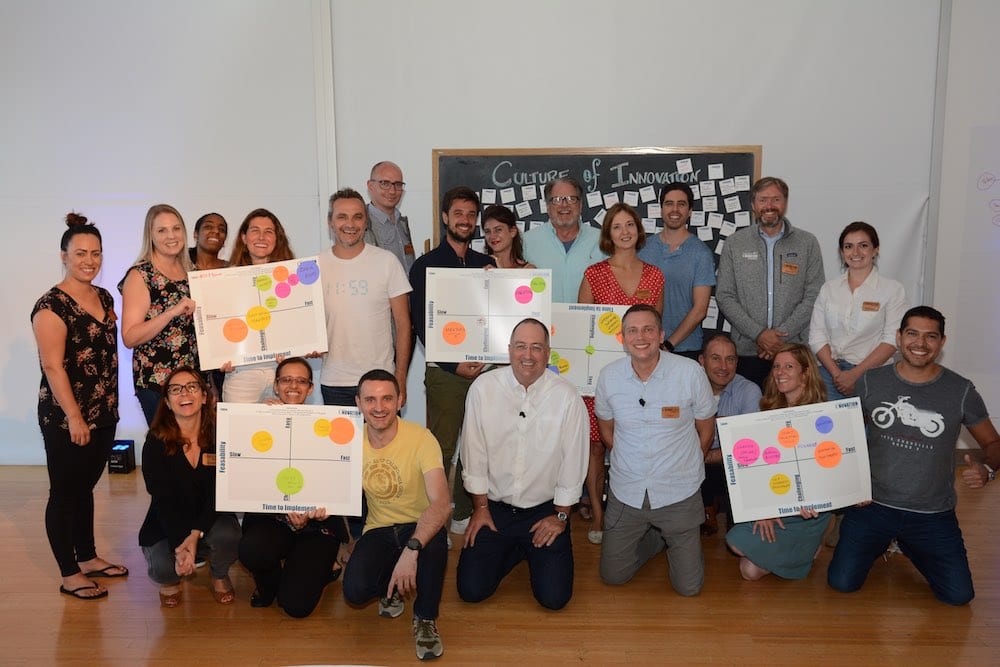 ---
Innovation 101 Training Workshops
Apply the innovation step-by-step process to your own challenge to develop new products, services, or organizational enhancements.
Acquire the necessary skills and tools to help you create and develop ideas in your teams more effectively, using the innovation step-by-step process to overcome your own challenge.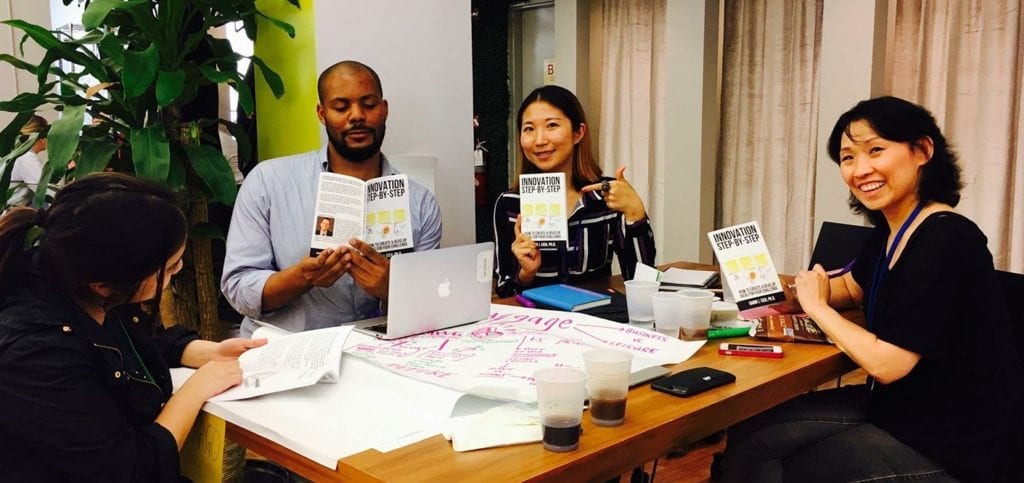 ---
Innovation Mindset Workshops
A workshop for the individual, this event is focused on guiding you toward a higher level of thinking and innovation that is desperately needed to accelerate change.
Work on developing your innovative mindset to help you grow a culture of innovation at work. Utilize the innovation step-by-step process to overcome challenges in your work and personal life.
---
Leading Innovation Workshops
Learn how to lead more interactive and engaging meetings, workshops, and group sessions to generate ideas and innovations. Participate in creative activities so that you can become a better facilitator and leader in your organization.
Re-organize yourself at a higher level through innovation. Apply individual idea generating tools & techniques for challenges you want to work on and a future you'd like to create.
Discover how to facilitate design thinking for innovation with this leadership training workshop designed specifically for executives and organizational leaders.
Learn how to use trusted techniques and new tools to more confidently, actively, and successfully facilitate others in creating ideas & communicating innovations to act on.
---
Ideation and Brainstorming Workshops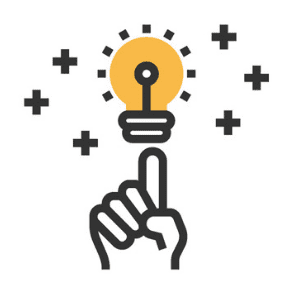 These four ideation and brainstorming training workshops can be combined into a program or work as stand-alone workshops.
This workshop will guide you through a simple step-by-step system of activities to use for your own challenge and help you develop more effective brainstorming sessions.
Break out of ruts, generate more ideas, or think in new directions with ideation tools and techniques for individual brainstormers.
Enable your team of brainstormers to generate hundreds of ideas per hour and zero in on the best concepts to develop further.
Discover how brainstorming can be catalyzed and sustained in an organization so that it contributes positively to the culture of innovation the organization is seeking.
---
Innovation Communication Workshops

Learn how to become a memorable communicator in your professional life and develop techniques to deliver effective presentations.
Learn how to design and show your story. Use ancient approaches to communicate you new ideas, innovation, and yourself through story.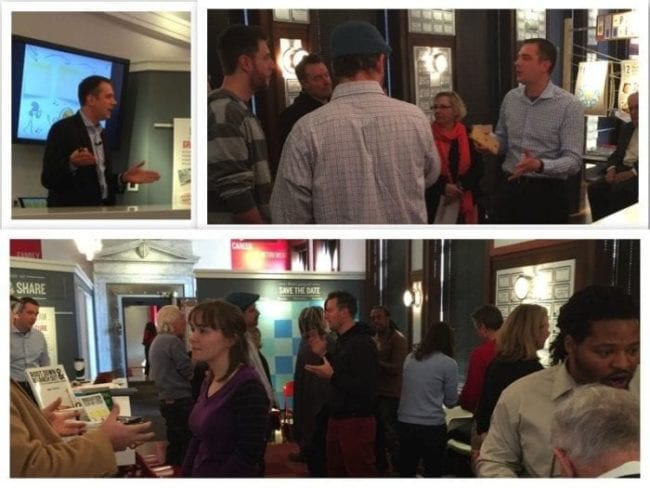 ---
Organization Innovation Events
Design a short innovation session and facilitate the session in teams. Learn how to engage and design training sessions using the tools and techniques that help participants learn.
Use the innovation step-by-step process to tackle an assigned challenge and generate a prototyped solution. Present the prototypes in a short pitch before a panel of judges in a "Shark Tank" style event.
---
What People Say About Our Innovation Workshops
"The results exceeded our expectations.  Our CIO expected 50-70% of the ideas generated would be almost useless and we had probably a 90% idea success rate.  The teams got to meet new players and were very engaged for the event."

"At the end of the event, I had a large number of attendees say this was "the best leadership offsite meeting they've ever had".   Note that many of the attendees come from companies like Apple, Cisco, IBM, Google, etc. so this is a hard crowd to please."

"Darin conducted two sessions – a keynote to staff that was streamed live via our intranet, and a half-day workshop with our senior management/executive team. Our team really appreciated Darin's interactive, relaxed, insightful, and engaging approach. He received a 95% overall rating and feedback received included that he made innovation seem "simple" and that their perspective on innovation and how they can play their parts was made clearer."

"Darin did a series of interactive activities that were a welcome change from our usual "death by PowerPoints" we typically endure. We did things like brainstorm new ways of looking at old problems, tapped "the crowd" for new ideas, and explored little ways we could empower our employees to become better problem solvers. Attendees said they "used places in their brain they didn't know existed" and felt invigorated after it was over. After only a few minutes of seeing Darin in action, I was glad he was there and knew he was going to make a difference for my company."

"After experimenting with Darin's tools and techniques in a variety of hands-on face-to-face workshop activities, the attendees were assigned to groups to mimic real life project teams.  They were then given a common challenge within a time limit to generate, summarize, and present their concept and budget needs.   The results were breakthrough in nature.  Solid innovative product and process concepts were developed by each team, which will now lead to formal funding and project assignments for the coming fiscal year."

"Darin was the lead facilitator for a day long workshop which took people from identifying challenges to developing solutions. The training was very team focused which lead to a more creative approach to problem solving and "break-through thinking". People who did not think they had the capacity to innovate left with ideas, solutions and renewed energy for the project."

Read more of our testimonials or contact us for over a dozen testimonial letters.
---
Clients & Partners We've Worked With Over the Years on Workshops & Programs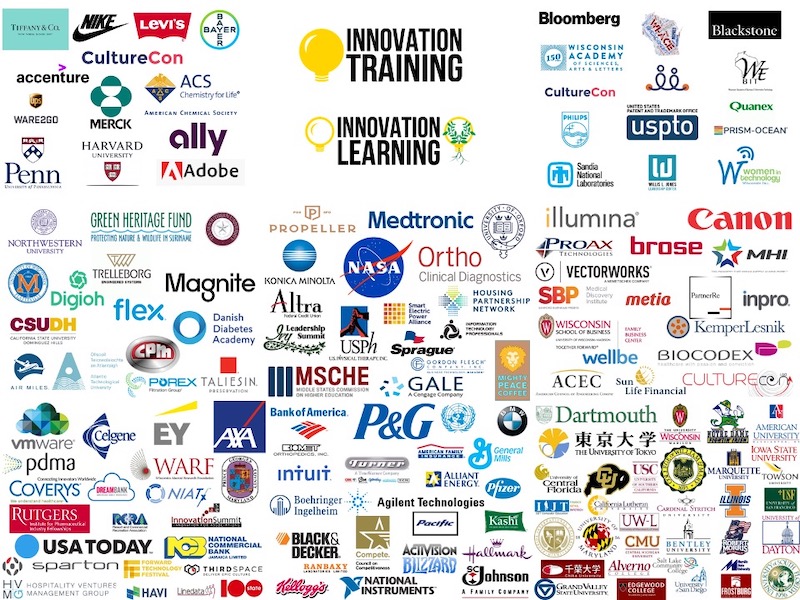 Not sure which innovation training workshop is right for you or your organization? Contact us today to get started! We can apply design thinking to design an innovation workshop specific to your needs. Most of our workshops are customized for our clients and are delivered virtually or onsite.