See our most popular innovation workshops that can stand alone or be integrated into a special innovation event program that Darin can design and facilitate for your leadership initiative or conference. This full day innovation workshop agenda is composed of four creativity & innovation workshops that show people how to generate and develop innovative ideas, facilitate brainstorming, and even lead the innovation process in groups to contribute to a "culture of innovation." We have a design thinking approach to innovation. Email us to let us know about the event you are planning. We also offer over 10 of our innovation workshops online.
---
Innovation Workshops

I. Designing & Facilitating Idea Generation & Collaborative Development with Groups
Would you like to design more interactive and engaging meetings, workshops and group sessions that generate ideas and innovation? In this practical & hands-on workshop you will will experience high-impact creative activities that work for a variety of group sizes at different steps of the innovation process. You will learn how to use trusted techniques and new tools to more confidently, actively, and successfully facilitate others in creating ideas & communicating innovations to act on. At the end of our experience you will get to design your own mini innovation session using the tools and activities…and facilitate it to generate ideas for a challenge you want to focus on.
Workshop Objectives & Activities
Use design thinking to design for engagement leveraging group dynamics: Individuals, pairs, triads, & huddles
See tools that get ideas from larger levels: the Organization, crowd, public, experts, big data, & the web
Gain a toolkit of tools & techniques to use immediately on your own and with groups
Experience simple activities you can facilitate too: BrainRain, Bounce, Polls, Think-Pair-Share, CardSourcing, etc.
Design your own innovation session to facilitate that day for your challenge & participate in others' creations (This workshop can be customized from 1.5 hours to 2 days)
---
II. Collaborate, Communicate, & Create: The 3Cs of an Innovation Culture 
In this speed networking inspired event, you will be facilitated through quick, one-on-one conversations that could lead to new solutions, knowledge, resources, and collaborations. Share a new innovation you are fostering or a challenge you are working on, and get insight from fellow participants. This is an innovative, interactive approach to networking and co-creation, designed to focus conversations and catalyze relationships. Experience how this activity is done so you can lead it yourself in your own group!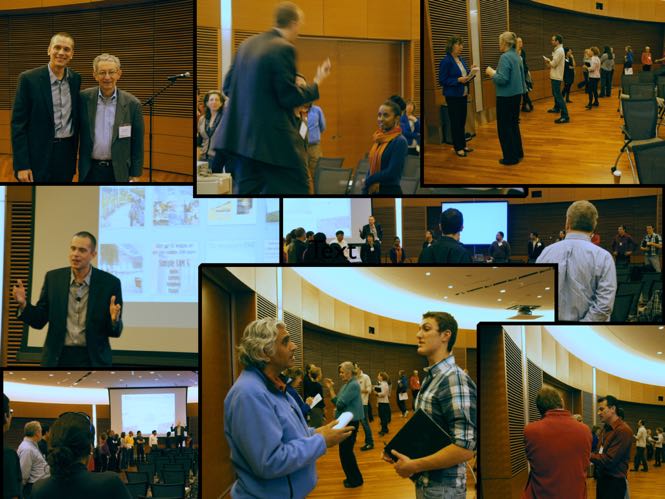 Keynote Objectives & Activities
Collaboration, connection making and culture building in action.
Rapid iterations to communicate your challenge, get insight, and refine.
Learn the key skills of breakthrough innovators: Network, Observe, Experiment, Associate, Question.
Connect with at least 5 other colleagues 1:1 for about 5 minutes per pair.
Focus on a challenge you want innovation for in your own work ranging from recruitment, management, helping a specific client, new product ideas, problem solutions, applications of a technology, etc.
Around the circle debrief/reflection of insights gained with possible takeaway whiteboarding on big sheets of paper.
This is a good event for a larger group too that lives and breathes a culture of collaboration and innovation in action and gets participants working on their own challenge (or common organization challenge) together. This is typically delivered in 1.5 to 3 hour timeframes.
---
III. How to Innovate Swiftly & Systematically: Innovation Step-by-Step
Innovate how you create and develop ideas to foster a culture of innovation in your work. Develop a toolkit of activities and a system for the "fuzzy front end of innovation." In this fast paced, reflective, interactive, and engaging program, you will experience activities and a system for idea development firsthand. Get motivated to innovate by addressing your opportunities with applied systematic creativity using the "Innovation Step-by-Step" process. Follow along with your own challenge to develop new products, services, or organization enhancements. Use the system and activities with your own group after you learn it.
See what our innovation workshops look like in action:
Workshop Objectives & Activities
Get familiar with the innovation step-by-step system through a demonstration.
ID a relevant challenge to follow along with and create ideas for.
Start to develop relationship as a 5 person team.
Learn collaborative tools and techniques for innovation and ideation.
Guide participants step-by-step with examples and techniques at each stage for their own challenge, developing & validating ideas. (This workshop can be delivered in 1.5 hour to 2 day time formats)
---
IV. Team Innovation Collaboration Challenge: Idea hackathon to rapidly develop and pitch new concepts to a shark tank style panel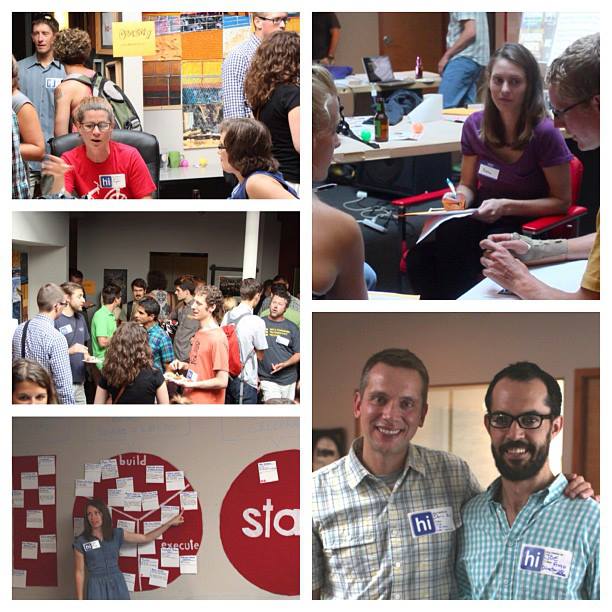 This special event can stand alone or be delivered at the end of a conference day. This session allows participants time to put the tools, techniques, and activities we've learned by doing into action. There are two options, a Rapid Conference or Team Hackathon shark tank style event.
1. Rapid Conference Details
Individuals will design a short session to facilitate based on a challenge they would like to get ideas for. The session length is about 10-15 minutes. They will sequence tools or activities that they would like to "prototype" in this rapid session. Teams of 4-5 form and each person takes a turn facilitating their session. The sessions could be on a wide variety of challenges such as new product ideas, ideas to leverage assets/strengths, naming ideas, identifying solutions to a problem, opportunities to seize, learning a new skill, communication ideas, etc. Individuals will see how easy and engaging it is to design a session around tools and techniques that engage participants in new ways.
After facilitating participants will receive insights on how to take their session to the next level. They will identify a next step to bring their session (or tools/activities) to a group. This is the pinnacle of the day, helping people leave with a toolkit of innovation and brainstorming activities they have used and are planning to put into action to improve their work and life.
2. Team "Hackathon" Shark Tank Style Panel Details
The team hackathon is focused around teams using the skill they developed in collaborating and rapidly generating and developing ideas. We provide a challenge statement. We frame the challenge statement so each team (and individual) can make it their own based on their experience and space.
We provide questions (and examples of products/tech) that would help people focus in a promising direction.
Teams huddle up on their own and swiftly go through the Innovation Step-by-Step steps with some beginning guidance from me on tools to use, questions to ask, combinations to make, examples, etc. Each person will have an Innovation Steps worksheet to help them understand the basics while in action. The teams determine how they want to focus the challenge into a specific problem area, market, etc.
Criteria is identified that would make for the best concepts. They can generate ideas with the criteria in mind and also use it to select which concepts to advance.
Teams turn their top concept into a 1-2 slide presentation with perhaps a very rapid and rough prototype to physically demonstrate. Focus on communicating concept with a format. Who is it for, problem solved, benefit, how it might work, validation of market/interest, etc.
A box of parts or supplies can be available for teams to use for rough prototyping or presentation aids.
After 1 hour of working as a team, the teams will come back together to do short 5 minute pitches. After the pitches a panel of shark tank style judges can award fun or serious prizes for top concept, best pitch, etc.
Here is what a client of ours said about the benefits and results of our shark tank style workshop program:
"I've asked Darin to help my company on a number of occasions over the few years.  Like many industries, we are trying to stay ahead of the curve when it comes to rapidly advancing technologies and their potentially adverse impacts on our business model before it's too late.  Recently, Darin and I worked together to develop an innovation activity and tailored it for a real-time business challenge my company has had a difficult time thinking through.  The day's goals were to take a number of good ideas, find different ways to quickly test them, and then decide how to put the best ones into action — and the results were amazing!
Before the activity began, Darin warmed up the crowd with a series of team-building and innovation activities that helped open everyone's' minds and make them feel comfortable for rest of the day.  In the past, many attendees were on their phones checking emails from colleagues or text messages within the first hour or two of this annually-held meeting, but not this year as the energy and engagement levels started high and remained that way throughout the entire day.  Collaboration, innovation, and risk taking replaced the usual 4-6 mundane PowerPoint presentations that typically dominated the meeting.   Three weeks later I can still hear excitement in the voices of those who attended when the activity is mentioned in the hallways or in other meetings.
While it's always satisfying to prepare a successful meeting where everyone felt like it was fun and worth their time, it's the best when you know that 50-60 people took something away from the day that they will use again to help the entire organization in the future." 
---
---
After the Leadership Event: Innovation Step-by-Step Video Tutorial Program
After the conference participants would use the system, tools, and techniques in their work. They would spend more time creating validated concepts that they can submit for funding. We can build an online toolkit (password protected webpage) that has select innovation training video modules and materials on it. It would be the same system and activities they go through during the day. When they return to their work they can go through the video modules step-by-step to create new product ideas or other innovations.
Learn how to run an innovation workshop of your own
We can help you with your own innovation workshop exercises that you can run on your own in your own unique program, too. Use our ideation workshop process to engage individuals and teams in idea generation, development, and pitching with our workbook activities. Run your own bookclub style program or an intensive event like Startup Weekend NYC did with our workbook.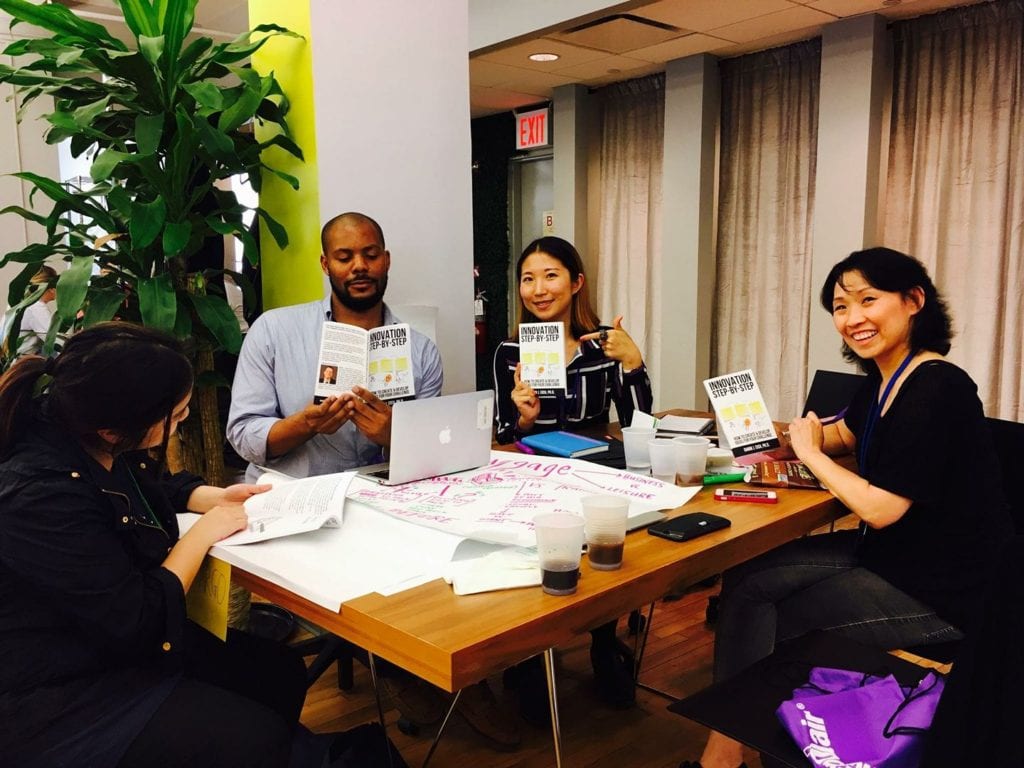 ---
Results from Innovation Workshops
We can customize the innovation workshop for your organization. Here are some selected quotes from our testimonial letters about workshops we've designed and the results.
"The results exceeded our expectations.  Our CIO expected 50-70% of the ideas generated would be almost useless and we had probably a 90% idea success rate.  The teams got to meet new players and were very engaged for the event."

"At the end of the event, I had a large number of attendees say this was "the best leadership offsite meeting they've ever had".   Note that many of the attendees come from companies like Apple, Cisco, IBM, Google, etc. so this is a hard crowd to please."
"Darin conducted two sessions – a keynote to staff that was streamed live via our intranet, and a half-day workshop with our senior management/executive team. Our team really appreciated Darin's interactive, relaxed, insightful, and engaging approach. He received a 95% overall rating and feedback received included that he made innovation seem "simple" and that their perspective on innovation and how they can play their parts was made clearer."
"Darin did a series of interactive activities that were a welcome change from our usual "death by PowerPoints" we typically endure. We did things like brainstorm new ways of looking at old problems, tapped "the crowd" for new ideas, and explored little ways we could empower our employees to become better problem solvers. Attendees said they "used places in their brain they didn't know existed" and felt invigorated after it was over. After only a few minutes of seeing Darin in action, I was glad he was there and knew he was going to make a difference for my company."
"After experimenting with Darin's tools and techniques in a variety of hands-on face-to-face workshop activities, the attendees were assigned to groups to mimic real life project teams.  They were then given a common challenge within a time limit to generate, summarize, and present their concept and budget needs.   The results were breakthrough in nature.  Solid innovative product and process concepts were developed by each team, which will now lead to formal funding and project assignments for the coming fiscal year."

"Darin was the lead facilitator for a day long workshop which took people from identifying challenges to developing solutions. The training was very team focused which lead to a more creative approach to problem solving and "break-through thinking". People who did not think they had the capacity to innovate left with ideas, solutions and renewed energy for the project."
---
Examples of different organizations and conferences who have offered our innovation workshops, training, & consulting…and publications that have featured our programs.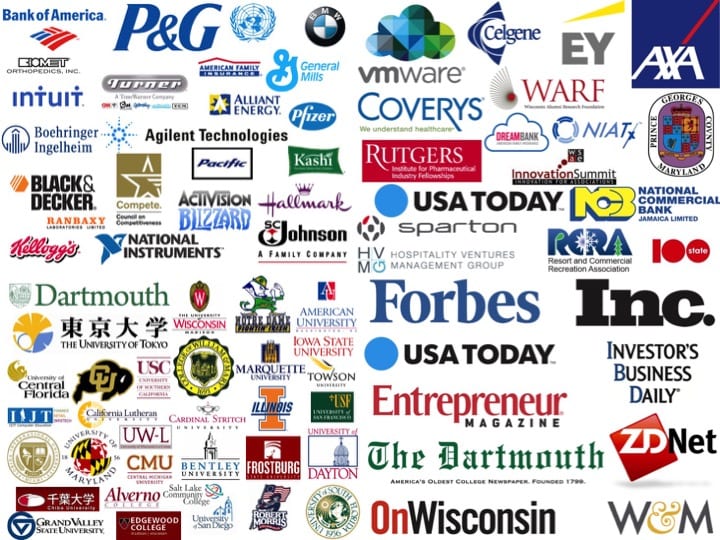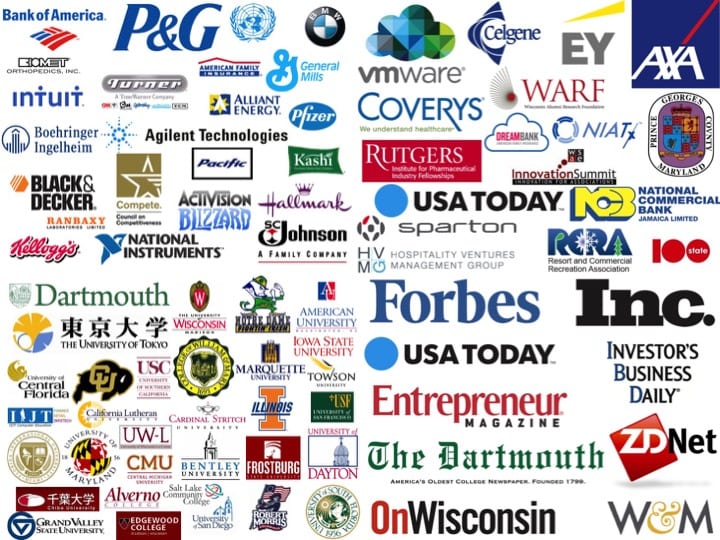 ---
Email darin@innovationtraining.org to read more of our testimonials, see examples of different innovative workshops, and get ideas for your unique innovation program.