Intrapreneurship Training & Characteristics of Intrapreneurs
Intrapreneur Definition & Meaning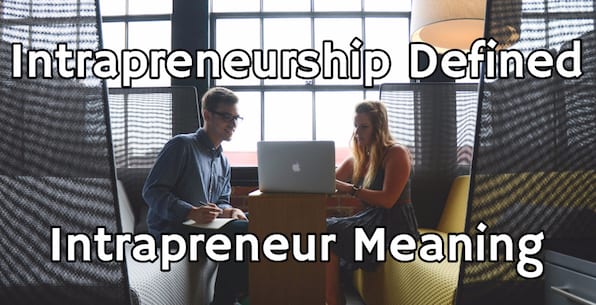 Intrapreneurship is a newer concept to define. Here is what it being an intrapreneur means to us.
Characteristics of an Intrapreneur
An intrapreneur is someone who acts and thinks like an entrepreneur but who works in an organization and for their organization rather than owning their own organization.
An intrapreneur is an innovator within an organization who creates, develops, validates, and moves forward new innovations for their organization.
An intrapreneur develops innovations within and for their organization using entrepreneurial methods…such as moving with agility, operating lean, design thinking, failing (and learning) fast, starting with few resources, gaining funding, market validation, finding first users and customers, etc.
An intrapreneur may have more freedom and license to fail (and learn) than traditional organization employees. They may even have unique financial compensation structures tied to the success of the innovations they start.
An intrapreneur's work environment may have features of a start-up within the traditional organization. More of a "start-up culture" of innovation is preferred for intrapreneurship. Some intrapreneurs may even be situated in an innovation lab within the organization and operate outside of traditional profit and loss expectations since they are working more towards more disruptive or breakthrough future growth (like a start-up) vs. immediate, month-to-month incremental improvement.
Intrapreneurship is a concept that is gaining popularity as entrepreneurial methods (especially Design Thinking or Lean Startup) have also become popular for larger organizations and their leaders. Organizations have seen the need for their employees to operate more like entrepreneurs for their organization due to the rapid pace of change, declining resources, and new opportunities that need to be acted on quickly. Just as innovation is becoming mandatory for survival for organizations, intrapreneurs are those that take risk and reap rewards within an organization for the innovations they help to foster. The innovations could be for anything…new products, services, marketing, business models, strategies, processes, customer value, etc. As organizations adopt the language of intrapreneurship, greater work towards meaning and definition will be beneficial. Please leave a comment to share what intrepreneurship or being an intrepreneur mean to you or how you would define or explain it.

Intrapreneurship Training
We've designed and led intrapreneurship training events on Idea Generation for Intrapreneurship, Storytelling your Venture, and How to Build your Personal Brand Inside & Outside your Organization: Proven techniques to become a better intrapreneur and help your organization, others, and yourself. We can bring unique training workshops and special events into your organization to catalyze intrapreneurship.
Our intrapreneurship training online is available now to guide you through the process as an intrapreneur to help you generate and develop "intrapreneurial" ideas for your organization that leverage your own strengths, interests as well as customer needs and organizational strategy.
Intrapreneur Workshops
We also offer live workshops ranging from 2 hours to 3 days to help develop intrapreneurship skills for organizational innovators. You'll learn entrepreneurial techniques and tools to apply immediately into your work at your company. You will also be guided through the process of generating, developing, and designing an intrapreneurial innovation you can take action on, validate, and launch for your organization. Learn more about our intrapreneurship workshops for innovation.
Corporate Intrapreneur Programs
Are you looking to go deep and establish a more significant and ongoing program? We've asked our AI for some tips on how to create a corporate intrapreneurship training program.
To create a corporate intrapreneurship training program, try to follow these steps:
Identify the goals and objectives of the training program. What do you want to achieve through the program, and how will it support the organization's overall strategy and goals?
Conduct a needs assessment to determine the skills and knowledge that employees need to develop in order to succeed as corporate intrapreneurs. This could involve surveying employees, conducting focus groups, or conducting interviews with key stakeholders.
Develop a training curriculum that covers the key concepts and skills of corporate intrapreneurship, such as innovation, design thinking, and problem-solving. The curriculum should be tailored to the needs and goals of the organization and its employees.
Choose a training delivery method that is appropriate for the organization and its employees. This could include in-person training, online courses, workshops, seminars, or a combination of these methods.
Select trainers and facilitators who have expertise in corporate intrapreneurship and are able to engage and motivate participants.
Promote the training program to employees and encourage them to participate. Provide information on the benefits of the program and how it will support their professional development and the organization's goals.
Evaluate the training program to determine its effectiveness and identify areas for improvement. This could involve collecting feedback from participants and conducting follow-up assessments to measure the impact of the training on employees' skills and performance.
Continuously update and improve the training program to ensure that it remains relevant and effective. This could involve incorporating new ideas and techniques, and adapting the program to changes in the organization and its needs.
Contact us if you'd like to learn more about our intrapreneurship training, workshops, or programs.