Meet the latest tools from popular innovation planning and whiteboarding tool Miro.
Miro is one of the best whiteboard and virtual collaboration tools out there – just look at our blog posts to see some of the awesome templates they offer that we've talked about in the past! And it appears the tool is about to get even better: Miro launched access for Activities, previously known as Smart Meetings. This new functionality allows for teams using their Miro board to turn it into an interactive presentation easily and in the moment. Learn more below!
Miro Activities or Smart Meetings: A Helpful Tools for Facilitators and Workshop Leaders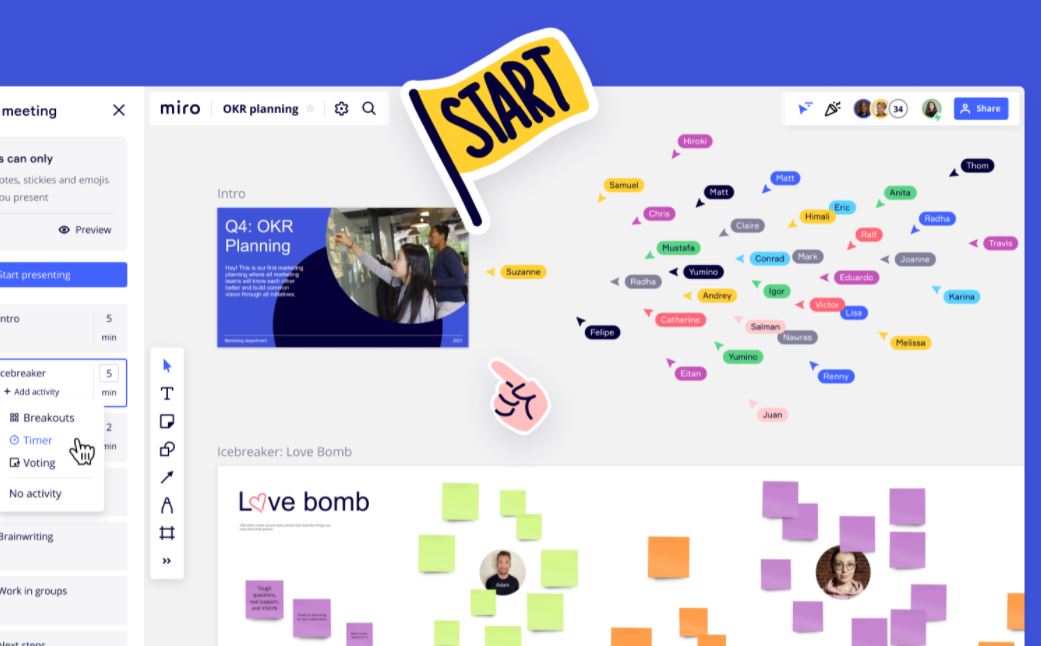 Here are a few tidbits already known about functionality:
Meeting Panel: this will be the central hub where organizers and facilitators design, manage, and run their meeting.
Facilitators will be able to choose exactly what participants see and what tools they can use while presenting, allowing facilitators to run their session at the pace they want all from the board.
Participants can drop in sticky notes, reactions, stickers, or vote on ideas throughout, turning a regular meeting from passive to interactive at the drop of a hat.
The tool will also feature additional templates so organizers can effectively lead some of the most popular meeting types, like a design sprint or a retrospective.
In just a few minutes, the tool can intelligently prepare a meeting agenda based on your board's content. The facilitator can then choose the amount of time to spend on each item, with the built-in timer ensuring that conversations don't go off track.
This functionality will allow innovation teams to stick in one place (versus having to maneuver to another tool for actual meeting/discussion time), which can be a game-changer for planning and workshopping sessions.
Learn More about Miro Activities / Smart Meetings
For more information about these exciting new Miro features – and to sign up for beta access yourself, browse the links below.
For even more Miro content and resources, browse our innovation and design thinking blog.