These templates can be used to help you conduct a remote design sprint.
Miro, a popular design thinking and innovation software tool, offers templates and resources for design sprint facilitators looking to conduct virtual sessions with their teams. The design sprint is a fast-paced, valuable tool in an innovation team's arsenal to quickly and effectively analyze potential solutions to key problems facing their customers or organization. In this post, we'll cover different templates from Miro to get started.
1. Jake Knapp Design Sprint with Talktrack

This template from Jake Knapp, author of "Sprint," is a highly effective resource for running your own design sprint. It includes updated techniques, step-by-step instructions, an tips and advice that complement Knapp's best-selling guide to the design sprint process.
Learn more about the design sprint and find a video walkthrough of this template on our blog.
2. AJ&Smart Remote Design Sprint

This template from a credible design sprint agency is a functional roadmap to walk you through every stage of your virtual design sprint, from onboarding to workshops and everything in between.
3. 1-Day Brand Sprint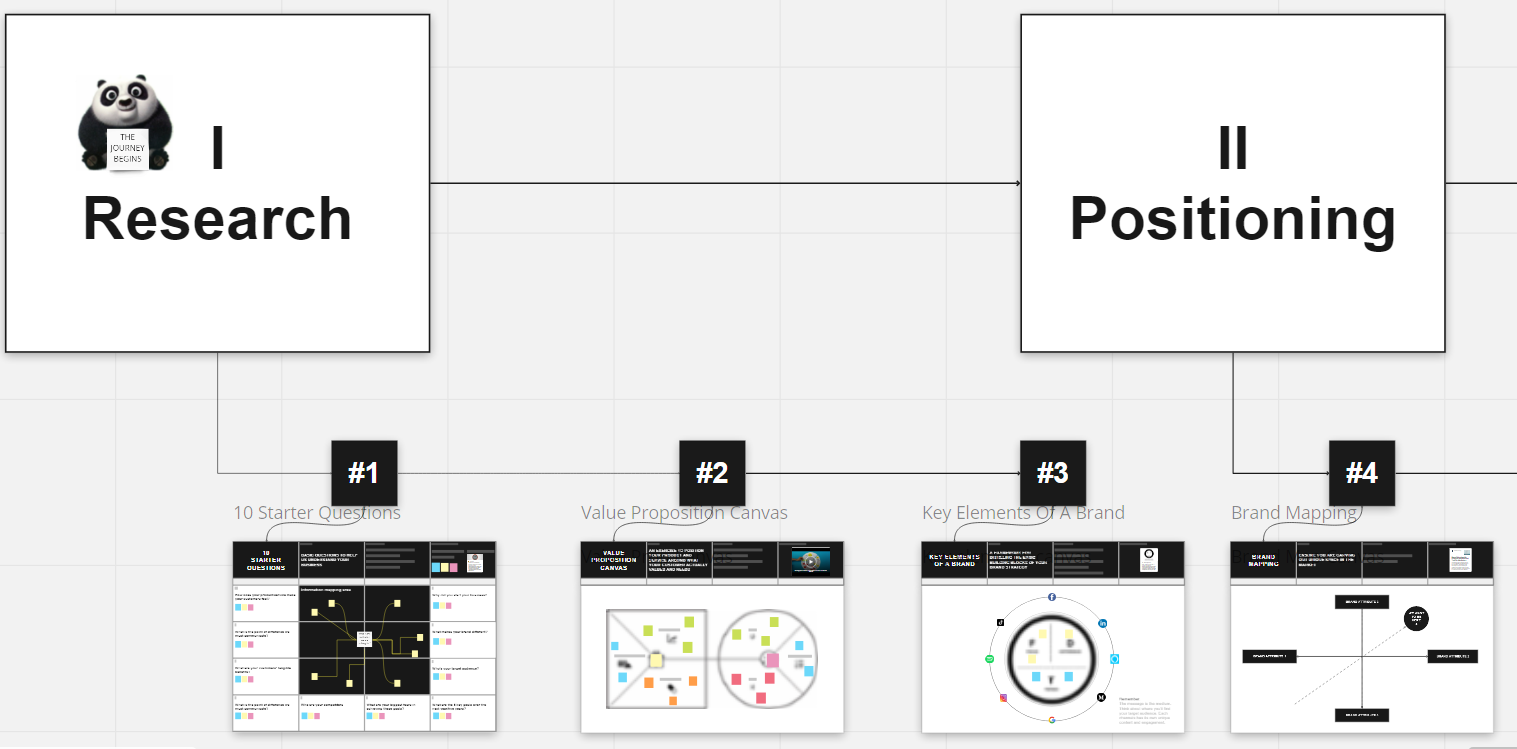 This Brand Sprint template breaks the branding process into quick modules covering user experience strategy, design systems thinking, and product-led growth.
4. Design Sprint Supply & Participant Rooms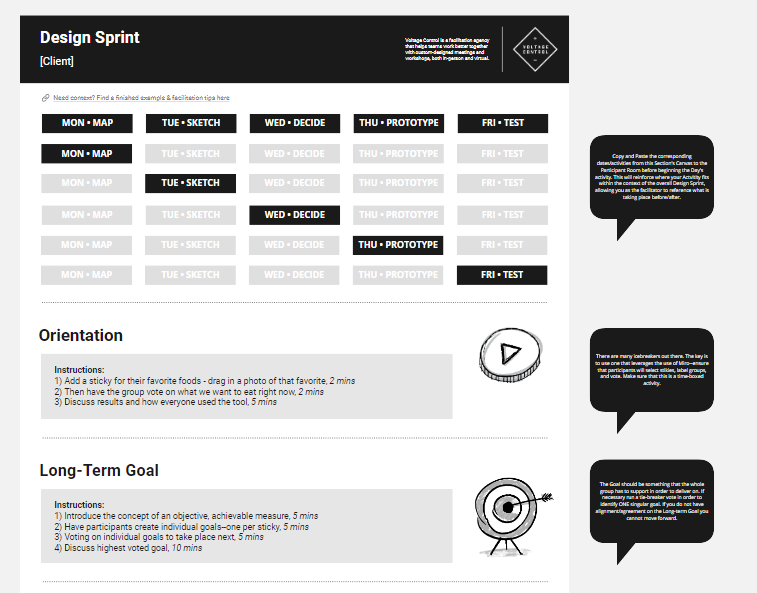 Voltage Control has separated their design sprint into two templates: supply room and participant room. The supply room contains all the instructions, visuals, and supplies for each activity. The participant room contains a "placemat" for each participant and a group work area that allows teams to work both separately and together throughout the design sprint.
5. Just Mad's Remote Design Sprint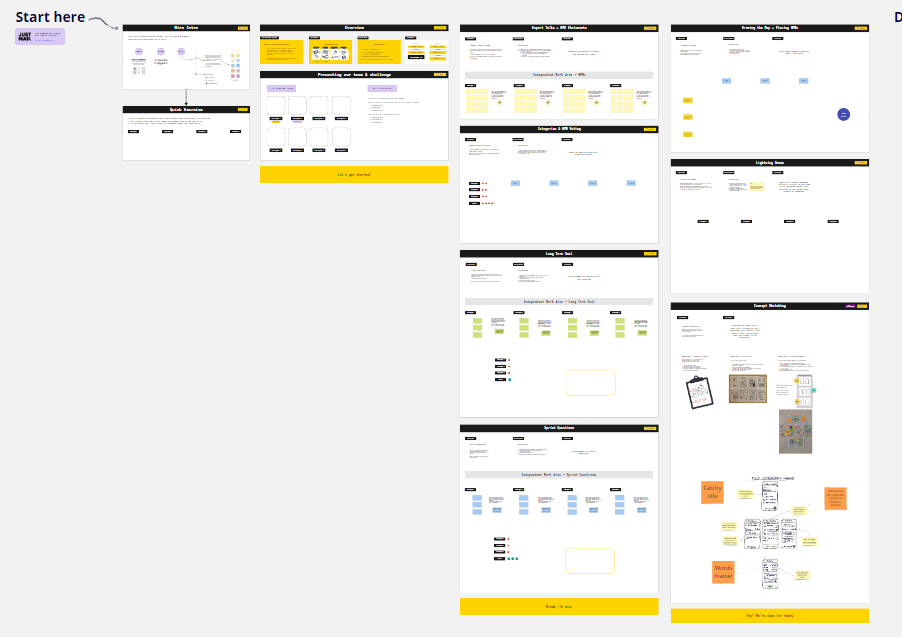 This easy-to-use template follows the standard 4-day design sprint process with four main stages: map and sketch, decide and storyboard, prototype, and test and learn.
6. ITX Virtual Design Sprint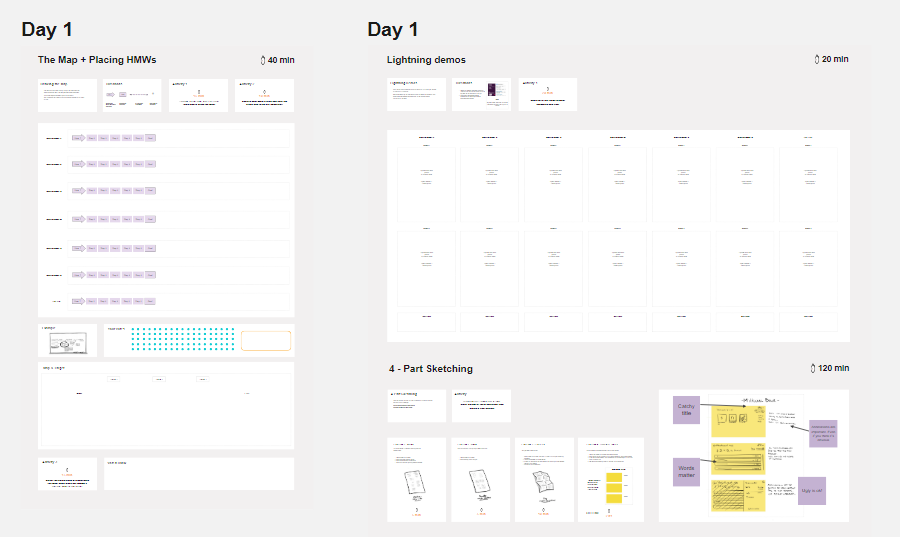 Another clean and simple template focusing on the 4-day sprint organized by days and activities. In addition to the standard design sprint activities, it also includes facilitator notes, icebreakers, ways to collect participant feedback, and a resources section.
7. Emily and Norman Remote Design Sprint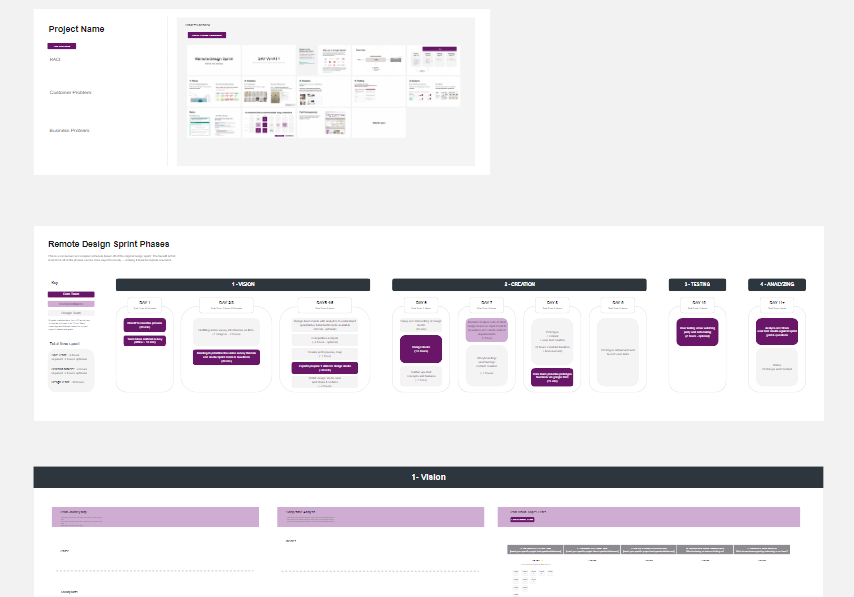 This remote design sprint template helps participants design any idea with as many as 20 stakeholders in just two weeks – while everyone is working remotely. Includes descriptions, tools, and templates you need to complete the vision, creation, testing, and analyzing of phases.
8. Official Remote 5-day Design Sprint

If you were looking for a remote design sprint template based on the 5-day sprint outlined by Jake Knapp at Google, this template is perfect for you. The template will allow you to focus on the five main stages: map, sketch, decide, prototype, and test.
Conclusion
These seven design sprint templates from Miro may be useful when conducting a remote sprint with your team. For more helpful innovation and design thinking resources, continue to our blog.