Use this design sprint template to effectively facilitate sprints with your virtual team.
The design sprint is a popular fast-paced innovation approach that's rapid and interactive. While many design sprints are held in-person, you can also complete the process virtually using a design thinking software tool like Miro. In this guide, we'll explore a wonderful remote design sprint template from Miro and how you can use it to easily and correctly implement a design sprint with your remote team.
What is a Design Sprint?
Popularized by Google Ventures in the book Sprint by Jake Knapp, John Zeratsky, and Braden Kowitz, the design sprint approach typically consists of 5 days with unique activities completed during each of them. By quickly working through the innovation process – from ideation to storyboarding and rapid prototyping – teams are able to explore their challenge and quickly identify potential solutions for it.
Learn more about this process in our guide to design sprint training.
Miro's Design Sprint Template for Virtual Teams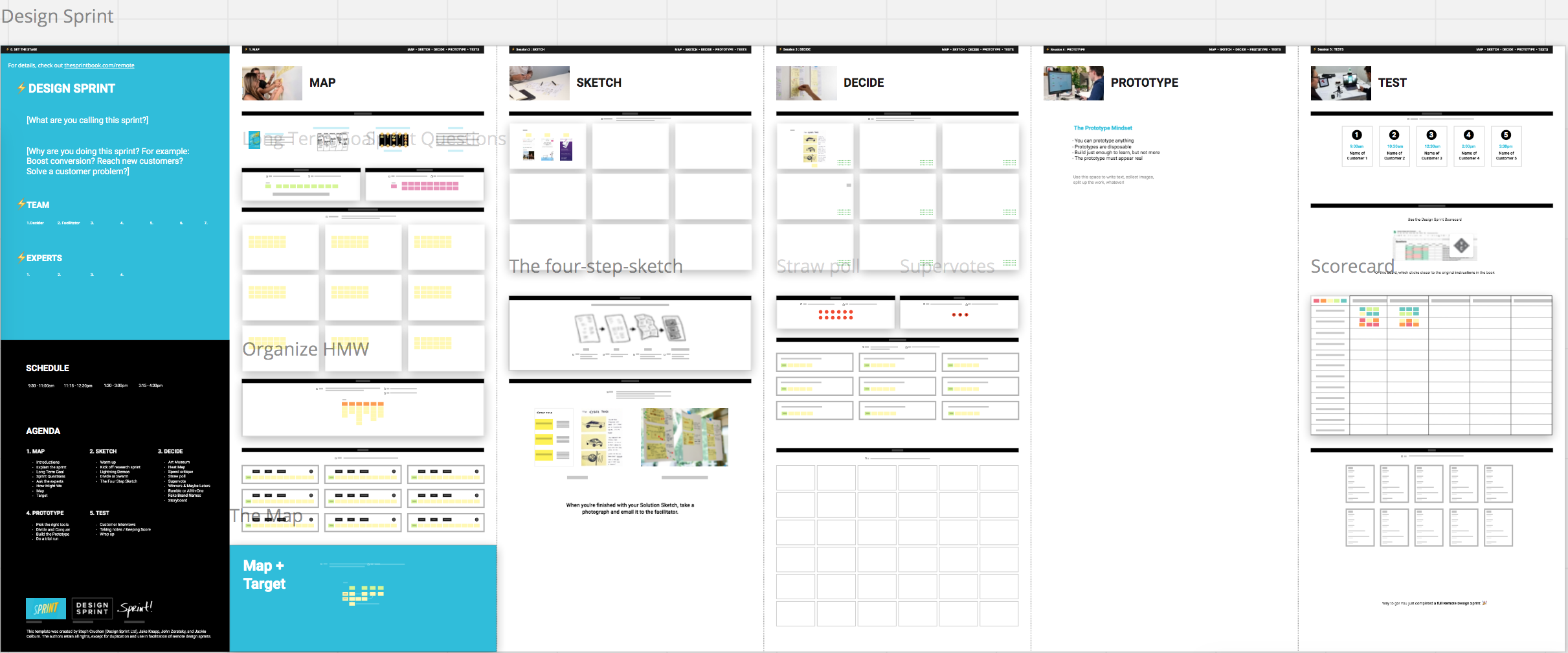 This template from Miro allows you to quickly and easily implement the original design sprint process into your virtual event. The template was created by the authors of the design sprint book along with facilitator Steph Cruchon of Design Sprint Ltd. If you have read or utilized the Sprint book in the past, this template will feel incredibly familiar to you, including many of the same exercises as the book (with a few additional ones).
Teams using this template will enjoy Miro's infinitely expanding canvas and the clear guidance on working through each of the goals for the design sprint – to map, sketch, decide, prototype, and test.
Another great benefit of this digital design sprint template is that teams can work together from anywhere, on any device, through the online software.
Conclusion
When it comes to design sprint templates to use online, Miro provides some of the best out there. If you need help implementing or facilitating your own design sprint event, reach out to us today for personalized assistance.