We know that workshop facilitators and project leaders are always looking for creative ways to engage participants, make remote work more exciting, and to better demonstrate the impact of the work they're doing.
So, we're here to share a new development you might not already be aware of, that will help you do all of that and more.
As you might already know, in 2018 our team at Treehouse Innovation launched Sprintbase, a cloud-based design thinking project platform loaded with tools and in-step guidance to help our clients develop innovative solutions, and learn new skills.
Sprintbase evolved rapidly through the pandemic and we are delighted to share that we have worked closely with Mural to integrate into Sprintbase. This integration helps people run amazing collaborative workshops and remote innovation projects using everything our two platforms have to offer.
By using Sprintbase and Mural together, facilitators can:
Manage multi-team workshops from a single interface
Orchestrate complex, multi-stage projects and keep momentum high
Produce project reports in seconds
Decrease the lag and simplify the user experience by using more than one Mural board in a project while retaining a bird's-eye view
Now anybody with a Mural account can create, organize and share murals within Sprintbase. Here are a couple of typical scenarios we know facilitators experience, and the benefits using Mural and Sprintbase together bring.
Scenario 1: You're leading a team which is running a project with multiple phases, methods, and templates, and which engages multiple stakeholders
We know that facilitators in this position want to be able to:
Keep all their work in one place, but not in just one mural or board
Get an easy overview of all aspects of the project
Control who has access to which elements of the project
Produce a useable, sharable output for sponsors and other stakeholders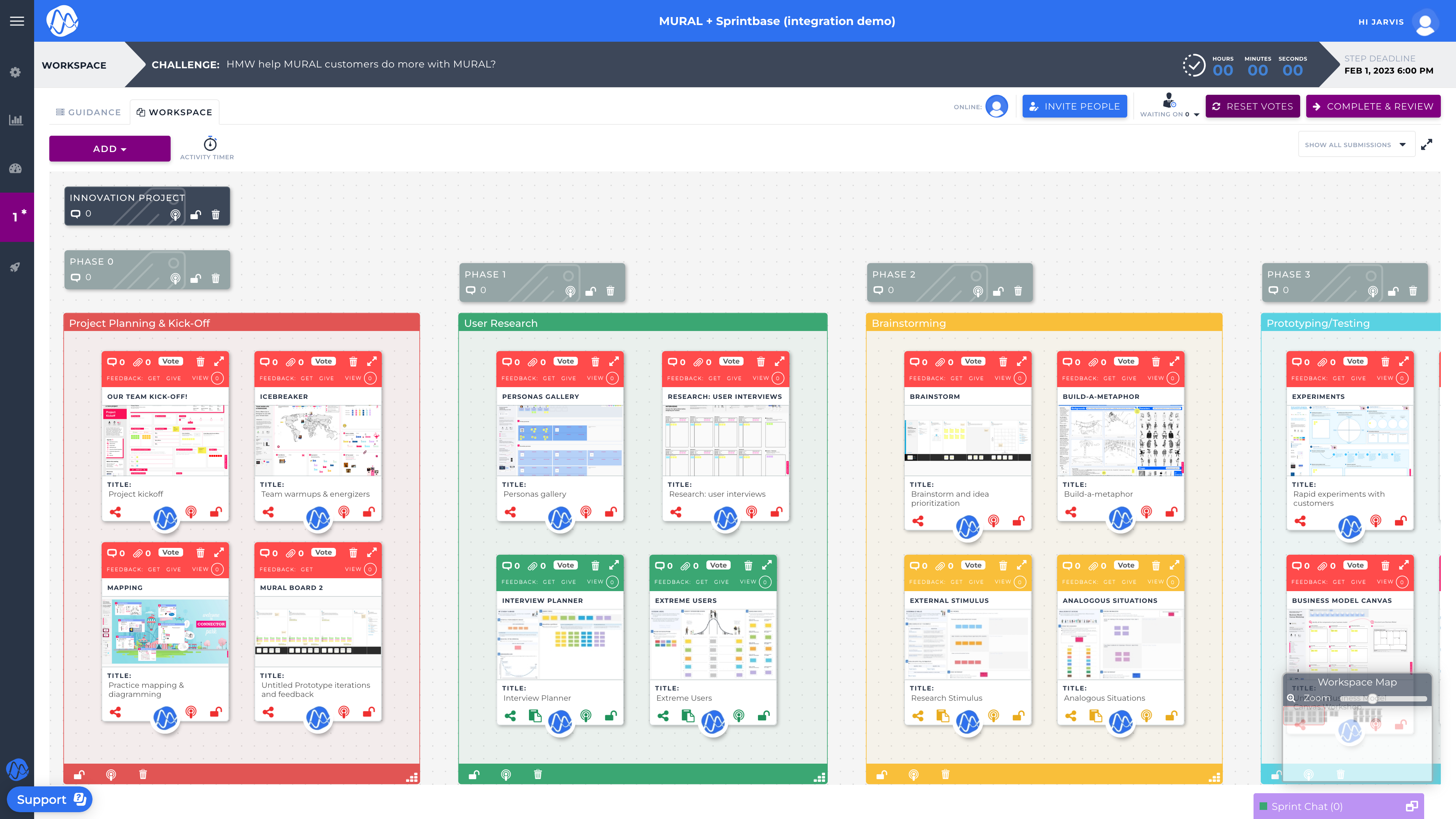 Get organized in your own shared space
For any team running any kind of project, one of the biggest challenges is keeping all your research, interviews, ideas and more organized.
So that's why every team working together on Sprintbase has access to a single, shared space where they can nest, group and arrange all their boards in one place. So, if you're a Mural user, this means you can keep your work organized by nesting, grouping and arranging multiple murals in a single, visual project space.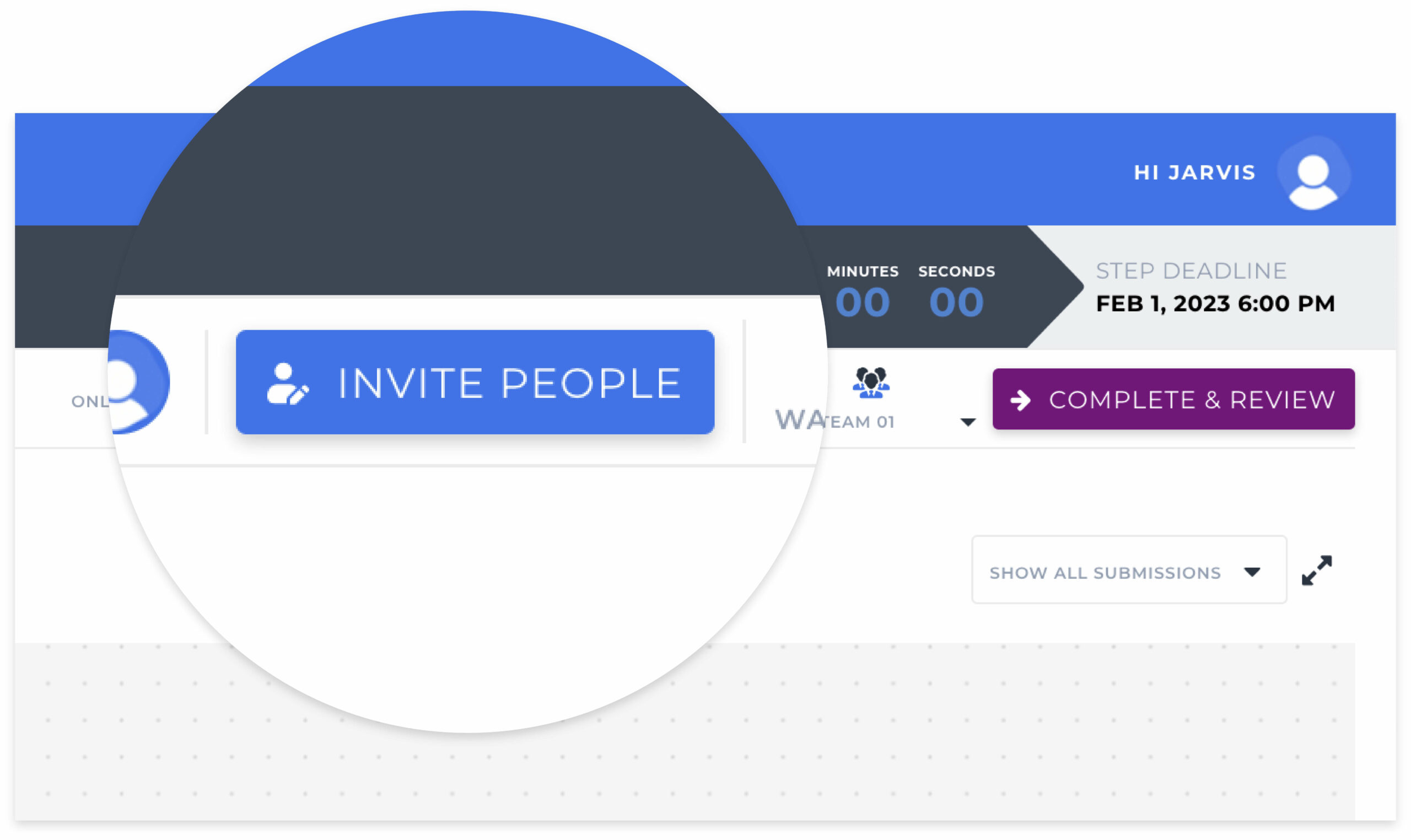 Invite people to collaborate with you on multiple boards – and control who sees what
Another great benefit of using Sprintbase and Mural together is how easy it is to invite people in to collaborate with you on specific parts of your project or workshop.
Perhaps you'd like to invite your customers into a brainstorm happening within one of your murals. Or maybe you'd like to gather feedback on an idea you're testing out in another mural. Within Sprintbase, every single one of your murals has a 'Share' function, making it incredibly easy to invite people in – without giving them access to your entire project space.
Sprintbase automatically generates an email for you to send through the platform – all you need to do is add in an email address. Your guests will receive a link that takes them straight into that mural on Sprintbase, where they'll be able to share comments, notes and feedback, just like any other participant.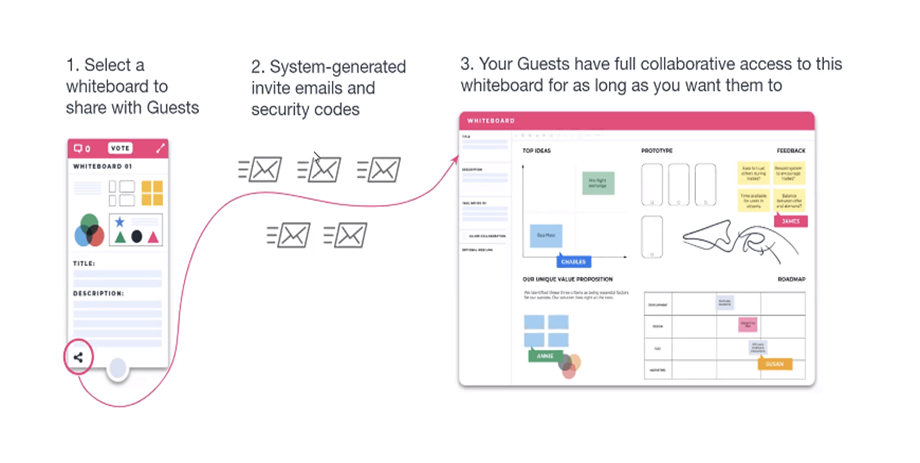 Easily share an output report of your work
And at any point during your project, you can download a PDF report curating everything the team has done so far, at the click of a button. This makes it incredibly easy to share your team's work, and engage sponsors and other stakeholders with their output.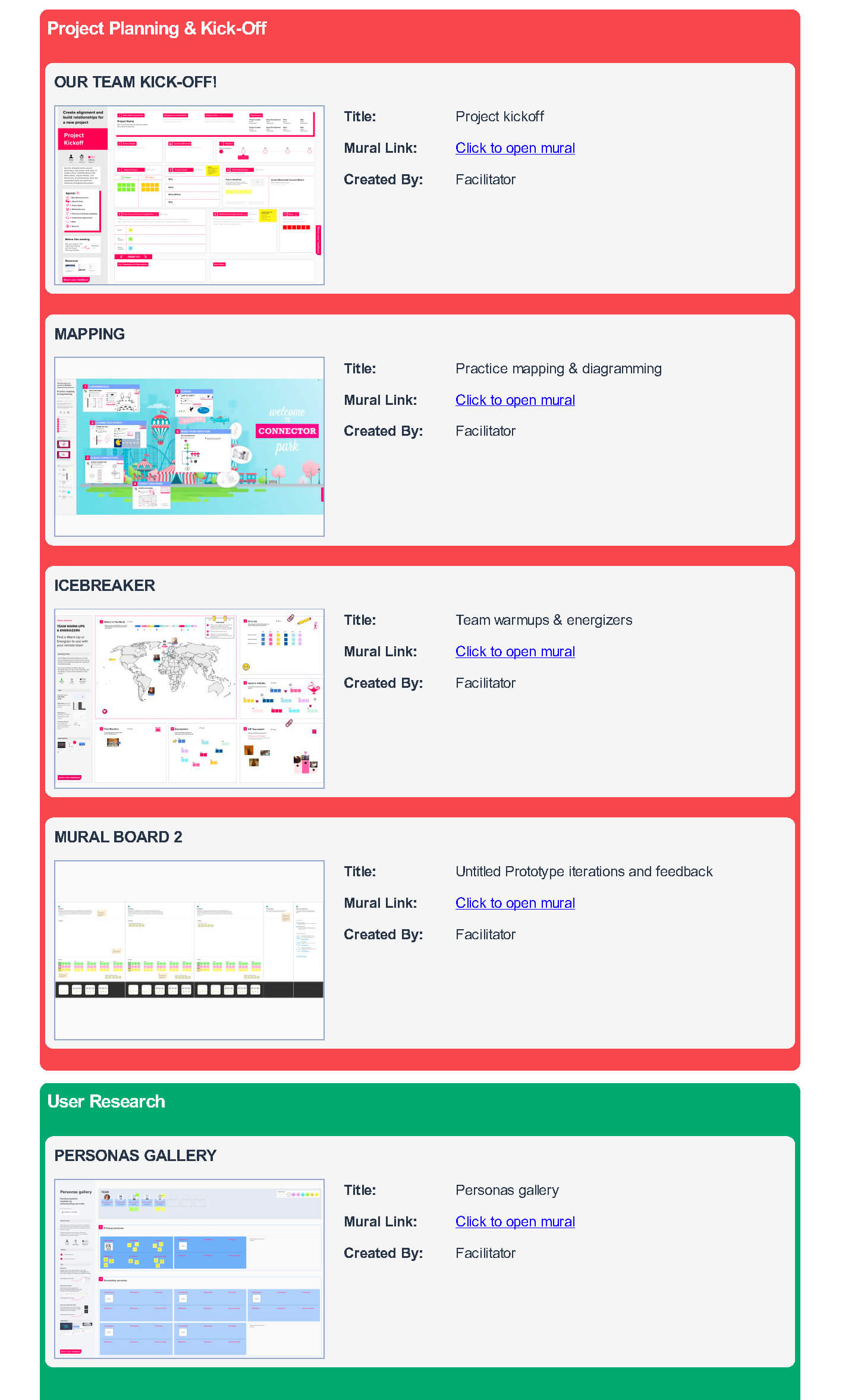 So that's how it works when you're managing just one team, but what if you're facilitating multiple teams at once?
Scenario 2: You're running a live, multi-team workshop with 10 teams, all working in their own murals
We know that facilitators in this situation want to:
Get a bird's-eye view of all teams' murals without needing to visit multiple tabs
Set one synchronized timer that all teams can see
Run scaffolded projects that move participants automatically from phase to phase
Again, this is where the ability to organize all your murals in one space comes into its own. No matter how many teams you're working with, you can organize every single one of their murals within your single shared space. So, as the facilitator, you can keep an overview of everything all your teams are doing, and team members can also take a look with ease at what other groups are producing on their murals, too.
Beacon notes you want your team to focus on
When teams come together to collaborate, they produce a lot of work. Your Sprintbase space will undoubtedly contain lots of different boards filled with amazing ideas, research and more. To help you bring everybody's attention to a specific Mural note you'd like them to look at, you can click on the Beacon icon within that note, and it will make the note flash on everybody's screen.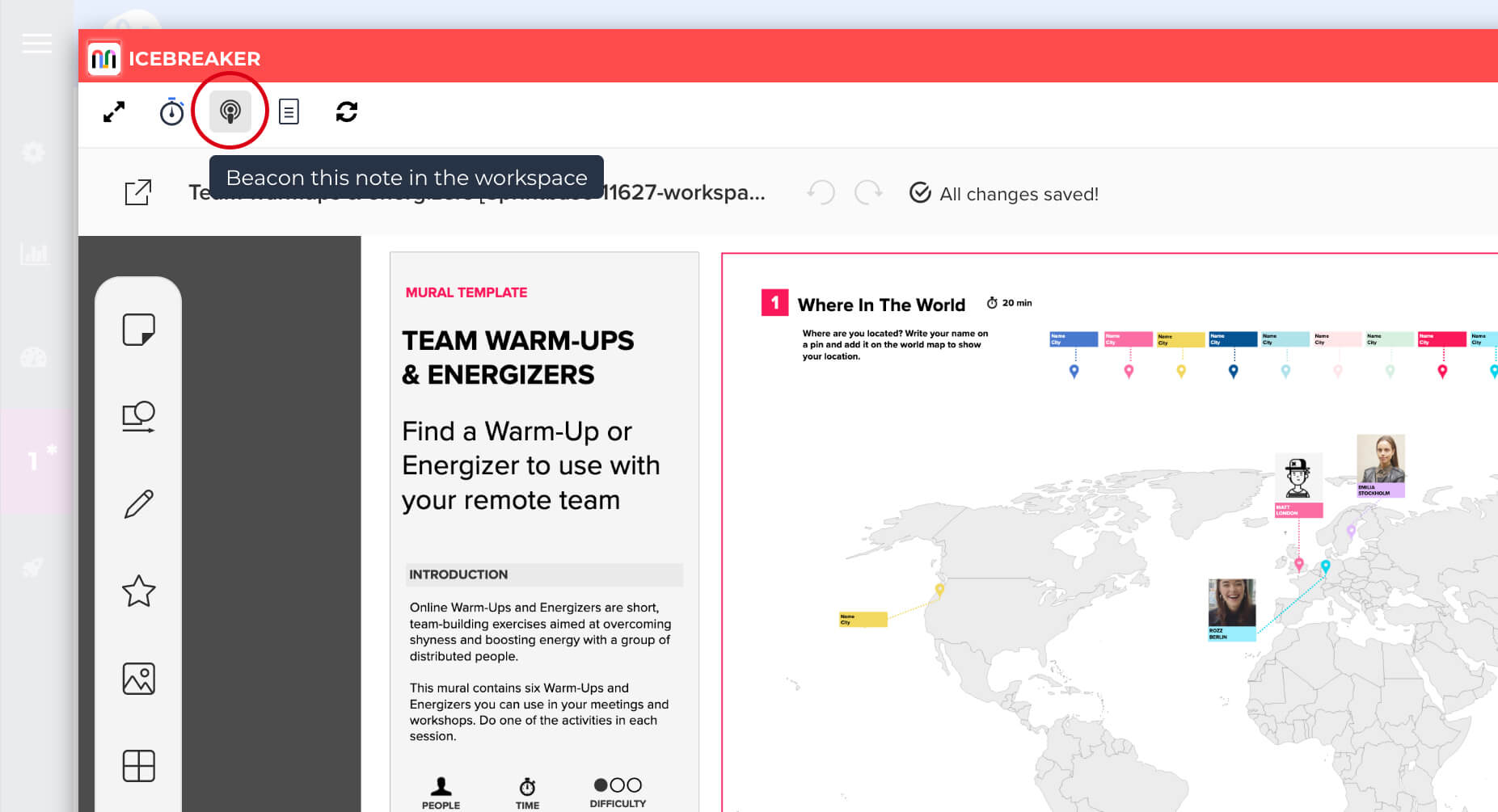 Become everyday innovators
Teams can use Sprintbase and Mural together for a whole host of collaboration activities, from hackathons to training to university workshops, and more. Facilitators wishing to run innovation workshops and projects using both platforms can tap into the techniques used by innovation experts with ready-to-run sprint facilitation materials, all built into Sprintbase.
Everybody in your team can also learn key innovation methods as you go with Sprintbase's built-in templates, guidance, expert tips, and a step-by-step innovation process to follow. As the facilitator, you can keep everybody moving through the innovation process, using the central timer to ensure everybody completes activities in good time, and then moves seamlessly to the next stage of your project.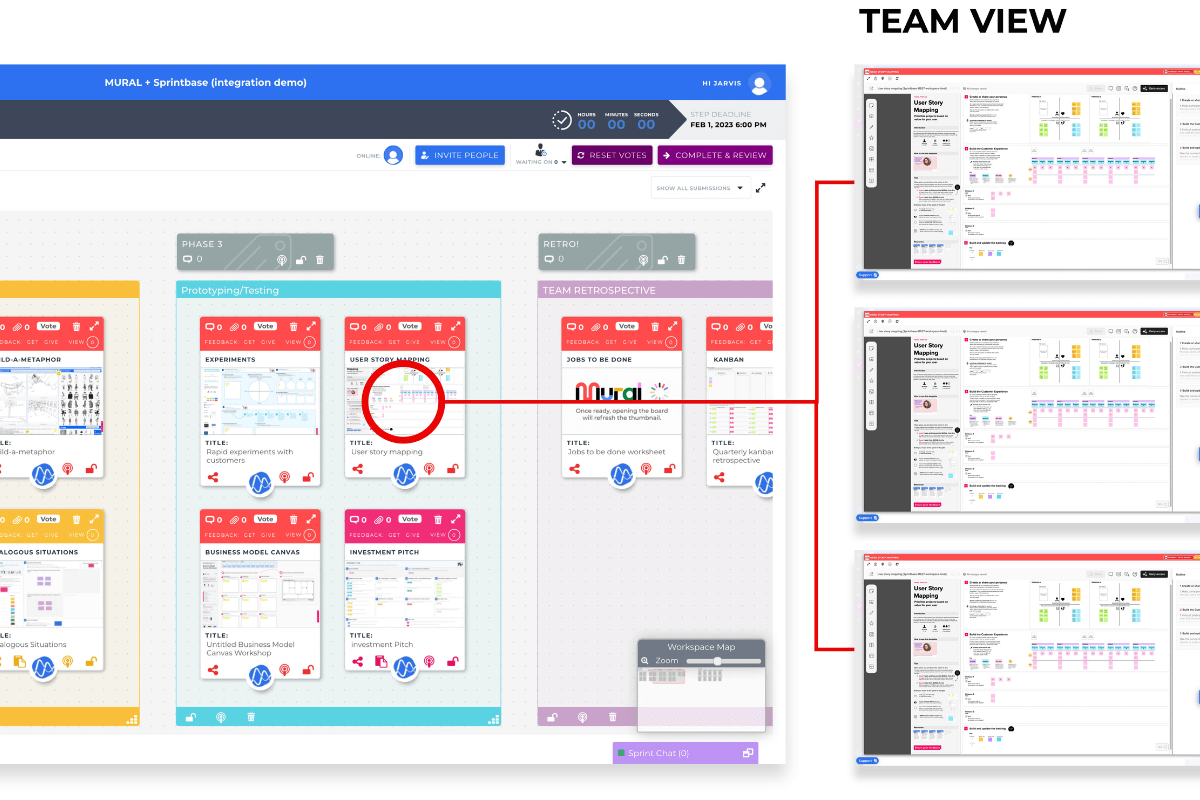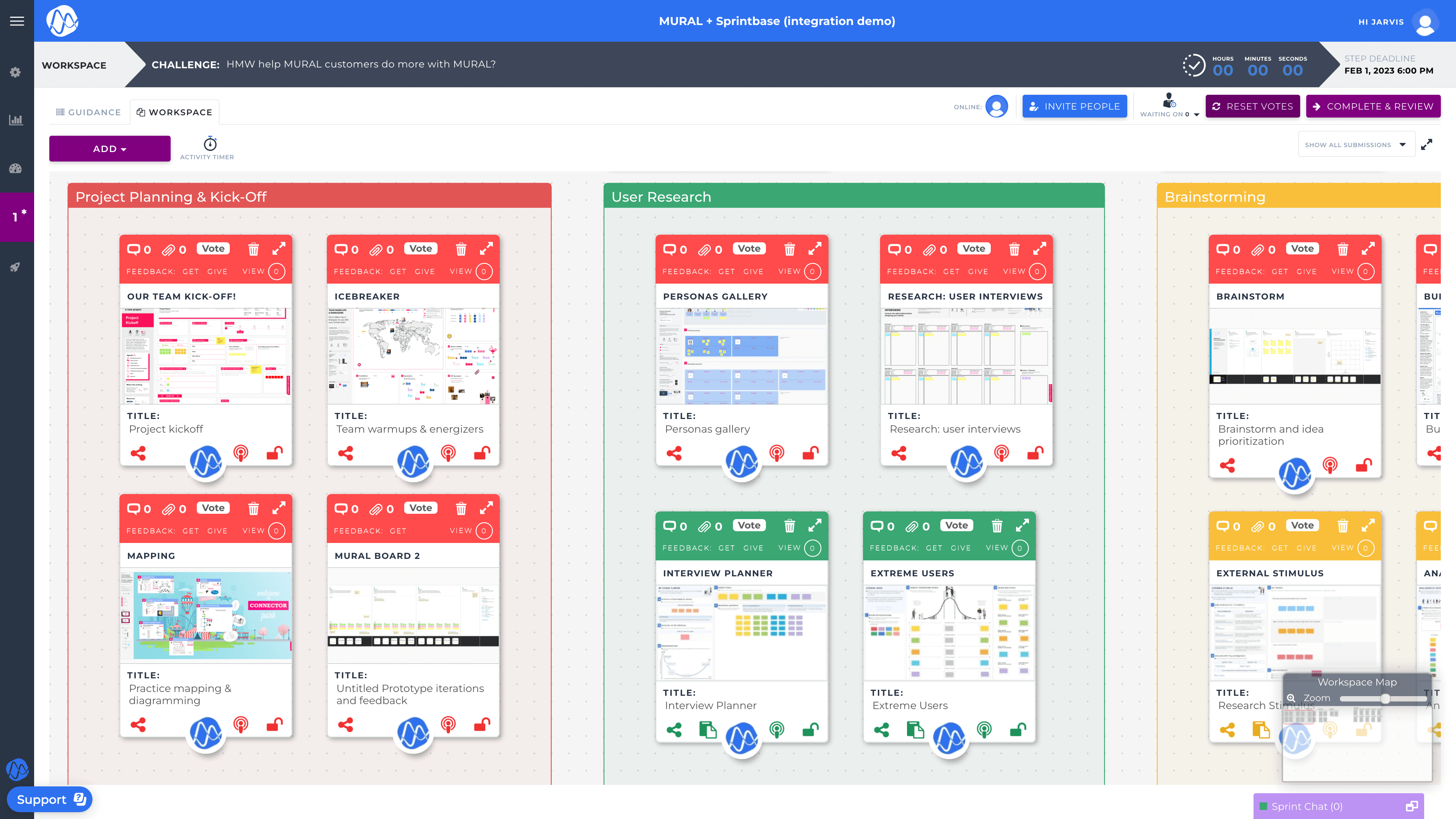 So if you're looking for a way to bring multiple teams together, to organize all your murals in one place, and run incredible facilitated experiences, try using Sprintbase and Mural together.
This blog post is a guest article by Treehouse Innovation, founders of Sprintbase. New to Sprintbase and want to give it a try? You can connect your Mural account from inside a Sprintbase workspace or sprint wherever you have the option to add a new Mural from the menu.