Discover how this innovation tool can be used for your design thinking workshop or design sprint.
In our recent post on remote working software tools, we shared some top tools that can be used to innovate and collaborate with your virtual teams. One of these ideation and visualization tools was Mural. Time and time again we have seen this tool mentioned as one of the best collaborative brainstorming and virtual whiteboard tools available. We've also featured Mural on our list of top design thinking software tools. You may have also seen this article in Forbes about Mural: Design Thinking Continues when Imagination Workers Work Remotely. Another widely used tool very similar to Mural is called Miro. Miro is the leader in the industry but both are excellent for real-time collaboration on a virtual whiteboard.
In this post, we explore the Mural software and how it can be used specifically for innovation or design thinking.
What is Mural?
Mural is a virtual tool that enables innovative teams to collaborate visually and brainstorm solutions to their problems or challenges. Being able to create simple but comprehensive diagrams and throw ideas down in a virtual, collaborative space are some of the top reasons innovative teams cite loving this tool. In a lot of ways, Mural is a "thinking canvas" that you use to organize your ideas in lists, flowcharts, frameworks, or drawings.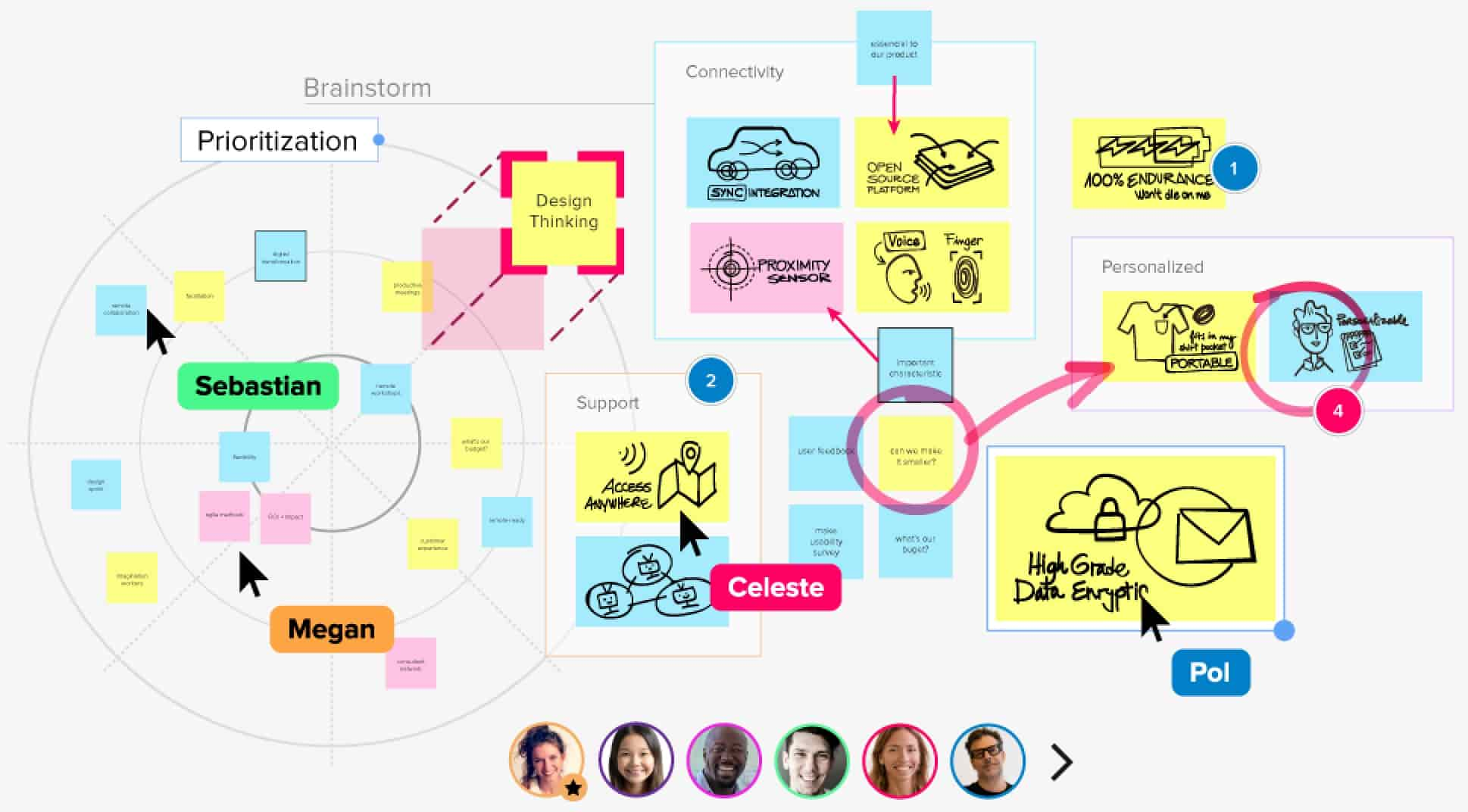 Mural also allows you to integrate with common software applications like Dropbox, Slack, and Microsoft Teams.
How to Use Mural
The following resource guides, tutorials, videos, and more can help you get started with Mural. You'll learn how to use the tool as well as how to implement it in your own innovation or design thinking project.
1. Templates
Mural's website offers a full template library that you can use to get started with your own innovation or design thinking project work. There are templates for nearly every step of the process, including planning, storyboarding, accessing, and brainstorming.
Innovation Training also has a series of posts on our blog that highlight some of the most popular templates available on Mural, including User Personas, Liberating Structures, Customer or User Journey Mapping, Lightning Decision Jam, and Jobs to Be Done.

2. Mural YouTube Series
If you prefer to learn visually, you may be interested in Mural's collection of video tutorials. You can learn everything from the basics of using the software tool to how to facilitate your own design thinking sessions or workshops on the platform. Additional tutorials are also available on their YouTube channel.
3. Mural for Facilitators Guide
As a facilitator, you may be interested in finding specific advice for adopting the tool to your own organizational or workshop needs. Mural's Support Center also offers resources specifically for facilitators, including tutorials, templates, and other ideas and suggestions.
4. IBM Guide
IBM also has a resource guide on their website covering Mural. This post includes some helpful hints for implementing the technology into your virtual meetings or workshops as well as a walkthrough to creating an empathy map with the tool.
5. Mural Webinars
UniversityWebinars.org has a collection of over 25 top Mural tutorial videos and webinars that share various applications and approaches. This is updating frequently and a good source for diving deep through webinars or longer training videos that get into more depth and demonstration.
–
Mural is one top software tool for innovation that may help you effectively collaborate and brainstorm with your digital teams.  For more innovation and design thinking resources, continue to our blog. Do you need help creating or designing your own innovation project or program? Reach out to us online today for the support and advice you need to get started…even with designing or facilitating a workshop or retreat using Mural. We've designed and facilitated many design thinking sessions and innovation workshops with Mural.