These top ideation and brainstorming templates from Miro can be used with your team remotely or in the same room.
Interested in templates for brainstorming that you can even use with a team online? In this guide we will share some of the most popular brainstorming frameworks. In recent weeks, we've shared information about different remote working software tools for innovation as well as design thinking software such as Miro. We also covered popular online templates you can use for empathy mapping and design sprints. In today's post, we'll cover yet another useful tool to help you collaborate virtually with your team members: digital templates for brainstorming and ideation sessions. Using different ideation frameworks and charting styles, these templates can be customized to fit your unique virtual session needs. Let's dive in further to look at each of these brainstorming templates from Miro.
1. Blue Ocean 4 Actions Framework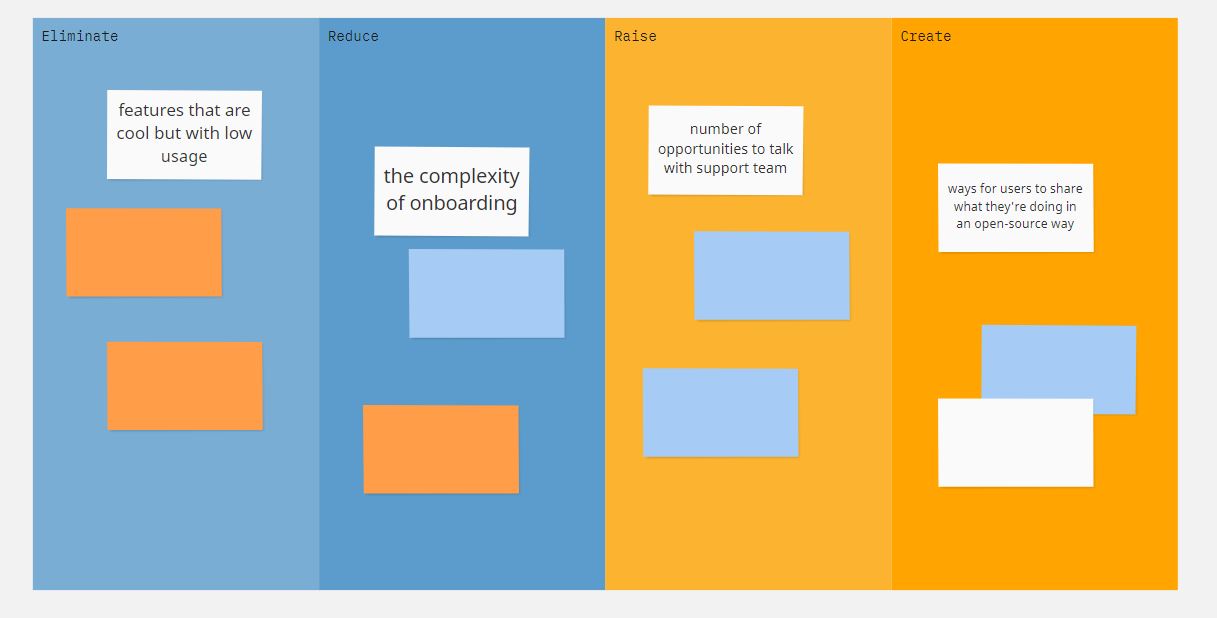 This template is focused on helping you maximize user value while eliminating and reducing user pain. The template includes four different sections:
Eliminate: What factors or features should be eliminated? What is not useful now?
Reduce: What factors should be reduced below industry standard? Can you strip it down into something more simple, but relevant to users?
Raise: What factors should be raised above industry standard? What pain points does the market currently not address?
Create: What factors should be created that have never been offered? What opportunities are available for you to capitalize on?
2. 5 Whys Template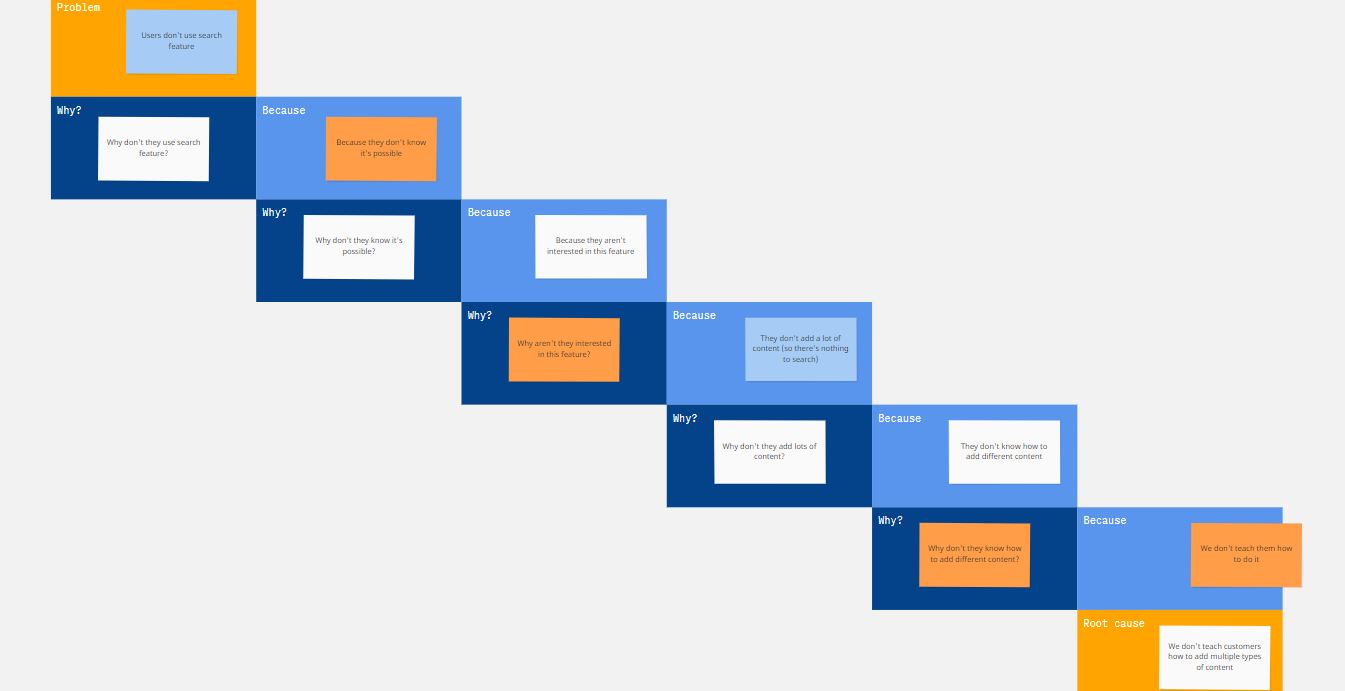 This simple 5 whys brainstorming tool is focused on helping you identify the root causes of a problem. Starting with an initial big-picture problem, you ask "Why" until you narrow in on one key issue that you can focus your efforts on addressing.
3. Affinity Diagram Template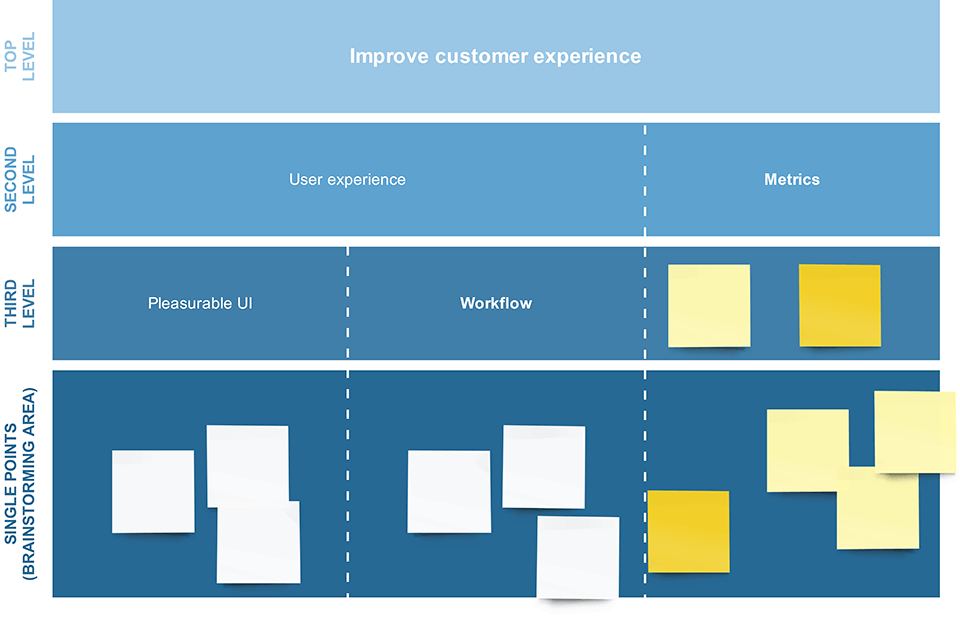 This affinity diagram template is great for sorting and categorizing information about your problem or challenge. You can easily drag items around as you communicate and collaborate with team members, making it easy to visually see how different pieces of the challenge come together. Learn more about the template on our blog.
4. Concept Map Maker Template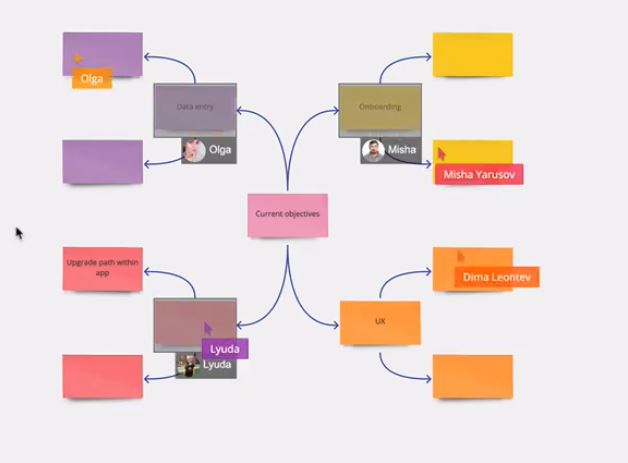 A simple and easy to use concept map team helps your team quickly visualize ideas, images, words, or phrases, and organize them in a hierarchial structure. Draw connections between seemingly unrelated items, and reach your own "aha" moment with your remote team.
5. Disney Creative Strategy Template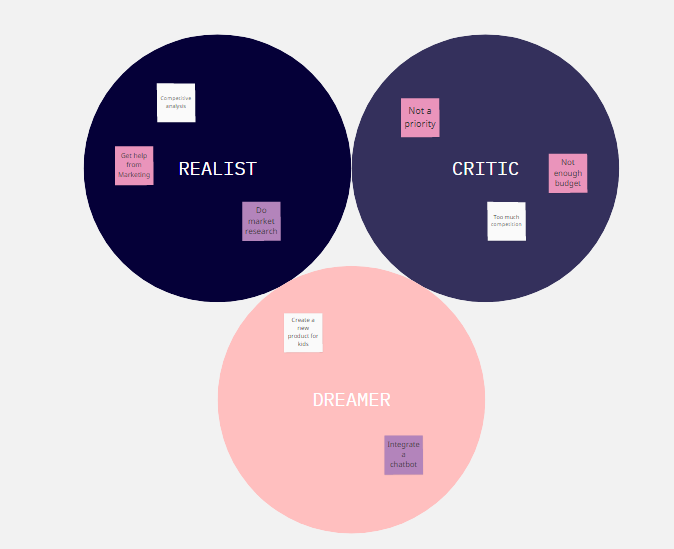 The Disney brainstorming template is inspired by Walt Disney's approach to creative projects. The template asks you to take on three different stages of thinking:
The dreamer: focus on letting the ideas flow without criticism or restrictions. The possibilities are endless – let those ideas fill up your virtual brainstorm wall.
The realist: Switch to realism mode. Start from the premise that the dream is possible. Assuming you can achieve it, figure out what steps are needed to realize the dream. Ask yourselves how you can apply the idea and what the action plan would be.
The critic: Once you have an action plan, it's time to review potential roadblocks. Ask yourselves what could go wrong, what weaknesses exist in the plan, and what is missing.
6. Fishbone Diagram Template
This Fishbone Diagram template (also known as a cause and effect diagram or an Ishikawa Diagram) allows teams to visualize all of the possible causes of a problem and zero in on the underlying cause. You can use this diagram template if you want to get to the heart of why a problem is occurring and analyze what is needed to resolve it.
7. How Now Wow Matrix Template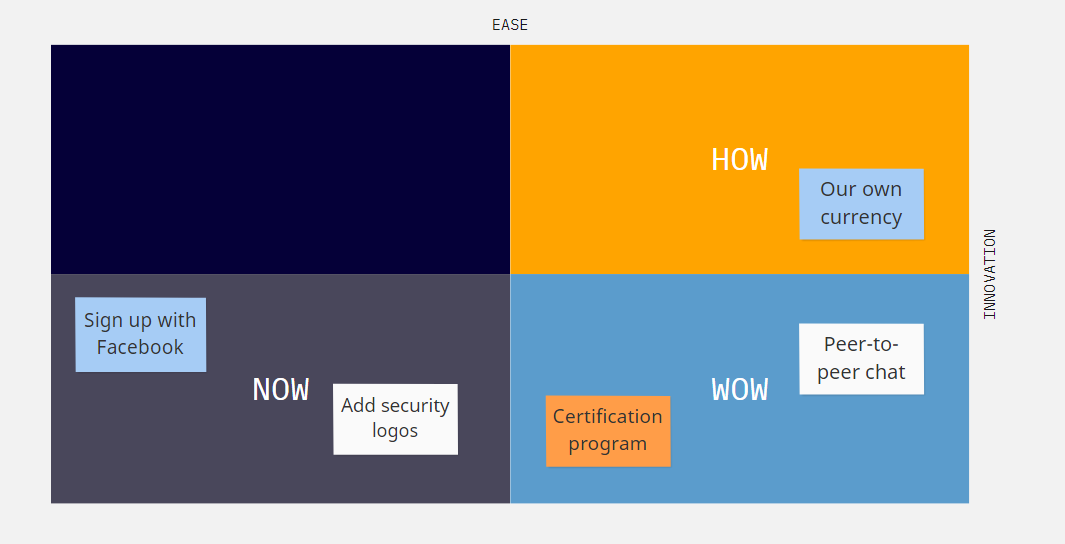 This brainstorming template is focused on the "how", "now" and "wow". "How" describes ideas that are innovative yet feasible, "now" refers to ideas that are familiar and proven to work well, and "wow" describes ideas that are new but still easy to implement. The ultimate goal with this template is to help your team come up with as many "wow" ideas as possible.
8. KWL Chart Template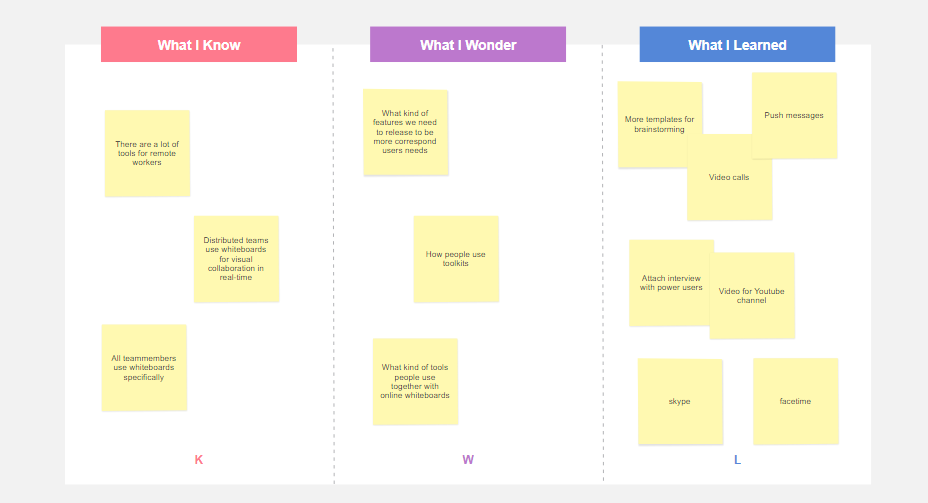 A KWL chart template allows you to narrow in on learnings completed during a brainstorming or ideation session. The chart separates information into three categories: what you already know, what you want to know, and what you ultimately learn through the instructional process.
9. Lotus Diagram Template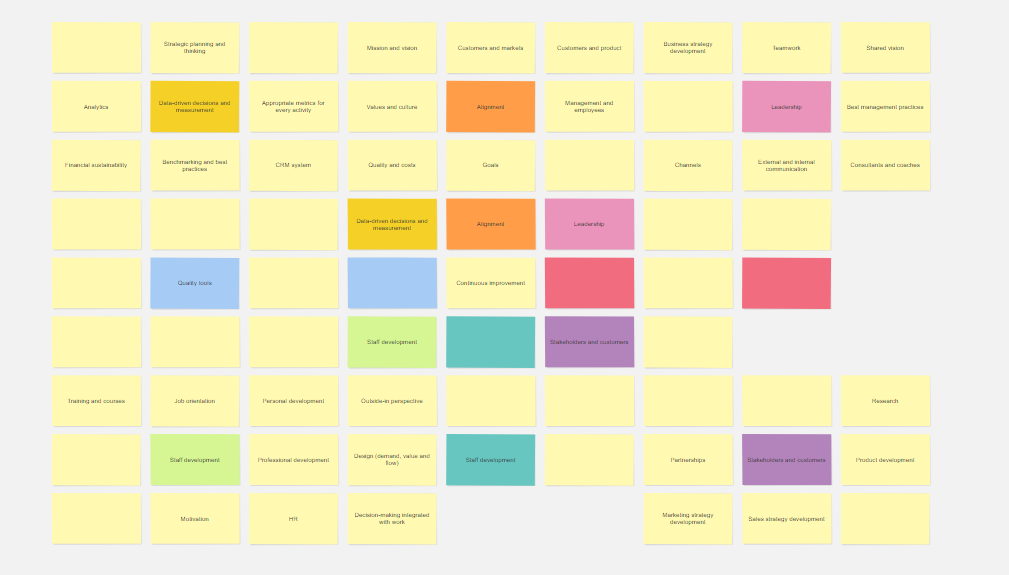 The lotus blossom brainstorming technique this lotus diagram template is based on helps you define key concepts or parts of a broader picture. The center of the diagram represents the main idea, with related themes or solution areas expanding around it.
10. Online Sketching Template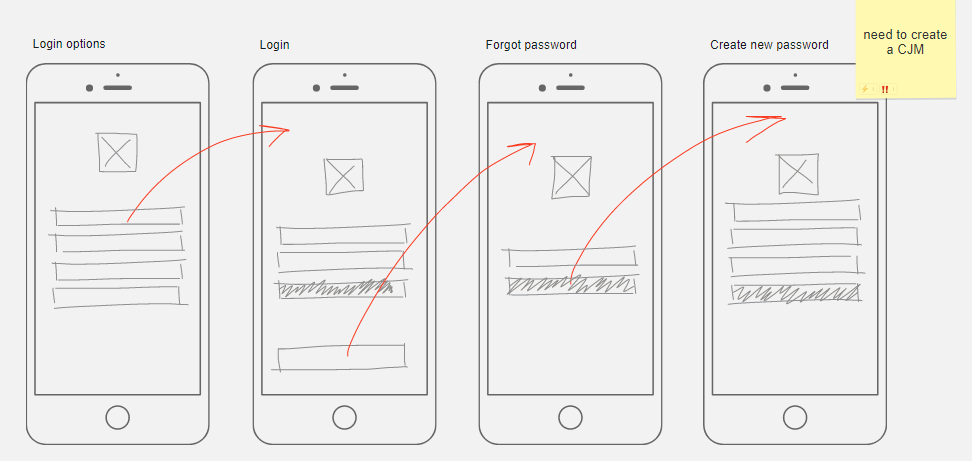 If your team has reached the critical stage of prototyping or wireframing in the innovation process, this virtual sketching template may be just for you. The template lets you quickly and easily visualize ideas and design prototypes of your solution.
11. Random Word Brainstorming Template

The random word brainstorming technique is a simple and creative approach to generating new ideas and finding creative solutions to your problems. This random word brainstorm template helps you expand upon your random word (whether taken from an online generator, book, or other source) and determine how it connects to the problem or applies to your situation.
Conclusion
Brainstorming rules can guide your brainstorming session to greater outcomes. These virtual brainstorming templates from Miro can help your team stay organized and collaborate together, wherever you are located. If you need help implementing or facilitating your own brainstorming/ideation event, reach out to us today for personalized assistance. Also check out the brainstorming training online course we developed from more than 10 years of experience professionally running brainstorming workshops and sessions.