Add this digital whiteboard tool to your innovation toolkit!
Next up in our list of digital collaboration tools and resources is Lucidspark, another digital whiteboard option for design thinking and innovation focused teams. In this blog, we'll share some features and resources to help you determine whether this tool is the right option for your organization.
Lucidspark Features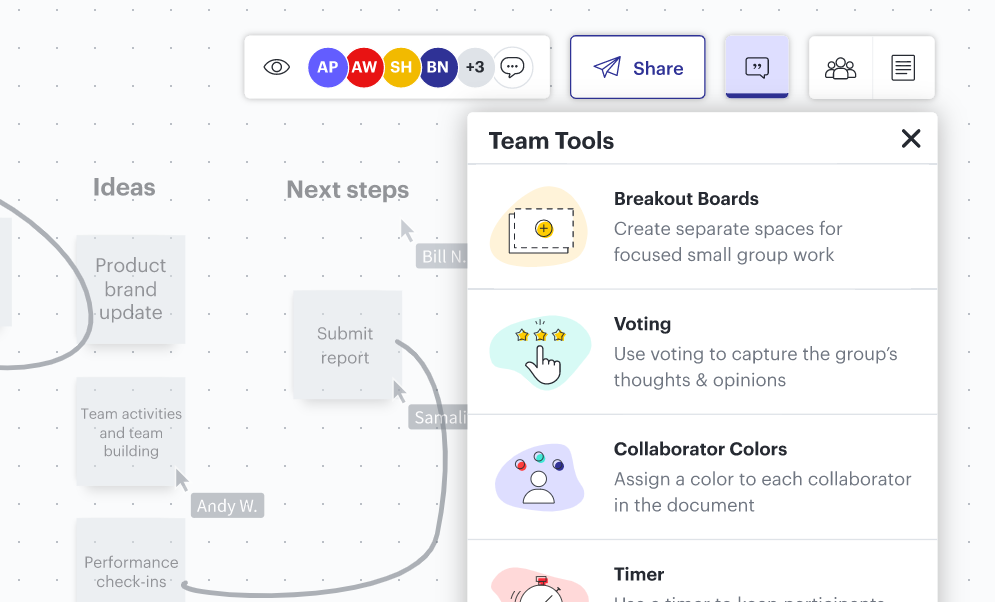 Lucidspark is another virtual collaboration tool that offers some of the same features as products like Miro or Mural. The software is designed specifically for brainstorming sessions, collaborative meetings, organization and evaluation, reviewing the customer experience, strategic analysis, and agile planning. Features of this tool include:
Freehand drawing, sticky notes, color-coded cursors, shapes, and lines on an infinite canvas
Breakout boards and chats
Built-in timer for agile meetings
Voting and polls
Workflows and project documentation
Integrations with Zoom, Slack, Microsoft Teams, Drive, Lucidchart, and more
With a free plan as well as affordable team plans starting at just $9 per user, this option may be right for your organization if you have a smaller team or are working on a small budget.
Resources and Guides
Get started with Lucidspark with these resources:
Templates: Free templates for meeting planning, customer insights, ideation, evaluation, and more. Read our guide for some of our favorites!
Support: Browse various guides and resources in the Support portal
YouTube Channel: Find tutorial videos and more on the official Lucidspark YouTube channel
You can also watch Lucidspark's introductory video below.
What is Lucidspark Conclusion
Lucidspark is a low-cost collaboration whiteboard tool that may be useful for virtual innovation teams. Lucid Software also offers another popular visualization and collaboration tool called Lucidchart. See our post – What is Lucidchart – to learn more about that tool. Looking for more innovation resources, tools, and guides? Review these other relevant articles on our blog:
Need custom help? Click to see our design thinking training or innovation workshops which can be done for teams and organizations.