Design more innovative innovation meetings that boost creativity and strengthen engagement.
We've all been to uninspiring organizational meetings before. Far too often, engaging and innovative meetings are rare and fall short of accomplishing their goals. They can be too passive, boring, yield few ideas (and even fewer creative innovations), last too long, and result in too much discussion and too little action. However, it doesn't need to be this way. You can host more innovative innovation meetings that inspire.
The top innovative companies in the world know that hosting effective, engaging meetings makes all the difference. Empowering their teams with technology and creative tools that guide their brainstorming sessions goes a long way in changing the outcome.
If you're interested in running more effective, innovative meetings with your team, you've come to the right place. In this post, we'll share some tips and hints centered around innovation and design thinking frameworks to help you deliver an engaging and impactful experience.
Implementation: 6 Questions to Help You Design Innovative Meetings
Follow along to the questions below to design a more effective innovation meeting.
What are your goals?
Productive meetings set out to accomplish a single large goal or only a few smaller ones. What exactly are you hoping to accomplish by hosting a meeting with your team, and how will you know if those goals are accomplished? For example, if your goal is to brainstorm a solution to a problem your customers are experiencing, perhaps the way to accomplish this goal is to decide on 3 high-impact ideas by the end of your session. A follow-up innovation meeting can push further on these three ideas.
Who is involved and what is their role?
Avoid bringing in just anyone to your meetings. Instead, choose specific employees based on their role and experience or knowledge in the topic at hand. If they work directly with customers on the issue you are trying to solve, for example, their input is invaluable. Innovation meetings tend to require a facilitator, participants, and a notetaker who will help keep track of the conversation and deliverables.
What environment is best suited for their success?
Meetings can take place in a variety of environments, from a traditional conference room to a more unique offsite or virtual setting. Considering the topic of the meeting at hand, what environment will help facilitate their success? From comfort to access to the right technology or materials, there are many factors to consider here when choosing the place (virtual or in-person) to host your innovation meeting.
What tools can be used to facilitate their success?
Innovation and design thinking tools and technology can help you facilitate a better, more effective meeting with your team. We personally recommend top software tools such as Miro, Zoom, and Mural. Some of these tools are designed specifically for virtual or off-site meetings, while others can be useful even when your participants will all be in the same room.
What activities can be used to boost participation and engagement?
Positive participation and engagement make or break innovation meetings. Using activities that encourage this early on during the meeting can help kickstart the feedback and input you are looking for. Consider using different icebreakers to bring the team together and set the meeting off on a good note. Then, break-out sessions, challenge mapping and sketching sessions, rapid prototyping, and other design thinking and creative process activities can keep teams moving, thinking, and working together toward the desired outcome.
How will you hold your team accountable after the meeting is complete?
So, your meeting has wrapped up. What's next? Make sure team members walk away with action items. A plan in place will hold your team accountable and make sure that things actually happen, rather than fizzle out as soon as they exit the room.
These simple questions can help you facilitate and create an innovation meeting that is effective and accomplishes your organizational goals.
Innovative Meeting Approaches that Work
When it comes to building an innovative meeting format that works for your team and project, allow the following approaches to serve as inspiration! You can bring the facilitation power to your own brainstorming session!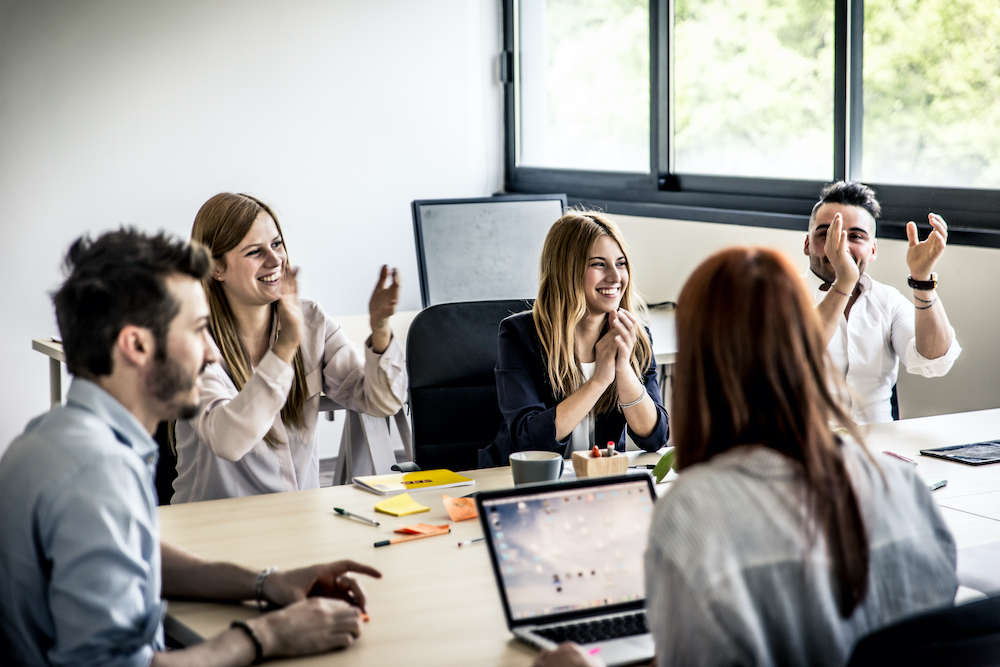 1. Hackathon
"Hack" = experimental, creative problem solving with a playful approach 
+
 "marathon" = 24-48 hour event
Hackathons are up-and-coming innovation formats dedicated to addressing a specific topic or challenge. Participants will work in small groups in an environment that encourages creative thinking and innovative brainstorming and prototyping. The quick pace of this format is great for teams who are looking to move fast, make ideas tangible, and quickly test their potential.  With planning engaging activities, a hackathon can yield more collaboration, interaction, and networking. This helps your audience to create and present more valuable ideas.
2. Agile Stand-Up
Designed as a daily meeting involving the core team, stand-ups are an effective format for quickly and efficiently getting at the heart of the problem or topic at hand. The sharing of progress and reinforcement of successes and roadblocks can bring the team closer together and get everyone excited about the team's overall contribution to the project/organization.
Stand up meetings can work well as an entry point into an agile practice in your organization. A simple three step format that is easy to facilitate (even for non "scrum masters") is for each employee to share while standing: 1. What they worked on yesterday, 2. What they are working on today, and 3. Any obstacles impeding their progress.
Learn more about agile and find agile training resources on our blog. 
3. Idea Sharing
When the goal of your innovation meeting is to generate as many ideas as possible from your attendees, you'll want to rely on an idea sharing meeting format that is designed to do exactly that. This meeting format relies on rapid brainstorming and brainstorming activities to get your team's creativity flowing and transform them into innovators. If a great new idea is what you need…your innovation meeting design should focus on generating many, many ideas from your meeting participants.
If your team is interested in this format, review these 11 templates for brainstorming sessions that can help you get started. These templates could be good foundations for brainstorming sessions for larger groups or smaller attendee sizes. Different brainstorming activities can yield a diversity of innovative ideas or ways to solve a problem. You don't need to be the CEO of a Silicon Valley company to engage your group in the innovation process.
4. Problem Solving
Need to solve a specific, identified problem? Want to focus on creating strategies and plans to navigate the future of your organization? A problem solving-centered innovative meeting format may be for you. The underlying goal of this meeting format is to leave with a new strategy designed to counter a current issue preventing or hindering your team's progress. In order to do this, the team must work together to identify possible solutions, and evaluate these ideas based on the relevant criteria or requirements. 
Innovation Training can help you build a creative problem solving workshop that teaches you the techniques, activities, and methodology your team needs to be successful in these meetings. 
5. Team Building
Getting everyone to work well together toward the same goals can be a challenge, especially if you are bringing in people from different backgrounds or experiences. This is where a team building meeting can fit into your organization. These meetings help establish your team culture, strengthen team communications, and streamline future processes. Getting everyone to open up and collaborate is essential for future innovative and design thinking processes, so this team building format is a wonderful place to start.
These large-group icebreakers and other activities are a fun way to get started with your own team building meeting format! You can lead the internal changes for a different way of meeting in your organization. Try less of a presenter presenting a power point presentation and more facilitation of collaborative activities and reflection from your colleagues. 
Innovation Meetings Conclusion
Running a successful innovative meeting requires more than just coordinating schedules and booking the meeting room! In this blog, we talked about some of the questions, formats, and activities you can use to design and facilitate an innovation and design thinking-centered meeting that accomplishes your unique organizational goals. For help incorporating this innovation and design thinking methodology into your planning, contact us! We have helped organizations just like yours address their challenges and design successful meeting formats that accomplish everything they've set out to do and more.
Looking for more innovation and design thinking resources? Check out the following top articles from our blog: