Lead Innovative Meetings and Workshops with Zoom
New video conferencing software features can help you lead engaging Zoom workshops and activities to collaborate virtually in real-time.
If you plan on facilitating an innovative workshop or meeting virtually, you may be looking for video conferencing software that can help you connect with your participants in real-time and share materials, lessons, and examples in a virtual space. Zoom is one of the most popular software tools from our research on top digital collaborative remote work tools. Zoom may give you the technology you need to host your next event, workshop, or conference digitally. In this post, we'll explore some of the collaborative features available in Zoom. We offer Zoom training for groups and we'll provide here links to tutorial and instructional content that covers how to use these features for your own virtual event. Zoom is what we choose to use to facilitate our live virtual sessions and what you'll see demonstrated in our online training on remote workshop design and facilitation. We also train organizations on how to convert their special workshops and events to be delivered on Zoom in an even more engaging way. Read on for some Zoom workshop facilitation resources!
What is Zoom?
Zoom is a comprehensive software tool that allows you to host virtual gatherings. Providing cross-platform support, Zoom allows members of your team or participants of your program to assemble together from anywhere. Whether you are simply looking for a quick conference calling tool, or need to host more complex digital webinars, Zoom may be the best tool for your needs. Zoom also offers helpful app integrations that can be used to connect with other virtual tools your team is using at this time.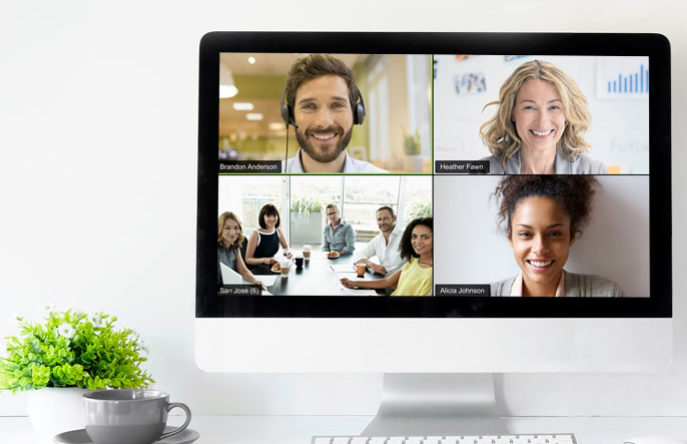 How to Use Zoom for Facilitating Innovative Workshops and Meetings
The following resources can help you understand how to use Zoom for your own innovation or design thinking workshop/program. Whether you plan on holding a live event with many participants across the country, or simply need a quick 10-person video conference, this tool may be the technology you are looking for. We include tutorial videos for three of our favorite features later in this article. They are breakout rooms, chat, and polling. We also like the interactive whiteboarding abilities, which allows participants to view and co-annotate on a blank whiteboard or shared content. A popular approach is to use another whiteboarding tool (like Miro) designed for real-time online collaboration and screenshare it on Zoom. This way your participants are working together on the whiteboard but can communicate and see each other through Zoom. (For more about this approach see our article What is Miro and How to Use Miro for Virtual Collaboration.)
All of these features or tools can be applied in different ways to make for a more innovative, interactive, collaborative virtual workshop or meeting that you can organize and facilitate remotely.
1. Zoom-Provided Tutorials and Support
Zoom's website offers several video tutorials and support articles for getting started. Just scrolling through the collection of Zoom video tutorials will give you ideas for how to apply zoom features for your next meeting or workshop. Here are the ones that may be most useful to you:
2. Zoom Official YouTube Channel
Zoom also has its own YouTube channel containing video tutorials in multiple languages. Here you can find additional helpful information and see the technology actually being used in action.
Zoom Breakout Rooms
One of the more recent features from Zoom that will help you to facilitate more engaging workshops and meetings is the break out room feature. This is my favorite feature to use to make a workshop more interactive. With a breakout you can pair people up to discuss or do an activity together…and then come back to the larger group. Here is a video from Zoom about how this works.
Polls or Quick Surveys
A short poll or survey can break things up and help you learn on the fly from your audience or colleagues. You can also do a discussion activity after you learn the poll results. Here's a video showing how to use the poll feature on Zoom.
Sharing Your Screen
This basic Zoom feature allows you to share your screen with other participants in the meeting. This will help you illustrate your point, show material, or collaborate together more effectively.
Recording a Meeting
Zoom allows you to record meetings with both the audio and video present. This can be a useful feature in tutorial-style sessions, interviews, or other cases in which you may want to be able to refer back to the content of the meeting.
3. Dusty Porter – Video Conferencing Made Easy
This YouTube video is a recently uploaded tutorial that provides a simple overview of the software and its various uses. The video also includes examples of the different functionality of the software so that you can follow along step-by-step.
4. Howfinity – How to Use Zoom
Another YouTube tutorial, Howfinity provides an overview as well as a more detailed walkthrough of some of Zoom's most popular and well-used features.
5. Live Training
If you'd prefer to learn how to use this technology live, you may be interested in signing up for one of Zoom's free training webinars. The company holds daily interactive training webinars to help walk users through the program in real-time. You can get personalized help from an expert on the specific feature you need to use next.
Custom workshops with Zoom or other remote tools
Zoom is just one video conferencing and virtual meeting software that can help you hold your next innovation or design thinking workshop – virtually. For more innovation and design thinking resources, continue to our blog. Do you need help offering, creating or facilitating your own design thinking workshop or innovation project or program with Zoom? Reach out to us online today for the advice you need to get started.
Zoom offers three main options we'll highlight here that have different groups sizes and collaboration features available: Zoom Rooms, Zoom Meetings, and Video Webinars. Learn more about each of these tools below.
1. Zoom Rooms
Zoom Rooms is a simplified virtual conference tool that makes starting a meeting, booking a meeting, and sharing content easy. The software allows you to easily book a room from your calendar, quickly join a meeting with video and/or audio, and share multiple desktops in the room simultaneously. Zoom has a free version but you are limited with the meeting time for groups with it.
2. Zoom Meetings
Use Zoom Meetings for simplified video conferencing and messaging. This technology works across devices and makes it easy for you to start and join a meeting on any device. Meetings also syncs with your calendar system to provide easy scheduling. A few other features we enjoy:
Click "record" to leave the note-taking to the auto-generated, searchable transcripts
Share and play videos with full audio and video transmit, without uploading the content
Use Virtual Backgrounds and Touch Up My Appearance to appear "meeting-ready"
3. Video Webinars
Broaden your reach with a live virtual event or broadcast. The software holds up to 100 interactive video participants, with plans ranging from 100 to 10,000 view-only attendees. The easy-to-use technology provides interactive capabilities for attendees who are watching your live event from their own device elsewhere. Their video webinar technology also includes integrations with Facebook Live and YouTube, so that you can extend your reach even further and include all members of your team or workshop.
Zoom Whiteboard – Virtual Collaboration Whiteboard Tool
Zoom Whiteboard lets you collaborate whenever and wherever you want with anyone who currently has a Zoom account. The tool works during or outside a meeting from the Zoom client. Learn more about the tool and find templates for free on our blog.

We actually recommend integrating a proper whiteboard tool into your Zoom meeting instead of using Zoom's whiteboard. You can learn more about these tools in our post on top virtual whiteboard tools for online collaboration.
Zoom Workshop Ideas
Let us know in the comments how you like to use Zoom or any other online meeting software for more collaborative, interactive, remote sessions. Reach out to us if you might like help in designing a workshop, re-imagining your big event or program to be delivered with Zoom, or would like to help with virtual and remote facilitation or training.