Zoom now offers integration with popular apps like Miro and Asana.
More people than ever before are relying on remote software tools to collaborate and innovate with their teams. Video conferencing software Zoom is definitely near the top of that list – and they've just added a new feature that makes connecting your various virtual tools even easier. Zoom's Apps are a series of app integrations that can improve your productivity and collaboration efforts. In this post, we'll cover this new feature from Zoom in more detail.
What are Zoom Apps?
Zoom Apps are app integrations that work within the Zoom video conferencing tool. When you are holding a meeting through Zoom, you can seamlessly use the apps and share them with your participants in a simple click. Apps cover a wide variety of software areas – from task management to whiteboarding and more. There are currently over 50 partners who have built apps for Zoom, with more expected to come soon.
Using Zoom Apps is easy – you can integrate them directly from within your Zoom account. Once you've set up the integration, you will be able to open an app within a Zoom meeting from the "Zoom Apps" option at the bottom of the Zoom screen.
Available Integrations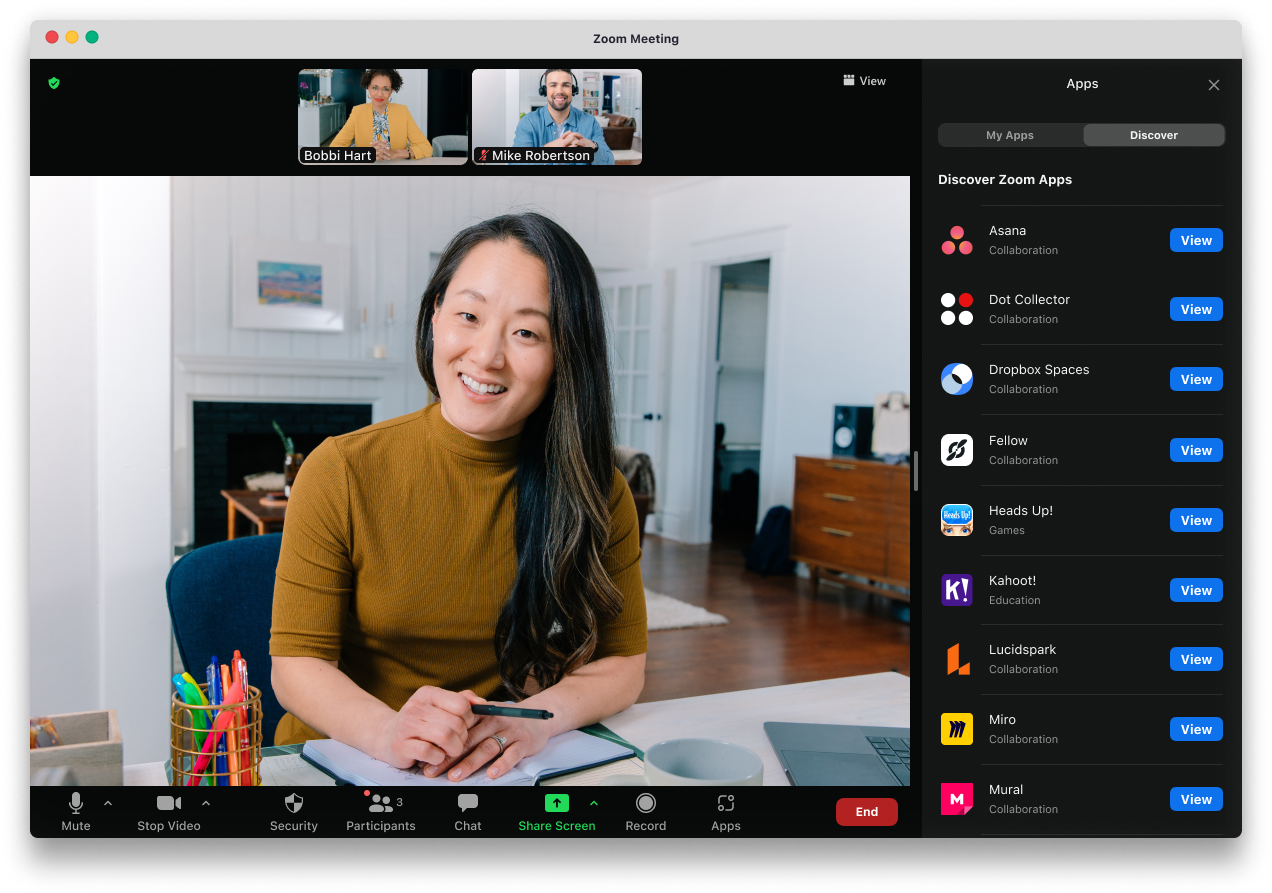 To view all the current Zoom Apps available with Zoom, click here. Below, we'll cover a few notable tools that we recommend specifically for virtual innovation- and design thinking-oriented teams.
Miro  – This collaborative whiteboard platform is incredibly useful for running virtual brainstorming sessions and workshops to plan projects. The Miro Zoom App allows you to add a Miro board to any Zoom video call and invite participants to collaborate on it in real time.
MURAL – MURAL is another fantastic whiteboarding tool that integrates with a Zoom call to allow participants to collaborate in the shared virtual space. Meeting participants can create and send sticky notes to the mural without leaving the Zoom meeting. The facilitator can organize and cluster ideas on the mural, uncovering solutions and aligning team members in real time.
Lucidspark – This cloud-based virtual whiteboard tool works with Zoom so you can easily create and share Lucidspark boards with meeting attendees to brainstorm, collaborate, and get feedback.
Kahoot! – The Kahoot! Zoom integration gives Zoom hosts the ability to make virtual learning interactive by pre-selecting and playing Kahoot! games with their meeting attendees directly. This game-based learning experience tool can be useful for engaging participants during the brainstorming and ideation stage.
Asana – When it comes to reviewing action items and next steps, you'll want this Asana App. Asana is a fantastic virtual task management tool that will allow you to create, edit, and assign tasks to your team without leaving the Zoom meeting. Make sure nothing falls through the cracks again!
Conclusion
You can head over to the Zoom website to learn more about Zoom Apps, the latest app integration feature from this virtual conferencing tool. For even more virtual innovation and collaboration tools, continue to our blog.