Learn design thinking by doing. You and your team can learn the key frameworks (and mindsets) in our design thinking training workshops and courses facilitated in-person or virtually. Regardless of the presentation method, all of our workshops are interactive, hands-on opportunities to practice applying the most effective human-centered design tools and techniques. The experience will allow you and your team to create and validate an innovation for and with your colleagues, clients, customers or users. Working on their own innovation project will grow you and your team's design thinking skills.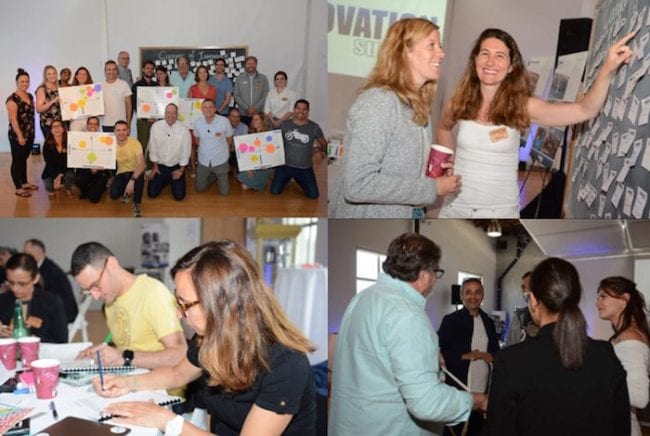 ---
About Design Thinking Training
Depending on your specific needs and interests, we will share the best tools to use to help you and your team sustain the learning and development after training. To enhance your specific design thinking training, we can provide you and your team with learning resources and additional online courses from Innovation Learning. We will also provide some of the most important design thinking toolkits, books, and techniques that match your needs.
We want to help you not only learn to use design thinking methods and techniques, but to also develop the mindset or attitude of a design thinker who is focused on innovating with stakeholders, customers and users to succeed sooner when the lessons are applied. We want to guide you on your very specific learning journey to take on complex challenges and prototype potential solutions that meet your unique organization's needs.
Are you interested in learning more about our design thinking training workshop and how we might customize something for your organization? Email us for our workshop menu, customizations, and to learn what our workshops are like through client testimonials like this one from a San Francisco consulting company client.
Darin's Design Thinking for Innovation Workshop was an engaging, interactive, and creative learning experience for our management consultants. Our team is interested in helping our clients innovate and better understand their customers. Darin helped customize a workshop that was appropriate for our group, industry, and learning objectives. Through the various activities he facilitated, we were able to practice and cultivate the framework of Design Thinking while also building a toolkit for ourselves that we can leverage for future use. Our consultants now feel confident bringing these methodologies and approaches to our clients. We look forward to working with Darin in the future!
Design Thinking Facilitators
InnovationTraining.org founder – Darin Eich, Ph.D. – designs and facilitates most of the workshops. We can also connect you to our global network of other DT facilitators for specific needs or locations. If you are interested in learning how to design and facilitate your own design thinking workshops, click to learn more about our design thinking facilitator training innovation certificate program.
Watch this video to get an idea of what Darin's design thinking workshops look like.
---
Who is design thinking training for?
Innovation and design thinking is for anyone who has a learning and growth mindset, who is not only looking for a new way to approach challenges and solve problems but also eager to create something new. We can conduct a design thinking workshop for anyone in your organization to learn how to use design thinking methods in order to innovate how they work and what they create.

Companies, universities, and organizations benefit immensely from our in-person short course. We design our design thinking workshop specifically for you and the participants. We specialize in highly collaborative designs which get people connecting and creating in small groups and one-on-one. We also offer online programs and books for the individual innovator. If you want to go deeper and learn how to design and facilitate your own design thinking workshops we can help you with that too! Learn more about our design thinking facilitator training innovation certificate program. We've worked with over 100 organizations on design thinking workshops and innovation training. Here is a small sample.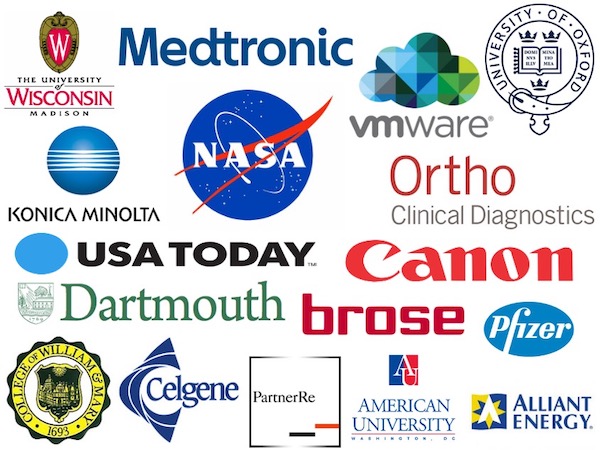 ---
What are the benefits of innovation and design thinking programs?
Different impacts are seen through different organizations, depending on where they start and what their goals are for the program. Innovative companies learn new techniques for working together, idea generating and prototyping, and a new way of thinking about the process of innovation. Organizations, who might not have thought of their company as being in the innovative spectrum, are shown that innovation has a place in every company and everyone can innovate within their role every day. Participants come away with a shift in their mindset toward being more empathetic, user-centered, creative, and collaborative in problem solving and innovation. They also gain the confidence to use the  design thinking tools and scenarios to continue to innovate with others, spreading the learning deeper into the organization.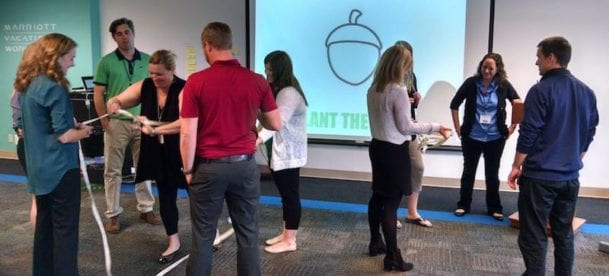 ---
Why do organizations need customer focused innovation and design thinking?
In order to thrive as an organization, positive change and forward movement are the keys. Innovation is positive change. Innovation is moving forward and the best way to respond to the changes around us. The design thinking approach to innovation helps us to be more successful, addressing change by designing for and with the people we create our products, services, and programs for…our customers and users! This human centered design process begins with understanding the customer needs in order to define the complex problem and before the ideation of innovative solutions. As part of design thinking, you may do user research, persona creation and journey mapping at the start to gain empathy. You also take what you are learning and act on it by conceptualizing your ideas with rapid prototyping to test and validate that your prototype solves a real problem.
"By using design thinking, you make decisions based on what future customers really want instead of relying only on historical data or making risky bets based on instinct instead of evidence." (Tim Brown, IDEO). 
---

The Design Thinking Course with InnovationTraining.org
In our workshops, we will help you familiarize yourself with various design thinking processes, and simplify them into the common elements that you can get started with and use again and again. We will help you to select a project you would like to work on to generate and develop ideas using insight from the people you are designing for. We will give you hands-on time to use some of the most popular and effective tools and techniques for design thinking.

During the design thinking training course, you will learn about the design thinking process. Because there are many different stages and steps that are similar across various systems, we want to make it simple, understandable, and actionable for you. We will customize your design thinking workshop using a variety of general design thinking frameworks. Our underlying purpose is to help you design a more successful innovation for and with your users or customers. You will be most successful if you follow a process and design thinking technique. Here are some example frameworks:
Innovation Step-by-Step
The cover of Innovation Step-by-Step: How to Create & Develop Ideas for your Challenge shows a very basic three stage design thinking framework that we use.

These design stages include:
1. Challenge: Clarify the innovative design challenge with focused questions for your users/customers
2. Ideas: Generate many ideas for your innovative design with your users/customers
3. Action: Validate, Communicate, & Launch your innovation with your users/customers
These three stages are detailed into seven steps that we can guide you through. We can also give the group access to our asynchronous online course with demonstrations of the process and a workbook to apply in your own projects, dive deeper, and stay in action.
There are many other design thinking activities or processes that people and organizations find helpful. We show you tools, techniques, and activities that fit with many different processes.
Stanford D.School Design Thinking Framework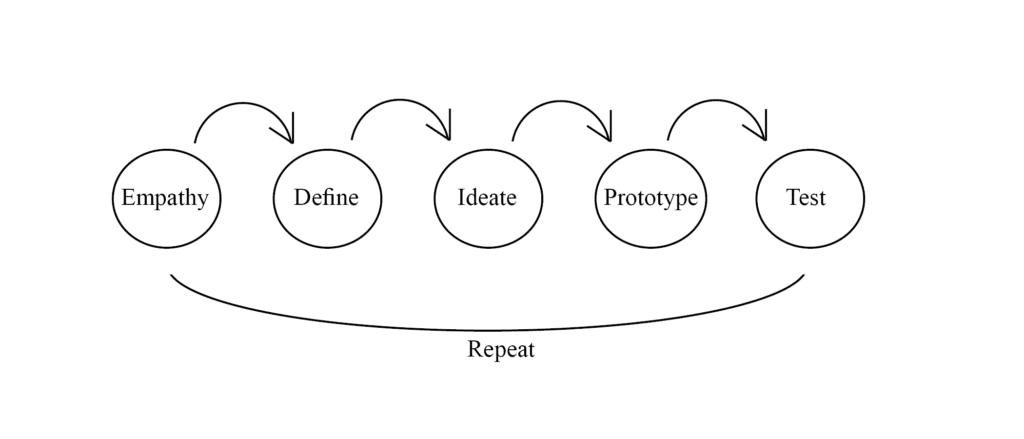 Human Centered Design
1. HEAR (Inspiration)
2. CREATE (Ideation)
3. DELIVER (Implementation)
Our goal is to boost your design thinking skills for innovation, and to make design thinking simple and understandable for you. We get you started with the basics and a project that can fit with other design thinking frameworks you may have learned. Through the process your participants will expand their collaboration skills and develop connections. Contact us to see videos for a glimpse of active design thinking activities we can customize and facilitate.
---
Example Design Thinking Programs
Listed below are some design thinking trainings we have led in the past. We also can link a series of live workshops or short online courses into a design thinking certificate program. Here's a video clip of a design thinking certificate program we developed for Adobe.
Browse these titles and descriptions of design thinking programs we've done for groups. 
I. Innovate with Design Thinking for Your Business
Learn simple approaches to apply your creativity with your customers and users as a catalyst to innovate in a more effective way for a variety of purposes (new products, services, business models, marketing, employee experience, org culture, etc.). Gain tools, techniques, and real experience with design thinking – an innovation approach utilized by many growing companies to succeed. Learn the most popular and simple innovation and design thinking processes that you can use for getting and understanding insights from your customers, creative problem solving, and developing and communicating solutions that they want.
What You'll Gain from this Workshop:
MINDSET: Access the attitude that will help you to keep learning, growing, & taking innovative action to make a difference for your organization.

PROCESS: Learn the Innovation Step-by-Step approach and other methods to use for challenges in your work. Put the process to use for your culture of innovation challenge.

ACTION: Begin your own innovation project for the purpose of learning, developing skills, and creating something new that can impact others and yourself. Start with an acorn sized action that could grow.
II. Activating Design Thinking for Real Results
Learn more about design thinking and discover why it's a trending and powerful approach to business success. Discover your own innovative mindset and get started with practical design thinking activities. Find out how you can gain empathy and insight into your customers and what they need from your business. You will be able to take these insights to create what your customers really want that will continue to add value in the future.
III. Design Thinking for Innovation
In this session, you will learn what design thinking is and why it is a powerful and trending approach for business success. You'll discover your own innovation mindset and get started with practical design thinking activities. Find out how you can gain empathy and insight into who your customers are and what they need, and apply that learning into a specific approach that gives your customers what they really want.
Objectives:
Develop a mindset for design thinking and innovation

Apply the design thinking methodology to your own work

Use these new tools and techniques for design thinking

Collaborate with colleagues to create new solutions to your business challenges or needs
Overview of Activities:
Customer/Stakeholder Persona Development

Stanford D School Design Thinking Process Demo

Design Thinking Mindset stories and metaphors

Rapid interviews of colleagues

Idea generation to help your colleagues innovate at higher levels

Concept development and validation activity from the user community
IV. Enact your Innovative Mindset to Grow a Culture of Innovation
Learn more about how to build your innovative mindset and grow a culture of innovation at work. Utilize critical skills and leverage them to make a difference at your organization. Learn the step-by-step innovation process and agile methods to overcome challenges in work and life. Put the processes to use with an innovation project activity.
V. Human-Centered Design for Problem Solving
At this hands-on workshop you will put empathy, experimentation, and iteration into practice to develop innovative solutions and foster relationships with like-minded professionals in your field. This event offers a unique opportunity to connect with peers, collaborate, and gain fresh perspectives to apply to your work. By the end of the day, you will have broadened your network, identified actionable solutions, and gained insights to enhance your problem-solving skills with a human-centered design approach that prioritizes the needs of end-users.
Objectives:
connect with peers
foster relationships
develop innovative solutions
Outcomes:
broaden your network
identify actionable solutions
gain a fresh perspective of the human-centered design approach
discover how to prioritizes the needs of end-users
improve your problem-solving skills
VI. Creative Problem Solving for Today's Challenges with Design Thinking
In this virtual workshop you will collaborate with other participants in small groups to apply Design Thinking principles and uncover the challenges facing your organization. This fast-paced event will help you quickly gain a deeper understanding of your organization's issues and provide you with the tools necessary to approach them with empathy, using experimentation and iteration to develop innovative solutions. Through virtual facilitation, you will have the opportunity to hone your problem-solving and collaboration skills while learning new techniques that can be applied both in-person and online. By the end of the workshop, you will have gained valuable insights and skills to help you tackle real-world problems in new and innovative ways.
Objectives:
uncover the challenges facing your organization
gain a deeper understanding of your organization's issues
practice your problem-solving and collaboration skills
Outcomes:
You will be…
comfortable approaching challenges with empathy
capable of using experimentation and iteration to develop solutions
ready to tackle real-world problems
VII. Collaborative Leadership for Real-World Design Thinking

This in-person workshop is designed specifically for leaders within your organization. This workshop will remove barriers and promote collaboration through creative sharing and problem-solving. Participants will learn to approach challenges with a fresh mindset, generate a multitude of ideas, learn how to select and promote the best ones, all while discovering and using new skills they didn't know they had. By the end of the workshop, actionable plans will be developed that can be implemented within the organization to tackle real-world problems. Attendees will gain valuable insights and develop new skills, making them more equipped to handle future challenges with creative confidence.
Objectives:
approach workplace challenges with a fresh mindset
generate a wealth of solutions
select and promote the best ones
Outcomes
     discover your hidden skills through participation
     create actionable plans
     leave better prepared for future challenges
---
This page shows many different examples for different workshops and directions we might go. Ideally, we want to hear from you and create the experience for you and your group. We try to "eat our own dog food" and use design thinking to design the program that is a fit for what you need. Reach out if you need advanced help with a design thinking workshop, training, or having more of a culture of design thinking and innovation in your organization. We enjoy customizing our programs or creating completely new ones for unique challenges.
What do we include in our design thinking courses?
We offer innovation training services in the form of online programs, books, and workshops. We can include selected resources to keep your group applying the design thinking principles and methods in their own projects. We work to make each workshop relatable to the specific organization and participants through research, simplification, conversation, real examples, and hands-on projects. We can also include a "visual journal workbook" that you can use to help create your design thinking innovation project.
Contact us at [email protected] today to learn more about our design thinking workshops and custom-designed innovation and leadership programs. We deliver them virtually or onsite and in-person. We can also provide a design thinking certificate for your participants.