Get started with design thinking! Learn the basics in our design thinking training workshop, and start on your own innovation project step-by-step. Create and validate an innovation for and with your clients, customers or users. Use some of the most effective tools and techniques to design your concepts.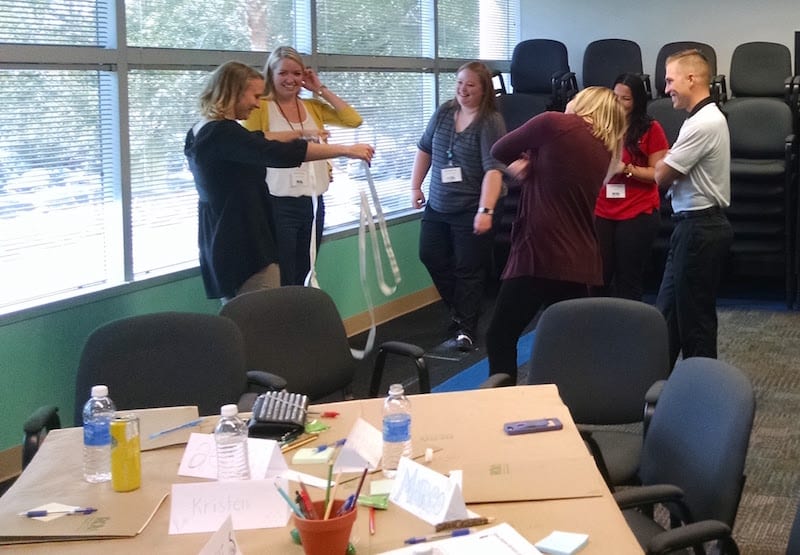 About Design Thinking Training
Interested in learning more about our design thinking training workshop and how we might customize it for your organization? Email Darin at darin@innovationlearning.org. Or, do you want to go deeper and learn how to design and facilitate your own design thinking workshops? We can help you with that too! Learn more about our design thinking facilitator training innovation certificate program.
Our approach is to provide a very interactive and practical workshop to get you started with design thinking and learning through doing. We will share with you some of the best tools to use when getting started with our method. We can also provide you with a book and online programs from Innovation Learning to help you sustain the learning and development. We will also keep you connected to some of the most important design thinking toolkits, books, and techniques.
We want to help you not only learn to use design thinking methods and techniques, but to also develop the mindset or attitude of a design thinker who is focused on innovating WITH your customers and users to succeed sooner.
Who is this design thinking training for?
Innovation and design thinking is for anyone and everyone willing to change their mindset, not only about challenges and problem solving, but also about creating something new. We can conduct a design thinking workshop for anyone in the organization to learn how to use design methods in order to innovate how they work and what they create.
Companies, schools, and organizations benefit immensely from our in-person workshops, but we also offer online programs and books for the individual innovator. Past participants have been happy with their results, and we've got plenty of testimonials we can send you upon request. They will help you understand what our workshops are like and how they provide real, tangible value.
We design our design thinking workshop for you and the participants. We specialize in highly collaborative designs which get people connecting and creating in small groups and one-on-one.

What are the benefits of innovation and design thinking training workshops?
Different impacts are seen through different organizations. Innovative companies learn new techniques for working together, idea generating and processing, and a new way of thinking about the process of innovation. Organizations who might not have thought of their company as being in the innovative spectrum are shown that innovation has a place in every company. Their mindsets are shifted towards being more interactive and collaborative. They are given specific design thinking tools and scenarios to show how to use innovation in their company.

Why do people need innovation and design thinking training?
Innovation is positive change. Innovation is moving forward and responding to the massive amounts of change we are encountering. In order to thrive as a company and/or individual, positive change and forward movement is key. Everyone needs innovation to be able to change as the world around us changes. Design thinking helps us to be more successful with our change by designing for and with the people we create our products, services, and programs…our customers and users! For many of us, training on innovation or design thinking is new…and an opportunity for our own skill development and organizations.

Design Thinking Workshop with InnovationTraining.org
In our workshops, we will help you familiarize yourself with various design thinking processes, and simplify them into the common elements that you can get started with and use again and again. We will help you to select a project you would like to work on to generate and develop ideas using insight from the people you are designing for. We will give you hands-on time to use some of the most popular and effective tools and techniques for design thinking.
Design Thinking for Innovation
Who would you like to design for? We will help you zero in on the persona, avatar, or archetype of that user or customer that will benefit from the innovation that you can create.
How will you learn about your users? Your workshop designer from Innovation Learning will design this workshop for and with you. Innovation Learning founder Darin Eich has a Ph.D. from the University of Wisconsin and is a qualitative research specialist. We will help you learn innovative techniques using current technology as well as the timeless…how to conduct meaningful interviews to gather the information you can use for design.

What does Innovation Learning offer in our workshops?
We offer innovation training services in the form of online programs, books, and workshops. We work to make each workshop relatable to the specific organization and participants through research, simplification, conversation, real examples, and hands-on projects. Here is an example of a "visual journal workbook" that you can use to help create your design thinking innovation project.
Learn More about our Design Thinking Training
Email Darin at darin@innovationlearning.org to learn more about our design thinking training workshops. They can be customized from 1 hour to 3 days in length. They can be in-person, online, or our favorite…a "hybrid" approach of online and in-person.

Our Design Thinking Training Includes:
Innovation Step-by-Step Books

Online programs and toolkit of resources

Idea generating activities

Team activities

Innovation background (process)

Individualized presentation/workshop


Contact us if you need advanced help with a design thinking workshop, training, or having more a a culture of design thinking and innovation in your organization.

Design Thinking Process
We customize our design thinking workshop to fit with a variety of general design thinking processes.
There are many different stages and steps that are similar across various systems. Our underlying purpose is to help you design a more successful innovation for and with your users or customers. We can better do that using a process.
The cover of
Innovation Step-by-Step: How to Create & Develop Ideas for your Challenge
shows a very basic three stage system that we will use.
These stages include:
1. Clarify the innovative design challenge with focused questions for your users/customers
2. Generate many ideas for your innovative design with your users/customers
3. Validate, Communicate, & Launch your innovation with your users/customers
These three stages are detailed into seven steps that you can find above in the visual journal workbook.
There are many other design thinking processes that people and organizations find helpful. We show you tools, techniques, and activities that fit with many different processes.
IDEO's design thinking process
1. Empathize
2. Define
3. Ideate
4. Prototype
5. Test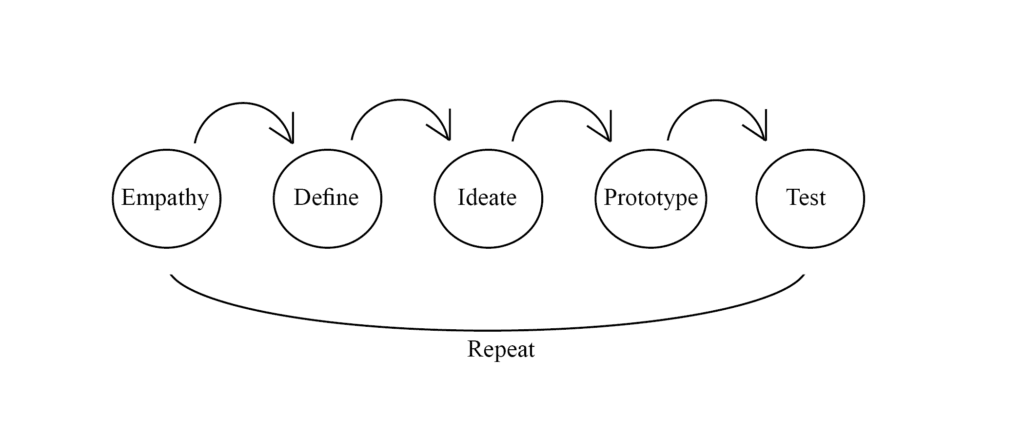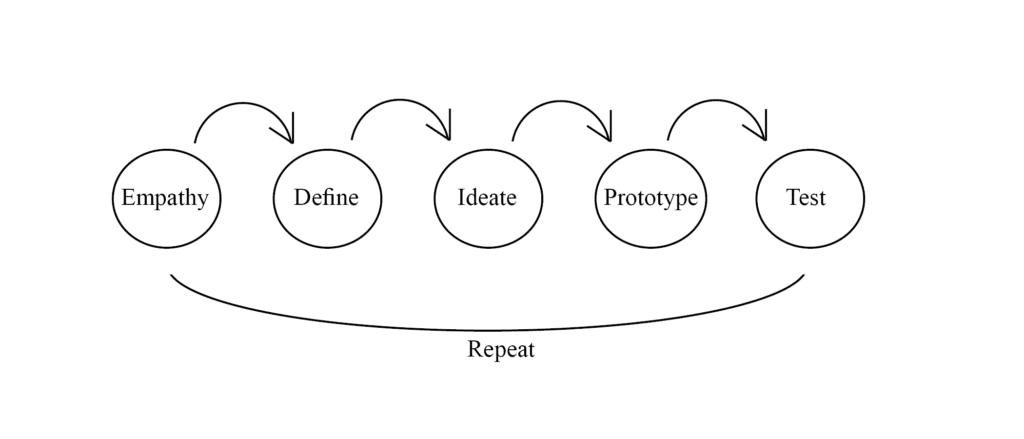 Human Centered Design
1. HEAR
2. CREATE
3. DELIVER
There are also many other ways of describing the stages of the design thinking process that relate to the above:
1. Observation
2. Brainstorming
3. Prototyping
4. Implementation
1. Discovery
2. Interpretation
3. Ideation
4. Experimentation
5. Evolution
1. Discover
2. Define
3. Develop
4. Deliver
Our goal in the design thinking workshop is to help make design thinking simple and understandable for you. We get you started with the basics and a project that can fit with any similar process. We want to help you help your participants to collaborate and develop connections. See this video for a glimpse of active design thinking activities we can customize and facilitate.