Get started with design thinking by learning through doing. Learn the key frameworks (and mindsets) in our design thinking training workshops and courses. In this training that can be facilitated virtually or on-site, you'll get practice applying the most effective human centered design tools and techniques. You'll cultivate empathy and build your concepts for a real challenge through unique design thinking workshop activities. Grow your design thinking skills. Start on your own innovation project. Create and validate an innovation for and with your colleagues, clients, customers or users.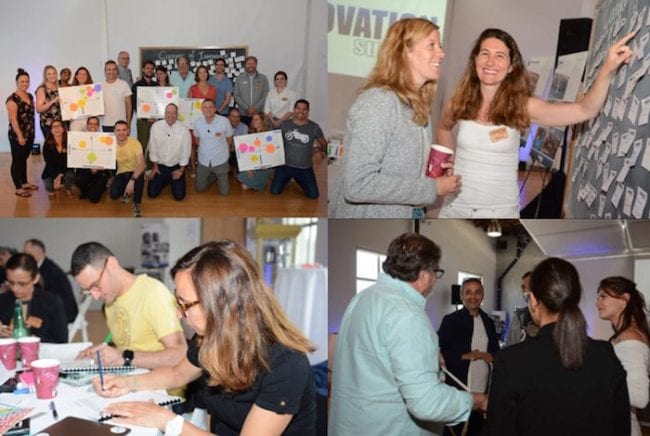 ---
About Design Thinking Training
Interested in learning more about our design thinking training workshop and how we might focus it for your organization? Email us for our workshop menu, customizations, and to learn what our workshops are like though client testimonials like this one from a San Francisco consulting company client.
Darin's Design Thinking for Innovation Workshop was an engaging, interactive, and creative learning experience for our management consultants. Our team is interested in helping our clients innovate and better understand their customers. Darin helped customize a workshop that was appropriate for our group, industry, and learning objectives. Through the various activities he facilitated, we were able to practice and cultivate the framework of Design Thinking while also building a toolkit for ourselves that we can leverage for future use. Our consultants now feel confident bringing these methodologies and approaches to our clients. We look forward to working with Darin in the future!
Or, do you want to go deeper and learn how to design and facilitate your own design thinking workshops? We can help you with that too! Learn more about our design thinking facilitator training innovation certificate program.
Our approach is to provide a very interactive and practical workshop to get you started with design thinking and learning through doing. We will share with you some of the best tools to use when getting started with our method. We can also provide you with a book and online course from Innovation Learning to help you sustain the learning and development. We will also keep you connected to some of the most important design thinking toolkits, books, and techniques.
We want to help you not only learn to use design thinking methods and techniques, but to also develop the mindset or attitude of a design thinker who is focused on innovating WITH your stakeholders, customers and users to succeed sooner. We want to guide you on your learning journey to take on complex challenges and prototype potential solutions.
Watch this video to get an idea of what our design thinking workshops look like.
---
Who is design thinking training for?
Innovation and design thinking is for anyone willing to change their mindset, not only about challenges and problem solving, but also about creating something new. We can conduct a design thinking workshop for anyone in the organization to learn how to use design thinking methods in order to innovate how they work and what they create.


Companies, universities, and organizations benefit immensely from our in-person short course, but we also offer online programs and books for the individual innovator. We design our design thinking workshop for you and the participants. We specialize in highly collaborative designs which get people connecting and creating in small groups and one-on-one. We've worked with over 100 organizations on design thinking workshops and innovation training. Here is a small sample.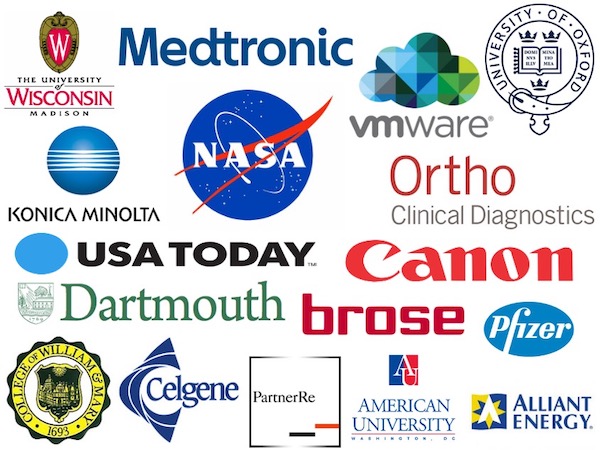 ---
What are the benefits of innovation and design thinking programs?
Different impacts are seen through different organizations. Innovative companies learn new techniques for working together, idea generating and processing, and a new way of thinking about the process of innovation. Organizations who might not have thought of their company as being in the innovative spectrum are shown that innovation has a place in every company and everyone can innovate within their role everyday. Their mindsets are shifted towards being more "out of the box" and collaborative. They are given specific design thinking tools and scenarios to show how to use innovation in their company.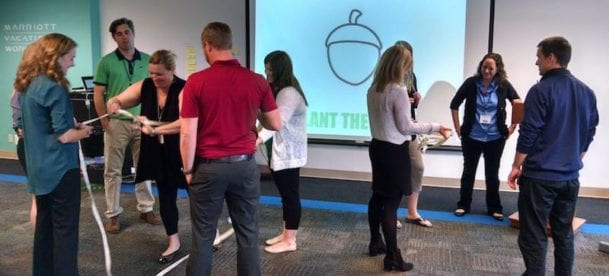 ---
Why do organizations need customer focused innovation and design thinking?
Innovation is positive change. Innovation is moving forward and responding to the massive amounts of change we are encountering. In order to thrive as a company and/or individual, positive change and forward movement are key. The design thinking approach helps us to be more successful with our change by designing for and with the people we create our products, services, and programs…our customers and users! This human centered design process begins with first understanding customer needs to define the complex problem before ideation of innovative solutions. You may do user research, persona creation and journey mapping at the start to gain empathy. You also take what you are learning and act on it by conceptualizing your ideas with rapid prototyping to test and validate that your prototype solves a real problem.
---

The Design Thinking Course with InnovationTraining.org
In our workshops, we will help you familiarize yourself with various design thinking processes, and simplify them into the common elements that you can get started with and use again and again. We will help you to select a project you would like to work on to generate and develop ideas using insight from the people you are designing for. We will give you hands-on time to use some of the most popular and effective tools and techniques for design thinking.
Below is an overview of some of the things our design thinking training course will teach you.

Design Thinking Process
We customize our design thinking workshop to fit with a variety of general design thinking frameworks.
There are many different stages and steps that are similar across various systems. Our underlying purpose is to help you design a more successful innovation for and with your users or customers. We can better do that using a process and design thinking technique.
Innovation Step-by-Step
The cover of Innovation Step-by-Step: How to Create & Develop Ideas for your Challenge shows a very basic three stage design thinking framework that we use.

These design stages include:
1. Challenge: Clarify the innovative design challenge with focused questions for your users/customers
2. Ideas: Generate many ideas for your innovative design with your users/customers
3. Action: Validate, Communicate, & Launch your innovation with your users/customers
These three stages are detailed into seven steps that you can find above in the visual journal workbook.
There are many other design thinking activities or processes that people and organizations find helpful. We show you tools, techniques, and activities that fit with many different processes.
IDEO's design thinking process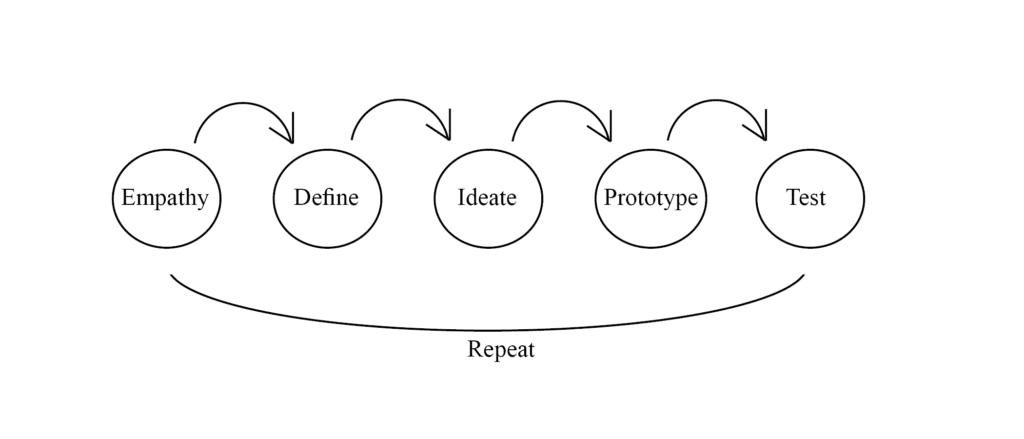 Human Centered Design
1. HEAR (Inspiration)
2. CREATE (Ideation)
3. DELIVER (Implementation)
Our goal is to boost your design thinking skills for innovation, and to make design thinking simple and understandable for you. We get you started with the basics and a project that can fit with any similar process. We want to help you help your participants to collaborate and develop connections. Contact us to see videos for a glimpse of active design thinking activities we can customize and facilitate.
---
Example Workshops
Listed below are some design thinking training courses we have led in the past. We also can link courses into a design thinking certification if you'd like to make it formal.
I. Innovate with Design Thinking for Your Business
Learn simple approaches to apply your creativity with your customers and users as a catalyst to innovate in a more effective way for a variety of purposes (new products, services, business models, marketing, employee experience, org culture, etc.). Gain tools, techniques, and real experience with design thinking – an innovation approach utilized by many growing companies to succeed. Learn the most popular and simple innovation and design thinking processes that you can use for getting and understanding insights from your customers, creative problem solving, and developing and communicating solutions that they want.
What You'll Gain from this Workshop:
MINDSET: Access the attitude that will help you to keep learning, growing, & taking innovative action to make a difference for your organization.

PROCESS: Learn the Innovation Step-by-Step approach and other methods to use for challenges in your work. Put the process to use for your culture of innovation challenge.

ACTION: Begin your own innovation project for the purpose of learning, developing skills, and creating something new that can impact others and yourself. Start with an acorn sized action that could grow.
II. Activating Design Thinking for Real Results
Learn more about design thinking and discover why it's a trending and powerful approach to business success. Discover your own innovative mindset and get started with practical design thinking activities. Find out how you can gain empathy and insight into your customers and what they need from your business. Near the end of the webinar, you will be able to take these insights to create what your customers really want that will continue to add value in the future.
III. Design Thinking for Innovation
In this session, you will learn what design thinking is and why it is a powerful and trending approach for business success. You'll discover your own innovation mindset and get started with practical design thinking activities. Find out how you can gain empathy and insight into who your customers are and what they need, and apply that learning into a specific approach that gives your customers what they really want.
Objectives:
Develop a mindset for design thinking and innovation

Apply the design thinking methodology to your own work

Use these new tools and techniques for design thinking

Collaborate with colleagues to create new solutions to your business challenges or needs
Overview of Activities:
Customer/Stakeholder Persona Development

Stanford D School Design Thinking Process Demo

Design Thinking Mindset stories and metaphors

Rapid interviews of colleagues

Idea generation to help your colleagues innovate at higher levels

Concept development and validation activity from the user community
IV. Enact your Innovative Mindset to Grow a Culture of Innovation
Learn more about how to build your innovative mindset and grow a culture of innovation at work. Utilize critical skills and leverage them to make a difference at your organization. Learn the step-by-step innovation process and agile methods to overcome challenges in work and life. Put the processes to use with an innovation project activity.
---
Reach out if you need advanced help with a design thinking workshop, training, or having more of a culture of design thinking and innovation in your organization.

What do we include in our design thinking courses?
We offer innovation training services in the form of online programs, books, and workshops. We can include selected resources to keep your group applying the design thinking principles and methods in their own projects. We work to make each workshop relatable to the specific organization and participants through research, simplification, conversation, real examples, and hands-on projects. We can also include a "visual journal workbook" that you can use to help create your design thinking innovation project.
Contact us today to learn more about our design thinking workshops and custom-designed innovation and leadership programs. We deliver them virtually or onsite and in-person. We can also provide a design thinking certificate for your participants.