We offer our design thinking certificate programs in partnership with an organization, university, or other institution. The human-centered design programs can blend our design thinking training, innovation workshops, design thinking online courses, innovation assessments, design thinking coaching, and other unique project-based experiences and reflection into a certificate program. We develop our unique programs with and for our clients and participants. The program can be delivered online or at your site. Here's a highlight video of a design thinking certificate program we customized for a client to be delivered at their big summit conference in Las Vegas.
Our design thinking certificate courses are designed and delivered for varying lengths, settings, and group sizes and can be a combination of in-person and virtual experiences for different purposes. We can also build in an innovation assessment or design thinking books into the larger program. Watch this video we created for the design thinking certificate program launched with Adobe at the Adobe Learning Summit to see what a program could entail.
What is design thinking and why is it useful?
Design thinking is an iterative process that uses creative problem-solving to come up with innovative solutions. It is based on the idea that by focusing on user needs, generating ideas, and prototyping solutions, it is possible to create meaningful and effective solutions.
Design thinking is useful because it provides a structured and creative approach to problem-solving. It encourages people to think outside the box and come up with innovative solutions that may not have been considered before. It also promotes collaboration, as it encourages people to work together to solve problems. Finally, it helps to ensure that the solutions created are user-centric, as the user's needs are always kept in mind throughout the process.
Why is it important to learn design thinking?
Design thinking is becoming increasingly important in many areas, including product design, business strategy, and education. It can help organizations to innovate and find new and creative ways to solve problems. It is also a valuable skill to have in the workplace, as it can help to increase productivity and improve processes. Finally, it is a great way to develop creative problem-solving skills. Design thinking is suitable for anyone who is interested in learning how to solve problems creatively (and collaboratively) through beginning with empathy.
Having a certificate in design thinking can show employers that you have the skills and knowledge necessary to use design thinking in the workplace. It can also help to demonstrate your commitment to learning and your ability to think creatively. Common career paths for design thinkers include product designer, user experience designer, business strategist, consultant, and entrepreneur. It's an important human-centered approach to leadership as well. Design thinkers may also find opportunities in fields such as healthcare, education, government, and non-profit organizations. With a strong background in design thinking, the possibilities are virtually limitless.
What is a design thinking certificate program?
A design thinking certificate program is a program that teaches participants how to use the design thinking mindsets and methodology to solve problems and create solutions. It typically includes innovation courses on topics such as creative problem-solving, ideation, and prototyping. Participants learn how to identify user needs, generate innovative ideas, and develop prototypes and experiments. Upon completion of the program, graduates are awarded a design thinking certificate.
Before beginning to learn about design thinking, it is helpful to have some experience in problem-solving, collaboration, and creativity. These skills can help participants to understand the concepts of design thinking and better apply them in their projects. It is also beneficial to have some knowledge of customer/stakeholder focus or user experience design, as this is a key part of the design thinking process.
What could a design thinking certificate program include? There are many options to create which could be more breadth or depth focused. Our favorite specific topics are innovation mindsets, culture, employee experience, as well as learning and development. Here are other general possible areas of emphasis.
Introduction to Design Thinking
User Research and Interview Techniques
User Experience Design (UX)
Prototyping and User Testing
Design Thinking for Teams
Human Centered Design Thinking for Social Impact
Launch and Iteration
What project could participants do to earn a design thinking certificate?
Participants could work on an individual and team project to develop a creative solution to a problem. This could include researching the problem, developing user personas and journey maps, generating ideas, prototyping and testing solutions, and presenting their final solution to a panel of experts. This project could be completed over the course of the program to demonstrate their design thinking skills and earn their certificate.
Our design thinking certificate program is for groups from one organization and not something for the public that individuals can register for. The organization we are designing and delivering the program for can offer their own certificate with our help or offer ours. This is a more custom designed certificate program. Yes, we'd like to use design thinking to design and deliver a design thinking certificate program for the people in your organization!
Here is what a few of the participants in our innovative certification program offered at the Adobe Learning Summit shared on LinkedIn.



"End of day 1 at the Adobe Learning Summit. I don't have a lot of photos, I was too busy interacting with all the amazing L&D professionals I got to meet. Stellar workshop by Darin Eich, Ph.D. on Design Thinking where he really got us looking at things in a new way. Our group may even have come up with a ground breaking application prototype. #designthinking #learning #adobelearningsummit2022"
"I completed the Adobe Learning Summit Design Thinking Certificate Program by Darin Eich, Ph.D.
Thanks, Adobe Learning Summit 2022 team, for offering such a brain-opening Design Thinking certificate program during the #AdobeLearningSummit 2022 in Las Vegas.
It was a fantastic experience the way Darin conducted the course. It is like understanding and utilizing the hidden powers of the human brain. I got a #DesignThinking perspective to look at any new challenge now."
"Followed up from ALS and completed Adobe Learning Summit Design Thinking Certificate Program. Thanks, Darin Eich, Ph.D. Significant stack of resources and learning pathway. #designthinking"
Online Design Thinking Certificate
We have an online course style learning management system that we can host the program on. The certificate the participants earn can be delivered as a pdf that can be printed, shared, or stored online from our LMS. Or, alternatively your organization can create and offer the certificate under the name of your organization with your own technology, systems, or certificate delivery approach. We have collaborated with universities that like to place great emphasis on the physical certificate, printing it on fine paper and awarding in a ceremony. Since this program can be designed and delivered in infinite ways, there are many possibilities. We just like to do it digitally.
Here's a view of a basic certificate design hosted on the innovation course learning management system.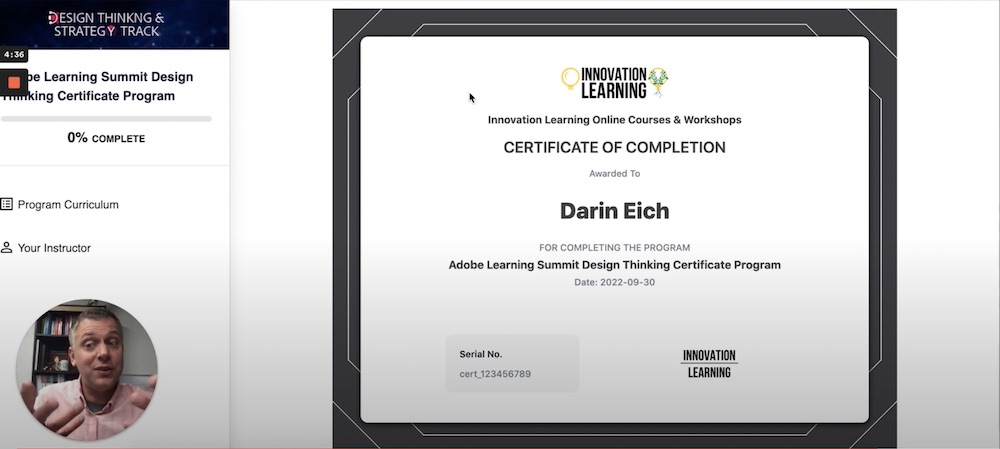 Design Thinking Certifications
Design thinking certifications are growing in interest. Many of them are standard online delivery models. These are some examples of design thinking programs that are more for students or the public:
Stanford d.school Design Thinking Bootcamp
General Assembly Design Thinking Course
IDEO U Design Thinking Program
UC Berkeley Extension Design Thinking Course
Harvard Design Thinking Certification Program
InnoDesignTech Design Thinking Certificate Program
Northwestern Design Thinking Certificate Program
CodeClan Design Thinking Course
IBM Design Thinking Professional Certificate
Design Thinking Academy of Canada
There are certification programs to learn design thinking that are applicable for individuals. For example, Stanford's d.school Design Thinking Bootcamp is a five-day program that teaches teams how to apply design thinking to solve problems. It includes courses on creative problem-solving, ideation, user experience design, and prototyping. There are also online courses available, such as General Assembly's Design Thinking Course and IDEO U's Design Thinking Fundamentals Course. These courses can help teams to learn the fundamentals of design thinking and apply it to their work.
We also offer facilitator training certification programs online that blend online innovation courses with 1:1 coaching.
Conclusion
Are you interested in learning more about our design thinking certificate program? Just contact us so we can hear more about what you are looking for and then we can share with you some relevant examples or ideas. Developing creative problem solving skill through design thinking certification can be used to enhance executive education, leadership development, innovation, and the employee experience. More empathetic and creative solutions to problems and challenges can benefit any areas in an organization, including management, human resources, UX design, product management, etc.