We partnered with Adobe to create and lead a design thinking certificate program for about 100 learning & development and customer experience leaders as a part of the Adobe Learning Summit. We gave the group the Innovation Impact Assessment as a self-assessment activity towards the beginning of the session. (You can learn more about this innovation assessment in another article we did introducing it.) After spending about 10 minutes to complete the assessment on their mobile device or computer, each individual received a personalized report with their results. As the group leader, I also received a Collective Group Dashboard showing interesting insights and views of the collective group results. Here is the dashboard view and what we shared back to the group.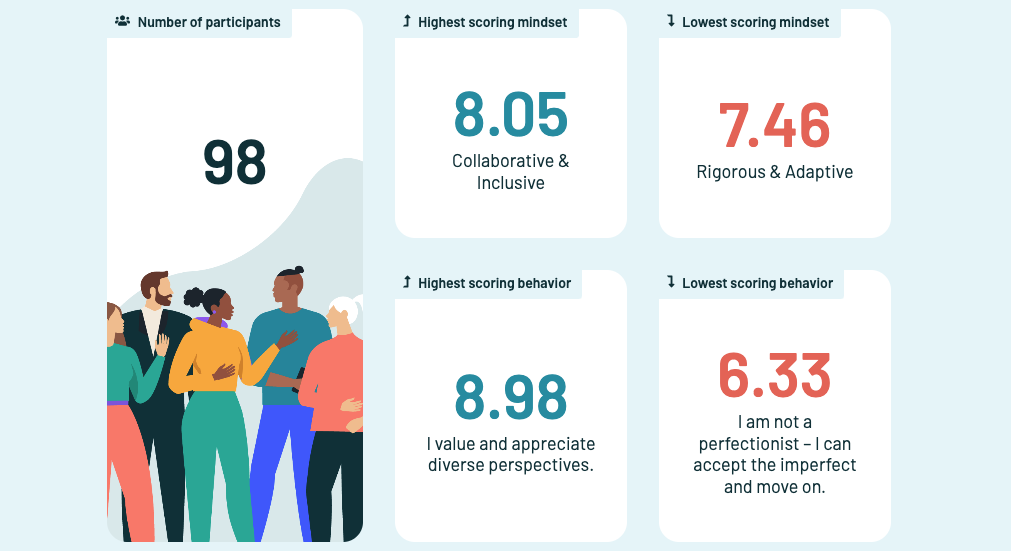 Notable insights
Here are a couple insights we noticed from the data.
A tension lives under the surface of the highest scoring mindset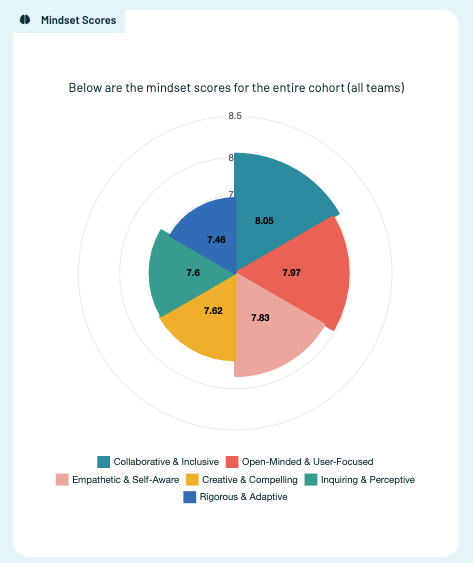 When we take a closer look at the behaviors underneath the 'Collaborative & Inclusive' mindset score we see that there is an interesting tension between:
"I recognize the value of multiple solutions, versus believing in a single 'right' one."
And
"I avoid allegiance to particular solutions too early, even in the face of time pressures."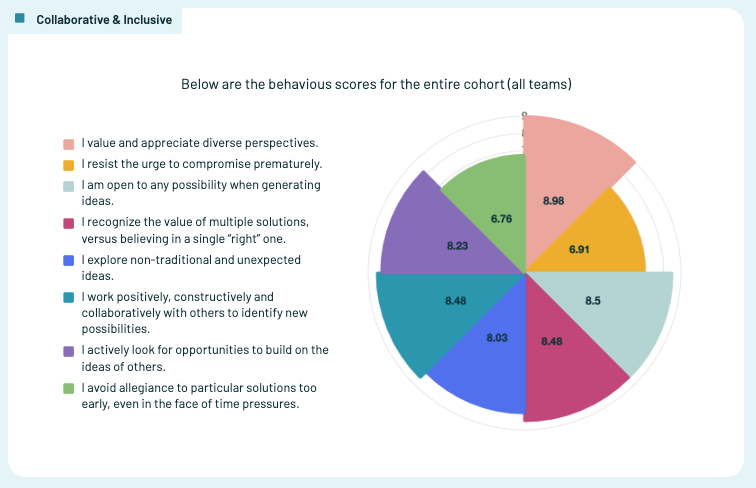 What conditions tilt this cohort towards early compromise when they clearly value diversity and exploration?
Give your 'iteration' strengths a chance to shine by shipping earlier and more often
In this group there is strength in iterating but there may be an initial hesitation to 'ship' before something is perceived as perfect.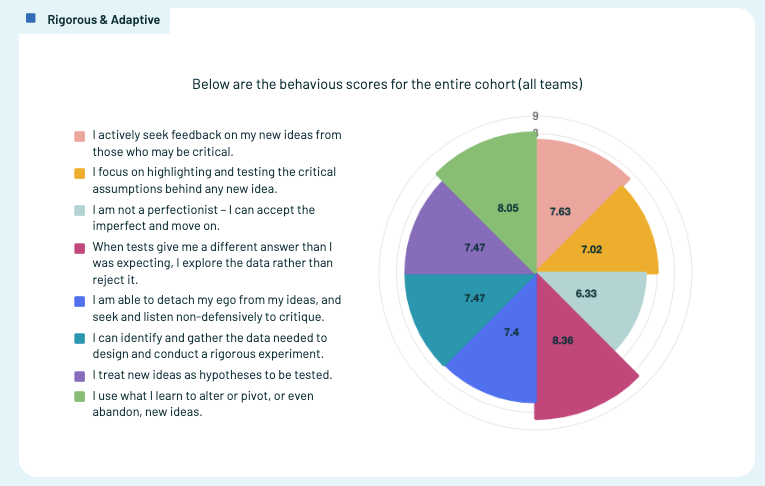 Did you know the iPhone didn't have 'copy/paste' until the 3GS came out two years after the original? 'Perfection' didn't hold them back from shipping something that was 'good'.
Is there something you are 'perfecting' today that might benefit from being shipped?
Practice prioritizing what 'features' are must-haves (e.g., virtual keyboard) and what are nice-to-haves (e.g., copy/paste) may help this group hit deadlines without forming allegiances to particular solutions too quickly and give their 'iterating' strengths a chance to shine.
Using the Assessment and Dashboard in your practice
The Innovation Impact Assessment can be taken as a self- or peer-assessment. It is fascinating for the individual to see how they are similar or different to the larger group. We offer a workshop for teams to interpret and digest the aggregate and individual results of the assessment. If you would like to discuss bringing these tools or experiences to your organization or clients, please don't hesitate to reach out to learn more. In the program we designed for the Adobe Learning Summit, each leader engaged in our experience design thinking workshop and also received these resources:
Access to an online refresher course and Certificate of Completion
Their individual results and development plan from the Innovation Impact Assessment
The cohort's aggregate results from the assessment and access to the dashboard
For those interested in going deeper with their design thinking journey, these are optional and addition resources to consider from the innovation impact assessment team:
It was exciting to use this assessment as part of a design thinking workshop certificate program with Adobe. I'm looking forward to incorporating this tool with my next group program. It would be great to be able to have people complete the assessment before the program begins to give the participants awareness about their own innovation mindsets and behaviors immediately…and provide a personal development plan they can start acting on. As the program designer, I can also use the collective group dashboard to inform the design of my program and workshops based on the the strengths and gaps presented in the results.