For those of you looking for new and better ways of assessing and developing the innovative potential in your team, this blog post offers you my first-hand view of Innovation ImpactTM – the new diagnostic instrument from Prof. Jeanne Liedtka and Treehouse Innovation.
Based on a decade of research
In a world that's flooded with assessment and measurement tools that tell you what kind of leader, innovator or person you are, it's refreshing to see a new assessment that is backed by rigorous academic research and data.
Professor Jeanne Liedtka (author of Designing for Growth among other excellent books on design thinking) is one of the most respected researchers, teachers and practitioners of design thinking out there. The Innovation Impact assessment is based on her latest book, Experiencing Design: The Innovator's Journey, written with co-authors Karen Hold and Jessica Eldridge.
Having featured other design thinking books and studies by Jeanne on our InnovationTraining.org site in the past, I trust the validity and reliability of this assessment.
As a teacher or trainer in the innovation space, the Innovation Impact Assessment presents a tool that helps individuals become aware of and measure themselves against the behaviors and mindsets that research has shown to be shared by successful innovators from all backgrounds and professions.
I've noticed that many innovation processes are quite similar – some have more stages or steps than others – but they all boil down to the same fundamental elements that underpin effective innovation. The Innovation Impact Assessment focuses on a layer deeper than process and tools, which is why you can probably see how the following mindsets that are measured by the assessment fit with what you might be teaching or learning in the world of innovation (or even leadership):
Empathetic & Self-aware
Inquiring & Perceptive
Open-Minded & User-Focused
Collaborative & Inclusive
Creative & Compelling
Rigorous & Adaptive
The importance of mindsets
I like the mindset approach to innovation because it isn't black or white – a, b, c, or d kind of work. It's very qualitative and allows for a more nuanced look at what makes for successful innovation.
The specific focus of the assessment is also appealing. Human-Centered approaches to innovation like design thinking are trending (and needed). There is a hunger for more innovative mindsets – and to learn more about that for oneself and as a way to impact a team, larger organization, or other kind of community of people.
When I started working to help organizations with innovation 15 years ago, people were first interested in learning an innovation process, then how to create a culture of innovation, and now the focus is shifting to how to have the right mindset for innovation…something that resides in and begins with the individual.
Individual and Team Assessment
This assessment helps you to learn about yourself and the team working around you in your organization. Taking the assessment as a team allows you to see your team's mindset profile. Identifying collective strengths and opportunities for growth can help inform team composition, development needs and even hiring strategies to help cultivate the right talent in your organization.
I like how the assessment isn't simply an a or b kind of answer. The design of the tool is very visual and appealing. It provides an engaging user experience and flexible answering system where you drag a slider to plot your answer anywhere on the scale for each question. Answering the questions is an introspective development activity in itself as you pause and reflect on how you behave. You get the chance to get off of the dance floor and onto the balcony (as Ron Heifetz might say) to see yourself from above. When I might have been unsure, the "what might your peers say about you" prompt helped bring me clarity. The amount of questions was just right. If it was just 5-10 I would have questioned how rigorous the assessment is. If there were over 100 questions I may not have had the patience to complete it.

After you finish, you instantly receive your report. There is an excellent video from Jeanne Liedtka that shares about the experience and how you can use it for growth and development. The report provides the usual results for each measure. I appreciated the focus on action. The report highlighted just a few of your greatest opportunities – what you scored the lowest in (to focus on for your growth) and also what you scored the highest in, which might be a "superpower" to leverage. There are also some worksheets to help you get into action with a personal development plan.
The assessment itself is a learning tool

I found doing the assessment helped me to stop and reflect at each question. I got to observe myself. It didn't take long but it helped me to see my innovation or leadership work through a different perspective. Afterwards, I found myself keeping in my mind the main results from my report.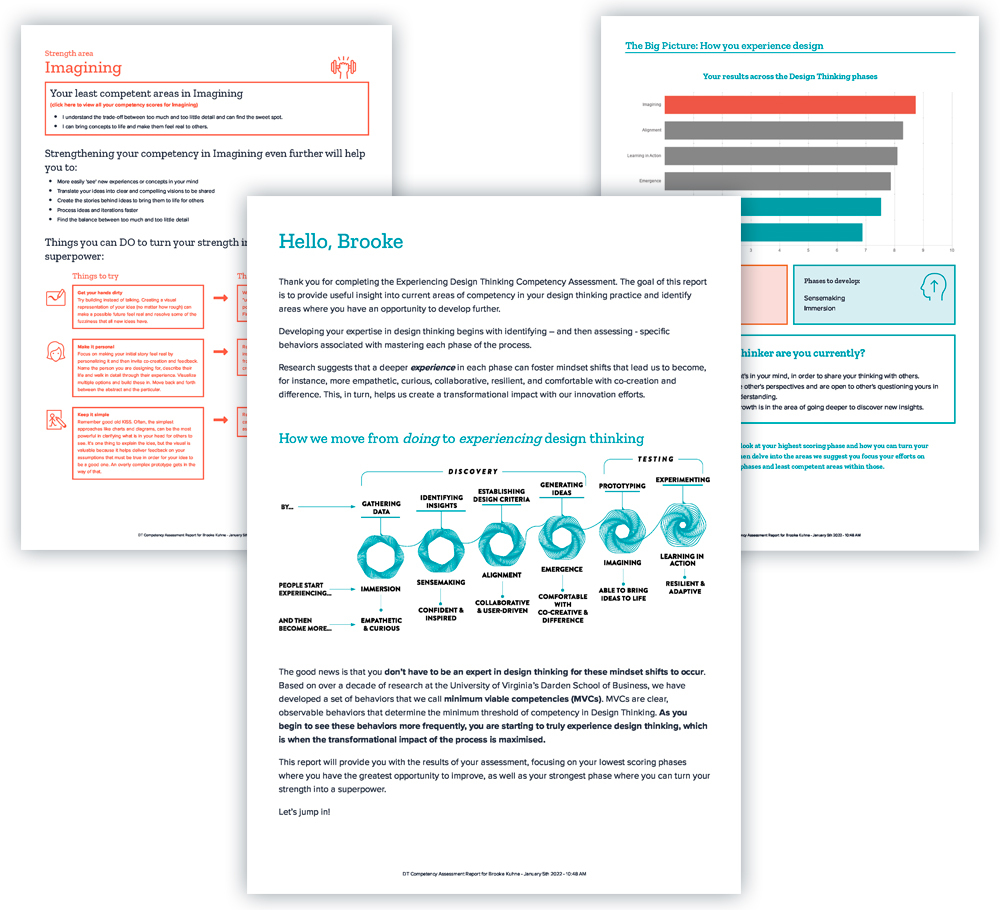 I noticed when situations came up the next few weeks in my projects where I could be more mindful about making meaning of the innovation work that I was doing with others and also tweaking or changing how I would usually do things. The personal development plan helped me to focus on making small but meaningful changes one step at a time.

You can take the assessment just for yourself but it is also a meaningful learning and development experience to do with your team. You can reflect together, discuss and ideate how you might act on what you've just learned about the group. In many of the programs I design workshops for, people want to include an assessment as a part of it. The Innovation Impact Assessment could be a good one to do, especially if your purpose is more for innovation.
Personality assessments can be helpful but most have already done these and they are not specifically focused on innovation. The Innovation Impact Assessment can help anyone take their self-awareness, learning and action to the next level, to become a more impactful innovator and to build resilience and future-fitness in an increasingly competitive and ever-changing world.

Click here to learn more or take the assessment.