Stay current on design thinking insights with these books
Did you know that there is a wide range of literature available about design thinking that can help you improve innovation and design thinking efforts at your organization? Reading can be a powerful tool to help you discover best practices and tools for success. Here are the top design thinking books to read this year. These books can help you whether you are getting started with understanding what design thinking is or if you are engaging in your own design thinking training or leading a culture of innovation.
Do you want to learn design thinking in a more applied way? Consider design thinking online training workshops or a design thinking certificate program as a deeper alternative to learning from books alone.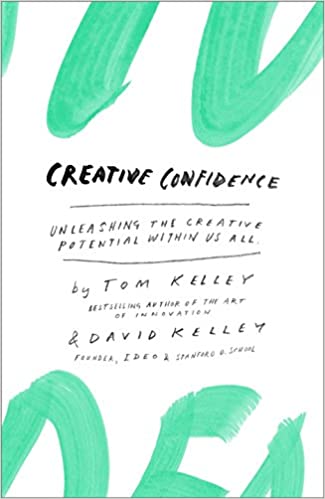 This book by Tom Kelley, the founder of IDEO and creator of the Stanford d.school, provides the key principles and strategies to tap into our creative potential. An entertaining and inspiring guide, this book is sure to help you be more productive and successful in your career and personal life.
Amazon Book Description:
Too often, companies and individuals assume that creativity and innovation are the domain of the "creative types." But two of the leading experts in innovation, design, and creativity on the planet show us that each and every one of us is creative. In an incredibly entertaining and inspiring narrative that draws on countless stories from their work at IDEO, the Stanford d.school, and with many of the world's top companies, David and Tom Kelley identify the principles and strategies that will allow us to tap into our creative potential in our work lives, and in our personal lives, and allow us to innovate in terms of how we approach and solve problems. It is a book that will help each of us be more productive and successful in our lives and in our careers.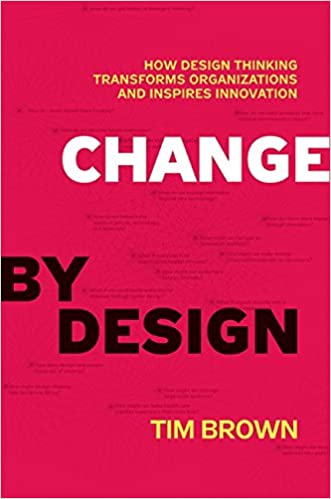 An old classic, Tim Brown's Change By Design is a great introduction on design thinking and the collaborative process of designing for your customer's needs. Labeled as a book for "creative leaders seeking to infuse design thinking into every level of an organization, product or service", Change by Design is sure to get your thoughts moving.
Amazon Book Description:
The myth of innovation is that brilliant ideas leap fully formed from the minds of geniuses. The reality is that most innovations come from a process of rigorous examination through which great ideas are identified and developed before being realized as new offerings and capabilities.
This book introduces the idea of design thinking' the collaborative process by which the designer′s sensibilities and methods are employed to match people′s needs not only with what is technically feasible and a viable business strategy. In short' design thinking converts need into demand. It′s a human−centered approach to problem solving that helps people and organizations become more innovative and more creative.
Design thinking is not just applicable to so−called creative industries or people who work in the design field. It′s a methodology that has been used by organizations such as Kaiser Permanente to increase the quality of patient care by re−examining the ways that their nurses manage shift change' or Kraft to rethink supply chain management. This is not a book by designers for designers; this is a book for creative leaders seeking to infuse design thinking into every level of an organization' product' or service to drive new alternatives for business and society.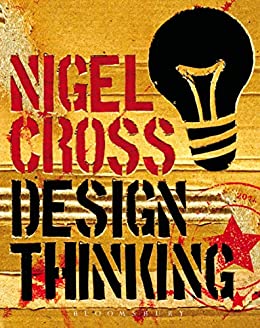 Nigel Cross' Design Thinking: Understanding How Designers Think and Work sheds a light on the creative process and provides case studies of how amazing designers work to help you develop the skills needed for design thinking at your organization. The book offers key insights into this process from many different industries, written by a prominent designer in the field.
Amazon Book Description:
Design thinking is the core creative process for any designer; this book explores and explains this apparently mysterious "design ability".
Focusing on what designers do when they design, Design Thinking is structured around a series of in-depth case studies of outstanding and expert designers at work, interwoven with overviews and analyses. The range covered reflects the breadth of Design, from hardware to software product design, from architecture to Formula One design. The book offers new insights and understanding of design thinking, based on evidence from observation and investigation of design practice.
Design Thinking is the distillation of the work of one of Design's most influential thinkers. Nigel Cross goes to the heart of what it means to think and work as a designer. The book is an ideal guide for anyone who wants to be a designer or to know how good designers work in the field of contemporary Design.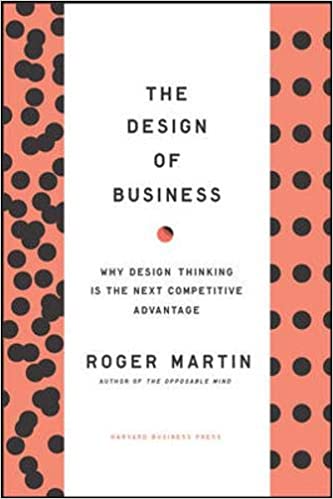 Roger Martin's The Design of Business: Why Design Thinking is the Next Competitive Advantage provides a compelling case of why innovation and design thinking should matter at your organization. The author covers how prominent, leading companies across the world have used design thinking across every stage of their company to produce breakthrough innovations and develop competitive advantage in their field.
Amazon Book Description:
Most companies today have innovation envy. They yearn to come up with a game—changing innovation like Apple's iPod, or create an entirely new category like Facebook. Many make genuine efforts to be innovative—they spend on R&D, bring in creative designers, hire innovation consultants. But they get disappointing results.
Why? In The Design of Business, Roger Martin offers a compelling and provocative answer: we rely far too exclusively on analytical thinking, which merely refines current knowledge, producing small improvements to the status quo.
To innovate and win, companies need design thinking. This form of thinking is rooted in how knowledge advances from one stage to another—from mystery (something we can't explain) to heuristic (a rule of thumb that guides us toward solution) to algorithm (a predictable formula for producing an answer) to code (when the formula becomes so predictable it can be fully automated). As knowledge advances across the stages, productivity grows and costs drop-creating massive value for companies.
Martin shows how leading companies such as Procter & Gamble, Cirque du Soleil, RIM, and others use design thinking to push knowledge through the stages in ways that produce breakthrough innovations and competitive advantage.
Filled with deep insights and fresh perspectives, The Design of Business reveals the true foundation of successful, profitable innovation.
HBR's "10 Must Reads" series is back, this time with a helpful collection of resources related to design thinking. The collection focuses on the core topics and articles related to modern-day innovation and design thinking focused application and implementation, including input from Tim Brown's "Design Thinking" and Tom Kelley's "Reclaim Your Creative Confidence."
Amazon Book Description:
If you read nothing else on design thinking, read these 10 articles. We've combed through hundreds of Harvard Business Review articles and selected the most important ones to help you use design thinking to produce breakthrough innovations and transform your organization.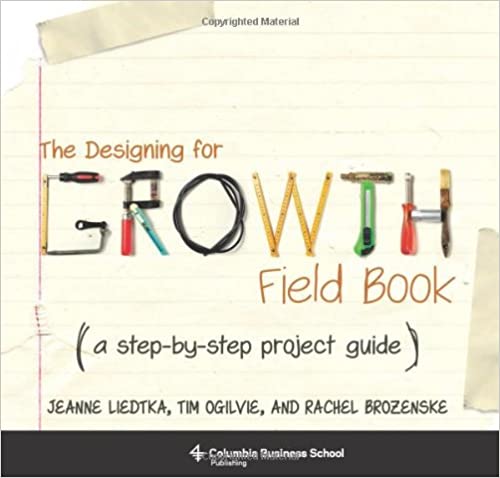 Designing for Growth uncovers the mindset, techniques and vocabulary of design thinking and teaches managers how to exploit design's potential to grow their business. Also check out the Designing for Growth Fieldbook here.
Amazon Book Description:
In Designing for Growth: A Design Thinking Tool Kit for Managers (D4G), Jeanne Liedtka and Tim Ogilvie showed how design can boost innovation and drive growth. In this companion guide, also suitable as a stand-alone project workbook, the authors provide a step-by-step framework for applying the D4G toolkit and process to a particular project, systematically explaining how to address the four key questions of their design thinking approach.
The field book maps the flow of the design process within the context of a specific project and reminds readers of key D4G takeaways as they work. The text helps readers identify an opportunity, draft a design brief, conduct research, establish design criteria, brainstorm, develop concepts, create napkin pitches, make prototypes, solicit feedback from stakeholders, and run learning launches. The workbook demystifies tools that have traditionally been the domain of designers―from direct observation to journey mapping, storytelling, and storyboarding―that power the design thinking process and help businesses align around a project to realize its full potential.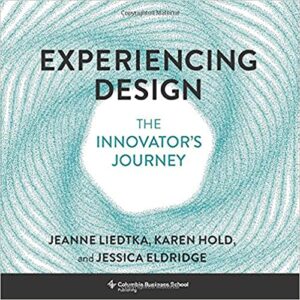 "Go deep" with design thinking by experiencing design for yourself. This guide offers practical advice for mindset shifts and competencies that need to be achieved every step of the way on your journey.
Amazon Book Description:
In daylong hackathons, design thinking seems deceptively easy. On the surface, it involves a set of seemingly simple activities such as gathering data, identifying insights, generating ideas, prototyping, and experimentation. But practiced at a superficial level, even great design tools don't go deep enough to create the shifts in mindset and skillset that are required to achieve transformational impact. Going deep with design requires more than changing the activities of innovators; it involves creating the conditions that shape who they become. Individuals become design thinkers by experiencing design.
Drawing on decades of researching design thinking and teaching it to people not trained in design, Jeanne Liedtka, Karen Hold, and Jessica Eldridge offer a guide for how to create these deep experiences at each stage of the design thinking journey, whether for an individual, a team, or an organization. For each experience phase, they specify the mindset shifts and competencies that need to be achieved, describe how different personality types experience different kinds of journeys, and show how to fully leverage the diversity of teams. Experiencing Design explores both the science and practicalities of design and includes two assessment instruments for individual and organizational development.
Ultimately, innovators need to be someone new to create something new. This book shows you how to use design thinking to make this happen.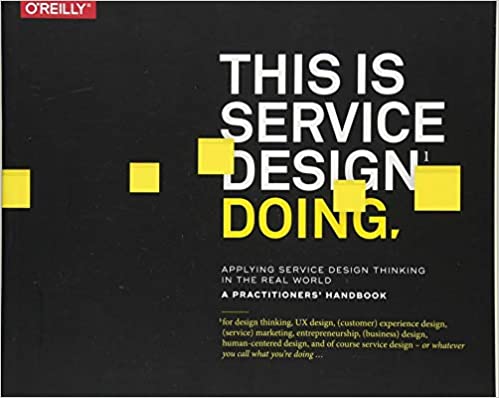 You know that developing a customer-centric culture is important, but how do you actually accomplish this in practice? This ambitious read by Marc Stickdorn attempts to answer this question with a thoughtful how-to guide. You'll learn how to run workshops, concept productively, and turn your ideas into reality.
Amazon Book Description:
How can you establish a customer-centric culture in an organization? This is the first comprehensive book on how to actually do service design to improve the quality and the interaction between service providers and customers. You'll learn specific facilitation guidelines on how to run workshops, perform all of the main service design methods, implement concepts in reality, and embed service design successfully in an organization.
Great customer experience needs a common language across disciplines to break down silos within an organization. This book provides a consistent model for accomplishing this and offers hands-on descriptions of every single step, tool, and method used. You'll be able to focus on your customers and iteratively improve their experience.
Move from theory to practice and build sustainable business success.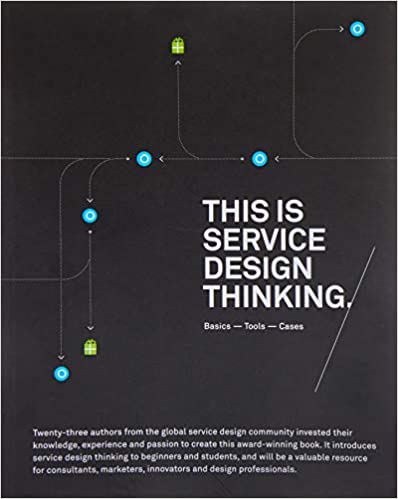 Another great design thinking book by Marc Stickdorn, this one focuses on service design thinking. You'll learn how to improve the customer experience and interactions between services and customers. By the end, you'll have a good sense of how to market your business as unique and exactly what the customer is looking for.
Amazon Book Description:
Service design thinking is the designing and marketing of services that improve the customer experience, and the interactions between the service providers and the customers. If you have two coffee shops right next to each other, and each sell the exact same coffee at the exact same price, service design is what makes you walk into one and not the other. Maybe one plays music and the other doesn't. Maybe one takes credit cards and the other is cash only. Maybe you like the layout of one over the other, or one has more comfortable seating. Maybe the staff at one is friendlier, or draws fun shapes on the top of their lattes. All of these nuances relate to service design.
This Is Service Design Thinking combines the knowledge of twenty-three international authors and even more online contributors from the global service design community and is divided into three sections:
Basics: outlines service design thinking along five basic principles
Tools: describing a variety of tools and methods used in Service Design Thinking
Cases: vivid examples for the introduced fundamentals with real-life case studies from 5 companies that did inspiring projects within the field of Service Design
At the end, a one-page "Customer Journey Canvas" is included, which can be used to quickly sketch any service on a single sheet of paper―capturing different stakeholder concerns: e.g. customers, front-line staff and management.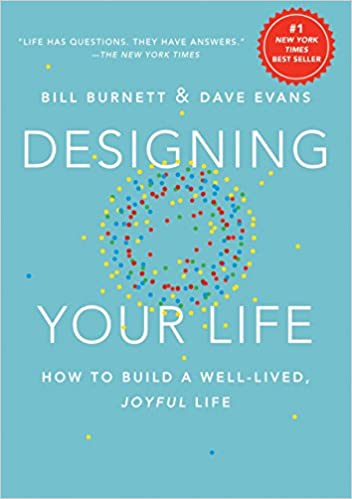 This book will take you through how design thinking can be used to design and build your career and your life, bringing you the most productive, healthy, and happy experience you can find. Using the same techniques responsible for top products and technology, you'll find your own path in life through this read.
Amazon Book Description:
Designers create worlds and solve problems using design thinking. Look around your office or home—at the tablet or smartphone you may be holding or the chair you are sitting in. Everything in our lives was designed by someone. And every design starts with a problem that a designer or team of designers seeks to solve.
In this book, Bill Burnett and Dave Evans show us how design thinking can help us create a life that is both meaningful and fulfilling, regardless of who or where we are, what we do or have done for a living, or how young or old we are. The same design thinking responsible for amazing technology, products, and spaces can be used to design and build your career and your life, a life of fulfillment and joy, constantly creative and productive, one that always holds the possibility of surprise.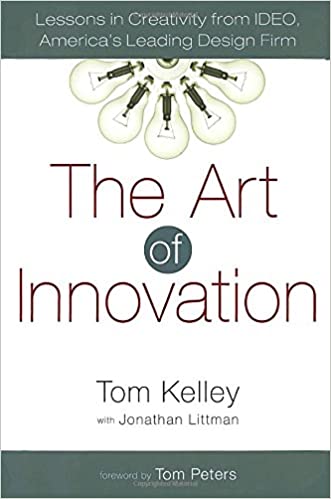 Tom Kelley's classic The Art of Innovation: Lessons in Creativity from IDEO, America's Leading Design Firm provides insights from industry leader IDEO on how to foster a continuing culture of innovation at your organization and develop a more collaborative approach to working.
Amazon Book Description:
IDEO, the widely admired, award-winning design and development firm that brought the world the Apple mouse, Polaroid's I-Zone instant camera, the Palm V, and hundreds of other cutting-edge products and services, reveals its secrets for fostering a culture and process of continuous innovation.
There isn't a business in America that doesn't want to be more creative in its thinking, products, and processes. At many companies, being first with a concept and first to market are critical just to survive. In The Art of Innovation, Tom Kelley, general manager of the Silicon Valley based design firm IDEO, takes readers behind the scenes of this wildly imaginative and energized company to reveal the strategies and secrets it uses to turn out hit after hit.
IDEO doesn't buy into the myth of the lone genius working away in isolation, waiting for great ideas to strike. Kelley believes everyone can be creative, and the goal at his firm is to tap into that wellspring of creativity in order to make innovation a way of life. How does it do that? IDEO fosters an atmosphere conducive to freely expressing ideas, breaking the rules, and freeing people to design their own work environments. IDEO's focus on teamwork generates countless breakthroughs, fueled by the constant give-and-take among people ready to share ideas and reap the benefits of the group process. IDEO has created an intense, quick-turnaround, brainstorm-and-build process dubbed "the Deep Dive."
In entertaining anecdotes, Kelley illustrates some of his firm's own successes (and joyful failures), as well as pioneering efforts at other leading companies. The book reveals how teams research and immerse themselves in every possible aspect of a new product or service, examining it from the perspective of clients, consumers, and other critical audiences.
Kelley takes the reader through the IDEO problem-solving method:
Carefully observing the behavior or "anthropology" of the people who will be using a product or service
Brainstorming with high-energy sessions focused on tangible results
Quickly prototyping ideas and designs at every step of the way
Cross-pollinating to find solutions from other fields
Taking risks, and failing your way to success
Building a "Greenhouse" for innovation
IDEO has won more awards in the last ten years than any other firm of its kind, and a full half-hour Nightline presentation of its creative process received one of the show's highest ratings. The Art of Innovation will provide business leaders with the insights and tools they need to make their companies the leading-edge, top-rated stars of their industries.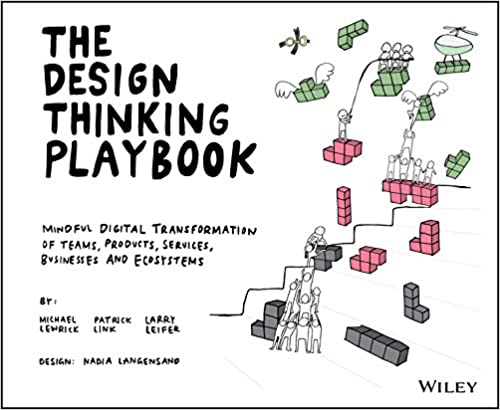 Michael Lewrick, Patrick Link, and Larry Leifer's Design Thinking Playbook: Mindful Digital Transformation of Teams, Products, Services, Businesses and Ecosystems provides a modern, actionable guide to design thinking and the future of business. The book outlines design thinking as applied across a range of industries, as well as the tools leaders of industry use to grow their business.
Amazon Book Description:
The Design Thinking Playbook is an actionable guide to the future of business. By stepping back and questioning the current mindset, the faults of the status quo stand out in stark relief―and this guide gives you the tools and frameworks you need to kick off a digital transformation. Design Thinking is about approaching things differently with a strong user orientation and fast iterations with multidisciplinary teams to solve wicked problems. It is equally applicable to (re-)design products, services, processes, business models, and ecosystems. It inspires radical innovation as a matter of course, and ignites capabilities beyond mere potential. Unmatched as a source of competitive advantage, Design Thinking is the driving force behind those who will lead industries through transformations and evolutions.
This book describes how Design Thinking is applied across a variety of industries, enriched with other proven approaches as well as the necessary tools, and the knowledge to use them effectively. Packed with solutions for common challenges including digital transformation, this practical, highly visual discussion shows you how Design Thinking fits into agile methods within management, innovation, and startups.
Explore the digitized future using new design criteria to create real value for the user
Foster radical innovation through an inspiring framework for action
Gather the right people to build highly-motivated teams
Apply Design Thinking, Systems Thinking, Big Data Analytics, and Lean Start-up using new tools and a fresh new perspective
Create Minimum Viable Ecosystems (MVEs) for digital processes and services which becomes for example essential in building Blockchain applications
Practical frameworks, real-world solutions, and radical innovation wrapped in a whole new outlook give you the power to mindfully lead to new heights. From systems and operations to people, projects, culture, digitalization, and beyond, this invaluable mind shift paves the way for organizations―and individuals―to do great things. When you're ready to give your organization a big step forward, The Design Thinking Playbook is your practical guide to a more innovative future.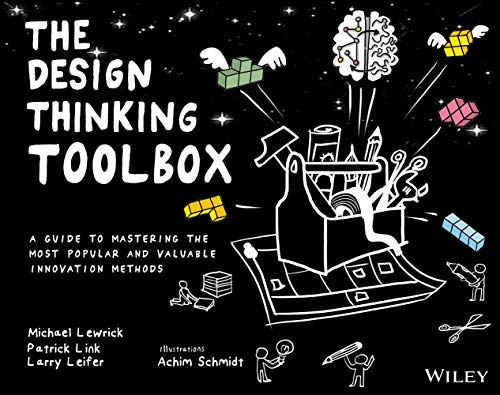 Michael Lewrick, Patrick Link, and Larry Leifer offer another excellent book to build on The Design Thinking Playbook: Mindful Digital Transformation of Teams, Products, Services, Businesses and Ecosystems. This book is a toolkit of dozens of activities that you can do as a part of a design thinking project…with details on how to conduct the activity. The Design Thinking Toolbox is subtitled as a guide to mastering the most popular and valuable innovation methods. It's a good hardcopy to have and you will probably pick up some new tools to add to your own design thinking toolkit with this book.
Amazon Book Description:
The Design Thinking Toolbox explains the most important tools and methods to put Design Thinking into action. Based on the largest international survey on the use of design thinking, the most popular methods are described in four pages each by an expert from the global Design Thinking community. If you are involved in innovation, leadership, or design, these are tools you need. Simple instructions, expert tips, templates, and images help you implement each tool or method.
Quickly and comprehensively familiarize yourself with the best design thinking tools
Select the appropriate warm-ups, tools, and methods
Explore new avenues of thinking
Plan the agenda for different design thinking workshops
Get practical application tips
The Design Thinking Toolbox help innovators master the early stages of the innovation process. It's the perfect complement to the international bestseller The Design Thinking Playbook.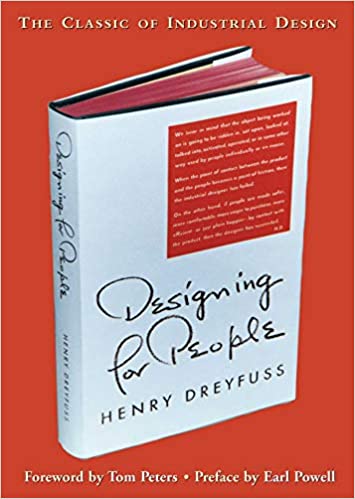 Henry Dreyfuss' Designing for People provides a historical perspective on how his innovative devices shaped the cultural landscape of the 20th century and provides professional advice, case studies, and history to help you improve your design thinking efforts.
Amazon Book Description:
From the first answering machine ("the electronic brain") and the Hoover vacuum cleaner to the SS Independence and the Bell telephone, the creations of Henry S. Dreyfuss have shaped the cultural landscape of the 20th century. Written in a robust, fresh style, this book offers an inviting mix of professional advice, case studies, and design history along with historical black-and-white photos and the author's whimsical drawings. In addition, the author's uncompromising commitment to public service, ethics, and design responsibility makes this masterful guide a timely read for today's designers.
This useful guidebook is filled to the brim with ways to alter space to fuel creative work and foster innovation. From tools to templates, you can learn how to control your environment for maximum innovation impact.
Amazon Book Description:
Make Space is a new and dynamic resource for activating creativity, communication and innovation across institutions, corporations, teams, and schools alike. Filled with tips and instructions that can be approached from a wide variety of angles, Make Space is a ready resource for empowering anyone to take control of an environment.
Design doesn't have to be complicated. Human-centered design relies on usability just as much as aesthetics – and this book by Don Norman is a fantastic resource to consider in the process.
Amazon Book Description:
The Design of Everyday Things shows that good, usable design is possible. The rules are simple: make things visible, exploit natural relationships that couple function and control, and make intelligent use of constraints. The goal: guide the user effortlessly to the right action on the right control at the right time.
The Design of Everyday Things is a powerful primer on how — and why — some products satisfy customers while others only frustrate them.
This 2019 release from Rossman and Duerden offers a comprehensive introduction to design and design thinking. Using detailed real-world examples, the authors present solid frameworks to use in all design-focused projects.
Amazon Book Description:
In an increasingly experience-driven economy, companies that deliver great experiences thrive, and those that do not die. Yet many organizations face difficulties implementing a vision of delivering experiences beyond the provision of goods and services. Because experience design concepts and approaches are spread across multiple, often disconnected disciplines, there is no book that succinctly explains to students and aspiring professionals how to design them.
J. Robert Rossman and Mathew D. Duerden present a comprehensive and accessible introduction to experience design. They synthesize the fundamental theories and methods from multiple disciplines and lay out a process for designing experiences from start to finish. Rossman and Duerden challenge us to reflect on what makes a great experience from the user's perspective. They provide a framework of experience types, explaining people's engagement with products and services and what makes experiences personal and fulfilling. The book presents interdisciplinary research underlying key concepts such as memory, intentionality, and dramatic structure in a down-to-earth style, drawing attention to both the macro and micro levels. Designing Experiences features detailed instructions and numerous real-world examples that clarify theoretical principles, making it useful for students and professionals. An invaluable overview of a growing field, the book provides readers with the tools they need to design innovative and indelible experiences and to move their organizations into the experience economy.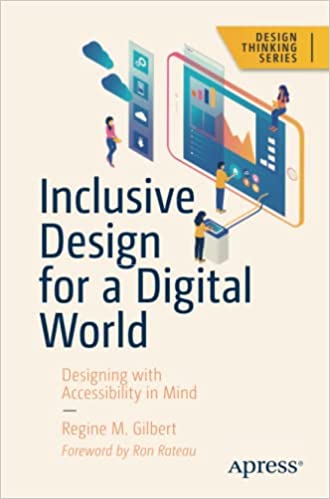 This design thinking book release from Regine M. Gilbert offers a look a inclusive design intended to be as accessible to as many different users as possible. Find step-by-step solutions to improve accessibility in your own design thinking projects in this book.
Amazon Book Description:
What is inclusive design? It is simple. It means that your product has been created with the intention of being accessible to as many different users as possible. For a long time, the concept of accessibility has been limited in terms of only defining physical spaces. However, change is afoot: personal technology now plays a part in the everyday lives of most of us, and thus it is a responsibility for designers of apps, web pages, and more public-facing tech products to make them accessible to all. Our digital era brings progressive ideas and paradigm shifts – but they are only truly progressive if everybody can participate.
In Inclusive Design for a Digital World, multiple crucial aspects of technological accessibility are confronted, followed by step-by-step solutions from User Experience Design professor and author Regine Gilbert. Think about every potential user who could be using your product. Could they be visually impaired? Have limited motor skills? Be deaf or hard of hearing? This book addresses a plethora of web accessibility issues that people with disabilities face. Your app might be blocking out an entire sector of the population without you ever intending or realizing it. For example, is your instructional text full of animated words and Emoji icons? This makes it difficult for a user with vision impairment to use an assistive reading device, such as a speech synthesizer, along with your app correctly. In Inclusive Design for a Digital World, Gilbert covers the Web Content Accessibility Guidelines (WCAG) 2.1 requirements, emerging technologies such as VR and AR, best practices for web development, and more.
As a creator in the modern digital era, your aim should be to make products that are inclusive of all people. Technology has, overall, increased connection and information equality around the world. To continue its impact, access and usability of such technology must be made a priority, and there is no better place to get started than Inclusive Design for a Digital World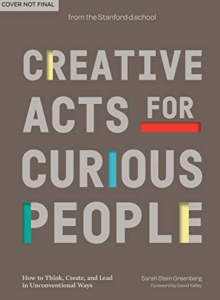 This design thinking book encourages readers to embrace unconventional approaches to problem-solving, decision-making, and leadership, drawing upon principles from the world of design thinking. It offers practical advice and exercises to help individuals and organizations foster creativity, navigate ambiguity, and tackle complex challenges.
Amazon Book Description:
In an era of ambiguous, messy problems—as well as extraordinary opportunities for positive change—it's vital to have both an inquisitive mind and the ability to act with intention. Creative Acts for Curious People is filled with ways to build those skills with resilience, care, and confidence.
At Stanford University's world-renowned Hasso Plattner Institute of Design, aka "the d.school," students and faculty, experts and seekers bring together diverse perspectives to tackle ambitious projects; this book contains the experiences designed to help them do it. A provocative and highly visual companion, it's a definitive resource for people who aim to draw on their curiosity and creativity in the face of uncertainty. Teeming with ideas about discovery, learning, and leading the way through unknown creative territory, Creative Acts for Curious People includes memorable stories and more than eighty innovative exercises.
Curated by executive director Sarah Stein Greenberg, after being honed in the classrooms of the d.school, these exercises originated in some of the world's most inventive and unconventional minds, including those of d.school and IDEO founder David M. Kelley, ReadyMade magazine founder Grace Hawthorne, innovative choreographer Aleta Hayes, Google chief innovation evangelist Frederik G. Pferdt, and many more.
To bring fresh approaches to any challenge–world changing or close to home–you can draw on exercises such as Expert Eyes to hone observation skills, How to Talk to Strangers to foster understanding, and Designing Tools for Teams to build creative leadership. The activities are at once lighthearted, surprising, tough, and impactful–and reveal how the hidden dynamics of design can drive more vibrant ways of making, feeling, exploring, experimenting, and collaborating at work and in life. This book will help you develop the behaviors and deepen the mindsets that can turn your curiosity into ideas, and your ideas into action.
---
These top design thinking books can help you learn more about the design thinking process and gain valuable tools, insights, and resources to help empower your organization to innovate creatively and become a leader in your industry. For more resources, check out our innovation and design thinking blog. If you'd like to go deeper on design thinking check out these other links.
Design Thinking Training Workshop Resources
Innovation Workshops
Design Thinking "Train-the-Trainer" Facilitator Training
Email us if you are interested in a custom design thinking workshop based on a recommended  framework or book. Based on our experience leading design thinking sessions for over 100 organizations, we like to listen to what you'd like to accomplish and design a workshop for your needs, users, and scenario.