These Miro and MURAL digital templates can be used in team sessions for problem identification and creative problem solving.
Creative problem solving is a foundation of many of the innovation and design thinking processes. From identifying the problem, to studying it, and then brainstorming how to solve it, there are many factors at play that can be improved through the use of a digital whiteboard tool like Miro. In our latest blog post, we'll share several problem solving templates created from Miro community members that can help you during a creative problem solving or problem identification session.
Problem Solving for Teams

This Miro template can help you align your team and execute a new innovation project effortlessly. A five-step process will walk you through the process, from ideation, problem solving, planning, and execution. Take notes and follow a checklist throughout to ensure you don't miss anything.
Structured Problem Solving

This template follows structured problem solving, an approach that draws on scientific thinking to solve a complex problem. Once a problem has been identified and the target outcome is set (typically, finding a solution to improve or eliminate the problem), your team can use the template to manage each step of the process.
Creative Problem Solving (Using SCAMPER)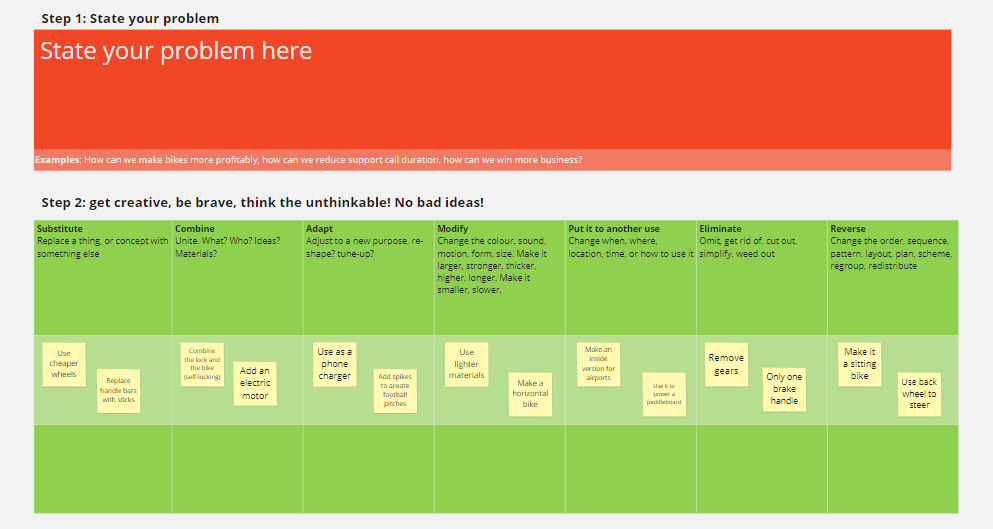 This SCAMPER template is designed for creative problem solving ideation. As we've discussed previously in a blog post, SCAMPER is an acronym that features the following ideas and approaches:
Substitute: Replace with something else
Combine: Unite into one
Adapt: Adjust to something new
Modify: Change something
Put it to another use: Change when, where, or how
Eliminate: Get rid of something
Reverse: Change it up
This template can help you use this methodology in the creative problem solving process.
Problem Statement Map

Still in the problem identification stage in your creative problem solving process? This template can help you identify and describe the problem that needs to be solved. Understand who is affected by the problem and why, as well as constraints and other things to take into consideration as you begin brainstorming potential ways to solve the problem.
Problem Framing Workshop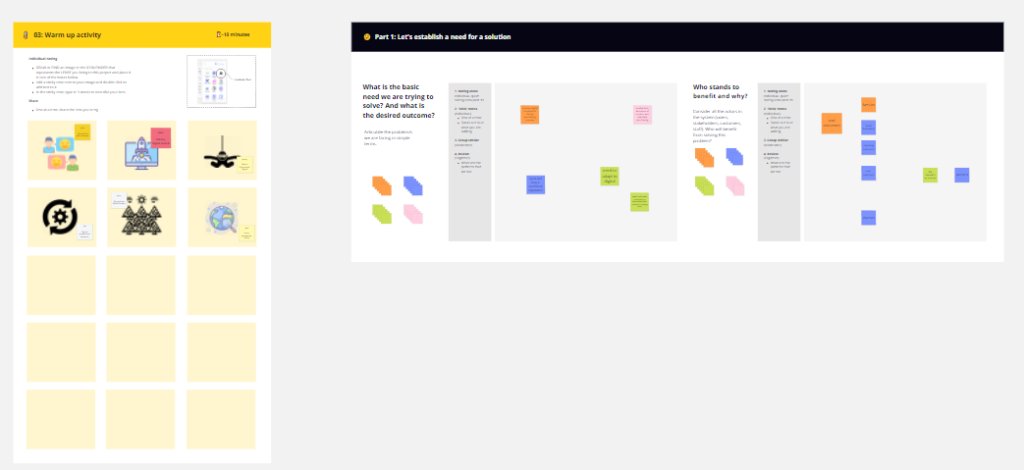 Prime Motive's Miro template is another way to unpack a problem and define it by asking the right questions from the start. The four-part process helps to align teams on what needs to be solved and why.
Creative Problem Solving Template Conclusion
These problem solving templates can be used in a multiple of ways, including during the innovation and design thinking process. If you would like custom help to use these templates in your creative problem solving workshop or innovation meeting, you can reach out to us online today.