Find Liberating Structures training resources and templates to get started with these unique innovative meeting methods.
Designing and facilitating innovative meetings with your team can be pressure-filled and time-consuming. Maybe your team feels burned out by a steady flow of all too boring meetings and other sessions, or you've left the room too often with nothing to show for it. If your meetings aren't accomplishing organizational goals or building collaboration, it's time to take them in an entirely different direction. Liberating Structures training or activities may help.
We've researched and worked with teams all over the world to build better innovative training sessions, brainstorms, workshops, meetings, and more. From hackathons to stand up meetings and everything in between, we understand that a more collaborative approach can make a massive difference in boosting efficiency, creativity, and effectiveness.
One approach that has really stood out to us for accomplishing this rapid redesign of meetings and group events is Liberating Structures, a collection of 33 popular approaches to push the boundaries of what a meeting looks like and how it functions. In this blog post, we'll discuss this method as well as share a few templates from top whiteboard tools Miro and Mural to get you started even virtually.
What is Liberating Structures?
Liberating structures is a selection of 33 alternative structures for hosting and facilitating meetings. This innovative approach to meetings is designed to involve a larger number of people in the process to boost inclusion, participation, clarity, and purpose. If your meetings are stagnant, lackluster, and incapable of accomplishing all you are setting out to, it may be time to take a different direction – just consider any one of these 33 approaches!
Liberating Structures Templates
These Miro and Mural templates follow the techniques and ideas behind Liberating Structures to help you implement them in your own meeting.
1. Miro's 1-2-4 All Template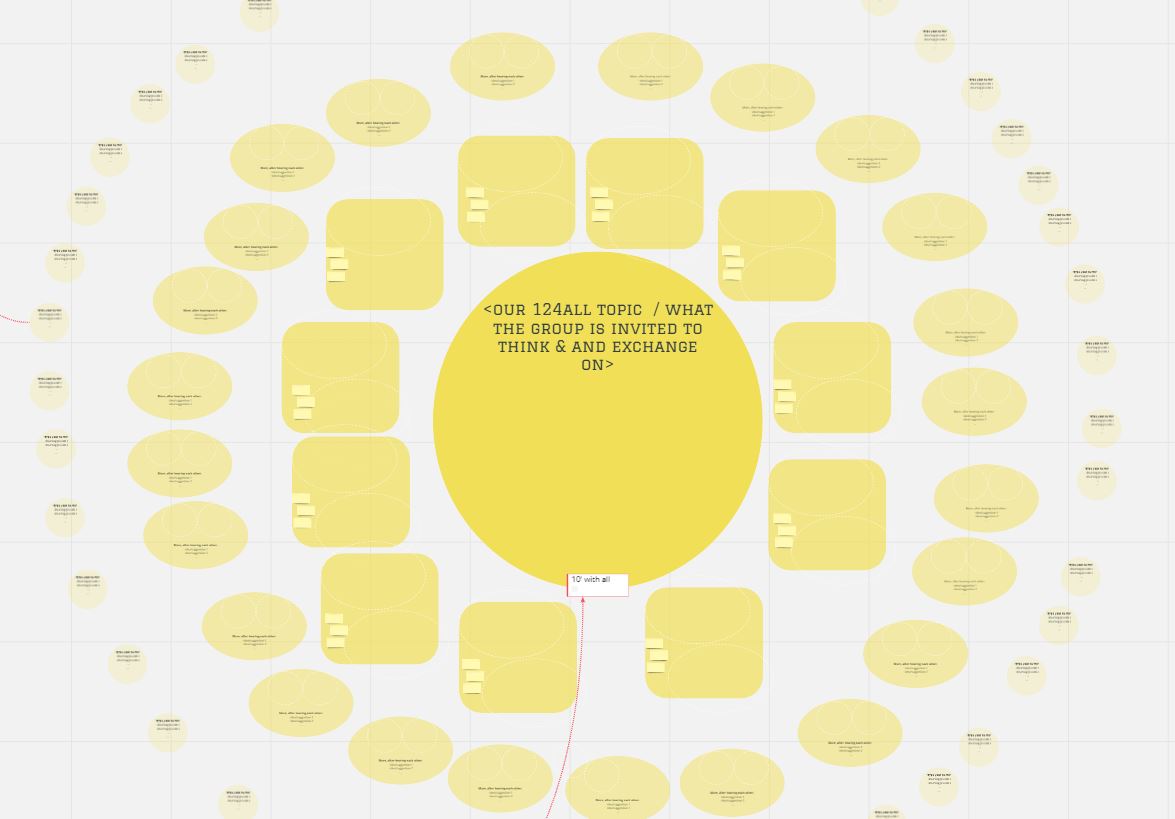 This 12-minute activity is designed to generate better ideas and more of them faster. Get your entire team engaged with this open participation activity. The Miro template provides a general setup, facilitator notes, and examples to be inspired by.
2. Miro's WINFY Template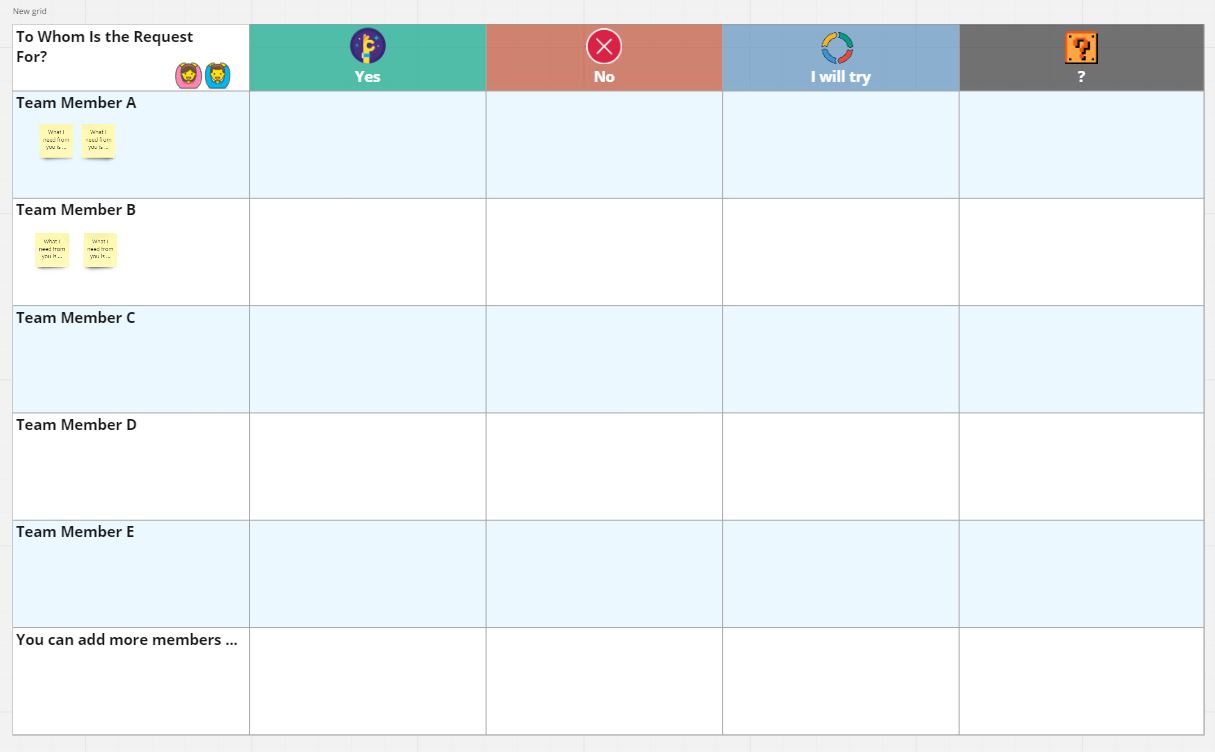 This "What I Need From You" (WINFY) template from Miro features a guideline to help team members work together and share information more efficiently. In groups or individuals, place sticky notes on the team/team member you need something from. Then, the person receiving the request can move it to Yes/No/I Will Try/?.
3. Miro's Menu & Principles Template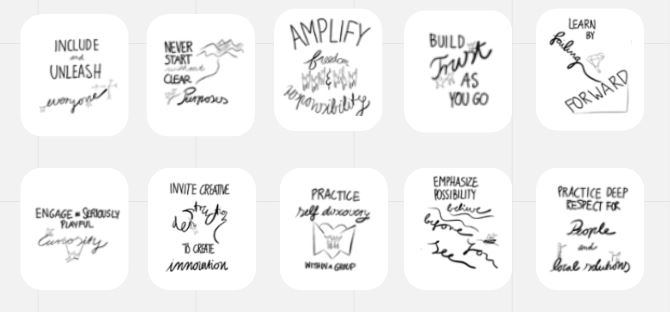 For a more comprehensive Liberating Structures template, use this one from Miro! You'll find illustrations and suggestions for each principle, including hints of how you can use and make them your own.
4. Mural's Kit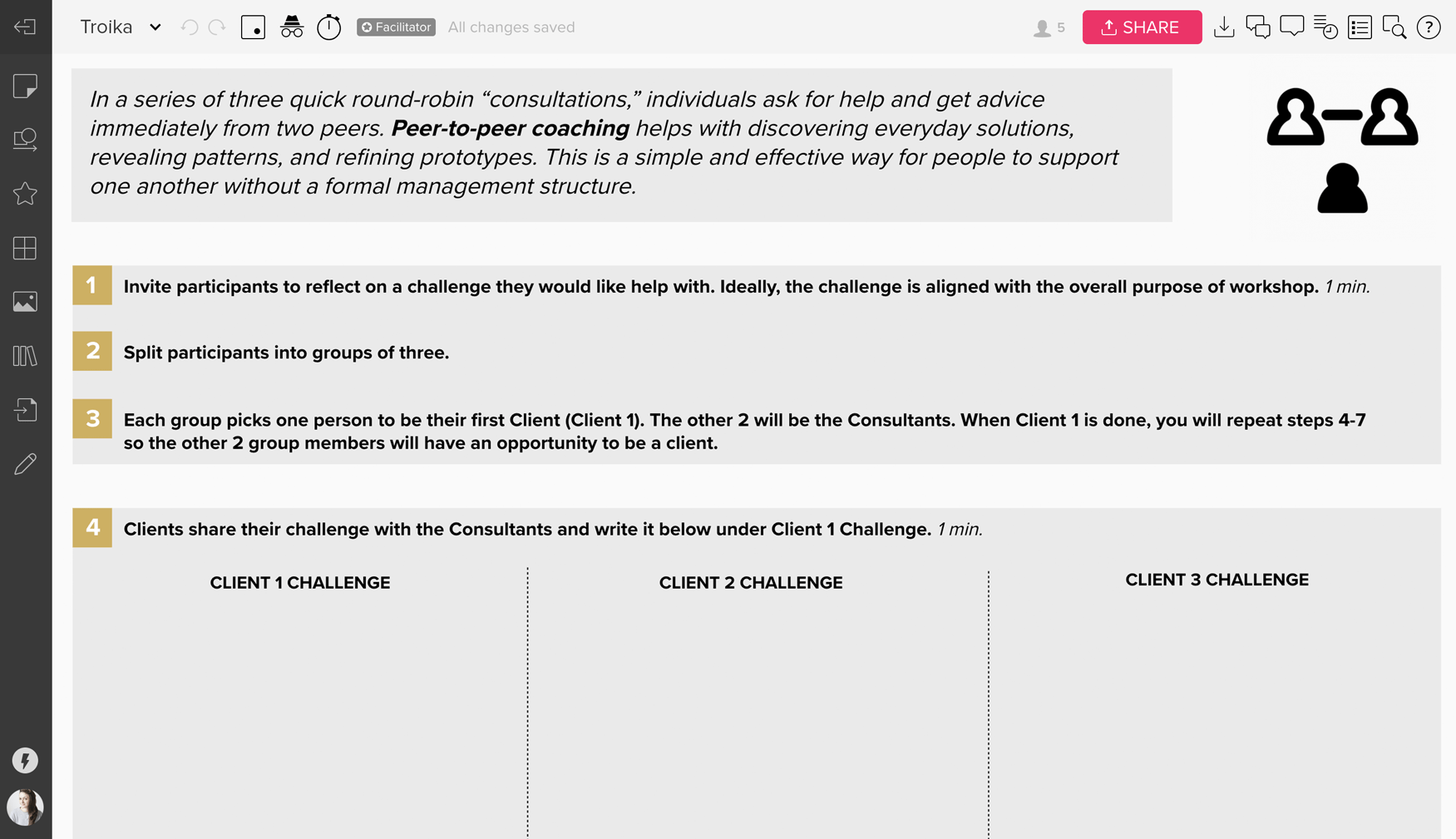 Mural's toolkit offers a template to follow for individual work, small group collaboration, and larger group sharing. Clustering and voting are key elements throughout, but each of the individual murals answer a specific organizational challenge or goal.
Liberating Structures Training
The best way to learn the Liberating Structures methodology is simply to practice them! Experience them for yourself by creating an impromptu workshop or training session. The free mobile app (available for Apple and Android) can help you decide which structures to start with as well as provide simple instructions on how to run them. Our team is also able to connect you to facilitators to help you get started with a customized training session designed to apply any existing frameworks (like Liberating Structures) and take your meetings to the next level. Contact us with any questions you may have!
Conclusion
If you are struggling to implement successful and innovative meetings, consider taking a different approach. Liberating Structures is just one way to unlock more creative thinking and build successful meetings with your entire team.
Looking for more resources and guides? Review these other relevant articles. Contact us if you are interested in Liberating Structures training workshops.