Use these templates to design and plan better meetings, events, and agendas.
In our previous innovative meeting guide, we discussed how to design and build innovative innovation meetings that both inspire and accomplish your organizational goals. As a meeting leader or facilitator, you'll want to ensure you are properly prepared to conduct the event, workshop or meeting. The following meeting planning templates can make that step much easier in the process. Create a better meeting agenda or event plan with these structures and virtual meeting agenda templates.
1. Miro – Workshop Session Plan Template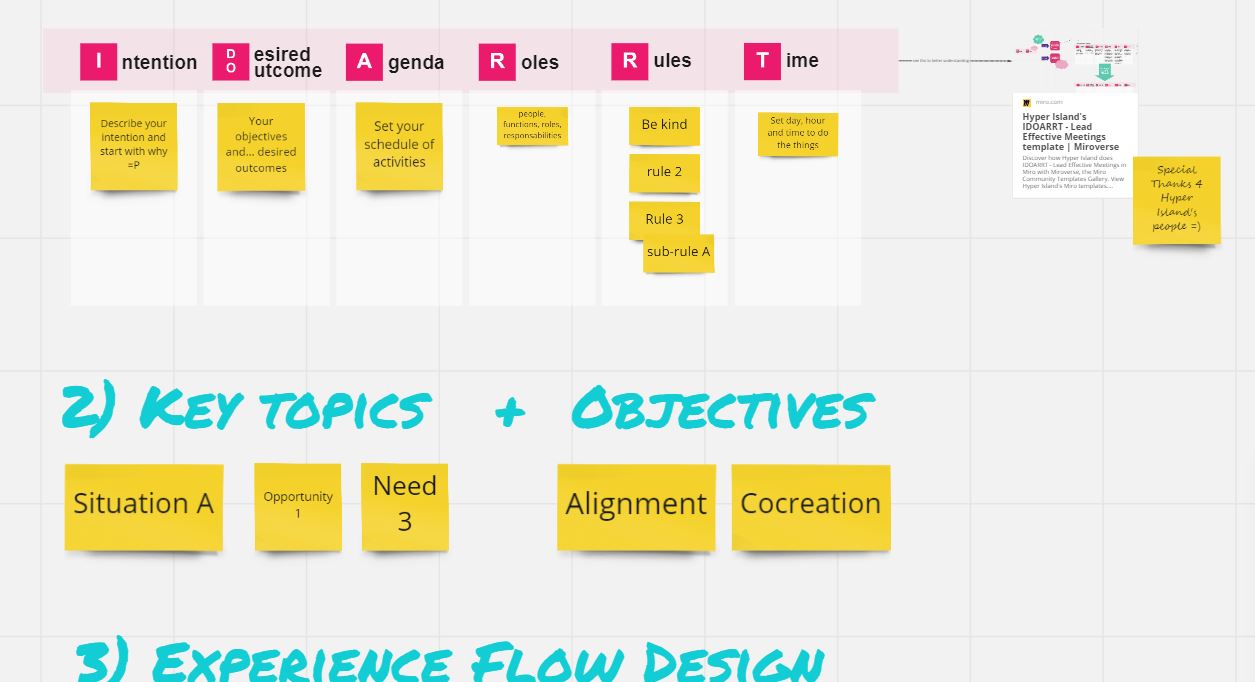 This session planning template provides a sequence of activities that facilitators can follow during their innovative meetings or training sessions. By being able to zoom in or out on various stages of your issue or idea, you can better collaborate as a team and effectively develop a solution to the challenge at hand.
2. Miro – Meeting Mapping Template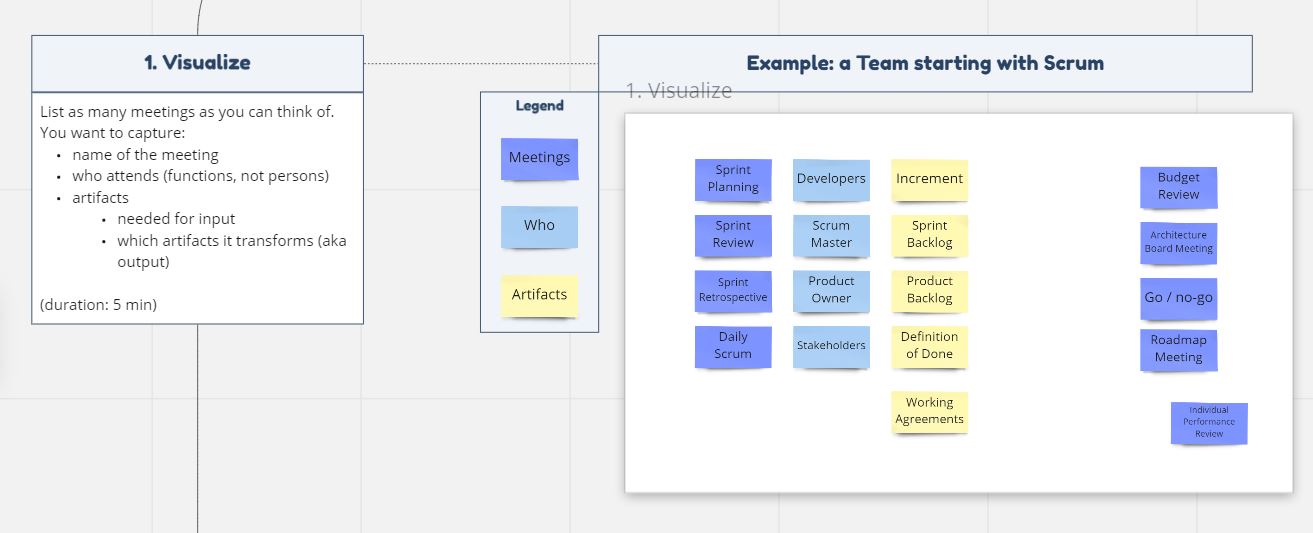 Developed by Agilar, this Miro meeting planning template centers around a technique designed to understand your meeting ecosystem. Start by visualizing just how many meetings your team is having, organize meetings, prune unneeded or unnecessary meetings, and finally develop a schedule that works for your team.
3. Miro – Template for Meeting Legos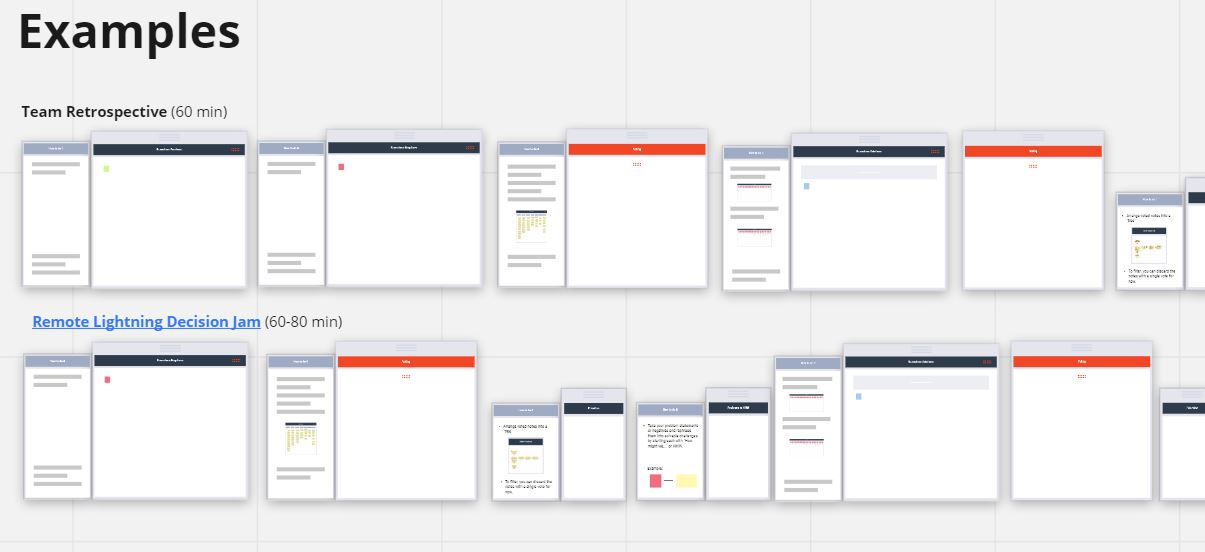 Waste less time with this meeting planning lego template. With a step-by-step modular structure, you can browse through existing design thinking exercises and move them around to structure your meeting and fit your unique goals or needs.
4. Miro – Lean Coffee: Focused Meetings Template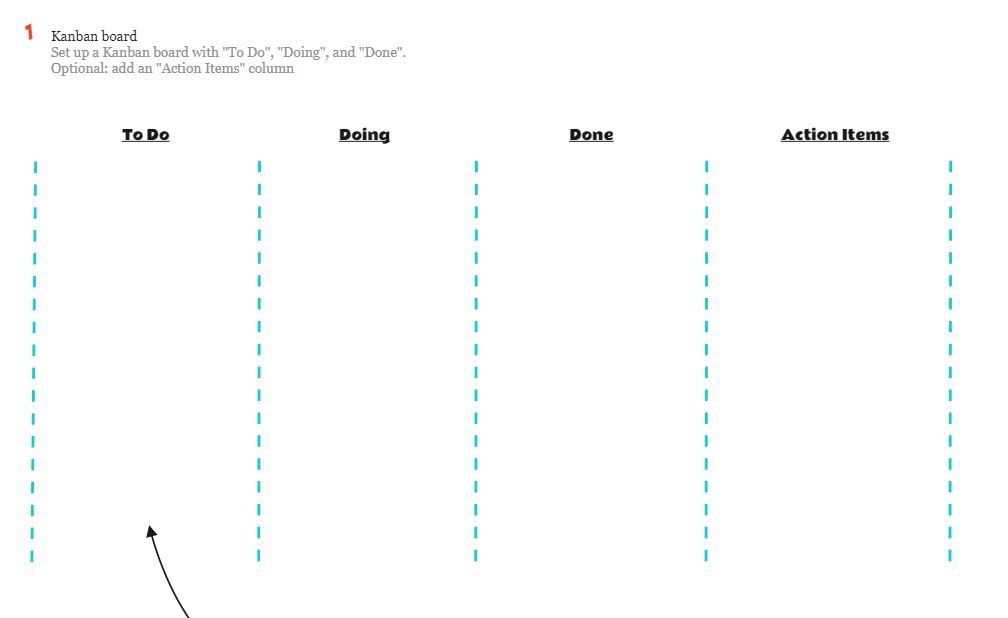 This lean coffee meeting template is structured to enable attendees to create their own topics and vote to determine the priority of discussing each topic. The group is able to quickly move between key issues, vote on the issue, and move on to the next point of topic without wasting time.
5. Miro – Template for Vital Meetings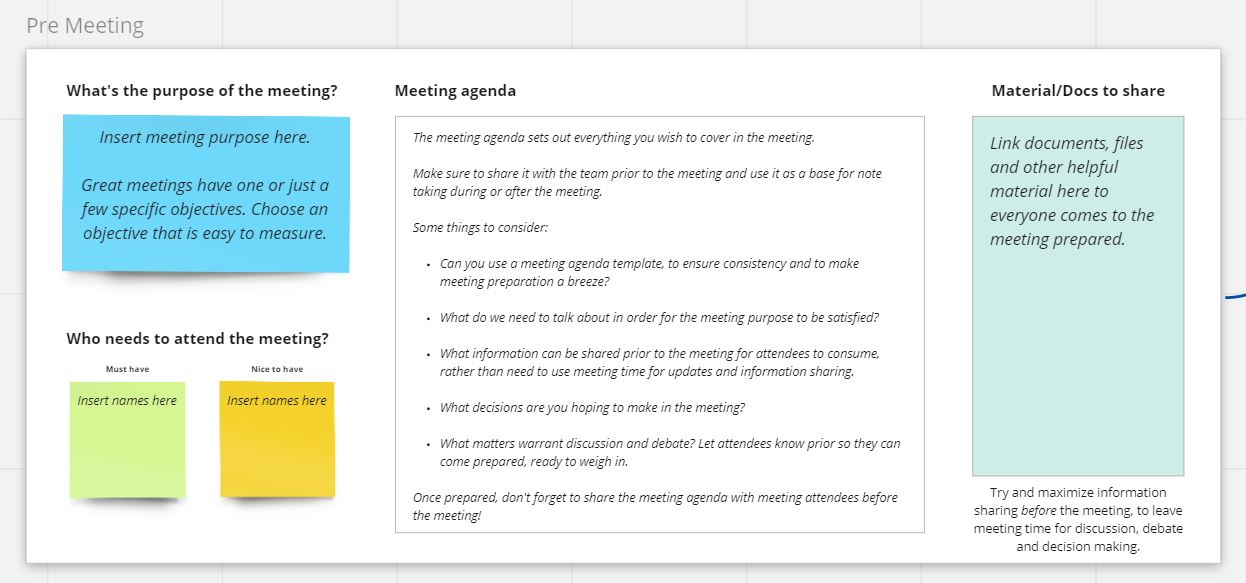 "Vital" is a 15-minute meeting methodology focused on four core principles:
Meeting scarcity over abundance
Thoughtful scheduling over invitations to everyone
Active discussion over 1-person presentation
Free-sharing over knowledge silos
6. Miro – The Perfect (Remote) Meeting Planning Template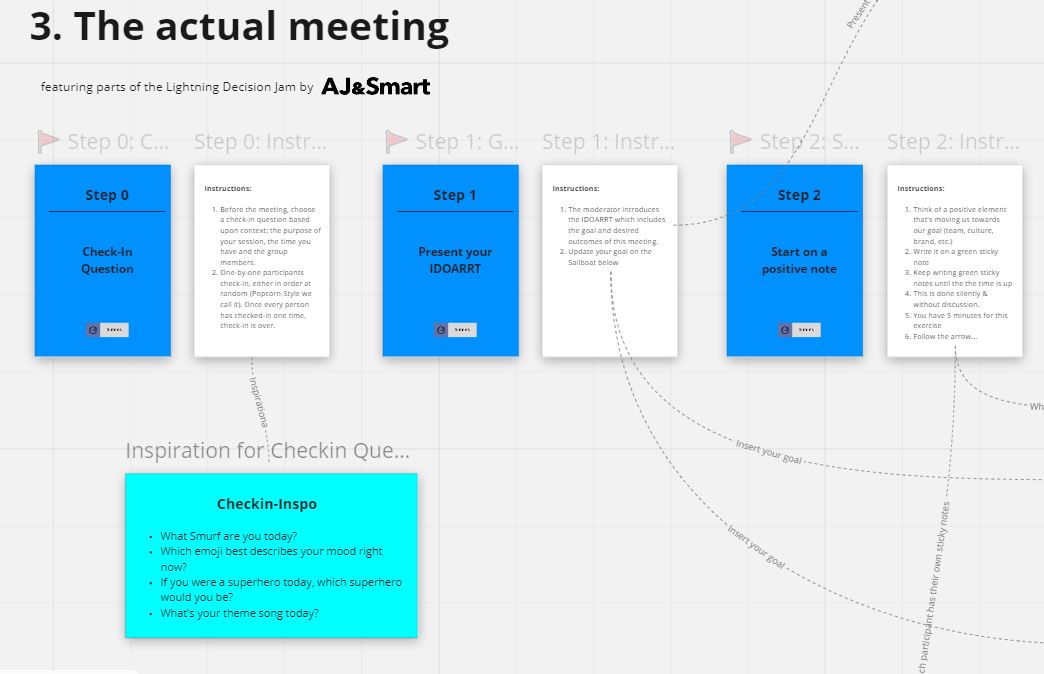 Many organizations are now relying on virtual meetings to communicate and collaborate with their teams. This remote meeting template offers tools and activities designed specifically for these virtual meetings, from problem framing to ideation and more.
7. Lucidspark – Team Meeting Agenda Template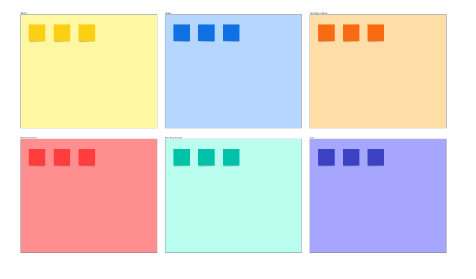 This Lucidspark template is a simple space to document meeting objectives, updates, and topics to discuss. Plan and prepare attendees with this meeting agenda.
8. FigJam – Project Kickoff Meeting Template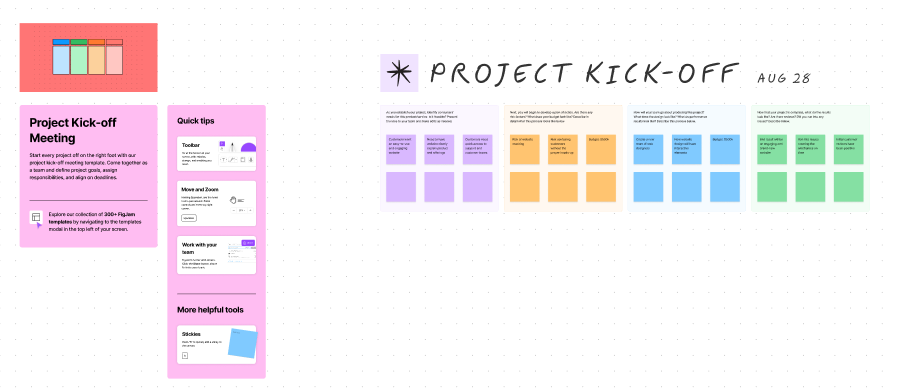 Get everyone on the same page and start a new project off on the right foot with this kickoff meeting template from FigJam.
Conclusion: Design More Effective Meetings Today with a Meeting Planning Template
These meeting agenda templates can help you as a planner and facilitator for a variety of events and types of meetings. They may even help you with conference planning for corporate events or to convert your onsite session into a virtual meeting. Other common meetings you might redesign with a meeting agenda template include:
monthly meeting
daily standup meeting
board meeting
quarterly planning meeting
stakeholder meeting
weekly meeting
team meeting
weekly meeting
project meeting
A great event has a meeting agenda and these templates can help you with your planning and contribute to your participants taking action. These meeting planning templates from digital whiteboard tool Miro can help you plan and design more effective innovation meetings. Whether you are still working remotely or hosting meetings in-person, there is sure to be something in these templates that can inspire you or can be used in your own meeting format.
Looking for more resources and guides? Review these other relevant articles. Contact us if you are interested in our design thinking meeting challenge workshops.