Review what you need to know from the 2019 Innovation Report released by Stanford Professor Bret Waters.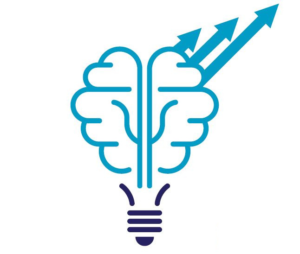 Creating true innovation within larger, established organizations is notoriously difficult. With the innovation process comes a need for unpredictability, creativity, and rule-breaking, all of which is often difficult for established organizations to take on when instead they can make incremental changes to their existing products or services. In the 2019 Innovation Trends Report, Stanford University Professor Bret Waters looked at disruptive innovation at some of the largest companies in the world and how their executive teams are driving it on. Learn more about this report and the top takeaways from it below.
How the Study was Conducted
The 2019 Innovation Trends Report was conducted by Bret Waters from Stanford University. The report interviewed 100 corporate innovation executives at top companies in the world, such as PepsiCo, Volkswagen, Santander, and Starbucks. The companies included in the study represent over $4 trillion in revenue and employ over 3.7 million people, operating in 54 different countries around the world.
Top Takeaways from the Report
1. Organizational Structure Matters
One top insight from the report is the importance of building innovation-friendly structure directly into the organization. The ability to assemble cross-functional teams, as well as gain input from many different departments and minds, can spur creativity.
2. Tell Customer-Centric Stories
Storytelling is another skill that came up from numerous participants in the study. A "working backwards" approach or using empathy to understand customer needs may help your team with rapid prototyping or ideation.
3. Design Thinking Still the Most Popular Framework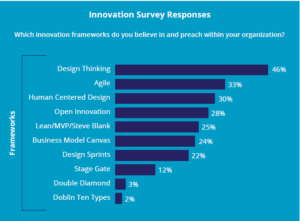 Design Thinking is still the most popular innovation framework, with 46% of participants stating that they believe in and practice it within their own organization. Agile (33%) and Human-Centered Design (30%) came closely behind with some newer frameworks, such as design sprints, gaining some popularity at 22%.
Learn more about innovation frameworks with our post on 5 popular approaches to innovation (besides design thinking).
4. Organizations are Hopeful About Technology's Impact on Innovation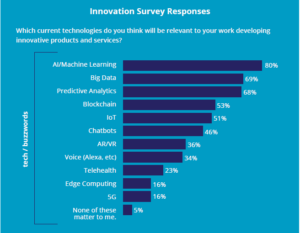 When asked about current and future technologies and their ability to help with developing innovative products and services, participants were hopeful. The top technologies that are being used and present the best opportunities – according to the participants – is AI/machine learning (80%), big data (69%), and predictive analytics (68%).
Innovation is a big influence in business success. While the changing demographics, marketplace, and customer needs may make it harder to executive innovation at larger, established organizations, this report indicates the frameworks and tools that can be used to make it work. Find more design thinking and innovation resources on our blog.
If your organization or business is struggling to find forward-momentum, we can help. Contact us today to take the first step toward designing or facilitating leadership and innovation development workshops, events, or even a conference at your organization.