Discover a list of some of the most popular AI presentation makers currently available
From business pitches, to lectures, to meetings, chances are we all have had to create a slide deck or presentation at one point in our lives. The ability to convey complex ideas in a concise and engaging manner is essential to your presentation – but it's easier said than done! Thankfully, new breakthroughs in technology are revolutionizing the way we create and deliver presentations. AI presentation makers can help you streamline your process and elevate the art of presenting. In this blog post, we'll share some of the top AI presentation makers on the market.
This simple to use digital tool for generating AI slides simply asks you to enter your text. The AI will then create a presentation for you that can be customized with colors and font presets or your own custom look. Currently, the tool works with Google Slides (though they are planning an integration with Microsoft PowerPoint).
We recently tested out SlidesAI for ourselves and created a short demo video showcasing how it may be used. You can watch it below:
You can use our invite code 393-283 to get a free SlidesAI presentation when you get started at install.slidesai.io.
Resources: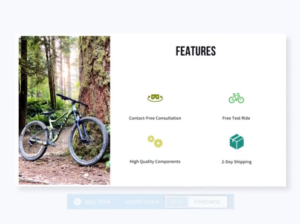 Beautiful.AI offers hundreds of customizable pre-built slides and smart template controls to help you quickly visualize a new layout. Simply add your content, notes, and data and watch as the AI turns those thoughts into a beautifully designed slide. You can also update the colors, fonts, and logos so your presentation remains consistent and on brand. Get access to millions of stock photos, icons, and videos to make a real impact.
Watch our demo of Beautiful.AI to learn more about this tool and how to test it out:
Resources: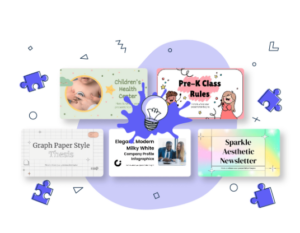 Like other popular tools for generating AI slides, Slidesgo offers a simple presentation maker that lets you choose between different design styles before creating a presentation for you. Make any desired changes and then export your presentation for free as a PDF or a sharable link.
Resources: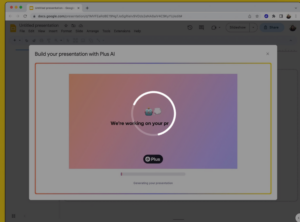 Plus AI is another Google Slides add-on that helps you generate a custom presentation in just minutes. Add, remix, and rewrite your slides to fine-tune the work and ensure the information is conveyed in the best way possible.
Resources:

Miro is another popular digital tool that can be used in presentations and meetings. It's recently released AI feature offers plenty of ways to simplify and visualize your information. If you're already using Miro for your organization, consider testing out its AI functionality to help you supercharge your presentations.
Resources: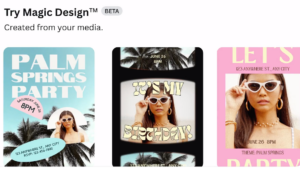 For those who love free to use online design tool Canva, you may be interested in trying out their beta tool, Magic Design. This free AI design tool helps you visualize your information into a beautiful multi-page presentation. It also works with other Canva designs and templates.
Watch our demo of Canva Magic Design to learn more about this AI presentation making tool and how to try it out:
Resources:
AI Presentation Makers Conclusion
The rise of AI presentation makers offer an exciting way to reshape how we share information and ideas. With their ability to enhance design, optimize content, and adapt to individual preferences, these tools hold immense potential for professionals, educators, and presenters of all kinds. As a valuable ally, AI can be used along with our creativity and authenticity to amplify communication. Let's craft presentations that leave a lasting impact in this digital world!