Find the reading list for problem solving books
Whether you're tackling complex challenges in your work or career, seeking innovative solutions for personal dilemmas, or simply striving to enhance your cognitive abilities, problem solving is the compass that guides you through life. In this post, we'll introduce you to a curated list of the best books about problem solving. These books are designed to equip you with the knowledge, strategies, and insights needed to be decisive and find creative solutions to simple and complex problems. Get ready to unleash your inner problem solver, as we explore the pages of these thought-provoking books about problem solving and learn from the experiences of remarkable thinkers.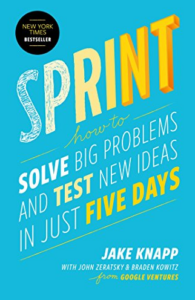 by Jake Knapp, John Zeratsky, and Braden Kowitz
Sprint is a practical guide that introduces readers to a unique problem solving framework known as the design sprint. The authors, who are experienced design partners at Google Ventures, demonstrate how to tackle complex challenges and validate ideas through a five-day process. This book offers a step-by-step approach to conducting time-boxed, intensive problem-solving sessions, making it an essential resource for entrepreneurs, product managers, and innovators looking to rapidly iterate and test new concepts.
Amazon Description:
Entrepreneurs and leaders face big questions every day: What's the most important place to focus your effort, and how do you start? What will your idea look like in real life? How many meetings and discussions does it take before you can be sure you have the right solution? Now there's a surefire way to answer these important questions: the Design Sprint, created at Google by Jake Knapp. This method is like fast-forwarding into the future, so you can see how customers react before you invest all the time and expense of creating your new product, service, or campaign.
In a Design Sprint, you take a small team, clear your schedules for a week, and rapidly progress from problem, to prototype, to tested solution using the step-by-step five-day process in this book. A practical guide to answering critical business questions, Sprint is a book for teams of any size, from small startups to Fortune 100s, from teachers to nonprofits. It can replace the old office defaults with a smarter, more respectful, and more effective way of solving problems that brings out the best contributions of everyone on the team—and helps you spend your time on work that really matters.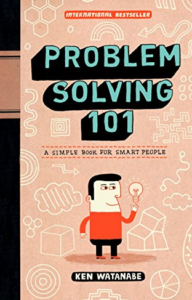 by Ken Watanabe
This problem solving book is a concise and accessible primer on the art of problem solving. In this book, Watanabe distills complex concepts into straightforward techniques that can be easily applied to various situations. Targeted at a broad audience, the book emphasizes practical thinking, logical analysis, and clear decision-making. Through real-life examples and relatable explanations, readers are encouraged to develop their problem solving skills, making it an ideal read for students, professionals, and anyone seeking to enhance their ability to tackle challenges effectively.
Amazon Description:
Ken Watanabe originally wrote Problem Solving 101 for Japanese schoolchildren. His goal was to help shift the focus in Japanese education from memorization to critical thinking, by adapting some of the techniques he had learned as an elite McKinsey consultant.
He was amazed to discover that adults were hungry for his fun and easy guide to problem solving and decision making. The book became a surprise Japanese bestseller, with more than 370,000 in print after six months. Now American businesspeople can also use it to master some powerful skills.
Watanabe uses sample scenarios to illustrate his techniques, which include logic trees and matrixes. A rock band figures out how to drive up concert attendance. An aspiring animator budgets for a new computer purchase. Students decide which high school they will attend.
Illustrated with diagrams and quirky drawings, the book is simple enough for a middle schooler to understand but sophisticated enough for business leaders to apply to their most challenging problems.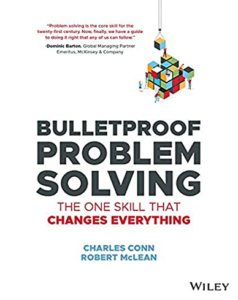 By Charles Conn and Robert McLean
Drawing on their experience as seasoned management consultants, the authors present a robust problem-solving framework that involves understanding the problem deeply, generating creative solutions, and implementing effective strategies. The book's practical insights and case studies make it invaluable for individuals looking to enhance their critical thinking and decision-making capabilities to address complex issues with confidence.
Amazon Description:
Complex problem solving is at the very top of the list of essential skills for career progression in the modern world. But how problem solving is taught in our schools, universities, businesses and organizations comes up short. In Bulletproof Problem Solving: The One Skill That Changes Everything you'll learn the seven-step systematic approach to creative problem solving developed in top consulting firms that will work in any field or industry, turning you into a highly sought-after bulletproof problem solver who can tackle challenges that others balk at.
The problem-solving technique outlined in this book is based on a highly visual, logic-tree method that can be applied to everything from everyday decisions to strategic issues in business to global social challenges. The authors, with decades of experience at McKinsey and Company, provide 30 detailed, real-world examples, so you can see exactly how the technique works in action. With this bulletproof approach to defining, unpacking, understanding, and ultimately solving problems, you'll have a personal superpower for developing compelling solutions in your workplace.
Discover the time-tested 7-step technique to problem solving that top consulting professionals employ

Learn how a simple visual system can help you break down and understand the component parts of even the most complex problems

Build team brainstorming techniques that fight cognitive bias, streamline workplanning, and speed solutions

Know when and how to employ modern analytic tools and techniques from machine learning to game theory

Learn how to structure and communicate your findings to convince audiences and compel action
The secrets revealed in Bulletproof Problem Solving will transform the way you approach problems and take you to the next level of business and personal success.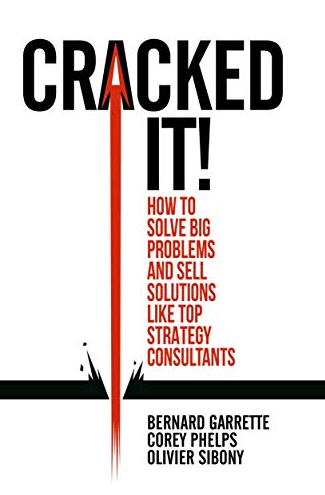 By Bernard Garrette, Corey Phelps, and Olivier Sibony
This is a compelling read for those interested in the world of strategy consulting and problem solving. The authors share insider tips and techniques that top consulting firms use to solve complex problems for their clients. Through a mix of real-life case studies and practical advice, readers gain an understanding of how to approach, structure, and present solutions that can be convincingly sold to stakeholders. This book is an excellent resource for aspiring consultants, business leaders, and entrepreneurs seeking to master the art of solving high-impact problems.
Amazon Description:
Solving complex problems and selling their solutions is critical for personal and organizational success. For most of us, however, it doesn't come naturally and we haven't been taught how to do it well. Research shows a host of pitfalls trips us up when we try: We're quick to believe we understand a situation and jump to a flawed solution. We seek to confirm our hypotheses and ignore conflicting evidence. We view challenges incompletely through the frameworks we know instead of with a fresh pair of eyes. And when we communicate our recommendations, we forget our reasoning isn't obvious to our audience.
In Cracked It!, seasoned strategy professors and consultants Bernard Garrette, Corey Phelps and Olivier Sibony present a rigorous and practical four-step approach to overcome these pitfalls. Building on tried-and-tested (but rarely revealed) methods of top strategy consultants, research in cognitive psychology, and the latest advances in design thinking, they provide a step-by-step process and toolkit that will help readers tackle any challenging business problem. Using compelling stories and detailed case examples, the authors guide readers through each step in the process: from how to state, structure and then solve problems to how to sell the solutions.
Written in an engaging style by a trio of experts with decades of experience researching, teaching and consulting on complex business problems, this book will be an indispensable manual for anyone interested in creating value by helping their organizations crack the problems that matter most.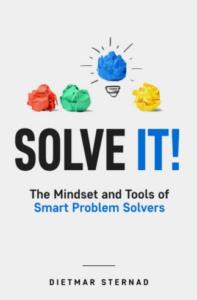 By Dietmar Sternad
Solve It! offers a holistic exploration of problem solving, combining both the mindset and tools needed to address challenges effectively. Sternad outlines the importance of cultivating a growth-oriented mindset and provides readers with a collection of problem-solving techniques that can be applied to various situations. The book emphasizes creativity, adaptability, and continuous improvement as essential elements of successful problem solving.
Amazon Description:
What do Albert Einstein, Elon Musk, Sherlock Holmes and Mahatma Gandhi's six-year-old granddaughter have in common? They are all masters of the art of smart problem solving—a highly sought-after skill that you can learn too!
Gain insights into the surprising findings of the 

science of problem solving

Develop a 

problem-solving mindset

Use a

 powerful 5-step approach to solve even the toughest problems

Be inspired by 

stories of highly successful problem solvers

Learn from expert problem solvers

 like scientists, doctors, designers, coaches and highly paid management consultants
Apply 

practical problem-solving and decision-making tools

right away
Use this book to build your problem-solving muscle and enhance your ability to change things for the better!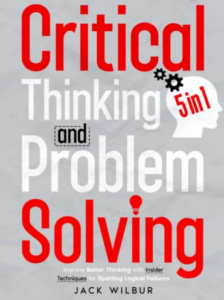 By Jack Wilbur
This collection covers a wide range of topics, from the basics of critical thinking to advanced problem solving techniques. Readers will explore various strategies for effective decision-making, logic, reasoning, and creative problem solving. The book's diverse content caters to individuals at different levels of proficiency. It's a valuable resource for anyone seeking to develop and sharpen their critical thinking and problem-solving abilities.
Amazon Description:
Problem-solving, critical thinking, and decision-making are essential for success in any field. They enable us to identify and analyze problems, generate and evaluate options and make effective decisions.
These skills are crucial in today's fast-paced and constantly changing world, where the ability to adapt and make good decisions can mean the difference between success and failure.
Check out what's inside:
Identify and analyze problems, including detailed explanations and real-world examples to help readers understand and apply the problem-solving process.
Generate and evaluate options using critical thinking and decision-making frameworks.
Make effective decisions and how to apply them in different situations.
Use problem-solving, critical thinking, and decision-making to increase creativity and innovation.
Use critical thinking to evaluate information and arguments, including information on how to identify and avoid cognitive biases.
Find solutions to different problems, including information on other problem-solving techniques.
Make effective decisions under pressure, including information on how to manage emotions and stress.
And so much more …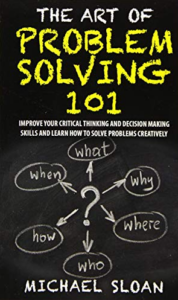 By Michael Sloan
With a focus on clear thinking and logical problem solving techniques, this book is tailored for beginners looking to build a solid foundation in critical thinking. Sloan presents various real-world scenarios and provides step-by-step methods to identify, analyze, and resolve problems. Whether it's making better decisions or improving communication, readers will find this book a helpful resource in honing their problem-solving skills for everyday life.
Amazon Description:
Are you often overwhelmed by your problems in life? Do you sometimes think that if only you had an analytical mind, then you could fix all of the things that plague you? Are you constantly obsessing over the obstacles and challenges in your life but you feel like there's nothing you can do? Believe it or not, but you are a natural problem solver! With the Art of Problem Solving 101, we're here to teach you how to unlock your natural problem solving abilities and not only teach you how to solve problems, but also teach you how to become a problem solver. A problem solver lives a different life from other people. They learn to embrace adversity, develop important processes and work through any challenge in their life. With the help of our book, you can become one too, even if you don't feel like you have an analytical mind. With our threefold process of approach, discovery and action, you will learn everything that you need to become a problem solver as well as someone who is capable of handling extreme adversity. If you've ever been curious on the philosophy of those who are strong enough to endure hardship and chaos without losing their minds, then the Art of Problem Solving 101 is for you. We'll teach you everything you need to know about developing the kind of character that tells the world "I'm here to solve problems and nothing can stop me."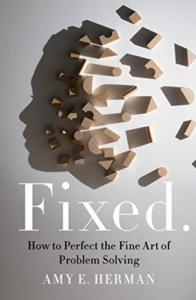 By Amy E. Herman
Amy E. Herman takes a unique approach to problem solving by drawing inspiration from the world of art. The author uses art-related analogies to illustrate problem solving principles and techniques. The book encourages readers to think beyond conventional approaches and find innovative solutions to challenges. By connecting the worlds of art and problem solving, this book offers a fresh perspective on developing a nuanced problem solving mindset.
Amazon Description:
With Amy Herman's Fixed., we now have access to what the FBI, NATO, the State Department, Interpol, Scotland Yard, and many more organizations and their leaders have been using to solve their most intractable problems.
Demonstrating a powerful paradigm shift for finding solutions, Herman teaches us to see things differently, using art to challenge our default thinking and open up possibilities otherwise overlooked. Her unexpected, insightful, and often delightful methodology is sought after by leaders and professionals for whom failure is catastrophic. Luckily for us, these tactics work— no matter the problem's scale or complexity. And we don't need an art degree or previous knowledge about art to benefit from her approach, only a willingness to open our eyes and our minds. Yes, things go wrong all the time. What matters most is what we do to fix them.
Best Books about Problem Solving Conclusion
Through the guidance of renowned authors and thought leaders, we've learned that problem solving is not merely an innate talent but a skill that can be cultivated through practice, perseverance, and an insatiable thirst for knowledge. These books about problem solving have provided us with a diverse range of methodologies, frameworks, and case studies, offering a holistic approach to tackling challenges across various domains. Happy problem solving!
Visit our innovation and design thinking resource blog for additional tips and techniques today. Contact us if you need a problem solving or ideation workshop!