Find top books related to storytelling for business and leadership
The art of crafting a compelling narrative has the power to captivate, persuade, and inspire, making it an essential skill for anyone seeking to excel as a leader or contributor in the corporate world. Whether you're a budding entrepreneur, a seasoned executive, or an ambitious team leader, mastering the nuances of storytelling can set you apart from the competition and make you memorable. Luckily, a wealth of invaluable knowledge awaits within the pages of some of the best storytelling books tailored specifically for business and leadership. In this blog post, we'll delve into a curated selection of these literary finds, each offering unique insights and practical techniques to help you harness the power of storytelling and propel your professional journey to new heights.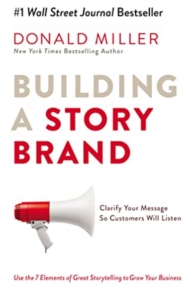 by Donald Miller
"Building a StoryBrand" by Donald Miller guides readers through a transformative journey of honing their message into a compelling narrative that resonates with customers. Miller's innovative framework helps businesses communicate their value effectively, ensuring that their audience not only listens but engages. Marketers consistently share this as one of their favorite storytelling books for business. We find it applicable for leaders in other industries and fields too.
Amazon Description:
If you use the wrong words to talk about your product, nobody will buy it. Marketers and business owners struggle to effectively connect with their customers, costing them and their companies millions in lost revenue.
In a world filled with constant, on-demand distractions, it has become near-impossible for business owners to effectively cut through the noise to reach their customers, something Donald Miller knows first-hand. In this book, he shares the proven system he has created to help you engage and truly influence customers.
The StoryBrand process is a proven solution to the struggle business leaders face when talking about their companies. Without a clear, distinct message, customers will not understand what you can do for them and are unwilling to engage, causing you to lose potential sales, opportunities for customer engagement, and much more.
In Building a StoryBrand, Donald Miller teaches marketers and business owners to use the seven universal elements of powerful stories to dramatically improve how they connect with customers and grow their businesses.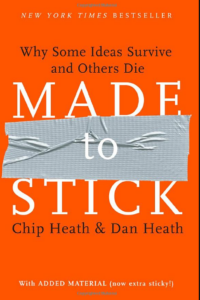 by Chip Heath, Dan Heath
This book delves into the anatomy of ideas that stand the test of time, exploring why some concepts thrive while others fade. Through engaging anecdotes and practical strategies, the book uncovers the essential elements that make ideas memorable, actionable, and impactful. It's one of the first storytelling books for business that got us interested in the field over a decade ago.
Amazon Description:
Mark Twain once observed, "A lie can get halfway around the world before the truth can even get its boots on." His observation rings true: Urban legends, conspiracy theories, and bogus news stories circulate effortlessly. Meanwhile, people with important ideas—entrepreneurs, teachers, politicians, and journalists—struggle to make them "stick."
In Made to Stick, Chip and Dan Heath reveal the anatomy of ideas that stick and explain ways to make ideas stickier, such as applying the human scale principle, using the Velcro Theory of Memory, and creating curiosity gaps. Along the way, we discover that sticky messages of all kinds—from the infamous "kidney theft ring" hoax to a coach's lessons on sportsmanship to a vision for a new product at Sony—draw their power from the same six traits.
Made to Stick will transform the way you communicate. It's a fast-paced tour of success stories (and failures): the Nobel Prize-winning scientist who drank a glass of bacteria to prove a point about stomach ulcers; the charities who make use of the Mother Teresa Effect; the elementary-school teacher whose simulation actually prevented racial prejudice.
Provocative, eye-opening, and often surprisingly funny, Made to Stick shows us the vital principles of winning ideas—and tells us how we can apply these rules to making our own messages stick.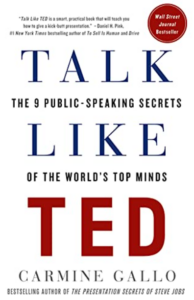 by Carmine Gallo
Carmine Gallo's book unveils the secrets behind the world's most captivating public speakers, distilling their techniques into nine powerful principles. Gallo's guide empowers readers to elevate their own public-speaking skills, offering a blueprint for delivering presentations that inform, inspire, and leave lasting impressions.
Amazon Description:
Ideas are the currency of the twenty-first century. In order to succeed, you need to be able to sell your ideas persuasively. This ability is the single greatest skill that will help you accomplish your dreams. Many people have a fear of public speaking or are insecure about their ability to give a successful presentation. Now public speaking coach and bestselling author Carmine Gallo explores what makes a great presentation by examining the widely acclaimed TED Talks, which have redefined the elements of a successful presentation and become the gold standard for public speaking. TED ? which stands for technology, entertainment, and design ? brings together the world's leading thinkers. These are the presentations that set the world on fire, and the techniques that top TED speakers use will make any presentation more dynamic, fire up any team, and give anyone the confidence to overcome their fear of public speaking.
In his book, Carmine Gallo has broken down hundreds of TED talks and interviewed the most popular TED presenters, as well as the top researchers in the fields of psychology, communications, and neuroscience to reveal the nine secrets of all successful TED presentations. Gallo's step-by-step method makes it possible for anyone to deliver a presentation that is engaging, persuasive, and memorable.
Carmine Gallo's top 10 Wall Street Journal Bestseller Talk Like TED will give anyone who is insecure about their public speaking abilities the tools to communicate the ideas that matter most to them, the skill to win over hearts and minds, and the confidence to deliver the talk of their lives.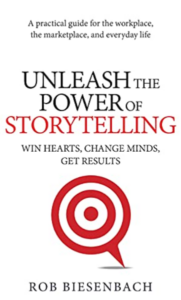 by Rob Biesenbach
In Biesenbach's book, the author demonstrates how storytelling can be a potent tool for persuasion and change. Biesenbach equips readers with the skills to craft compelling narratives that not only win hearts but also yield tangible results, making a persuasive case for the art of storytelling in communication.
Amazon Description:
Taking a fun, no-nonsense approach, Unleash the Power of Storytelling will teach you: the hard science behind why stories work, a simple three-part structure for telling any story, the role of emotion in fueling great stories, how to cut the clutter and focus your story on the essentials, how and where to find great stories, and tips for delivering your stories in the most effective way possible.
The book also contains tons of practical examples showing you how to use stories in job interviews, presentations, customer calls, employee meetings — even how to craft the right story for a wedding toast or eulogy!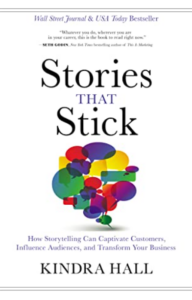 by Kindra Hall
Kindra Hall's book explores the profound impact of storytelling on business success, outlining a roadmap to harnessing its transformative potential. Hall's book provides actionable insights into using storytelling to captivate customers, influence audiences, and ultimately reshape the trajectory of a business.
Amazon Description:
Stories That Stick provides a clear framework of ideals and a concise set of actions for you to take complete control of your own story, utilizing the principles behind the world's most effective business storytelling strategies.
Telling these stories well is a simple, accessible skill anyone can develop. With case studies, company profiles, and anecdotes backed with original research, Hall presents storytelling as the underutilized talent that separates the good from the best in business.
Stories That Stick offers specific, actionable steps readers can take to find, craft, and leverage the stories they already have and simply aren't telling. Every person, every organization has at least four stories at their disposal. Will you tell yours?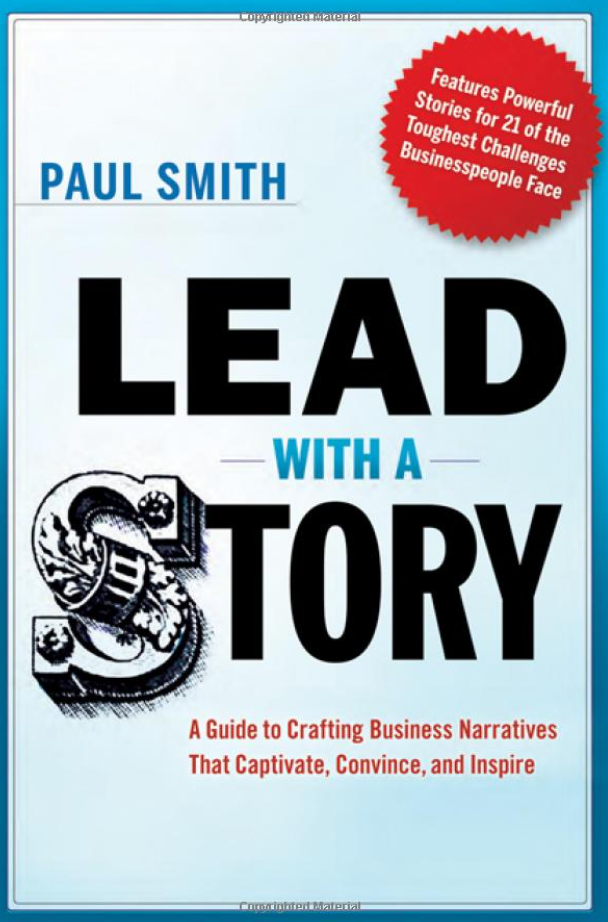 by Paul Smith
"Lead with a Story" serves as a comprehensive guide to weaving narratives into the fabric of business communication. Smith navigates readers through the art of crafting business narratives that not only capture attention but also persuade, convince, and inspire, making a compelling case for the strategic use of storytelling in leadership and beyond.
Amazon Description:
With clarity around your message, you will energize those you lead and create a vision they can buy into. But first, you must first write the story that will get them excited and ready to execute.
Clarity is key for any successful leader, so much so that top corporations, such as Micorsoft. Nike, Proctor and Gamble, Kimberly Clark, and many more, have incorporated storytelling into their leadership training programs. These companies know that before you can become a strong leader, you must first master the art of storytelling so you can communicate your vision to your team and inspire them to execute on objectives.
Best Storytelling Books for Business and Leadership – Conclusion
In the realm of business and leadership, the ability to convey ideas, connect with audiences, and inspire action through storytelling is nothing short of a superpower. The storytelling books for business and leadership highlighted in this compilation offer a comprehensive toolkit for success. As you embark on your journey, remember that storytelling is not just about words on a page; it's about forging authentic connections, sparking innovation, and leaving an indelible mark on the world.
Visit our innovation and design thinking resource blog for additional tips and techniques today. Be sure to see our storytelling training for business and leadership storytelling workshops.