Unleash the magic of imagination with a creativity children's book
Welcome to a world where the boundaries of reality fade away, and the vibrant tapestry of imagination takes center stage! Children's minds are wonderful, filled with creativity ready to blossom and grow. As parents, educators, and caregivers, we have the privilege of nurturing this boundless creativity in our young ones, inspiring them to dream big and think beyond the ordinary. We as adults can also become inspired by children's books and use them for our own creative practice. I still get motivated by The Little Engine that Could!
Let's dive into some of the best children's books about creativity.
In this blog post, we embark on a journey through the realm of children's literature, where we've curated a collection of published books that celebrate the power of imagination and the wonders of creative thinking. Each of these books is a treasure trove, brimming with whimsical tales, thought-provoking illustrations, and captivating characters that will spark the creative flame in every child's heart.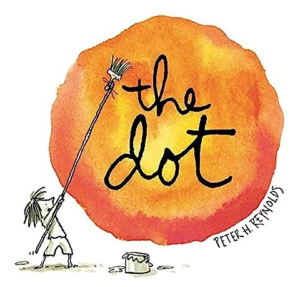 by Peter H. Reynolds
The Dot is a heartwarming and inspiring children's picture book that celebrates the power of creativity, self-discovery, and the joy of making one's mark on the world. The story revolves around a young girl named Vashti, who starts off feeling frustrated and discouraged during an art class. As Vashti's creativity blossoms, she discovers that a simple dot can lead to a multitude of imaginative creations. In its essence, "The Dot" is a delightful and uplifting book that encourages readers to believe in their abilities, embrace their creativity, and take that first step towards turning their dreams into reality. It's a timeless reminder that everyone can make their mark in the world, no matter how small or humble it may seem.
Amazon Description:
Her teacher smiled. "Just make a mark and see where it takes you."
Art class is over, but Vashti is sitting glued to her chair in front of a blank piece of paper. The words of her teacher are a gentle invitation to express herself. But Vashti can't draw – she's no artist. To prove her point, Vashti jabs at a blank sheet of paper to make an unremarkable and angry mark. "There!" she says.
That one little dot marks the beginning of Vashti's journey of surprise and self-discovery. That special moment is the core of Peter H. Reynolds's delicate fable about the creative spirit in all of us.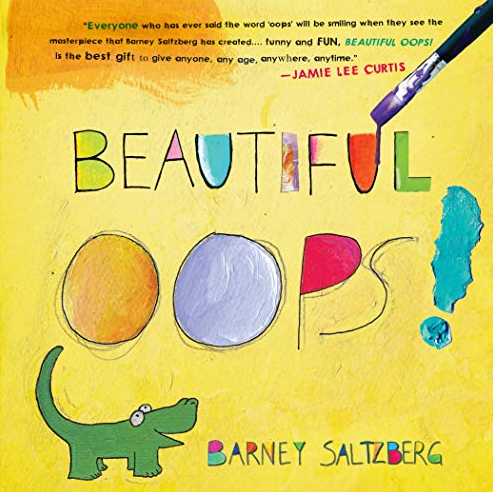 by Barney Saltzberg
Beautiful Oops celebrates the beauty of mistakes and the transformative power of imagination. Through its playful and interactive approach, the book turns spills, smudges, and other mishaps into opportunities for creative exploration. With charming illustrations and clever cutouts, Saltzberg encourages young readers to see mistakes not as failures but as stepping stones to new and unexpected possibilities.
Amazon Description: 
This interactive book demonstrates how every mistake is an opportunity to make something beautiful. Unique in every respect, this book is full of pop-ups, lift-the-flaps, tears, holes, overlays, bends, smudges, and more, each demonstrating how blunders can become wonders. Celebrate all life's Beautiful Oops! and teach kids that it's perfectly fine, and sometimes fortuitous, to make a mistake. Hardcover, 28 pages.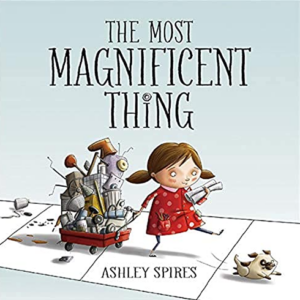 by Ashley Spires
The Most Magnificent Thing follows the journey of a determined young girl and her loyal canine companion as they embark on a creative adventure. Fueled by the desire to create the most magnificent thing, the girl sets out to build her masterpiece. However, along the way, she encounters numerous challenges, frustrations, and failures that test her patience and resolve. With persistence and the help of her faithful dog, she learns the value of perseverance, the beauty of embracing imperfection, and the satisfaction of finding inspiration in unexpected places.
Amazon Description: 
The girl has a wonderful idea. "She is going to make the most MAGNIFICENT thing! She knows just how it will look. She knows just how it will work. All she has to do is make it, and she makes things all the time. Easy-peasy!" But making her magnificent thing is anything but easy, and the girl tries and fails, repeatedly. Eventually, the girl gets really, really mad. She is so mad, in fact, that she quits. But after her dog convinces her to take a walk, she comes back to her project with renewed enthusiasm and manages to get it just right.
For the early grades' exploration of character education, this funny book offers a perfect example of the rewards of perseverance and creativity. The girl's frustration and anger are vividly depicted in the detailed art, and the story offers good options for dealing honestly with these feelings, while at the same time reassuring children that it's okay to make mistakes. The clever use of verbs in groups of threes is both fun and functional, offering opportunities for wonderful vocabulary enrichment. The girl doesn't just "make" her magnificent thing — she "tinkers and hammers and measures," she "smoothes and wrenches and fiddles," she "twists and tweaks and fastens." These precise action words are likely to fire up the imaginations of youngsters eager to create their own inventions and is a great tie-in to learning about Science, Technology, Engineering and Math.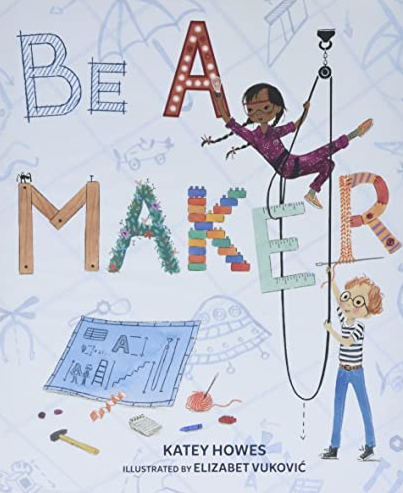 by Katey Howes
Be a Maker celebrates the joy of creativity and the limitless possibilities of making. Through its captivating narrative and vibrant illustrations, the story follows a young girl who, armed with her imagination and a toolbox of creativity, explores the world of making. Encourage children to think outside the box, to experiment, and to find delight in the process of creating.  It's a wonderful reminder that each child has the potential to be a maker, capable of leaving their mark on the world through their unique creations.
Amazon Description:
Rhyme, repetition, and a few seemingly straightforward questions engage young readers in a discussion about the many things we make―and the ways we can make a difference in the world. This simple, layered story celebrates creativity through beautiful rhyming verse and vibrant illustrations with a timely message.
"Turning the page is an acceptance of the book creators' challenge―a decision to put passive consumption and inpatient expectancy on the shelf and instead invite your hands to do, to transform and, above all, to MAKE." ―Anitra Rowe Schulte
"Together the text and the illustrations create an excellent read that will empower readers to reflect on their own lives and make a change or two or three. . . . This is more than just a book about making and engineering: Make an excellent choice to add this to the shelves."―Kirkus Reviews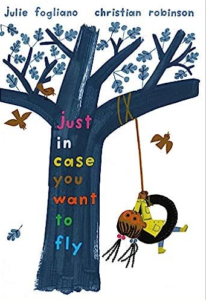 by Julie Fogliano
This children's book about creativity also embraces the spirit of adventure and the beauty of friendship. Through lyrical and rhythmic prose, the book takes young readers on an imaginative journey filled with possibilities and encouragement. The book's delightful illustrations by Christian Robinson also add charm and whimsy to the tale, inviting children to dream and explore.
Amazon Description:
Funny and sweet, told with lyrical text and bright, unexpected illustrations, Just in Case You Want to Fly is a celebration of heading off on new adventures–and of knowing your loved ones will always have your back when you need them.
A joyful, inclusive cast of children fly, sing, and wish their way across the pages, with everything they could ever need–a cherry if you need a snack, and if you get itchy here's a scratch on the back–to explore the world around them. Bold illustrations created by Christian Robinson, creator of You Matter, bring out the humor and warmth of the poetic text, teasing out new meanings and adding delightful details that will have you turning the pages again and again.
Julie Fogliano and Christian Robinson, the creators of the award-winning When's My Birthday?, have teamed up again to create a perfect book to share with the little ones you love–to give them everything they need to go out into the world, and reassure them you'll always be waiting to welcome them home.
Whether it's for big milestones like graduations or holidays, or quiet bedtimes and cozy moments together, Just In Case You Want to Fly is made for sharing, with gentle humor and sweet reassurances.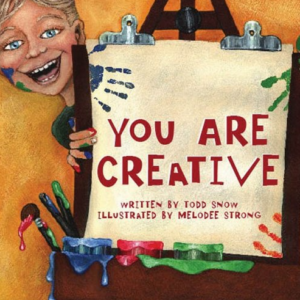 by Todd Snow
With a gentle and encouraging tone, this book explores the various forms of creativity that children possess, from drawing and writing to dancing and storytelling. The book emphasizes that creativity comes in many shapes and forms, and that there are countless ways for children to express themselves and make a positive impact on the world around them. Though not a widely popular book like the others on this list, it is exactly a children's book about creativity.
Amazon Description:
All children are creative. When we notice and nurture their creativity, the sky's the limit. With simple words and inventive illustrations that relate to children's everyday lives, You Are Creative encourages little ones to explore and experience their creativity in many ways: touching toes to noses, dancing, putting things together and taking them apart, making happy faces, and more. This warm, affirming little book helps children know that it's good to imagine, have fun, play, and be themselves.
Children's Books about Creativity Conclusion
Whether you're looking to inspire a budding artist, a young inventor, or simply kindle the spark of creativity in your child's heart, these captivating books are sure to leave an indelible mark on their imagination. So, dive into this treasury of creativity and let the enchanting stories within awaken the wonder and limitless possibilities that lie in every young mind!
Visit our innovation and design thinking resource blog for additional tips and techniques today. Contact us if you need a creativity keynote speaker or innovative creativity workshop.