Top insights from this 2022 Hasso Plattner Institute study.
In 2015, the Hasso Plattner Institute (HPI) and the Stanford Design Thinking Research Program conducted one of the most extensive global studies looking into the state of design thinking in organizations. A replicative study was done more recently in 2021, reviewing the development of the last six years and outlining the future of design thinking in organizations. This later study was just released in 2022 and hoped to determine changes in design thinking practices in organizations of all sizes from different parts of the world. Major insights and findings are outlined below in our blog analysis.
The key questions
The 2021 study aimed to discover and understand the answers to several important questions concerning design thinking, including:
What organizations do when they state they practice design thinking
Whether these organizations follow a strategy when implementing it
How these organizations learn design thinking and how they spread the mindset
Where and how design thinking is embedded in organizations
If design thinking's success is measured in these organizations
1 – What organizations use design thinking?
Both the 2015 and 2021 study concluded that design thinking can be found in a wide variety of industries, such as the more obvious Information and Communications sector, as well as more traditional industries. Manufacturing saw a 140% growth, Finances & Insurances 86%, and Human Health 250%. Design thinking is continuing to become more established and accepted across disciplines and job functions.
2 – Where design thinking is utilized
Design thinking continues to be segmented to specific areas in the organization, with 79% of 2021 respondents saying design thinking was localized. Research & Development (R&D) was cited as the most common area, with 55% of all 2021 respondents. Since 2015, design thinking has grown by 46% in IT departments and 92% in Operations & Manufacturing. Other departments within the organization such as Marketing and Finance & Accounting also are beginning to see the potential value of design thinking methodology.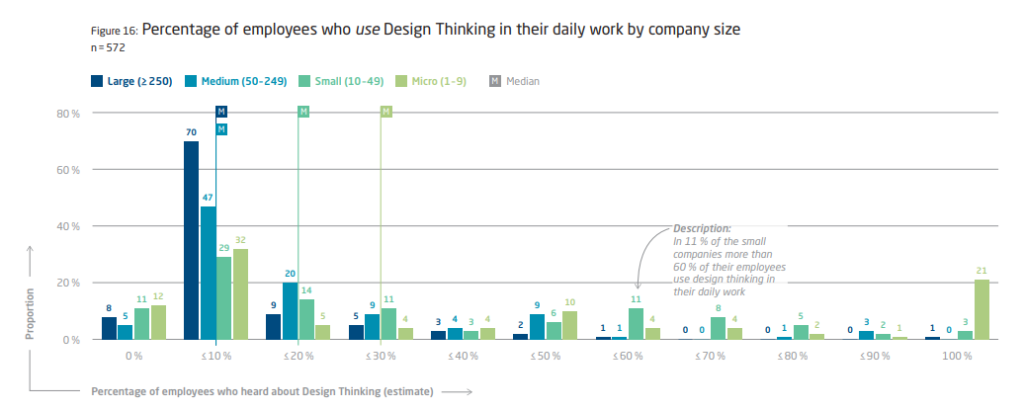 3 – Training is becoming more widespread
The 2015 survey found that 75% of participants had four years or less of design thinking experience. These results have since shifted, with 61% of participants in 2021 having at least three years or more and only 39% having less than three years' experience. Internal training programs and initiatives are starting to become more widespread, allowing employees to learn and apply their skills in their job. 64% of participants also possess at least one design thinking certification.
4 – The perceived impact
Survey participants had an overall positive perception of the impact of design thinking:
60% – design thinking has improved working culture
67% – more efficient innovation process
58% – users integrated more frequently
30% – helped to save costs
33% – helped increase sales
5- Lack of measurement continues
One of the biggest areas needing improvement in design thinking practice continues to be a lack of measurement and evaluation. Only 19% reported monitoring their design thinking endeavors, whereas 81% claimed no monitoring and evaluation was in place. Participants who do monitor the impact did so by measuring the following:
Human-centered metrics – customer satisfaction, client feedback, staff retention, employee engagement
Innovation-focused metrics – number of ideas, innovation rate, innovation speed (time to market)
Final Thoughts
This 2022 study shows that design thinking has become more mainstream and widespread across a variety of industries and functions in the last 5 years. While organizations are making great strides to incorporate a design thinking mindset into the culture, a lack of measurement, training, and communication can damper efforts. Review the full report on the HPI website.
If you are interested in learning more or getting help developing a custom innovation workshop or design thinking training session, Innovation Training can help. Contact us online today to learn how to get started.