Mission Statement Training: Use design thinking frameworks to develop a purposeful and inspiring mission
Our mission statement training workshop is a fast-paced program to help your group create and align on a mission statement. We use an innovative design thinking framework to help you develop your mission and communicate it in an engaging way for your stakeholders, colleagues, and the people who you serve. In this training, you will learn about the fundamentals of a mission statement, and connect to your own purpose to start generating ideas for what to include in your own. We can also build on the core values for your organization to root your mission in what matters most. This can include connecting your mission to a compelling vision for the future.
This virtual or onsite training workshop can be its own event or serve as an addition for a team or organization retreat, leadership program, or even strategic planning session.
Designed for teams, the workshop can help them craft their own mission that contributes to the organization's vision and mission. We typically complete this workshop with a team, group, or department within an organization.
Learning Outcomes for this Mission Training
Learn what makes for a purposeful mission statement.
Gain insight from your stakeholders and colleagues about who you are, what you do, how you do it, and and why you do it.
Create and refine a mission statement that engages you and your team.
Imagine and visualize a mission focused vision to take action on.
Apply design thinking to innovate how you communicate your mission or purpose.
Develop your storytelling leadership skills to inspire others with your mission and vision.
Mission Statement Workshop Design Activities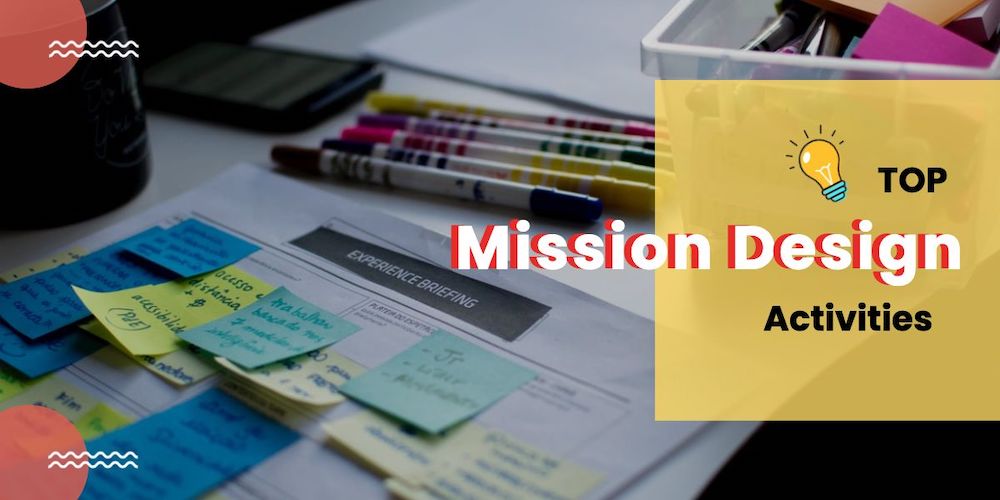 Our mission workshop is action-oriented and effective thanks to the use of an innovation framework. We use activities from each stage of the design thinking process to build and align on a mission statement, and then communicate it visually and through storytelling. These design thinking stages include:
1. Empathize: To learn about the stakeholders who we serve with our mission and about yourselves – the group that takes on the mission as your identity and guide.
2. Define: To take on a "point of view" that focuses in on the top needs and opportunities to consider for creating our mission statement based on insight we gain from empathy with our stakeholders and our own team.
3. Ideate: To generate many ideas for promising elements and actual mission statements using a format we will share…and to be creative with how we communicate the statements.
4. Prototype: To select, combine, and iterate our best ideas to build out some of our top mission statements using a structure or template that we can share.
5. Test: To share our top mission statement prototypes with our colleagues and stakeholders so they can help us to not only learn how to iterate further but also select what is best.
Customized Training Workshops on Mission and Vision
We design our mission and vision training workshops based on your audience, how much time you have, and what your desired learning outcomes are. Based on what you need, we could address popular mission and vision statement questions like the following to help you not only learn about mission statements, but also actually develop one that you are proud of.
What is a mission statement example?
What is mission and vision?
What should a mission statement accomplish?
How do you want your mission statement to be perceived?
How will you communicate your mission statement?
How do you create vision and mission statements?
What is the difference between a vision and a mission?
How do you write your mission statement?
How do you build on your core values for your mission and vision?
This training can be a professional development or teambuilding experience or even a part of your strategic plan. We will design it based on the purpose you intend. You can develop your critical thinking and leadership skills while crafting your team or organization's mission statement.
We'd love to learn more about your participants and share about our faculty for this training. Reach out to us to hear more about our innovative group mission and vision training workshops. See examples of what the experience can be like. Click to see our design thinking training or innovation workshops which can be done for your organization.