A high-level summary of IBM's latest report on transformations in HR
More than two thirds of executives surveyed in IBM's latest research report said that HR is ripe for disruption – and the time is now to make a move to fundamentally change the way organizations think about their human resources department. This 2020 report, titled "Accelerating the Journey to HR 3.0", provided some compelling and interesting insights into disruptions that are already happening, as well as ten critical action areas that organizations need to do to move their HR forward now. Keep reading for a high-level summary of some of those main insights and key findings.
The Background: What is "HR 3.0"?
Historically, HR departments have largely handled administrative actions such as hiring, pay, and compliance (HR 1.0). This has shifted in the last decade, and especially since the COVID-19 pandemic disrupted job functions across many if not all industries. During and following the pandemic, companies needed HR to focus on employee experience, upskilling, cultural transformation, and new models of working (such as remote or hybrid work models) – HR 2.0. But this model is shifting once again, to something even more revolutionary – HR 3.0.
HR 3.0 turns HR into its own agile consulting organization that focuses not only on delivering services, but also practices design thinking to push innovative solutions, tools, and transparency into the organization. According to IBM's survey, 10% of companies have already achieved this vision – making it more than an idea, but a reality that all organizations can achieve. As we continue to recover from the global pandemic, every organization will likely need to rethink work, the role of technology, the role of leadership, and how we support our employees.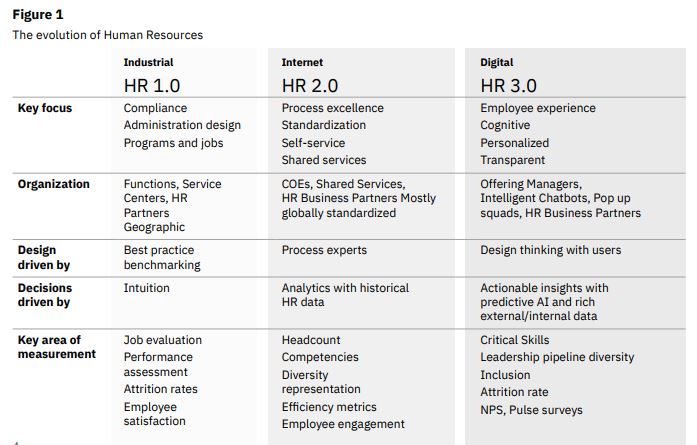 Ten Action Areas for Reaching 3.0
IBM's research indicated that there are ten specific areas of focus to help companies reach HR 3.0, including:
Measure employee performance continuously and transparently
Invest in the new role of leadership
Build and apply capabilities in agile and design thinking (more on this below)
Pay for performance—and skills—in a fair and transparent way
Continuously build skills in the flow of work
Design intentional experiences for employees (more on this below)
Modernize your HR technology portfolio
Apply data-driven insights
Reorient and reskill your HR business partners
Source talent strategically
While each of these ten areas are critical for successful HR transformation, we'll only discuss the areas that relate to our own work in innovation and design thinking in more detail below.
Action Area #3 – Build and Apply Capabilities in Agile and Design Thinking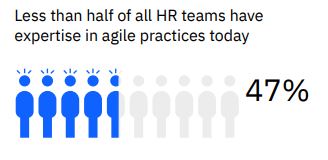 Key concept: HR must be equipped to help design and manage agile teams through operations, rewards, performance management, and workplace productivity tools
Organizations need speed and constant iteration to respond to the rapidly changing world they live in. Executives need to be willing and able to encourage user input from start to finish in order to develop solutions that properly answer their needs. In this case, HR becomes an outcome-focused function, able to use feedback and data to assess the quality of programs or products and respond quickly when improvements are needed. Design thinking and innovation skills therefore will continue to be highly sought after and will need to be taught at every level of the organization.
Action Area #6 – Design Intentional Experiences for Employees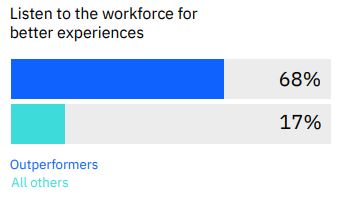 Key concept: Today's workforce expects meaningful employee experiences that are personalized, constantly improved, and responsive to their needs
Many organizations face common challenges in areas such as internal communication, employee engagement, and organizational culture. These internal problems not only harm the productivity and efficiency of your company, but they also reduce the employee experience. In an increasingly remote or hybrid landscape, engaging employees has never been more crucial (or challenging). Organizations operating at HR 3.0 invest in their employees – developing experiences that are meaningful, simple, and cohesive. Feedback is essential in continually course-correcting problems and addressing employee concerns. Surveys, candidate and exit interviews, and forums for harassment reporting, safety violations and other grievances are all means of gaining that coveted feedback.
Conclusion
HR 3.0 isn't just on its way here – the best organizations in the world are already adopting it. The world is changing too quickly to allow your departments to become complacent, outdated, and out of touch. Design thinking and innovation have a crucial world to play in all aspects of your organization – including HR. IBM's 2020 Study helps highlight this and other key areas that can help transform HR departments. We also highlighted this in our earlier Design Thinking for HR post.
If you are interested in learning more about or getting help developing a custom design thinking training or innovation workshop for your organization, contact us online to learn how to get started.