Learn more about this classic Double Diamond design thinking framework and find resources, tips, and more to apply it to your own projects.
Developed and popularized by the British Design Council, the double diamond framework has been around since 2004. This framework for innovation is centered around a clear and visual description of the design process, and it also includes key principles and design methods that can be used to achieve long-lasting positive change. The process is symbolized by two diamonds which represent exploring an issue with more divergent thinking and then taking focused action. Learn more about this design thinking framework and find resources to get started using it below.
The four phases of double diamond
Double diamond includes four different phases:
Discover: Understanding what the real problem is through communication and discussion with the people who are actively affected by it
Define: Insights gathered in the previous phase can help you define the challenge in a different and more beneficial way
Develop: Find different answers to the clearly defined problem, seeking inspiration from everywhere and co-designing with different people
Deliver: Test out different solutions at a small-scale, reject those that do not work and improve the ones that will
This is not a linear process – sometimes, you'll learn something about the underlying issue that requires you to go back to the discovery and define stages, etc. Because no idea is ever "finished", there will always be more work done to improve existing products and services.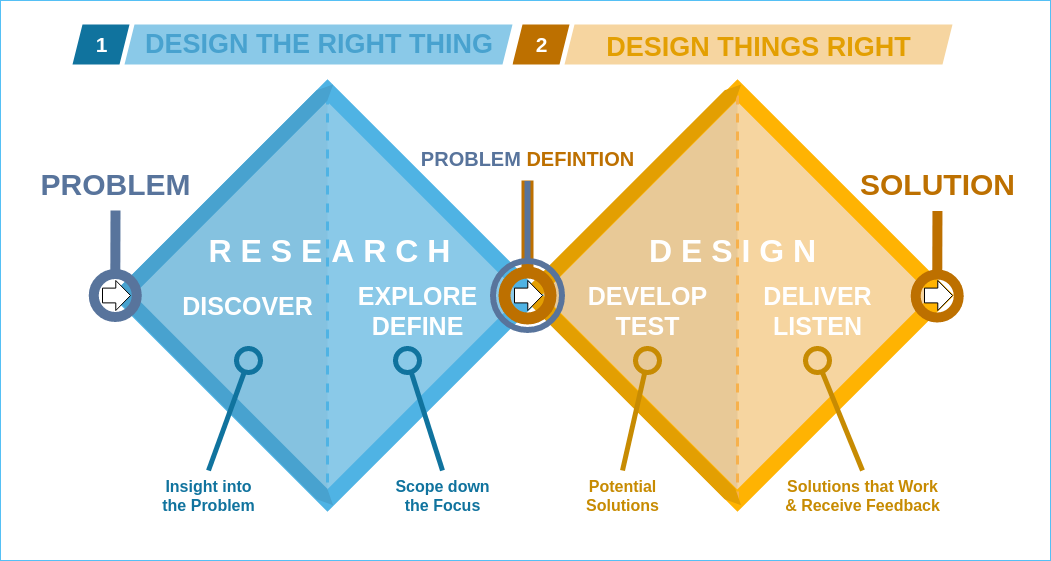 Design principles that double diamond relies on
These four principles are also core to the framework of double diamond, designed to help problem-solvers adapt quickly to work as effectively and efficiently as possible.
Put people first: Focus on deeply understanding the needs of the people using a service, including their aspirations and challenges
Communicate visually and inclusively: Help your team build a shared understanding of the problem and possible solutions
Collaborate and co-create: Work together and inspire each other to build better
Iterate: Keep testing to avoid risk and build confidence in your ideas
Double Diamond framework books, videos, and guides
Here is some additional materials to review to learn more about this design thinking and innovation theory.
Book – Just Enough Research
This book by Erika Hall is a great resource for the discovery phase of double diamond. Learn how to research your audience, spot your own biases and blind spots, and more in this compelling read.
Video – The Double Diamond by Service Design Academy
This short introductory YouTube video by Service Design Academy explores the basics of the four phases of this framework and may be useful for more visual learners.
Miro Template – Triple Diamond
This spin-off double diamond template from Zendesk is actually made up of three diamonds and can be applied to status updates, onboarding, retrospectives, and more.
Downloadable Framework
You can also download the framework from the Design Council's website here.
Double Diamond Design Thinking Framework Training Conclusion
These training resources can be used to understand this unique framework for design thinking and innovation projects. Contact us for workshops and training to bring innovation to life in your organization. Learn more about our design thinking training or innovation workshops which can be customized for your team or even conference or organization offsite.
Check out these other great innovation and design thinking resources: