The healthcare ecosphere is rapidly evolving with hospitals and health systems trying to keep up. Reimbursements are dropping, value based care is becoming a reality, and consumer (i.e. patient) expectations of services have risen and evolved over the last several years. Given these and other challenges, it is no wonder healthcare leaders are turning to structured problem solving techniques to help solve the most complex challenges facing their organizations such as access, decreasing costs, improving the patient experience, supply chain management, improving inpatient flow, and many others. Two of these frameworks, which are often implemented separately, are Performance Improvement (i.e LEAN or Six Sigma) and Human Centered Design.
Over the last two decades, performance improvement management systems, such as LEAN, have become popular in the hospital setting due to their ability to improve processes and flow. As healthcare organizations continue to improve, internal innovation efforts have recently begun building teams focused on Human Centered Design (HCD) to further solve their problems through a new lens: understanding customer emotional experience, needs, and expectations. While these two frameworks come from different places (LEAN founds its genesis in manufacturing while Human Centered Design found its in product design) and their proponents often think quite differently (i.e. engineers vs. designers and anthropologists), these two systems share many core tenets and should be utilized synergistically to provide the greatest positive impact and ROI to both the hospital system and those it serves.
Value
Both LEAN and HCD focus on value for the customer, but they do it in different ways. LEAN focuses on reducing system waste, which is defined as non-value-add activities, to improve efficiencies and lower costs. In manufacturing terms, customers benefit from LEAN through efficiencies (ie. improved patient flow and improved supply chain) or having a defect free process to create products or service at a lower price. While LEAN focuses its customer value through creating efficient and highly reliable internal processes, HCD provides value to the customer by focusing on their needs and designs products/processes that match them. For example, a manufacturing plant creating widgets using LEAN could be extremely efficient, reliable, and cost effective. However, if the plant is producing a widget that consumers do not value or need, consumers will not purchase the good and all of the LEAN improvements are for naught.
Understanding the Customer to Understand the Problem or Need
LEAN and HCD also both focus on the customer/stakeholder. LEAN encourages the idea of 'going to Gemba,' which translates to going "to the place of work". It is in the Gemba where LEAN practitioners can begin to understand how a system flows, identify stakeholders, and begin to identify waste. HCD encourages understanding the customer but, opposed to a systems view, it seeks insights through ethnography and interviews to understand customer needs. Once a customer is understood, their insights often help re-frame the problem and potential solutions.
Documenting Processes/Emotions
Value Stream Mapping is a LEAN tool used to visually capture processes and system flow. Value Stream Maps enable LEAN practitioners to identify waste in the system so they can make it more efficient and reliable. In a similar vein, HCD utilizes customer journey maps and personas to understand customer needs and identify opportunities for improvement.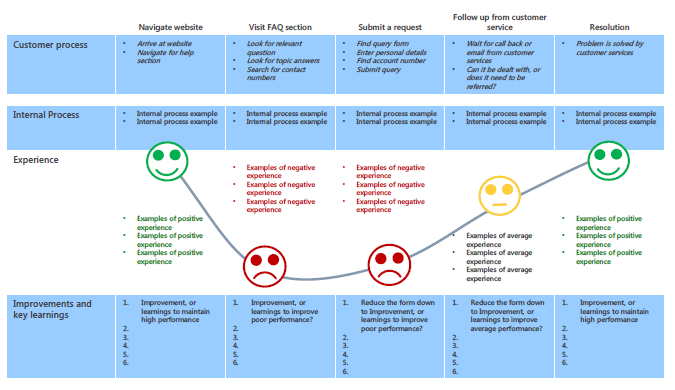 Innovation through Ideation
Once a system or problem/need is understood and identified, both LEAN and HCD encourage group and individual brainstorming to generate ideas for process improvement or new product creation. For a great primer on how this works, please see the book Innovation Step-by-Step: How to Create & Develop Ideas for your Challenge at innovationlearning.org.
Testing
Finally, LEAN and HCD both utilize testing to validate a hypothesis. For example, once a system is process mapped and a potential solution is identified, a LEAN practitioner will have a series of Plan-Do-Study-Act (PDSA) testing cycles to see whether the proposed solution improves system flow. These small tests of change enable rapid iteration of solutions and encourage practitioners to quickly abandon, adapt, or adopt the solution once it has gone through several testing cycles. HCD encourages a similar testing process. For products or services, it uses prototypes with potential end customers, to understand if the new product/service provides value and meets a deep emotional need. Similar to LEAN, HCD encourages rapid cycle testing and should adapt, adopt, or abandon a solution depending on how the customer reacts to a prototype.
Institute for Healthcare Improvement (IHI) PDSA Cycle
Why this Matters: Hospital Discharge as an Example of How LEAN and HCD Should Be Utilized Synergistically in Healthcare
To put these concepts in a healthcare perspective, the hospital patient discharge process can provide us with a valuable and illustrative case study. A LEAN hospital will strive to improve their discharge process to be extremely efficient, fast, and reliable. Utilizing process maps to target waste (e.g., unnecessary discharge process steps) the hospital will work to refine (or, in some cases define) a group of standard discharge processes (note: there will be multiple processes depending on different patient demographics). For example, if the hospital's current discharge time is 300 minutes and contains an unreliable process of 25 steps, with 6 stakeholders (e.g., RN, physician, pharmacist among others), LEAN performance management should be utilized to review and create a simpler, more efficient discharge process. This approach will reduce wasteful steps that impede system flow/reliability and improve the overall customer experience.
Imagine the same hospital improved the discharge process to include only 15 steps and 3 stakeholders, leading to a reduction in discharge time from 300 to 120 minutes. From a systems perspective, this will look like a great success–reduced discharge time translates to lower hospital length of stay, which correlates to improved patient outcomes that ultimately benefits the hospital's bottom line. Additionally, an improved discharge process can mean better patient throughput and can ensure that the staff involved in the discharge process are operating at the top of their licensure throughout each step. While LEAN can realize these operational improvements, patients' needs and experience through the process should not be overlooked. For example, let's assume management set a goal to discharge 85% of patients by 11:00 am every day given new operational efficiencies and reliability. While this sounds great on paper, what if the patient wanted to wait until 5:30pm to be discharged so their family to pick them up after work? What if it is 11:00 am and the patient comes from a lower socioeconomic status, where the patient does not have access to food once they leave the hospital? In this case, this patient may want to eat one more lunch or have a late afternoon snack before leaving the hospital. These types of situations happen daily across our healthcare systems, and I have personally encountered both of them during improvement projects. Finally, these examples were but two of many that have taught me the importance of and value in understanding all patients' needs and keeping the patient at the center of improvement work.
Closing Thoughts
Performance Improvement and HCD have historically been implemented separately in healthcare organizations. However, based on my experience, I've found that hospitals and health systems can design more reliable, efficient systems that provide an excellent patient experience due to being grounded in understanding patients' emotional needs and expectations if they utilize these two methodologies in tandem.
—
See more of our healthcare innovation training and healthcare innovation resources to keep learning.