Browse these top finds from our creative problem solving book reading list
If you've ever found yourself facing challenges that seem insurmountable or want to improve your ability to think outside the box, you've come to the right place. In this curated list, we'll introduce you to some of the best thought-provoking and inspiring creative problem solving books. These books offer valuable insights and techniques for tackling problems with creativity, innovation, and ingenuity. Let's get started!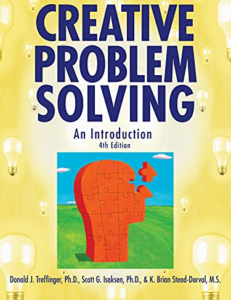 by Donald J. Treffinger, Scott G. Isaksen, and K. Brian Stead-Dorval
The authors provide a comprehensive and accessible exploration of creative thinking and problem-solving techniques. Drawing on the authors' extensive research and experience, the book introduces readers to a structured approach for generating innovative ideas and solutions, emphasizing the importance of divergent and convergent thinking, idea generation tools, and collaborative strategies.
Amazon Description:
Creative Problem Solving is a process that allows people to apply both creative and critical thinking to find solutions to everyday problems. Creative Problem Solving eliminates the tendency to approach problems in a haphazard manner and, consequently, prevents surprises and/or disappointment with the solution.
Used by thousands of group leaders seeking a friendly introduction to using Creative Problem Solving, this book is a time-honored classic. Creative Problem Solving: An Introduction is based on more than five decades of extensive research, development, and field experience in educational settings, businesses, and many other organizations.
Written for both group leaders and individuals seeking a systematic way to build innovative and effective solutions, Creative Problem Solving is perfect for any type of setting.
This definitive guide shows you how to find successful solutions to important challenges. Creative Problem Solving (CPS) can help your students to approach problems and deal with change in a deliberate and constructive way, building their confidence and success in working with complex issues.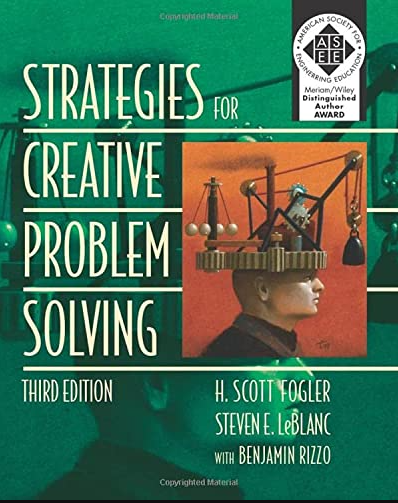 by H. Fogler, Steven LeBlanc, and Benjamin Rizzo
This book offers a strategic guide to mastering the art of creative problem-solving. With a focus on engineering and technical contexts, the book presents a range of systematic methods and techniques that empower readers to navigate intricate problems. Through a blend of theory and real-world applications, the authors introduce principles like heuristic problem-solving, optimization, and design thinking.
Amazon Description:
Strategies for Creative Problem Solving, Third Edition, will help you hone your creative skills and apply those skills to solve nearly any problem. Drawing on National Science Foundation-funded, advanced research that studied problem-solving techniques in all areas of modern industry, this book presents a comprehensive, systematic problem-solving framework. Through hands-on techniques and exercises drawing on realistic examples, you will learn how to approach an ill-defined problem, identify the real problem, generate and implement the best solution, evaluate what you've learned, and build on that knowledge.
This third edition has been updated and revised, further enhancing its value for engineers, technical practitioners, students, and anyone who wants to improve their problem-solving skills.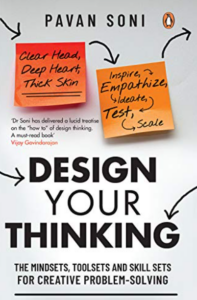 by Pavan Soni
This book uses the methods and discipline of design thinking to help individuals become better problem-solvers. With a focus on fostering a creative mindset, the author introduces readers to a comprehensive toolkit of strategies and skills to approach challenges innovatively. Through real-world examples and case studies, the book equips readers with the knowledge and techniques needed to tackle complex problems with a fresh and inventive perspective. Learn the right mindsets, skill sets, and toolsets to address a vast array of problems in life and business.
Amazon Description: 
Creative problem-solving is at the heart of innovation, and some of the world's most innovative companies are very systematic in following this approach. Most people would assume that creativity and discipline can't coexist, and that only when resources are replete and the talent best-in-class can one be creative. But nothing could be further from the truth. In fact, creativity thrives amid constraints and calls for great discipline.
Pioneered by IDEO and Stanford d.school, design thinking is one such approach that draws inspiration from the realm of product design. However, it shouldn't be narrowly associated with the world of start-ups and technology or thought of as something limited to product development. The method is increasingly being used in a wider context and can help us address a vast array of problems.
This book attempts to offer a practitioner's perspective on how the tenets, methods and discipline of design thinking can be applied across a range of domains, including to everyday problems, and help us become expert problem-solvers through the use of the appropriate toolsets, skill sets and mindsets.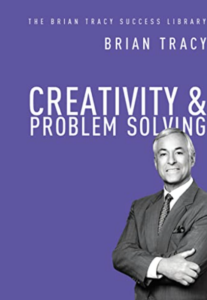 by Brian Tracy
In Brian Tracy's creative problem solving book, he explores the critical elements of creativity and effective problem-solving. Drawing from his vast experience in personal development and business success, Tracy presents practical strategies to tap into one's creative potential and develop innovative solutions. The book emphasizes the significance of continuous learning and adaptation in today's rapidly changing world.
Amazon Description: 
Recent research has revealed a direct causality between ideas and profitability, which means that in today's ultra-competitive and technology-rich work environment, the most crucial element separating an exceptional career from a lackluster one is . . . creative thinking skills. While that may be scary news to hear for many businesspeople and entrepreneurs, it shouldn't be for you! Because inside this concise, easy-to-read book, one of the world's premiere success experts, Brian Tracy, reveals 21 proven, practical techniques readers can use to immediately begin generating a stream of productive ideas. Containing mind-stimulating exercises and down-to-earth strategies, Creativity & Problem Solving, an eye-opening book, will help anyone tap into the root source of their own intuitive genius–and gain the winning edge they've been missing all this time.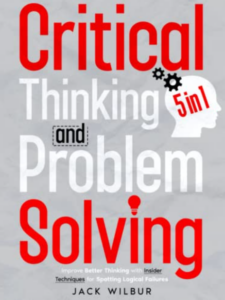 by Jack Wilbur
This creative problem solving book is a comprehensive and invaluable resource that equips readers with the essential tools to become adept critical thinkers and problem solvers. Through this compilation guide, the author explores decision-making secrets, logical reasoning, systematic approaches to problem-solving, and techniques to enhance overall thinking capabilities. With a blend of theory and real-world examples, Wilbur's guide offers a well-rounded approach to honing critical thinking skills that can be applied across personal, professional, and academic domains.
Amazon Description: 
Problem-solving, critical thinking, and decision-making are essential for success in any field. They enable us to identify and analyze problems, generate and evaluate options and make effective decisions. These skills are crucial in today's fast-paced and constantly changing world, where the ability to adapt and make good decisions can mean the difference between success and failure.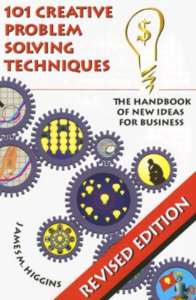 by James M. Higgins
Higgins' book offers a practical guide that empowers readers with a diverse array of innovative problem-solving strategies. With a focus on business applications, this book presents a rich collection of techniques to approach challenges from fresh perspectives. From brainstorming and mind mapping to lateral thinking and visualization, Higgins covers a wide range of tools designed to stimulate creativity and generate unique solutions. Each technique is explained in a clear and concise manner, making it easily applicable to various problem-solving scenarios.
Amazon Description: 
This practical, easy and fun to read book describes 101 creative ways to solve problems. It is designed for individuals and groups. This book is artfully and humorously illustrated. Descriptions of the techniques contain examples of their usage across a wide diversity of companies. Problem solving is a skill that is not taught in schools but is vital to living and working with others. Everyone should have this handy little book available at all times.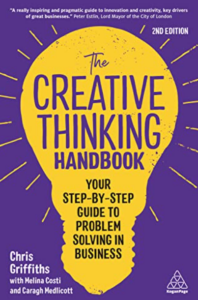 by Chris Griffiths, Melina Costi, and Caragh Medlicott
This book takes readers on a step-by-step journey, introducing them to various creative thinking techniques and methodologies. From understanding the fundamentals of creativity to applying structured processes for problem-solving, this handbook offers a well-rounded approach. The authors provide actionable exercises, real-world case studies, and interactive tools to engage readers actively and facilitate the learning process.
Amazon Description: 
Creativity directly impacts results and productivity, yet few of us understand how it happens or how to put it into practice. This book shows you not only how to get things done, but how to do them better and more creatively. The Creative Thinking Handbook provides the correct application for creative thinking and action, by offering clear, practical tools and strategies so that you can develop creative thinking skills and help find brilliant solutions for any professional challenge.
Based on research and proven-to-work creative thinking models, Chris Griffiths and Melina Costi present a clear introduction to what creative thinking is, explain why we all need to do it and will help you generate ideas and make better decisions. The Creative Thinking Handbook gets you to think differently by thinking creatively.
Best Creative Problem Solving Books Conclusion
As we reach the end of our exploration into the realm of creative problem solving, we hope you're feeling inspired and empowered to approach challenges with a fresh perspective. Each book on this list offers a unique lens through which to view problem-solving, from nurturing creativity to mastering innovative strategies. Remember that creative problem solving is a skill that can be honed and refined over time. So, don't hesitate to dive into the pages of these books and let their wisdom spark your ingenuity. Learn more about the creative problem solving process on our blog.
Check out our innovation and design thinking resource blog for additional tips and techniques today. Contact us if you need design thinking training, an innovation keynote speaker or innovation workshop.