Learn about this visual collaboration and diagramming software tool or app
In a remote and hybrid work business world, effective communication and collaboration are essential for success. The ability to convey ideas and concepts visually can be a critical piece in designing and innovating. Whether you are a project manager, designer, marketer, or educator, you may be interested in digital collaboration tools and resources to use for brainstorming sessions, hosting meetings, project management, and agile teamwork. Enter Creately, another web-based collaboration tool designed specifically for diagramming. In this blog post, we'll share features and resources to help you determine if Creately can benefit you and your team.
Creately Features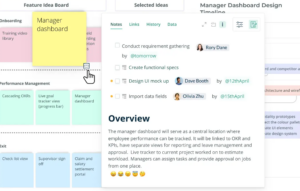 Creately is an easy-to-use online diagramming and collaboration platform that enables teams to create diagrams, flowcharts, wireframes, and more. Features of this software tool include:
Extensive Diagram Library: Creately offers thousands of pre-made templates and shapes for various diagram types, including flowcharts, org charts, mind maps, wireframes, and more. This library saves time and ensures your diagrams are both visually appealing and easy to understand.
Collaboration and Real-Time Editing: One of Creately's standout features is its real-time collaboration capabilities. Multiple users can work on the same diagram simultaneously, making it an excellent choice for remote teams. The integrated commenting system also facilitates clear communication within your team.
Export and Integration: Creately allows you to export your diagrams in multiple formats, such as PNG and PDF, and even editable formats like Visio and PowerPoint. Moreover, it integrates seamlessly with popular productivity tools like Google Workspace, Slack, and Trello, enhancing your workflow efficiency.
Revision History: Creately maintains a detailed revision history of your diagrams, making it easy to track changes and revert to previous versions if needed. This feature is invaluable for maintaining the integrity of your visual projects.
Learn more about Creately in this "welcome" video from their YouTube channel:
Creately App Resources and Guides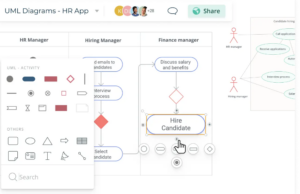 Get started with Creately with these resources:
Templates: Free templates for strategy, marketing, product development, and much more.
Resource Center: Browse various guides on using the different features of Creately.
YouTube Channel: Creately has many videos offering tips on how to create specific diagrams or use their tool.
What is Creately – Conclusion
Whether you're a project manager looking to streamline processes, a designer creating wireframes, or an innovator explaining complex concepts, Creately can help you convey your ideas visually, fostering better understanding and collaboration. Looking for more innovation tools and guides? Please consider these other relevant articles on our blog:
For custom assistance, check out our design thinking training or innovation workshops for teams, organizations, and individuals.