Learn how to effectively implement a virtually-led design thinking project.
This is an InnovationTraining.org guest article by Sprintbase. 
Design thinking is a hot topic for business these days, and it's no surprise. A growing body of research shows that organizations that have adopted this innovative approach based on customer-centricity, creative problem-solving and experimentation, are significantly outperforming their competitors.
McKinsey & Company research shows that "Design-led organizations realize 10% more revenue than ones that aren't." And the Design Management Institute found that design-driven organisations outperform the S&P 500 by a whopping 219%.
Doing Design Thinking With Remote Teams (Well) Isn't Easy
Traditionally the practice of design thinking has involved bringing people together in a physical space to share their customer insights, brainstorm ideas with countless post-it notes, and work together to create prototype concepts of new solutions to then iterate and evolve with customer feedback.
However, in a world where 83% of professionals work in a globally distributed team, bringing people together physically isn't always an option. With tight budgets and an environmental need to cut down on air travel, many organizations are looking for ways to enable teams to tackle strategic challenges through design thinking remotely.
There's no question that teams are capable of great things when working remotely, and there is no shortage of project management tools, virtual whiteboards and prototyping software out there to help. However, getting remote working right when the problem the team is trying to solve calls for a design thinking approach brings its own set of challenges.

Staying on track: Throughout a design thinking project, teams need to repeatedly shift gears from diverging to converging, and apply different tools and mindsets at each stage of the process. When teams are remote, keeping teams in sync gets a lot harder. There is less transparency about who is doing what, making it more likely that members will fall behind, miss key milestones or decision points, or just get lost in the process.
Which tools to use: There are countless items in the design thinking toolkit, and knowing which to apply at which stage can be daunting. This is especially true for newly-trained teams who have benefited from in-person facilitation in the past.
Confidence to succeed: Design thinking isn't rocket science, but it does require people to try out new methods that may not be part of their traditional day-to-day approach. In physical workshops, groups try these things out together, often with an innovation facilitator to help. When teams go remote, this in-person support is missing, making it easy to slip back into old habits.
Losing Momentum: Virtual projects are notoriously difficult to keep moving. Once teams have left the physical workshop space, it's easy for other priorities and distractions to take the project off course.
Face-to-face magic: People often talk about the buzz that comes from actively collaborating as a group when doing design thinking work. Ideas collide and creativity flows when everyone is together – but how can that be recreated in a virtual setting?
Making Remote Teams Work
In 2018, a group of experienced design thinking practitioners hailing from some of the world's most respected agencies, came together to create a virtual platform that could help globally distributed teams successfully solve problems using design thinking. The idea was not just to provide a place for teams to collaborate, but also to give them the structure and guidance they'd need to overcome the barriers to remote design thinking we had encountered over the years. The result was a new kind of innovation platform called Sprintbase.
Sprintbase guides teams step-by-step through design thinking projects, enabling them to engage with customers, solve problems, and embed new habits and ways of working. Teams are typically between five and seven people, with projects usually lasting anywhere from four to eight weeks. Project work is often done in parallel with day-to-day work, with the amount of time spent on it depending on the urgency of the challenge and availability of the team.
Since it launched, Sprintbase has been used by leading organizations such as eBay, Capgemini, DLA Piper, Porsche, and Deloitte. We've seen teams not only overcome the challenges of running remote design thinking projects, but also unlock some of the incredible benefits of working in this way.
A REMOTE DESIGN THINKING JOURNEY:
1. INSPIRE: Conducting Field Research, Forming Insights, and Focusing the Challenge
After the team has agreed on a design challenge, the next step is collecting field research. This means conducting user interviews, in-context observation, social listening and desktop research and more. Team members upload their best findings as photos, videos and other documents and complete interactive templates, such as user personas, journeys and empathy maps.  All of these findings are collected in a shared work space which is visible to the whole team.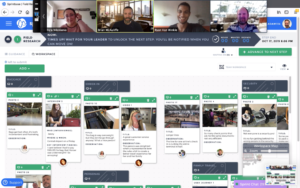 Teams are notified via email when it is time to begin forming insights. As with each step in Sprintbase, there is built-in guidance and tools to help teams apply design thinking methods to the fullest. Once teams have voted on their top insights to take forward, they work together to "Focus the Challenge", by crafting user-centered How Might We..? (HMW) questions that will serve as the basis for brainstorming in the following step.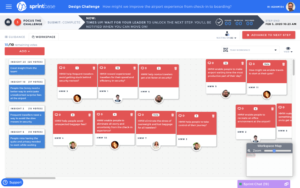 Tips for getting great results
Encourage diverse teams from across silos and geographies. Remote working makes it possible to gather a rich and diverse set of field research findings. This diversity of perspective plays a critical role in enabling teams to create deeper, more novel and revealing insights.
Use mobile devices. Phones and tablets are great for conducting field research or reviewing and voting on your team's findings on the move. Take advantage of the fact that your team can contribute anywhere, anytime inspiration strikes.
Be visual! A picture really is worth 1000 words. Use videos, images, and the built-in sketch and white boarding tools to bring your observations to life. Text alone is not enough to convey the novelty of your discoveries when working virtually.
Speak and meet regularly. Communication is key to the success of any project, regardless of whether it is with remote or in-person teams. Downloadable meeting agendas in Sprintbase help to keep teams on track and assist with decision making.
Use video to make meetings more human. Platforms like Zoom and MS Teams are ideal for keeping teams connected. We always recommend having "one face per window", even if some members are physically co-located as this helps keep an even team dynamic.
2. IDEATE: Generating Ideas & Prototyping
After the team has voted on the HMW  questions they want to address, it is time to start brainstorming. Unlike in-person workshops where quick brainstorming sessions tend to be led by the loudest voices, working remotely gives people with different creative styles space to reflect and then contribute. Whether you're an introvert, extrovert, or somewhere in between, there's space for you to have your say, your way.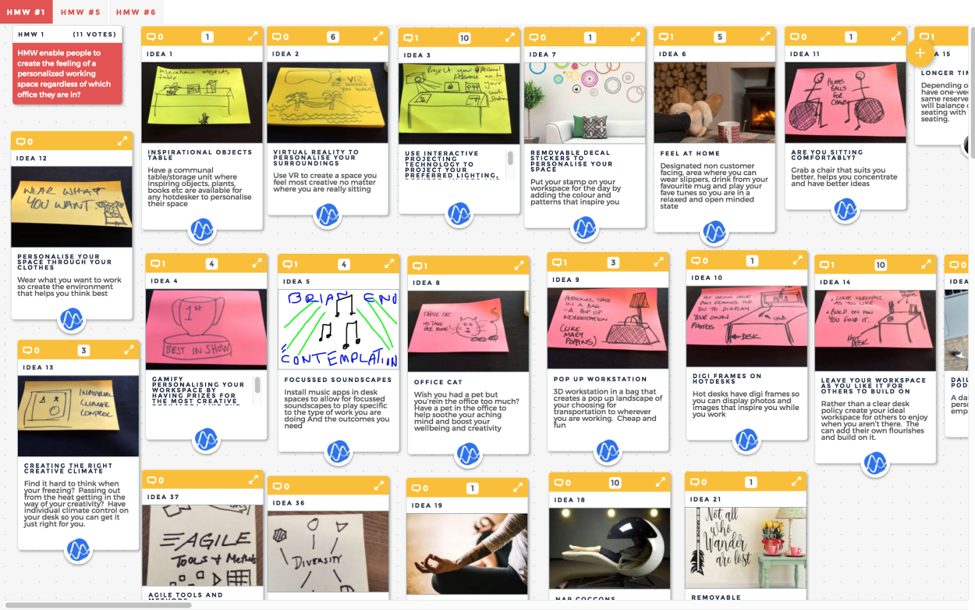 The best ideas are uploaded for the rest of the team to review, comment on and evolve. Once the submission deadline is reached, teams vote on the ideas that will be taken forward for prototyping and further development.
Prototyping can be done on Sprintbase using digital tools and templates, or purely in the physical world where they are photographed and uploaded. Regardless of the method used, prototypes should be very low-fidelity, rough and ready, and created for the purpose of getting feedback. Common first prototypes include things like storyboards, process flows, user interfaces and wireframes, video role plays, mock press releases, or simple schematic sketches.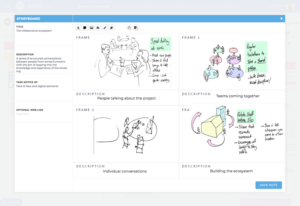 Tips for getting great results
Run multiple brainstorms: One luxury of running design thinking projects with remote teams is that you'll often have more time than in a physical workshop. Use it! Encourage teams to try different tools over multiple rounds and upload their favorite ideas as they go.
Ideas from outside the team: Try involving people and teams who are not directly related to your project in brainstorms. With a remote team, you'll likely have access to a wider network of people across different locations. Even a five minute brainstorm with people new to your challenge can provide a wealth of fresh thinking to your design team.
Keep prototypes scrappy: When teams have more time, there is the added temptation to make prototypes "perfect". Don't fall into this common trap. Set tight deadlines like 'one new iteration per day' to keep teams moving and those prototypes evolving.
Prototype multiple ideas: Don't kill off ideas too soon. Put multiple rough concepts in front of diverse stakeholders to see what you can learn about what people really value.
Get customer feedback: Sprintbase has a unique feedback feature that allows you to invite customers or anyone else to view and digitally provide feedback on specific prototypes. This feedback is automatically logged in the system to support fast iteration.
3. IMPLEMENT: Evolve prototypes and prepare to show the world
Once initial feedback has been received on initial prototypes, teams begin to have a sense of which ideas have legs, and what further experimentation may be needed to evolve them. Using this shortlist of prototype concepts, teams begin designing and running simple experiments to test assumptions and answer questions related to the feasibility and viability of their ideas.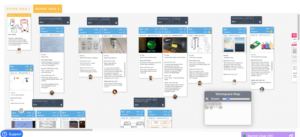 Depending on the project challenge and desired outcome, teams will use a variety of tools and templates to plan their next steps. Built in templates include Business Model Canvas, Business Case, 30-60-90 Day planner, AB Testing, and many others. Lean experiment maps can also be created to support further testing and iteration of top concepts.
When the project is complete and the final prototypes and go-forward plans are ready to share, the team produces an auto-generated PDF report that captures the entire design journey, including all of the team's field research, insights, HMWs, ideas, prototypes and implementation plans. This enables teams to share not only the final outcomes, but also the story of how they were achieved and what was learned along the way.
Tips for getting great results
Allow time for experimentation: Don't be in too great a hurry to show your final solution. Use your remote team to run experiments in parallel to test specific assumptions and questions about your idea. This can help your team discover problems while they are still cheap and easy to fix.
Do a video pitch. When getting feedback or sharing solutions with a critical stakeholder, consider filming a short video of your team explaining your prototype. Include the problem it is solving, for whom, how it works, any cost/revenue projections and how it can be implemented.
Keep key stakeholders engaged. When key decision makers or budget holders are not on your team, keeping them engaged from start to finish can make all the difference. Try inviting these people as "observers" into your sprint. This gives them a window into your team's "remote design studio", and helps bring them along as your thinking and solutions evolve.
Work towards a critical event. Sustaining momentum for remote design thinking projects can be tough. Establishing a meaningful critical event, such as an executive presentation or customer focus group to review the project output is a great way to keep teams on track and motivated to complete projects on time.
Find out more
To find out more about how you can use Sprintbase to create real change for your organization, visit Sprintbase.
You can email [email protected] to get your free trial, or discuss how you can use the platform to do design thinking remotely with your team.

Want to amplify your innovative impact in just 15 minutes?  The Innovation Impact™ assessment is a new academic research-based learning and assessment tool that helps teams quickly identify the specific behaviours that will lead to improved innovation results as well as tap into the diversity of strengths on their team. Click here to take the assessment.