Design Thinking, Agile, & Online Meetings with Google Jamboard Online
Google Jamboard is a collaborate digital whiteboarding tool that works with G Suite products (like Google Drive, Google Sheets, Google Docs, etc). Available to Enterprise, Business, Basic, and Education G Suite customers, this tool can be incredibly useful to collaborate and design together with your team virtually.
NOTE: Jamboard is winding down and you'll need to pick another whiteboard alternative. The Google Workspace announcement is below. (We'll also link to the more info about the tools Google recommends.)
—-
Dear Jamboard user,
We're writing to let you know that we will wind down the Jamboard app next year, and offer integrations with industry-leading third-party whiteboard tools FigJam, Lucidspark, and Miro as alternatives for whiteboarding in Google Workspace. These popular tools have numerous advanced features that empower users to collaborate seamlessly together inside of Google Workspace. Starting October 1, 2024, you'll no longer be able to create new or edit existing Jams on any platform, including the web, iOS, and Android. Between October 1, 2024 and December 31, 2024, the app will be placed in "view-only" mode, during which time you can continue to back up your Jam files. Learn more.
What do you need to do?
Our records show that you have recently used the Jamboard app or have at least 1 Jam in your Google Drive.
On December 31, 2024, we will wind down the Jamboard application and you will no longer be able to access your Jam files.
We recommend you evaluate our multiple whiteboard partners, which provide numerous advanced features that empower you to collaborate seamlessly inside of Google Workspace.
In the coming months, we'll provide you paths to retain your Jamboard data or migrate it to FigJam, Lucidspark, and Miro within just a few clicks, well before the Jamboard app winds down in late 2024.
We're here to help
For more information, you can visit our FAQ page.
—
If you'd still like to, you can learn more about Jamboard features as well as resources designed to help you below.
Jamboard Features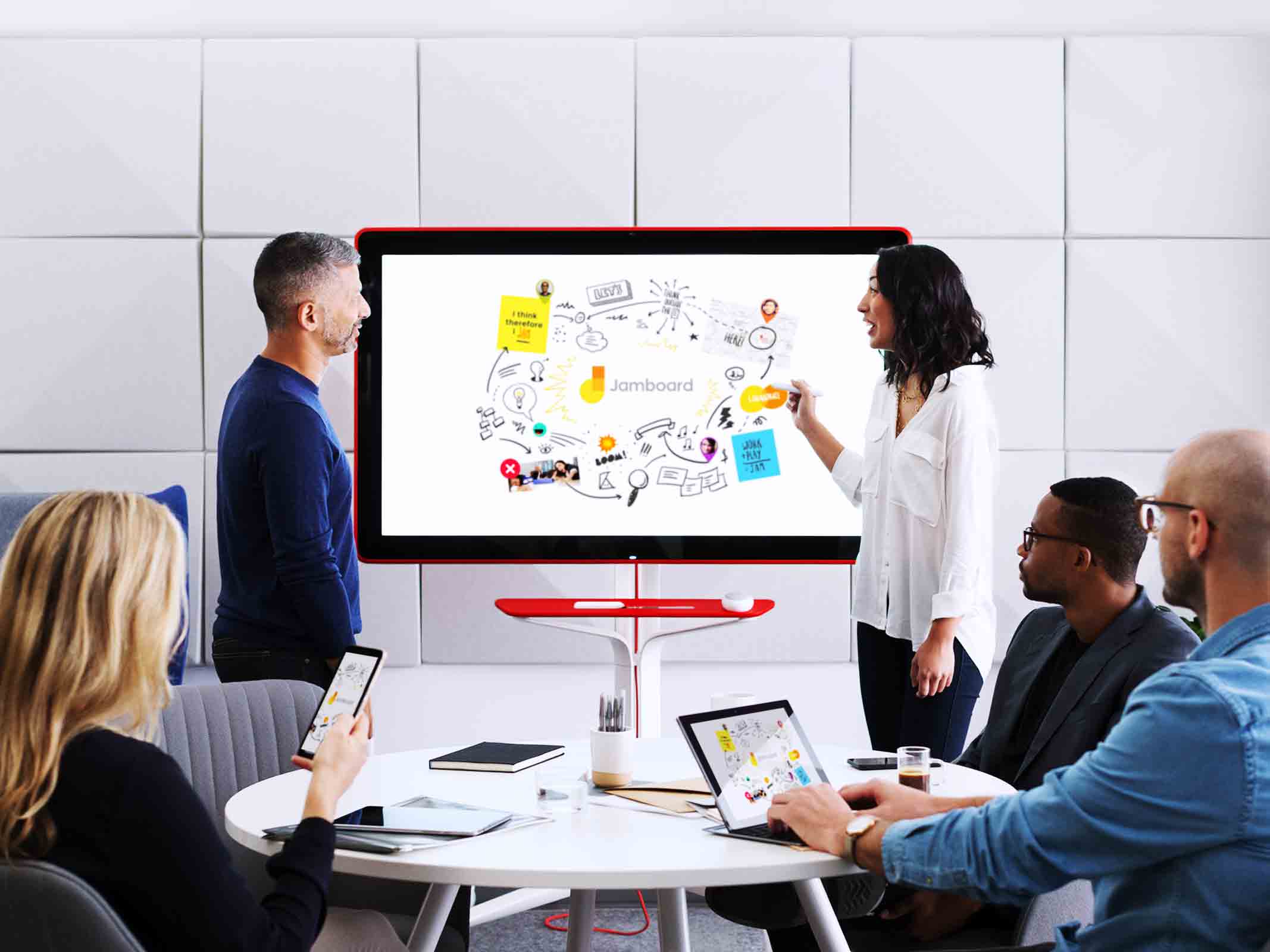 Visualize your ideas in a new and collaborative way with this software tool.
You can use Google Jamboard online just like you would any google application like Google Docs or Sheets. Jamboard can help you make your online meetings more visual or engage people in a user-friendly way who may be newer to the more advanced collaborative realtime whiteboarding tools like Miro or Mural. Jamboard allows you to visualize and map out your innovation or design thinking project from start to finish. Google Jamboard can be utilized with their 55-inch, 4K whiteboard that is fully connected to the cloud, meaning that teams can work together from anywhere in real-time. The biggest benefit of Jamboard is its integration with all other Google G Suite products – like Google Meet and Google Sheets. Here are a few other features to note that could be helpful for your next online meeting facilitation or Zoom workshop:
Search Google and insert images or webpages
Make a sketch – image recognition technology will convert your sketch into a polished image
Up to 50 collaborators allowed at one time
Add Google Docs, Sheets, and Slides
View and edit your files from anywhere with an internet connection
Display upcoming Google Calendar events
Host a video meeting and present your whiteboard to people viewing remotely
Google Jamboard Online Tutorial Videos
This short video from Google highlights what Google Jamboard is, with a lot of emphasis on the actual touch screen monitor that you can draw on and interact with. This is a pretty incredible piece of hardware to use, especially when you have a group with you in the room. Our most common use though for our workshops, courses, and design thinking sessions is the online app that we use from our own computer. In our sessions we encourage others to use Jamboard online this way as well for the best performance in concert with an online meeting tool like zoom. We prefer this to using Jamboard on a mobile device for the functionality.
Google Jamboard is becoming popular in education, with teachers using it with their students. This tutorial video is a helpful deep dive for learning about how to use Google Jamboard online with a group, like a class.
What is Google Jamboard? Resources and Guides
The following resources are offered by Google to help you get started with their software. Find the links to each of these resource guides below.
What is Jamboard?
Google Jamboard can be a wonderful addition to your collaboration and ideation toolkit. Find even more remote working tools and tips on our innovation and design thinking blog.