Lucid is a leading visual collaboration platform for teams. It's two products, Lucidchart and Lucidspark, work together seamlessly to boost clarity, alignment, and productivity through every stage of the workflow.
Think of Lucidspark as the place to ideate, connect, and plan, whereas Lucidchart is the place to build, document, and diagram.
While each application can be used on its own, they are even more powerful when used together. But how do you know when to use each product?
Let's explore the differences between Lucidchart and Lucidspark and identify their use cases.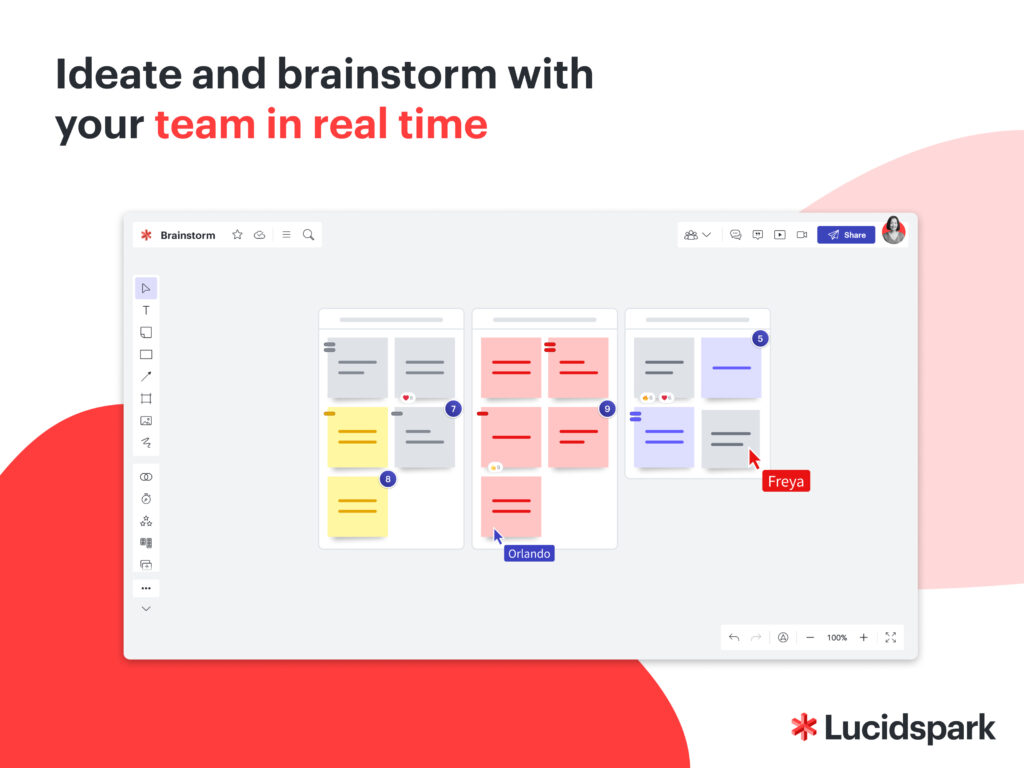 Lucidspark
Lucidspark is the virtual whiteboard that helps you and your team bring their best ideas to life. There's really no limit to what you can do on this infinite canvas. Lucidspark is widely used for hosting powerful brainstorming sessions, creating fun and engaging icebreakers, and keeping teams aligned on projects.
We also recommend using Lucidspark if you're looking to:
Streamline your Agile project planning.
Facilitate collaborative working sessions.
Run effective virtual workshops for groups of any size.
Build customer journey maps.
Create detailed mind maps.
Hold retrospective meetings.
Lucidspark has many features and capabilities to help you effectively collaborate with your team from any device. Check out some of our favorite Lucidspark templates you can use.
Features like a timer, the Note Panel, Collaborator Colors, and Breakout Boards enable you to host productive meetings while giving everyone a voice. Vote on the group's favorite ideas, and automatically sort them for better organization on your board. From there, you can even build out presentations to quickly share main ideas with stakeholders.
Haven't tried Lucidspark? Try it for free.
Already a Lucid user? Learn the ins and outs of Lucidspark, get expert advice, and harness the power of visual collaboration. Explore Lucid's learning campus.
Now that you've got the team together for collaboration, you're ready to take action. Here's where Lucidchart comes in.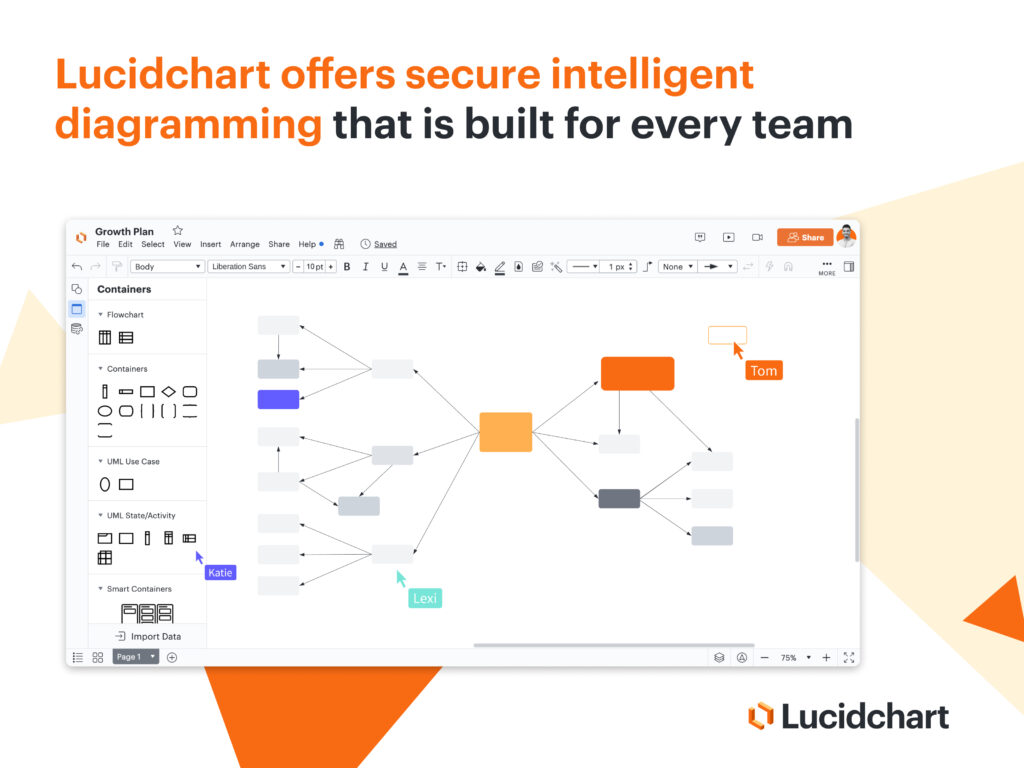 Lucidchart
Lucidchart is the intelligent diagramming application that enables teams to design and document systems, organizational structures, and processes. Take previous ideas that you brainstormed in Lucidspark and bring them to life in Lucidchart. Create powerful visualizations that serve as a common language that all team members can understand.
Build flowcharts, org charts, and technical diagrams like ERDs, BPMN, UML, enterprise architecture diagrams, network diagrams, and more.
Lucidchart is also commonly used to:
Compare current and future states (processes, system architecture, etc.).
Allocate resources on projects.
Document code to understand dependencies and data flows.
Design low-fidelity UX mocks.
Create account maps to find the best path to sale.
Make your diagramming process more efficient by auto-generating diagrams from data you already have, or importing data directly into your diagrams.
Additionally, like Lucidspark, Lucidchart allows you to present your document in an easily digestible way.
Want to try Lucidchart for free? Sign up here.
Once you've signed up for your free account, dive into the specifics of using Lucidchart with these free courses.
Lucidchart vs. Lucidspark: Better together
Lucidchart and Lucidspark work together seamlessly to help teams of all sizes collaborate visually from ideation to launch.
The Lucid Suite, Lucid's enterprise offering, includes all features of both products, with access to additional capabilities such as:
Universal canvas: Use Lucidspark and Lucidchart together on a single canvas to leverage the best tools for the work you're doing. (Enterprise only)
Team Spaces: Bring team resources together in one space to initiate work, coordinate progress, and stay aligned from start to finish. (Enterprise only)
Visual Activities: Turn qualitative feedback into actionable insights and make better decisions with interactive activities. (Available to all users)
Templates: Get started faster and discover new use cases through hundreds of templates. (Available to all users)
Thanks to Lucid for their help in explaining the differences between Lucidspark and Lucidchart. See and build the future faster with Lucid.