These activities are designed to help organizations get started with innovation.
Our ability to adapt and innovate is essential in an ever-changing technological landscape. Businesses and organizations who want to stay ahead must evolve and learn from and with their customers to create better solutions to life's challenges. The use of innovation activities is one way to accomplish these goals, spur creativity, and drive business or organizational growth. Here are 8 of the most popular activities for innovation to try:
1. Ideation sessions
These structured brainstorming sessions allow individuals from many different areas of the business to come together to generate and share new ideas. Ideation sessions can be conducted in-person or virtually. A trained innovation coach is recommended to facilitate the session to prompt participants to think outside the box and generate a large quantity of ideas in a relatively short amount of time.
2. Hackathons
Hackathons are innovation events where individuals or teams come together to solve a specific problem or develop a new product or service. Hackathons can last anywhere from a few hours to a few days and are usually open to anyone, including employees, customers, and partners. Participants work in teams to develop new ideas and prototypes, with the best solutions being selected for further development or implementation.
3. Workshops
Workshops are a hands-on approach to innovation, where participants work together to develop new ideas and prototypes. These workshops can be led by internal or external innovation experts and are designed to encourage collaboration, creativity, and problem-solving. Workshops can be focused on a specific challenge or problem, or they can be more general in nature and focused on developing a specific skill or capability. Design thinking workshops are very common types of workshops utilized for innovative purposes.
Innovation Training offers a wide variety of innovation workshops to help individuals, teams, and leaders develop the skills necessary to innovate and grow. Contact us today to learn about different offerings and how we can create a custom workshop program for your organization.
4. Incubators and accelerators
Incubators and accelerators are programs designed to help startups and new businesses grow and succeed. Accelerators focus on further developing or "accelerating" existing ideas or models, whereas incubators are designed to help develop or "incubate" new ideas. The biggest benefits of these types of innovation programs is their ability to provide access to resources and mentorship to those who really need it most. A more traditional organization can engage or interface with an incubator and accelerator to make connections with their startups and respective innovative activities.
5. User research and testing
The best innovations are designed around the customer or end user. Understanding who they are and what they need is essential to finding a solution for their challenge or obstacle. Innovation activities centered around user research and testing often occur in the first stage of an innovation project, such as developing a user persona, building out the customer journey map, and conducting interviews.
6. Design sprints
Design sprints are fast-paced 4-5 day events including a series of activities designed to help walk participants through the entire process of innovating, from brainstorming to prototyping. This is a deeper approach than just a full day workshop…it's a full week. It's also a rapid approach that is an alternative to a month's long process to validate a new innovation that customers may want or need.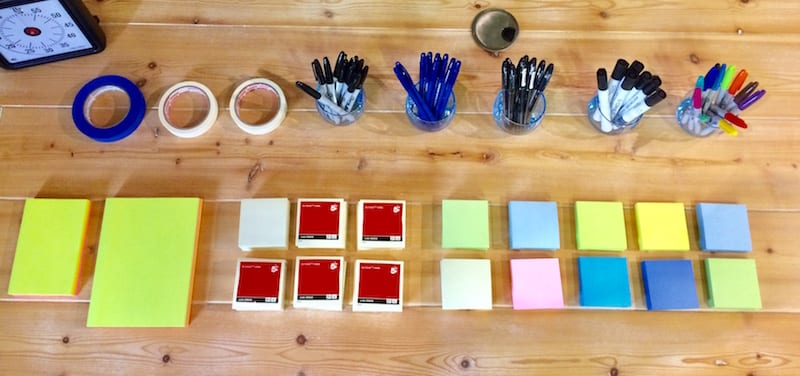 Find resources for design sprint training on our blog.
7. Human-centered design
Human-centered design focuses on putting the user at the center of product design and development. The process requires a deeper analysis of your target audience, including their habits, preferences, desires, and needs. You can also apply human-centered design to improving the experience of almost anything. It's an approach for creative problem solving that begins with empathy. HCD is a popular innovation activity.
Learn more about human-centered design on our blog.
8. Service design
Innovation isn't just for creating or designing new products. Service design is an innovation activity centered around planning and organizing resources in order to improve the employee or customer's experiences. During this process, you'll consider all of the processes and habits that make up the daily operation of a business and how each of those can be improved. Similar to designing a new service is re-designing the employee experience…and engaging your employees in the process to do so.
Innovation Activities Conclusion
Innovation activities are designed to help individuals and teams get started with innovation in a fast-paced but easy to manage way. Browse our innovation and design thinking resource blog for additional tips and techniques today. Contact us if you need an innovation keynote speaker or design thinking workshop.